Venison Pizzagaina (Pizza Rustica) or Italian Easter Pie Recipe
This Italian pie packed full of cheese and meat can trace its origins back to the 17th century. An Easter tradition around the city of Naples, it was a festive and delicious way to end 40 days of fasting from all meat and dairy for Lent.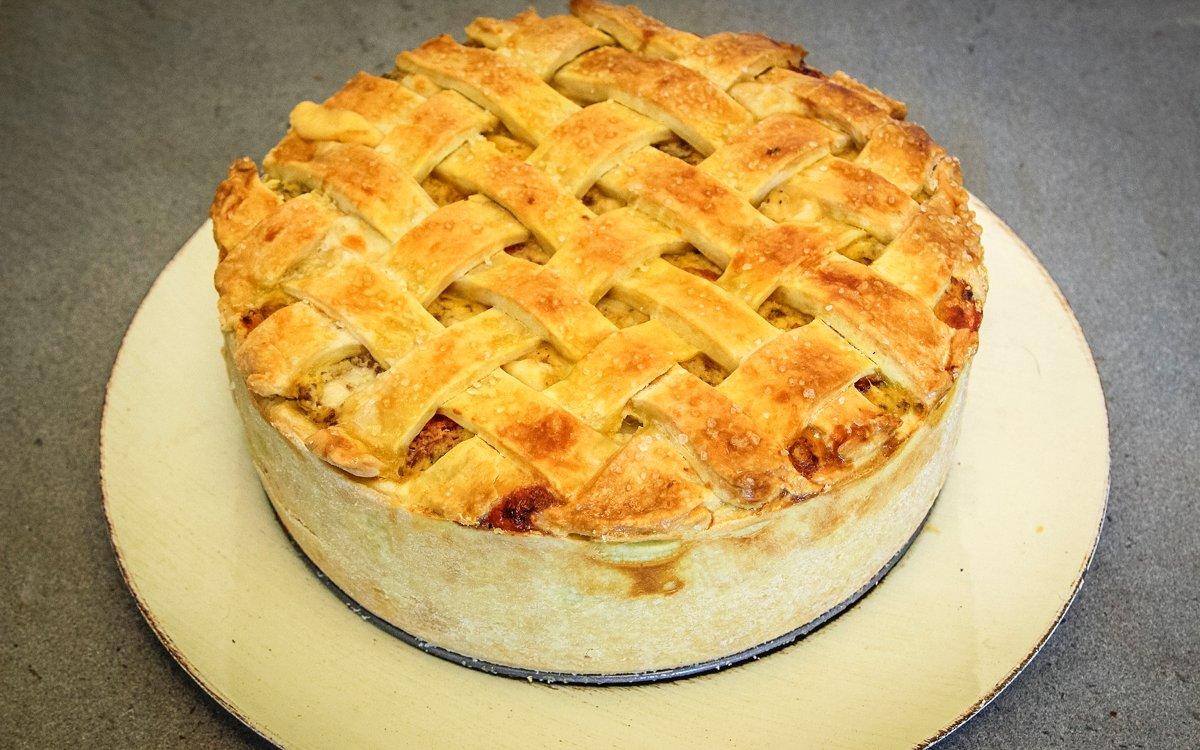 Traditionally made with sausage and cured Italian deli meats, this pie is made with ground venison browned in a skillet and seasoned with Italian seasoning along with our venison bacon. If you don't have venison bacon handy, add your favorite cured deli meats like ham or salami.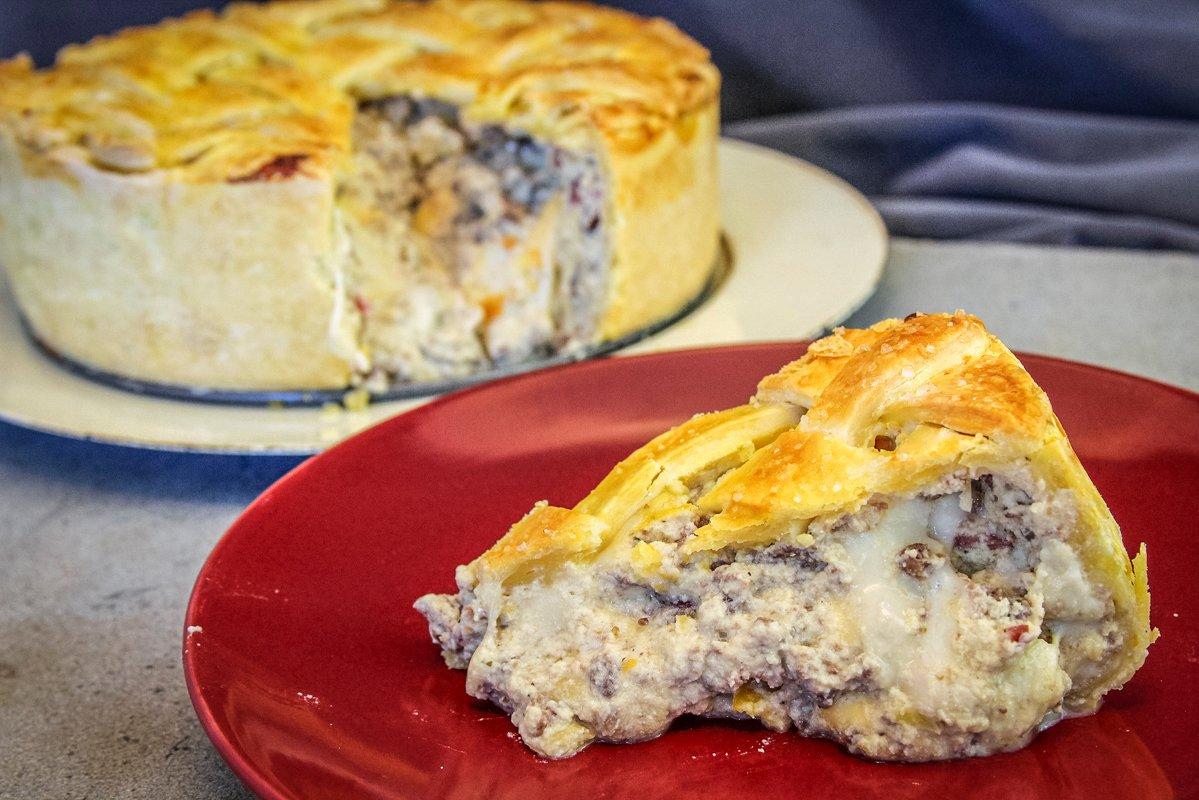 The recipe calls for a lot of ricotta cheese and, for the proper texture, it needs to be drained of any extra moisture before being blended into the filling. Its easy to do, just line a colander with a couple layers of cheesecloth and suspend it over a bowl. Add the ricotta to the colander. The moisture will drip out through the cheesecloth into the bowl underneath. Refrigerate the cheese for a minimum of 2 hours and up to overnight to drain as much liquid as possible.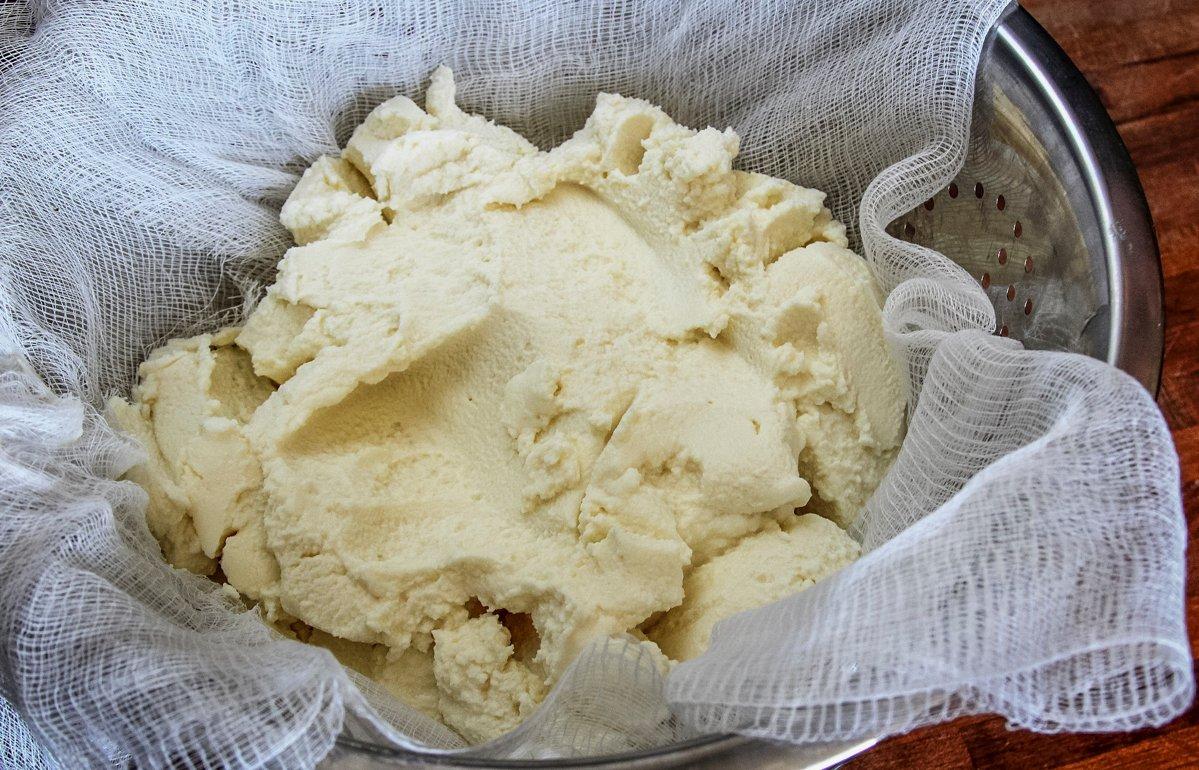 You don't have to wait on Easter to enjoy this one, serve it as a delicious Sunday dinner or at a dinner party with your friends.
Ingredients
Dough
1-pound flour, weighed
2 eggs
1/2 teaspoon salt
2 sticks cold butter cut into small cubes (place butter into freezer for 20 minutes after cutting into cubes)
1/4 cup whole milk, plus a little more if needed at the end
1 beaten egg with a pinch of salt to brush the crust
For the Filling
32 ounces ricotta cheese (well drained for at least 2 hours and up to the night before)
1 dash nutmeg
½ teaspoon cracked black pepper
2 large eggs
1 cup provolone, 1/2-inch cubes
1 cup Fontina, 1/2-inch cubes
1 cup smoked mozzarella or smoked gouda, 1/2-inch cubes
1/2 cup Parmigiano-Reggiano
1-pound ground venison, browned and seasoned with 1 tablespoon dried Italian Seasoning blend
½ pound venison bacon, chopped
1 teaspoon salt
Cooking Instructions
Wrap the ricotta cheese in cheesecloth and place into colander suspended over bowl to drain. Drain at least 2 hours and up to overnight. Gently squeeze out any remaining liquid before using cheese.
In a stand mixer with a dough hook, add all the flour and salt and mix a bit before adding the small pieces of chilled butter. Mix on medium until the mixture just begins to come together in a ball, but don't over process or your crust won't be flaky.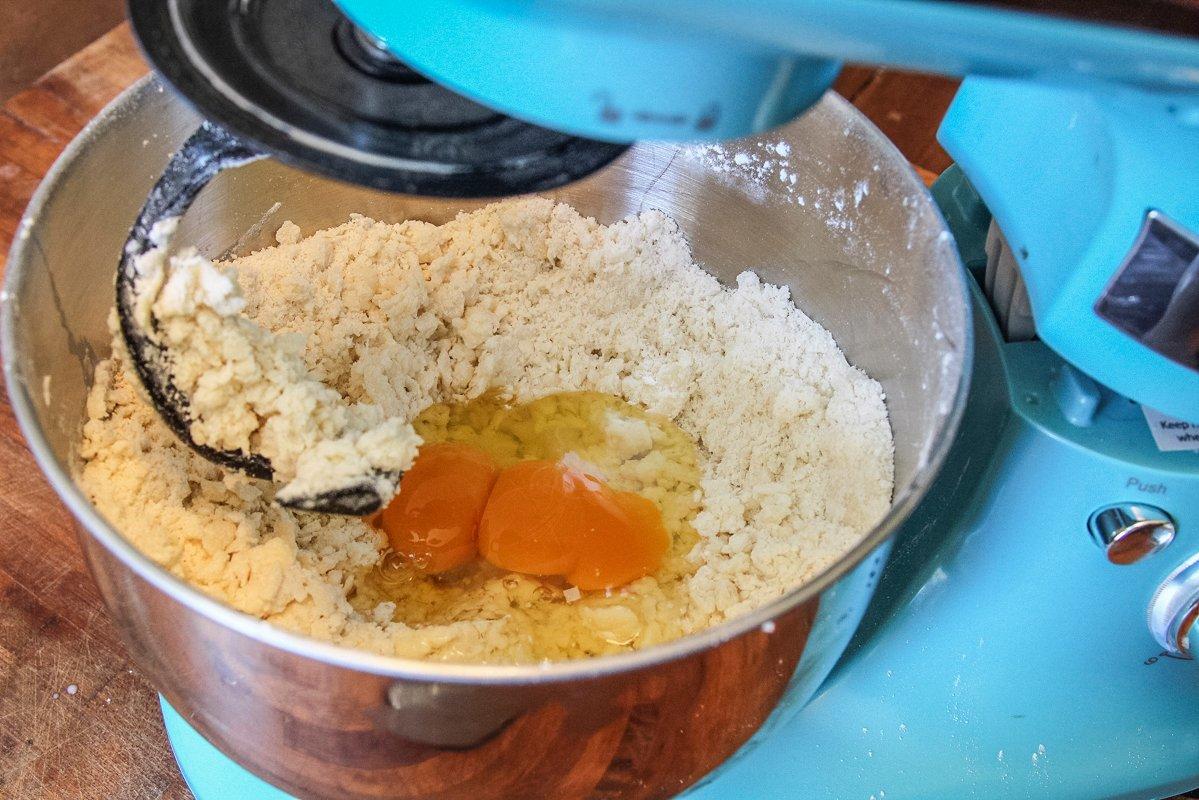 Drizzle in the 1/4 cup milk and two eggs. This should make a dough ball form as you continue to mix. If the mixture still doesn't form a ball, drizzle in a bit more milk until it does. With your hands, gently press your dough into a large ball at first, then flatten it into a thick disk and wrap in plastic wrap and set aside to rest at room temperature. Do not over mix or knead dough.
Filling
Preheat oven to 350 Fahrenheit
Brown the venison and add the Italian seasoning. Remove from skillet and set aside to cool.
Rough chop the venison bacon (ham or salami can be substituted if you don't have venison bacon)
Place the cubed cheeses into a large bowl. Mix in the browned venison and venison bacon. Blend well. Sprinkle over the parmesan and stir gently to blend.
Next, place the drained ricotta into a second mixing bowl and add the 2 eggs. Mix thoroughly with a strong wooden spoon.
Add the salt, black pepper and a SMALL pinch of the nutmeg and mix into the ricotta.
Add the ricotta mixture into the meat/cheese filling and mix with the large spoon, turning over and over until the whole mixture is well bound together. Refrigerate the filling while you prep the dough.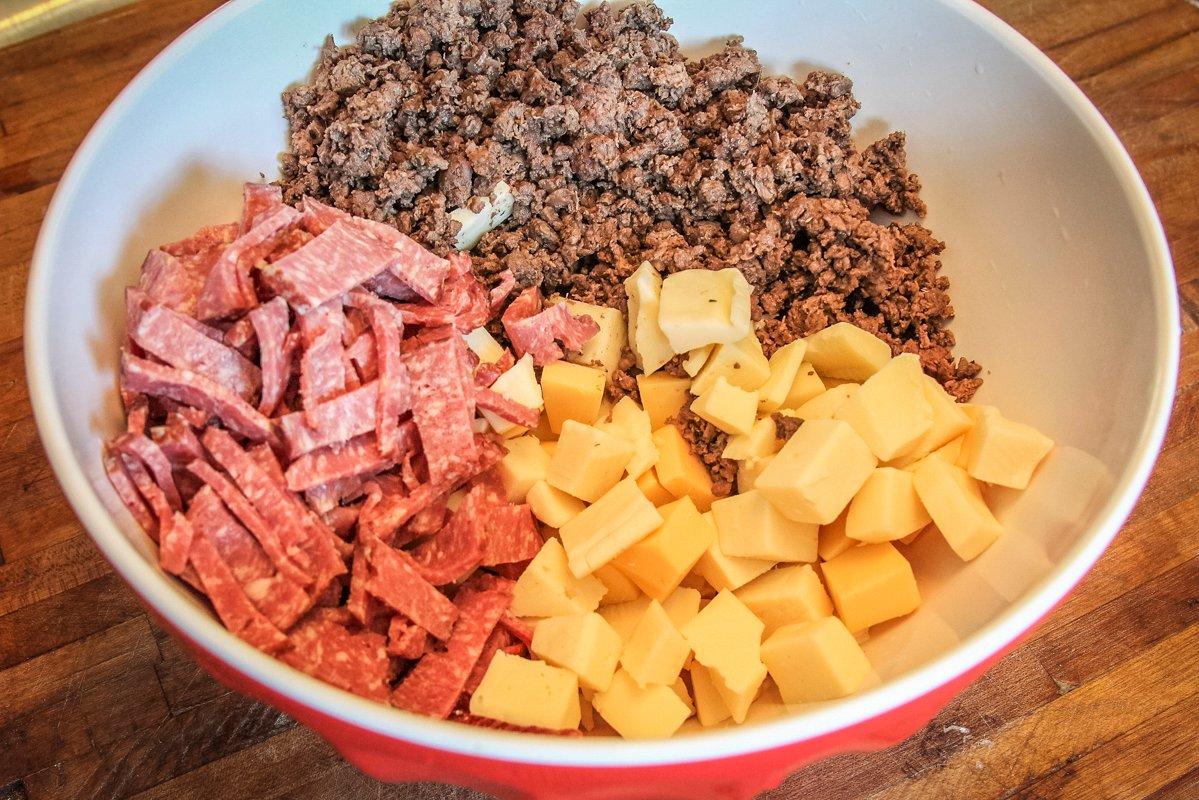 Grease and flour all interior surfaces of a 10-inch springform pan. Flour work surface well. Unwrap dough and move it to work surface. Cut off 1/5 of the dough and reserve for top lattice. Flatten the remaining dough into a disk and move it around the work surface. Flip the dough and move around again to flour the opposite side.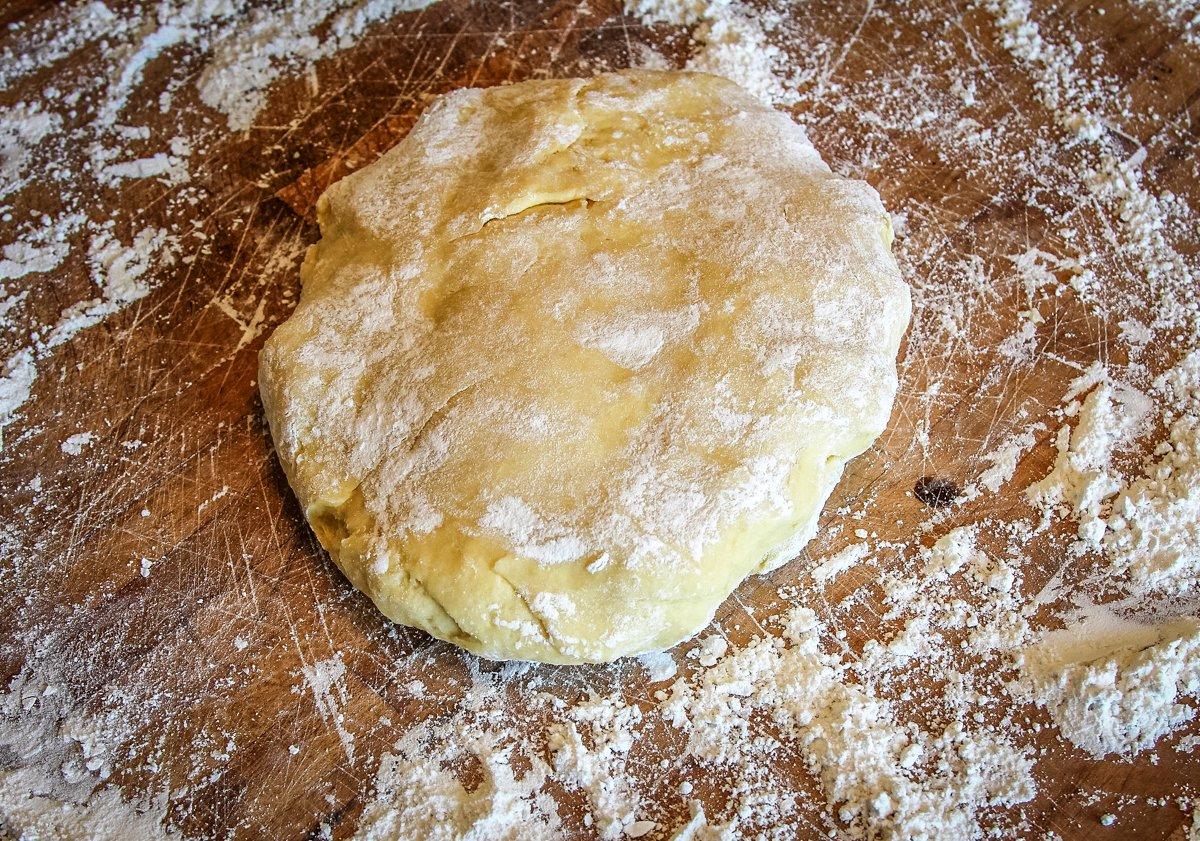 Cover the dough with parchment paper and use a rolling pin to flatten the dough into a round roughly 16 inches across and ¼-inch thick, rotating dough often on work surface to prevent sticking. Remove the parchment paper and flour the surface of your rolling pin. Gently and loosely roll the dough onto the rolling pin, then transfer it to the springform pan. Gently work dough down into springform and up the sides of the pan, giving it ample time to settle into the pan's transition from bottom to sides. Use a sharp paring knife to remove excess dough from above the top of the pan's sides.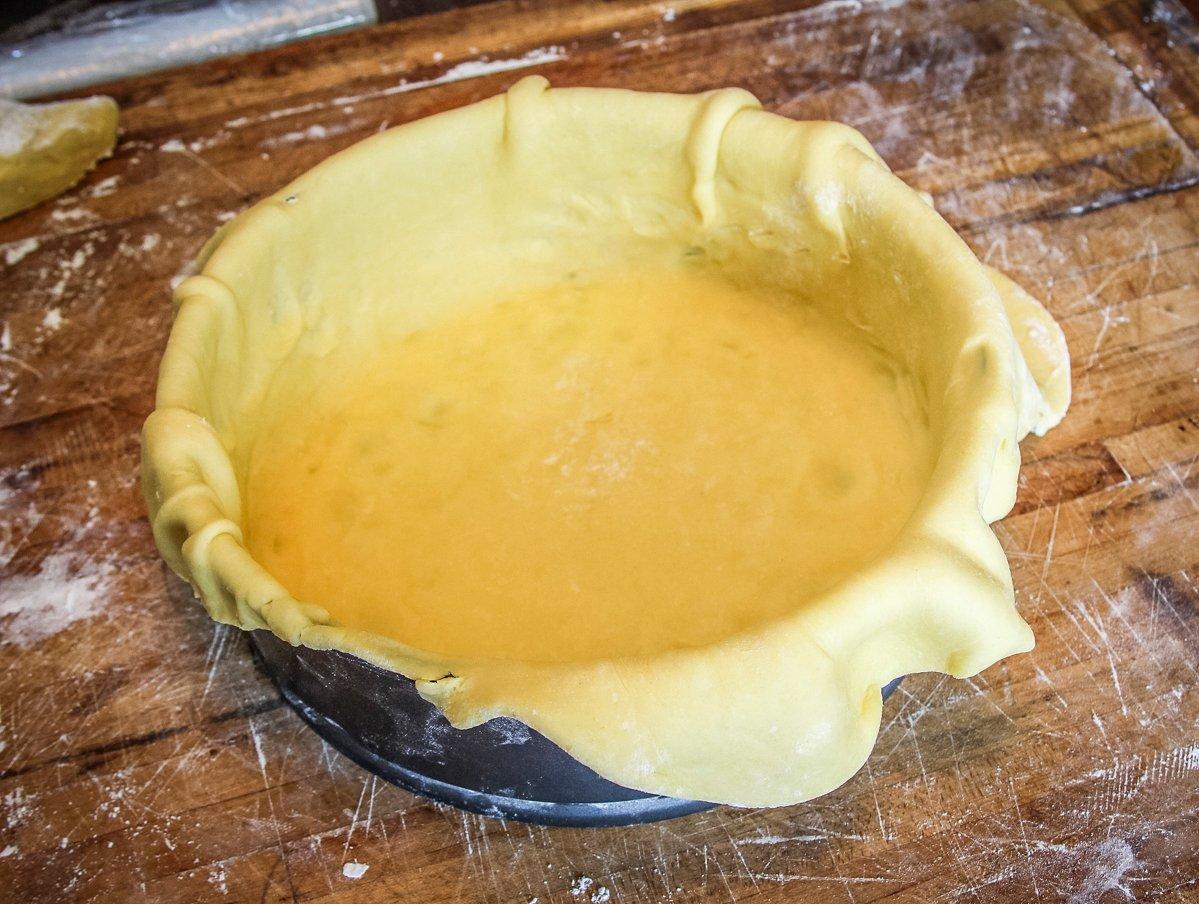 Save any excess dough cut from pan and add it to the reserved dough. Gently knead dough together and roll out onto floured work surface. Use a pizza cutter to cut dough into ¾-inch-wide strips at least 10 inches long.
Gently turn filling mixture into the dough-lined springform pan, using the back of a wooden spoon to press out any air pockets. Use the spoon to flatten the surface of the filling. Gently transfer the lattice strips to the surface of the pie in an open basket weave pattern. Use a sharp knife to cut off excess dough and crimp the ends of the lattice strips to the side dough.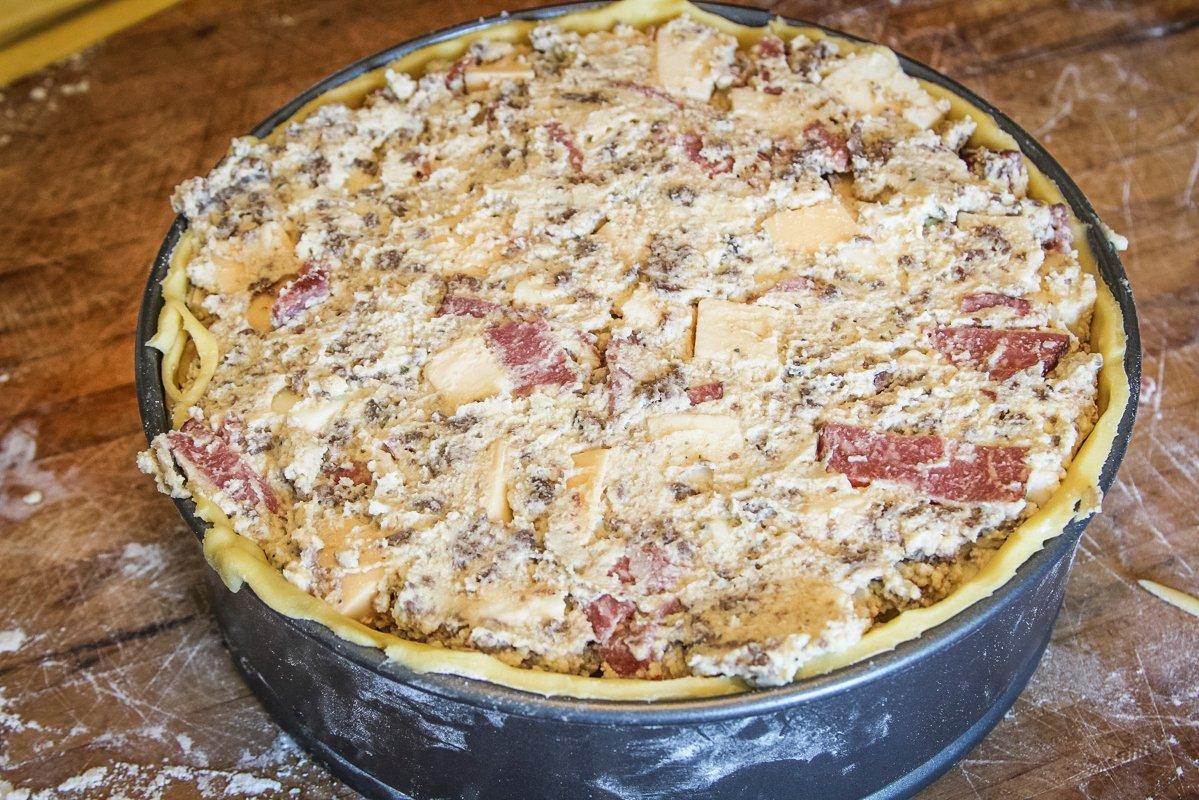 Beat remaining egg in a small bowl and add a pinch of Kosher salt. Use a pastry brush to paint the tops of the lattice strips with the egg wash. Lightly sprinkle over more Kosher salt.
Bake on top shelf of oven for 50-60 minutes or until golden brown and set in the center (no jiggle when you shake pan). To prevent any mess in your oven from runover, place a foil lined cookie sheet on lower shelf directly below pie.
Allow to rest for 20 minutes to 1 hour before slicing.