Travel west along I-10 out of New Orleans, and you'll soon see billboards advertising boudin (pronounced boo-dan). Do yourself a favor and exit the interstate at Scott, Jennings, or Broussard, Louisiana. Better yet, make a day of it and hit all three. That's where you'll find the best boudin in the world.
What is boudin? The basic recipe consists of cooked meat, rice and vegetables loosely stuffed into a pork casing. The exact ingredients and ratios will differ with each boudin maker. I go with about a 2- to 1-, meat / vegetable-to-rice mixture, although many boudin recipes call for a 1-to-1 ratio. Some of the recipes have been passed down through multiple family generations. They are all a little different, but you'll be hard pressed to find one that isn't delicious.
Boudin came about as a way to use up every bit of the hog during a boucherie, the Cajun term for a hog killing. Bits of shoulder, fat and liver that wouldn't keep well without refrigeration would get cooked on site with aromatic vegetables and lots of spice, then blended with cooked rice and stuffed into the cleaned hog casings.
Boudin came about as a way to use up every bit of the hog during a boucherie, the Cajun term for a hog killing.
Since everything in boudin is already cooked, except the casing it is stuffed in, preparation methods are pretty simple. Boil, grill, pan-fry or smoke the boudin until the casing is cooked and the stuffing is heated through.
While other sausages are packed tightly into the casings and meant to be eaten as a package, the loose texture of the boudin makes it easy to squeeze from the casing to spread on crackers, shaped into patties or rolled into balls to be fried.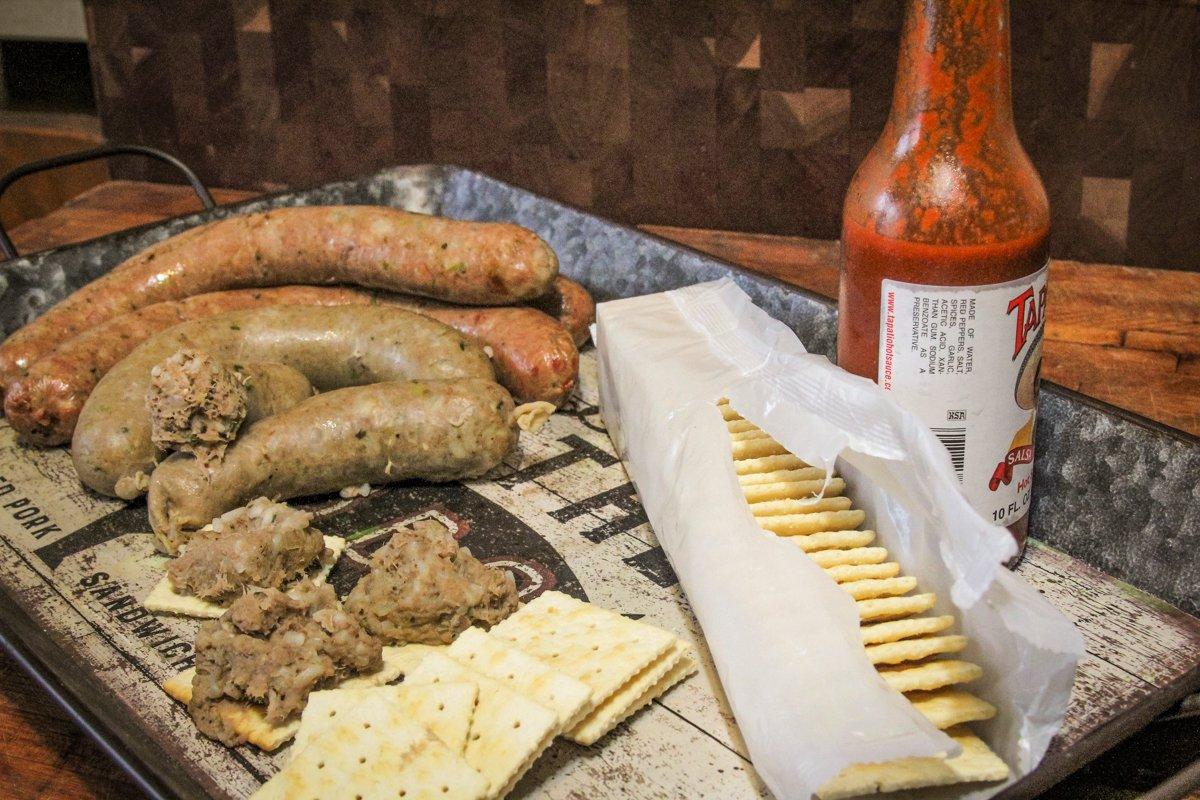 While traditional recipes use the pork liver to add richness to the finished product, a little pork liver goes a long way for a lot of people. To tame the flavor a bit, we substitute chicken liver in our boudin recipe. You can also use the liver from ducks, geese or other game birds if you happen to have some. We use a blend of venison and pork, but you can add just about any meat you wish to boudin. Try several and make the recipe your own.
This recipe renders about 15 pounds of finished product. While boudin only keeps for a week or so in the refrigerator, it does freeze well, so we make a big batch and vacuum seal in quantities we can eat in a few days. Simply cut the recipe in half if you would like a smaller batch.
Ingredients
In the boil pot:

5 pounds boneless pork butt or shoulder, cut into 2-inch chunks
5 pounds venison roasts, cut into 2-inch chunks
3 bell peppers, chopped
2 medium yellow onions, cut into chucks
2 stalks celery, chopped
3 bay leaves
1 teaspoon black pepper
6 cloves garlic, whole
4 tablespoons Cajun seasoning blend
2 tablespoons kosher salt
In a skillet:
3 tablespoons bacon grease
1 pound chicken liver
3 cloves garlic, minced
2 medium yellow onions, chopped
2 bunches green onions, chopped (keep white parts and green parts separate)
1 bunch fresh flat leaved parsley, finely chopped
2 tablespoons salt
1 tablespoon cayenne pepper
2 teaspoons freshly ground black pepper
2 tablespoons Cajun seasoning blend
10 cups cooked long grain white rice
Hot sauce
Pork casings, rinsed and prepared
Cooking Instructions
Add the boil pot list of ingredients to a large stock pot.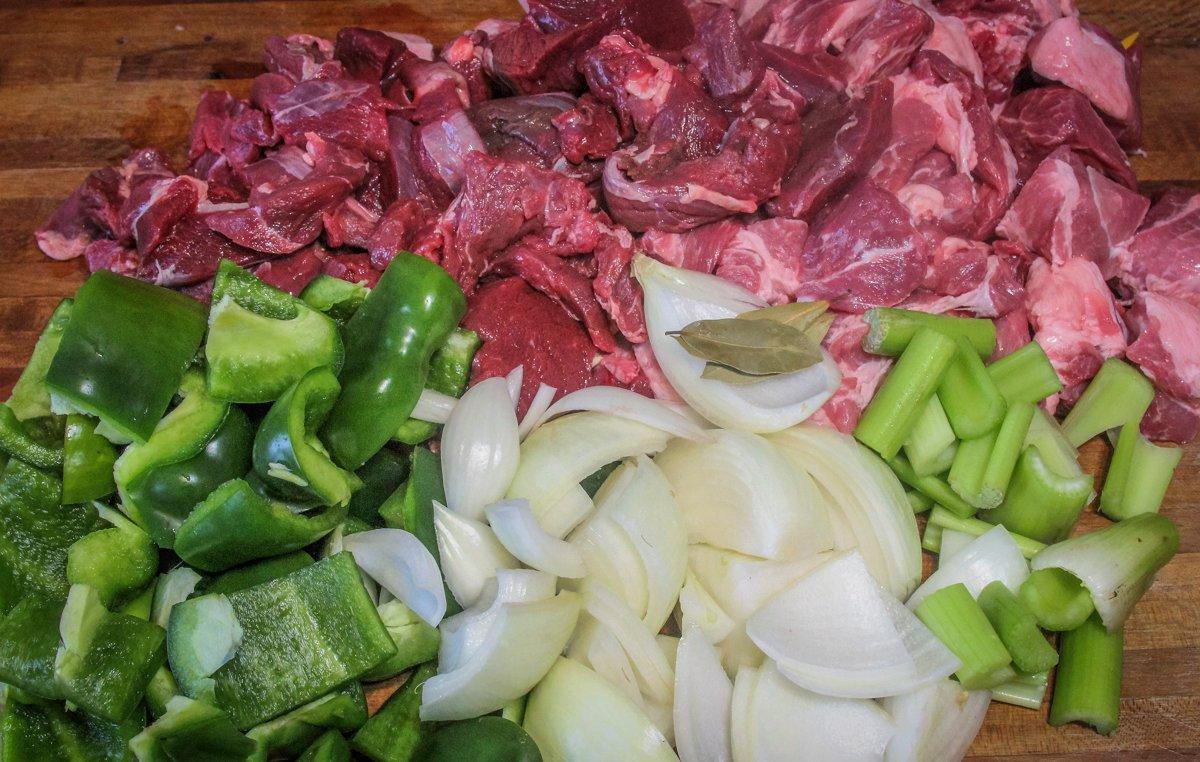 Pour on enough water to completely submerge the meat by several inches. Add 4 tablespoons of your favorite Cajun seasoning blend. Bring the mixture to a boil, then reduce heat to simmer and cover the pot. Simmer the mixture for 2 to 3 hours until the meat begins to fall apart.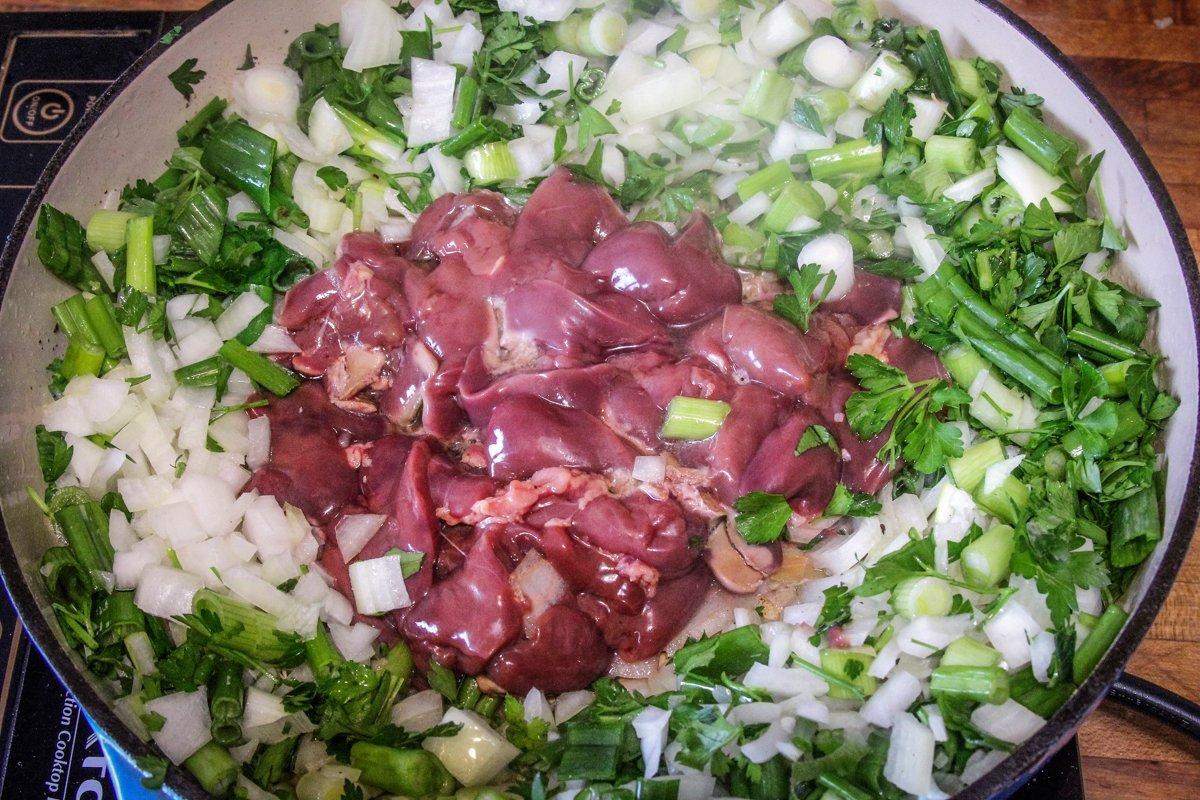 When the meat mixture is almost ready, heat the bacon grease (cook some bacon and eat it as a snack to get the grease; you still have a long way to go and you'll need the energy). Add the skillet list of ingredients. Saute until the onions are soft and the liver has cooked through. Remove the pan from the heat and allow the mixture to cool.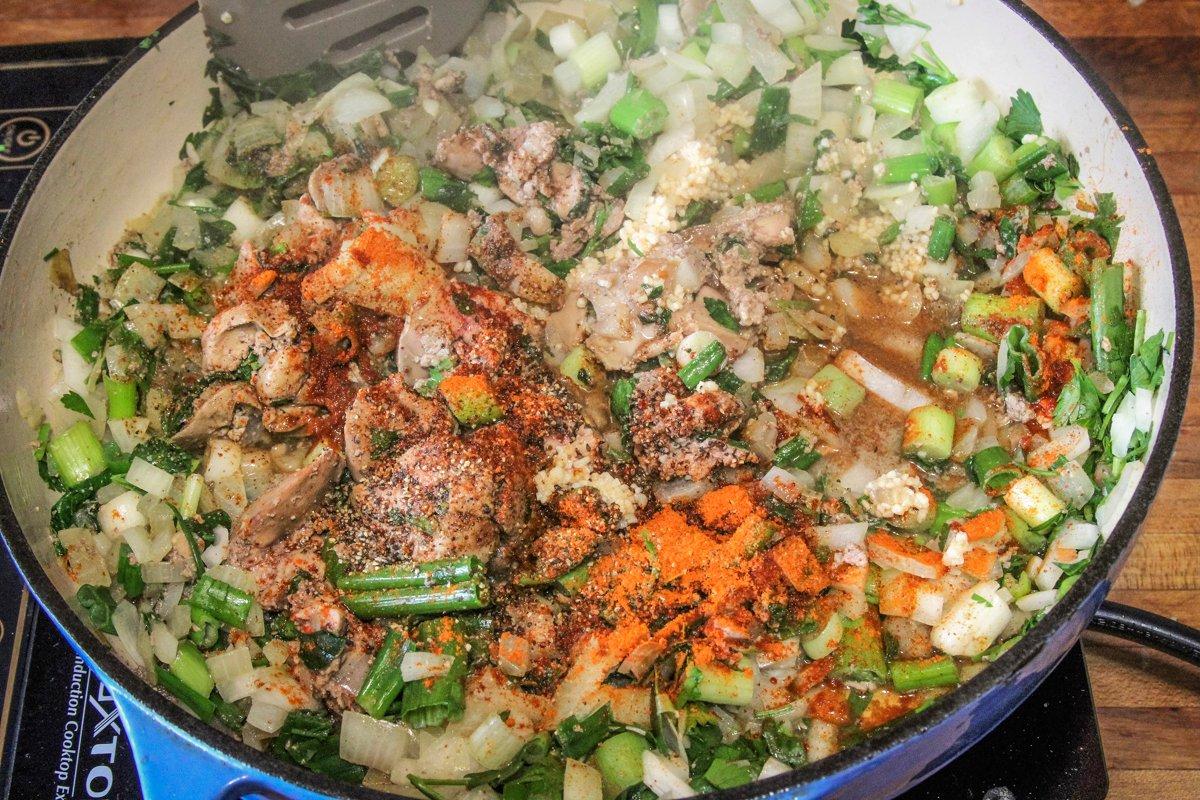 Once the pork and venison have cooked through and are starting to fall apart, use a large slotted spoon or wire spider to scoop everything out of the pot. Reserve the cooking liquid, as you will need it later. Remove the bay leaves and discard them.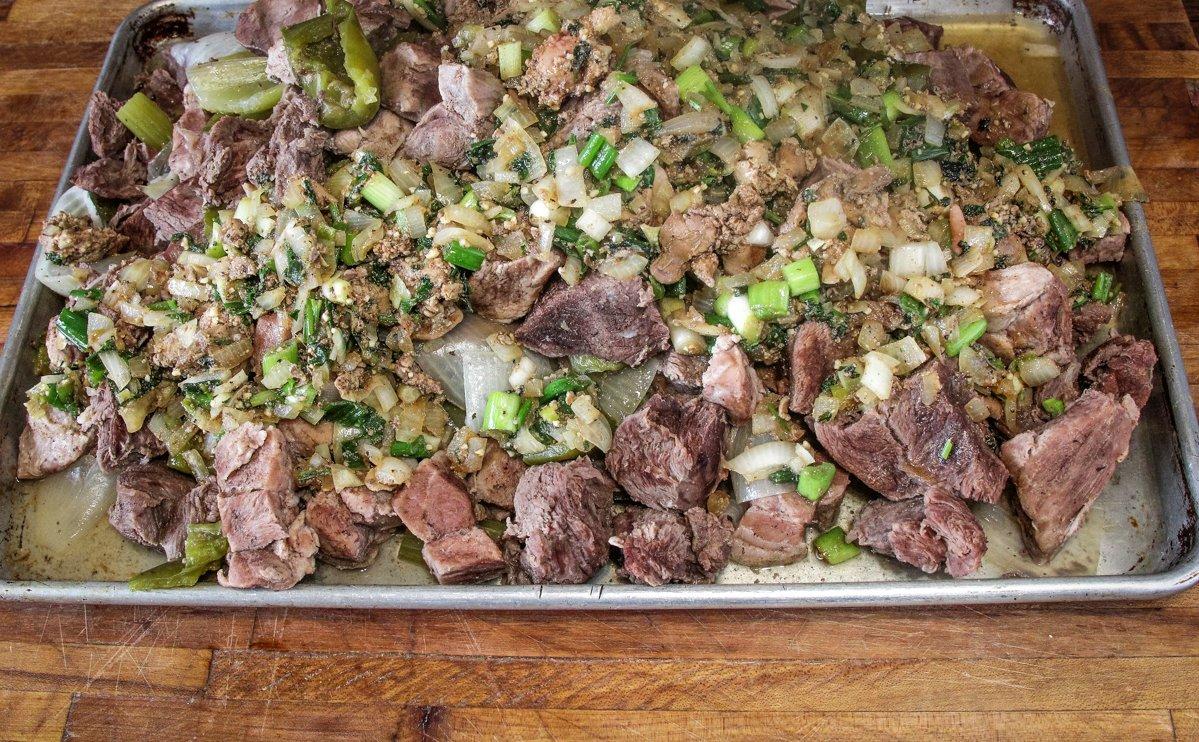 Spread the cooked meat and vegetables out on a sheet pan and allow everything to cool. Add the liver and other ingredients from the skillet. Loosely mix everything together.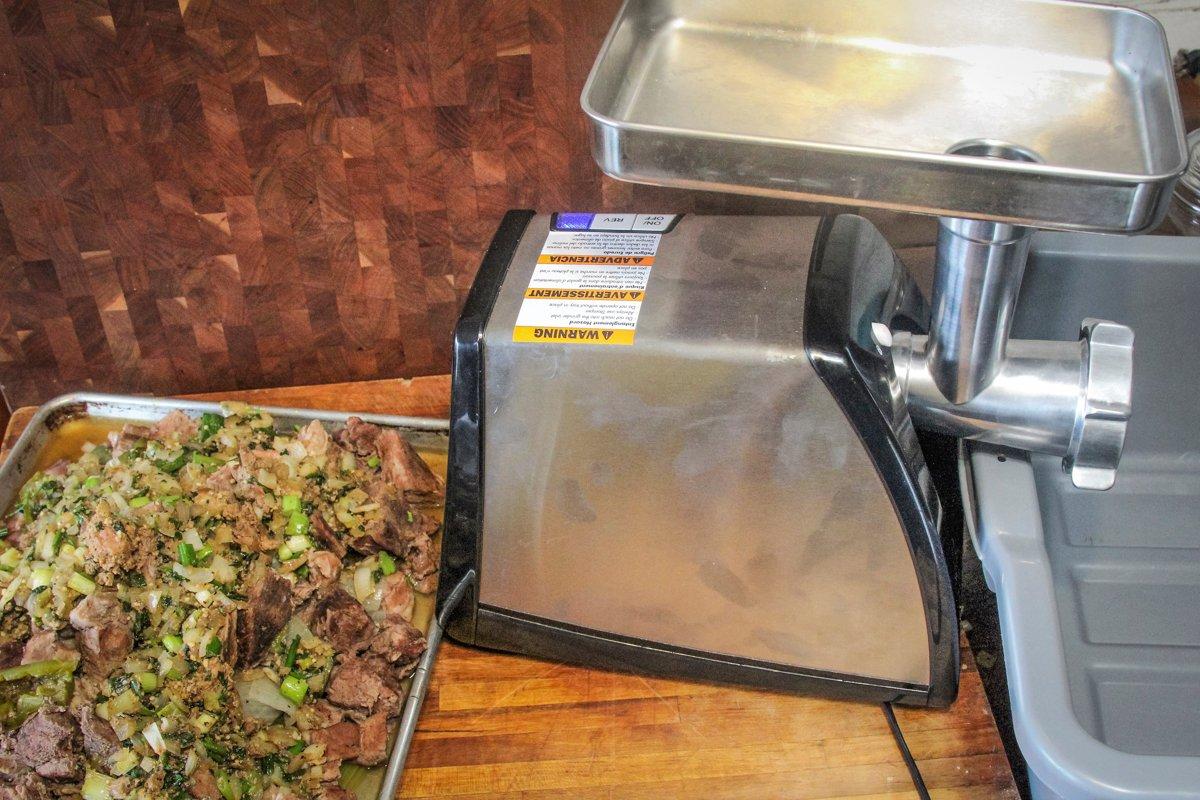 Install the large plate on your Weston Realtree Edge Meat Grinder. Run everything through the grinder and into a large pan or plastic tub. Add the rice and pour in enough of the reserved cooking stock to form a sticky paste as you mix. I start with about 5 cups and add more as I mix. Take your time with this step. You want the rice to release its starch and the mixture to be sticky. After everything is blended, taste the mixture. Add hot sauce and additional salt, Cajun seasoning, or cayenne as needed. This is your last chance to add more seasoning if needed. Once everything is mixed well, prepare your hog casings.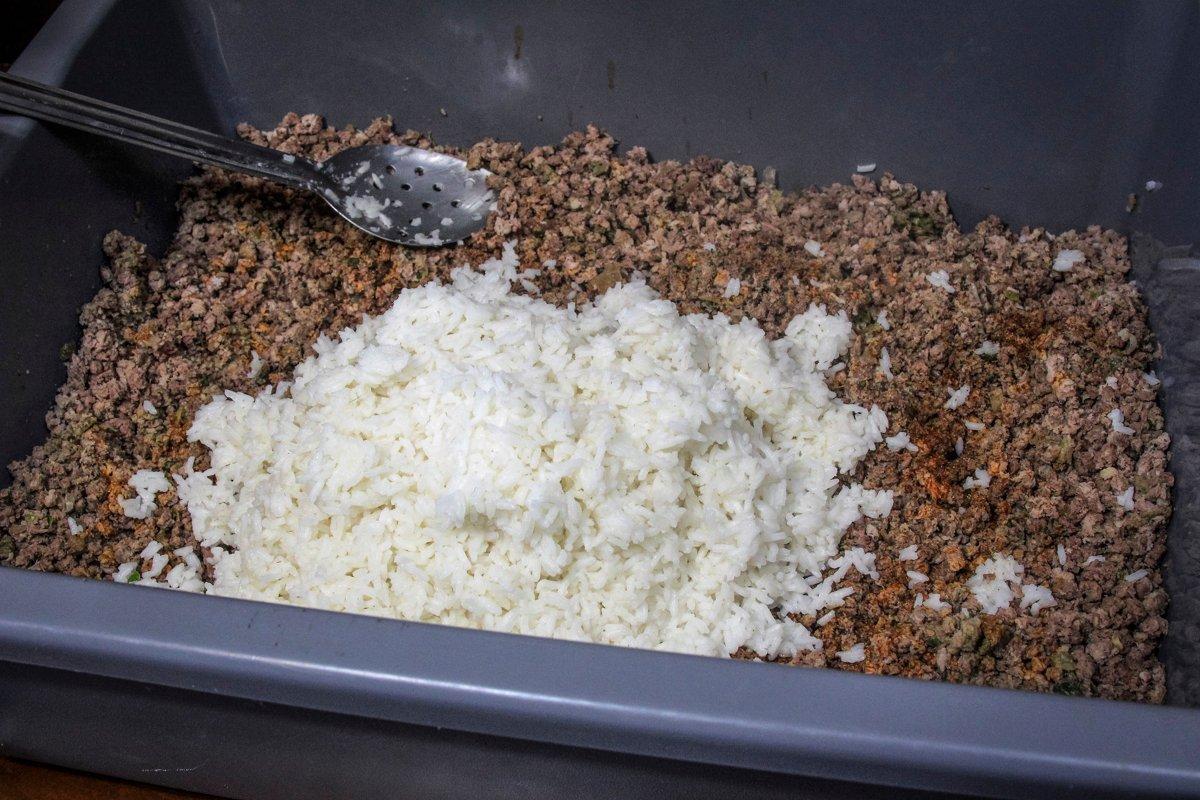 Replace the knife and grinding plate on your grinder with the stuffing spacer and the stuffing tube. Feed the prepared casings onto the stuffing tube. Tie a knot in the leading edge of the casing and begin to push the mixture into the stuffer with the plunger. Feed the mixture loosely into the casings, leaving plenty of room for twisting into links.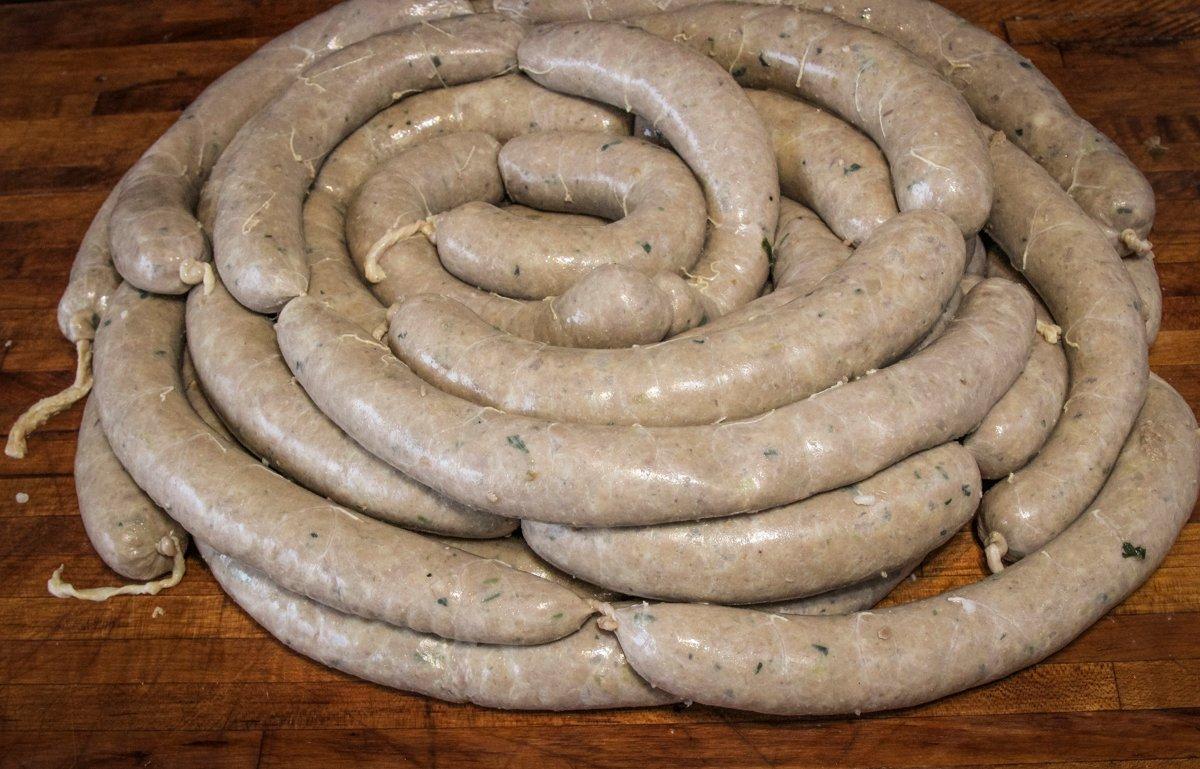 To prepare the boudin, you can boil, grill, pan fry, or smoke the links. Use your Weston Realtree Edge Vacuum Sealer to pack any extra for the freezer.