If you went to a dinner party during the 1950s and the 1970s, chances are better than average that you would have been served chicken a la king. The comfort food was a staple among suburban households. While the dish's popularity waned during the late 20th century, there is a reason it was so popular for so long. It's pretty tasty. Even better? Make it with wild turkey breast this spring to bring back an old favorite.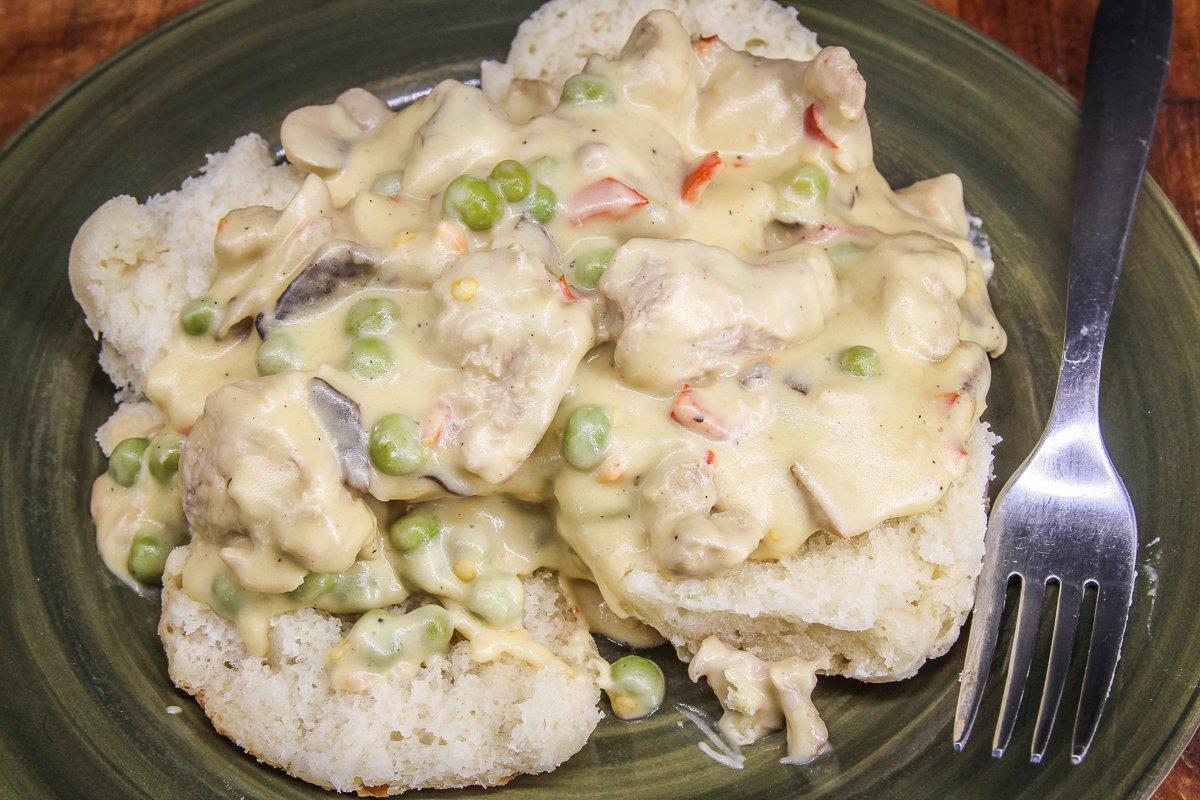 Traditional a la king is served over a starch of your choice. Pasta is popular, and so is toast, puff pastry, and biscuits. For this version, we chose freshly baked buttermilk biscuits. We also chose a blend of shiitake and button mushrooms for extra flavor and interesting texture. Choose the mushroom of your preference. Wild morels and chanterelle are particularly nice.
Ingredients
1 side of a wild turkey breast, cut into 1-inch cubes
2 tablespoons olive oil
1 stick butter
8 ounces sliced mushrooms
1/3 cup all-purpose flour
2 cups chicken broth
1/2 cup white wine
1 cup heavy cream, divided
2 egg yolks
1 cup frozen peas
1/2 cup chopped cherry or pimento peppers
Salt and pepper to taste
Cooking Instructions
Start by seasoning the turkey breast pieces. Add olive oil to a large skillet over medium-high heat. Brown the turkey in batches, sauteing for 3 to 4 minutes per side or until just cooked through. Move the cooked turkey to a warm platter and cover with foil.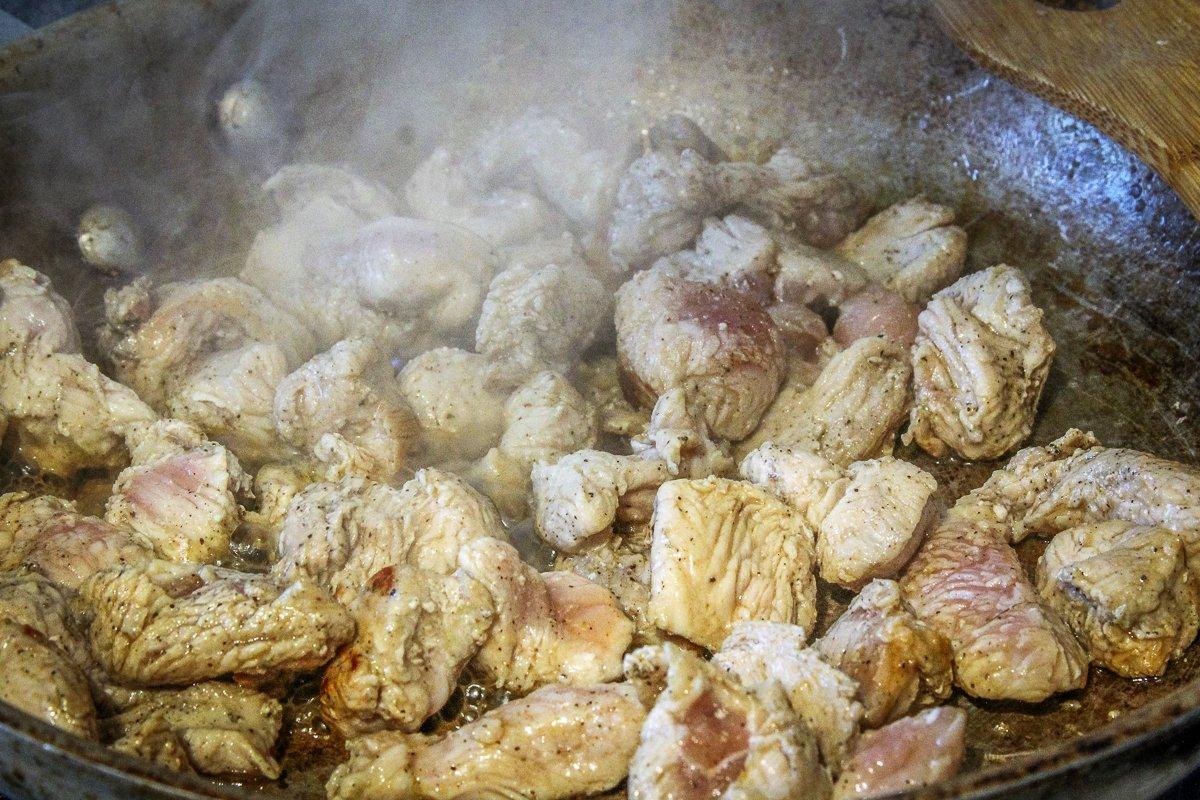 Add the butter to the skillet. Once the butter has melted and starts to bubble, add the mushrooms. Sauté until the mushrooms are cooked through, 5 to 7 minutes. Sprinkle over the flour and stir well until it is cooked, about 3 to 4 minutes.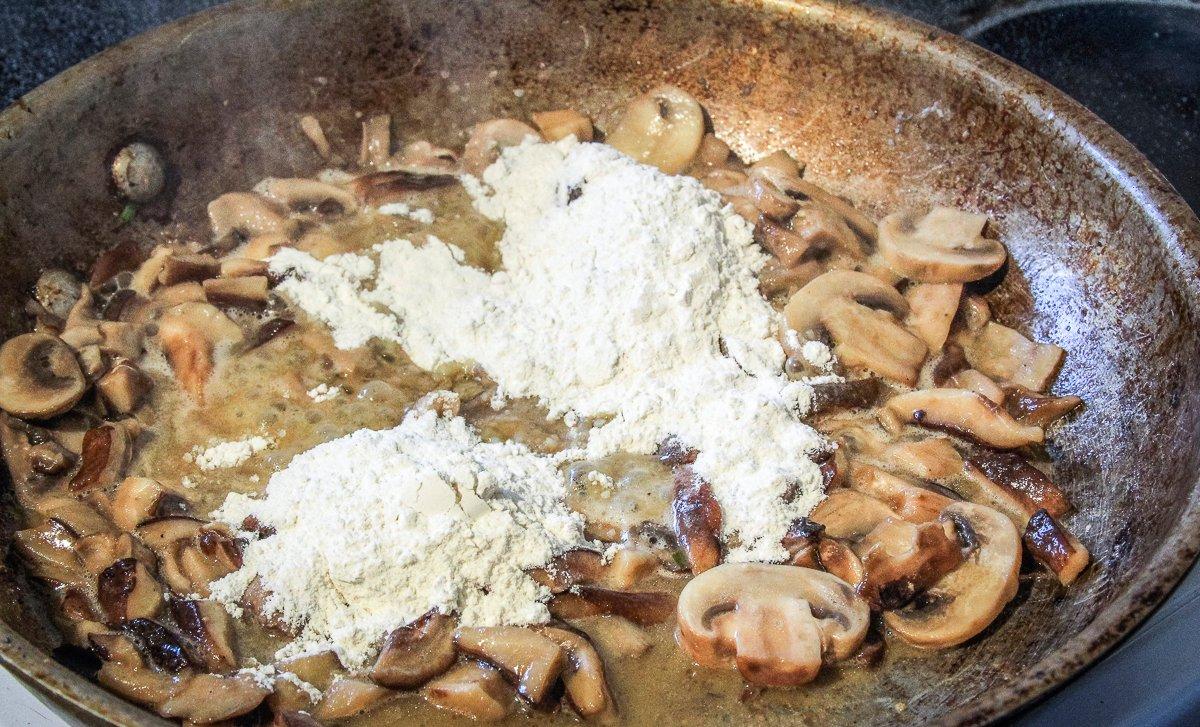 Add the chicken stock and white wine, then scrape to deglaze the pan. Add 1/2 cup of the heavy cream. Bring the mixture to a light simmer, stirring often. In a separate bowl, beat the egg yolks into the remaining heavy cream. Slowly add 1/2 cup of the hot liquid from the pan to the yolk and cream mixture, stir in another 1/2 cup of the liquid from the pan, and stir to temper the egg mixture and prevent the eggs from cooking once added to the pan.
Pour in the warmed egg yolk and cream mixture. Add the peas and diced cherry or pimento peppers. Stir well and bring the mixture to a simmer to thicken for 5 to 7 minutes. Serve the dish over toast, pasta, puff pastry, or warm biscuits.