Blackberry Cream Cheese Danish
Want to turn out a homemade Danish that your friends and family will swear came from a professional pastry chef? Go out this summer and pick some fresh berries, then combine them with frozen puff pastry from the market to make these easy baked pastries that are perfect any time of day.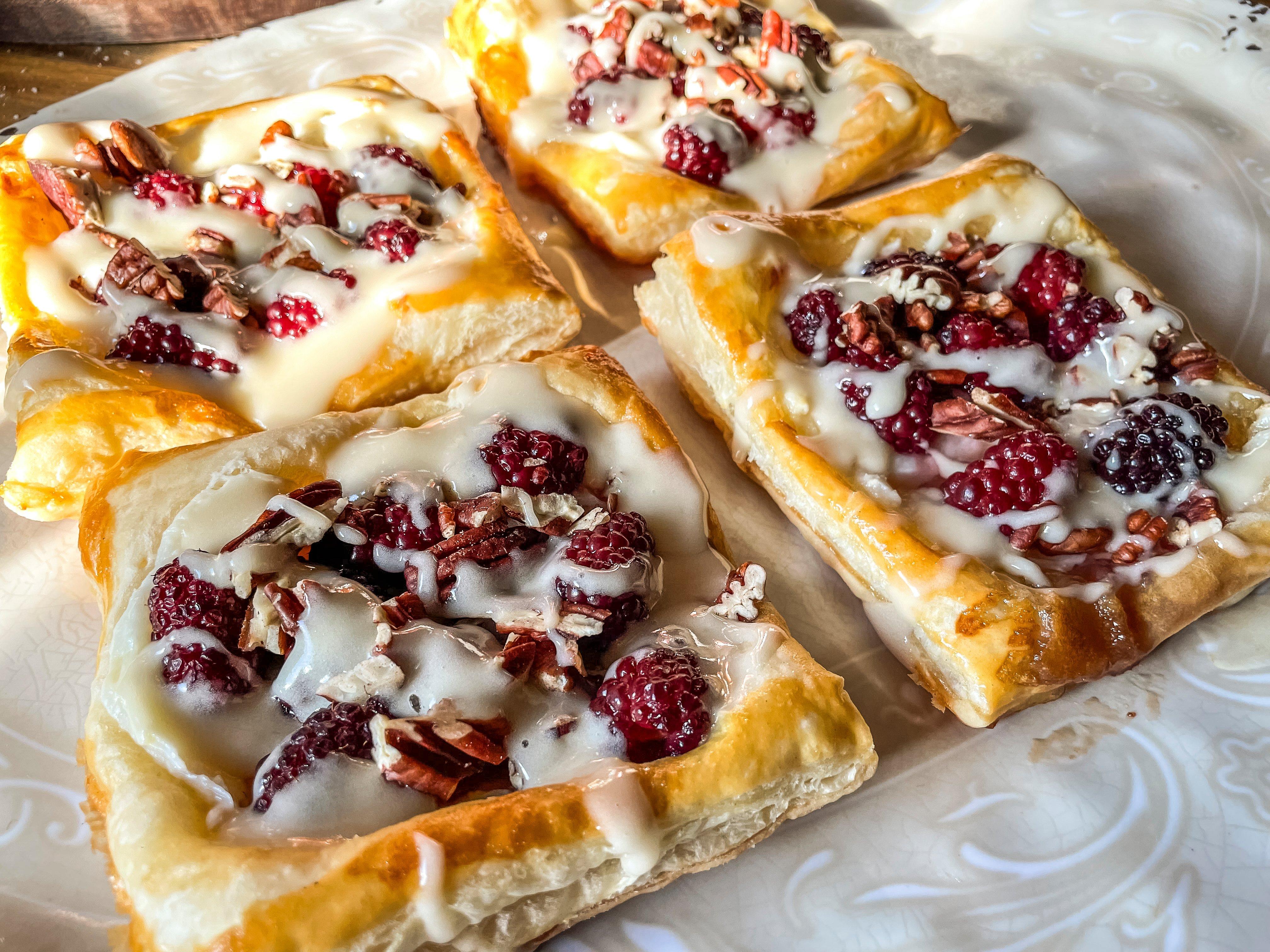 Gather fresh berries and use them to make these simple pastries that are the perfect summer dessert.
If you are located in the upper south or midwest, blackberries are prime right now. If you are farther north, blueberries, raspberries or Juneberries are your target. If you are farther south, dewberries work well.
To make life simple, swing by your local grocery and pick up a pack of frozen puff pastry. Let it thaw completely before you work with it to keep it from breaking. Before spreading the pastry sheets on your work surface, dust it with a little flour to prevent sticking.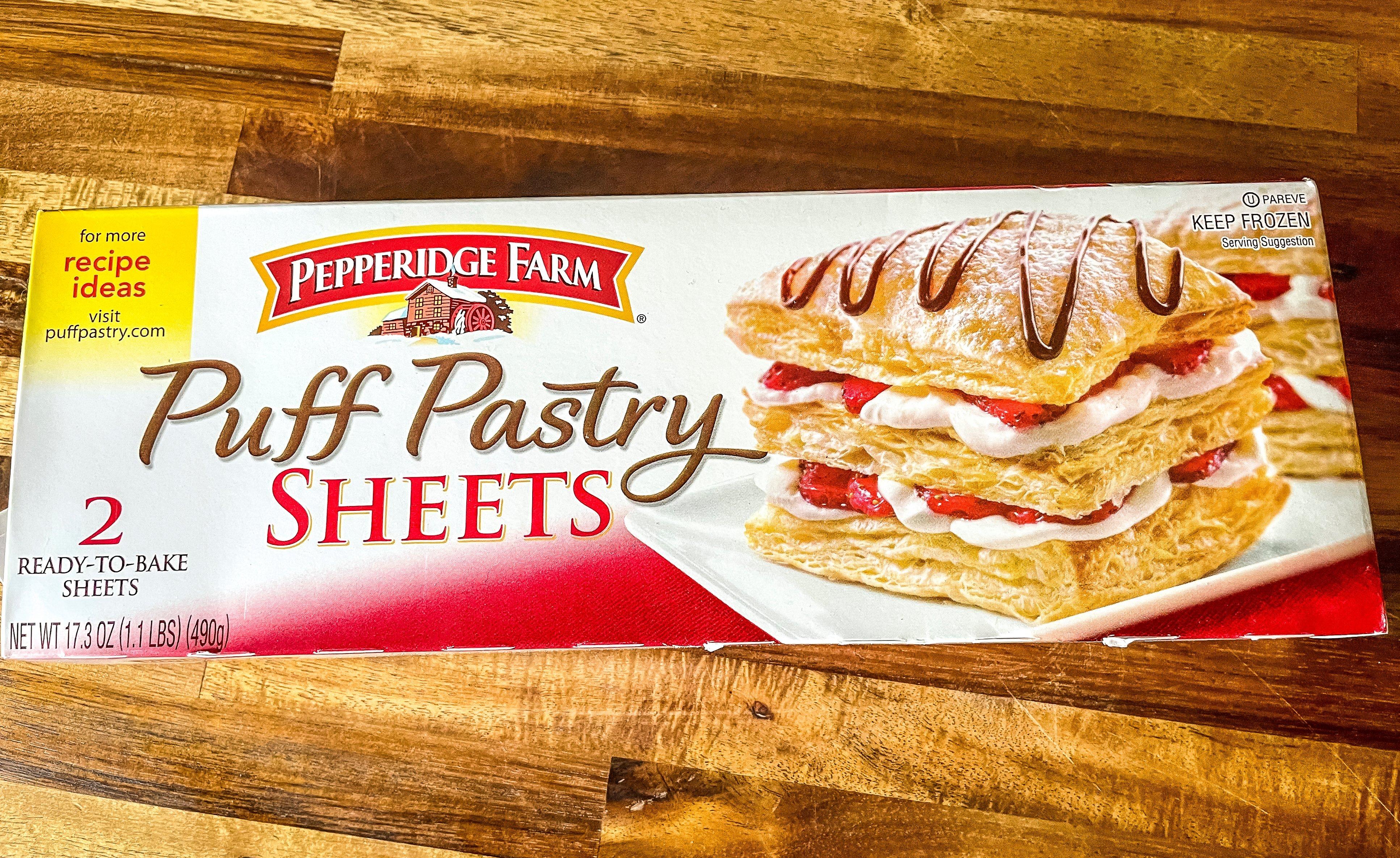 Frozen puff pastry tastes homemade without all the work.
Start by making the cream cheese filling. Take one block of room temperature cream cheese and mix it with 1 cup of powdered sugar, lemon zest, and 2 tablespoons of lemon juice. Stir well to blend into a paste.
To make the thin icing, blend the remaining 2 tablespoons of cream cheese with the softened butter, milk, vanilla, confectioners' sugar, and salt. Set aside. Tip: Transfer the icing into a zip-style plastic bag and snip off a corner for even and neat lines when you ice the Danishes.
Carefully place one sheet of pastry onto a floured surface. Roll to flatten. Use a pizza cutter to cut the sheet into four equal-sized rectangles. Transfer to a parchment-lined baking sheet.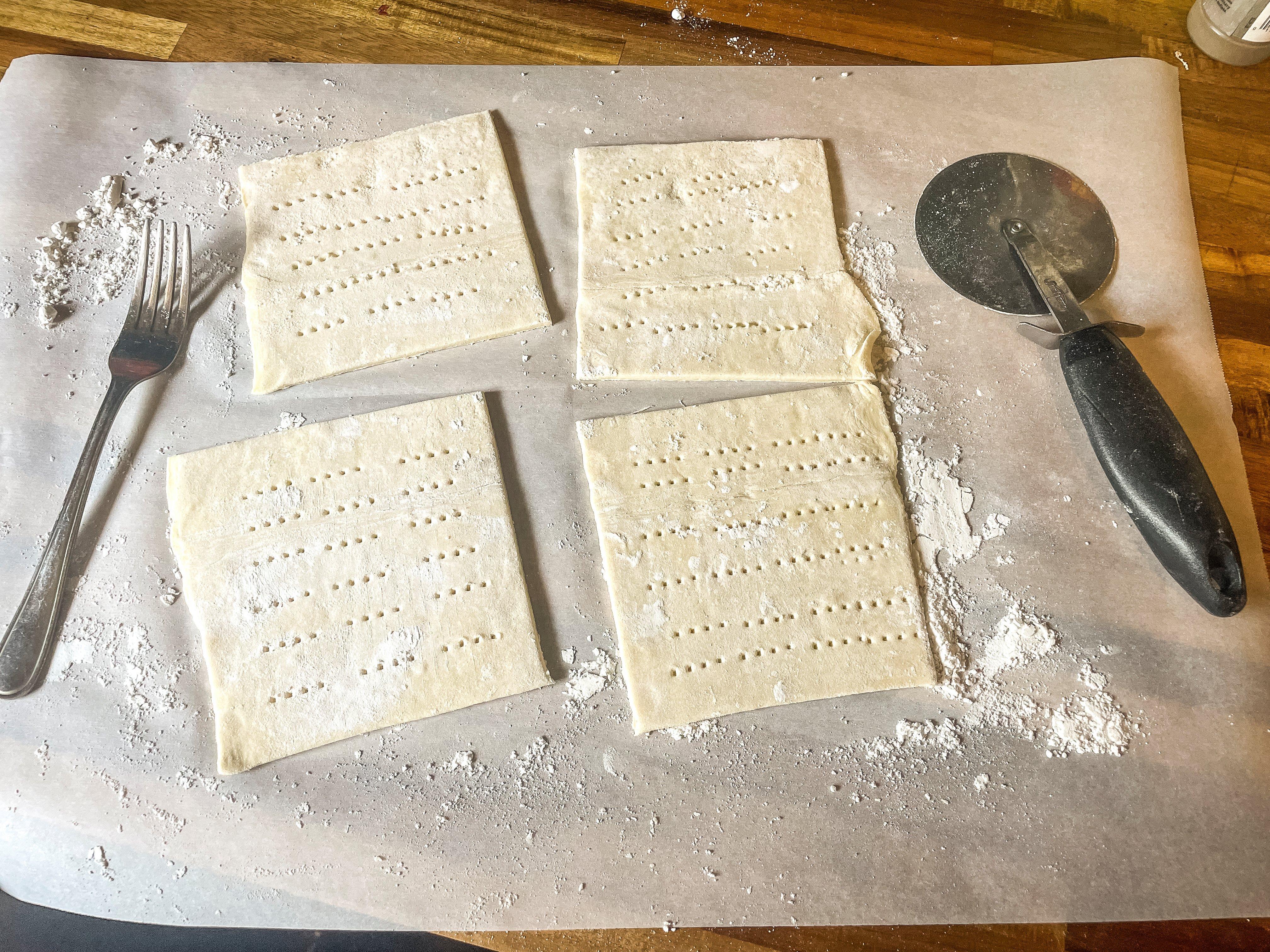 Cut each puff pastry sheet into four rectangular pieces.
Use a fork to punch a series of holes into the center of the pastry squares, avoiding the outer half inch. Spread one half of the cream cheese filling equally over the centers of the pastry sheets, leaving the edges bare.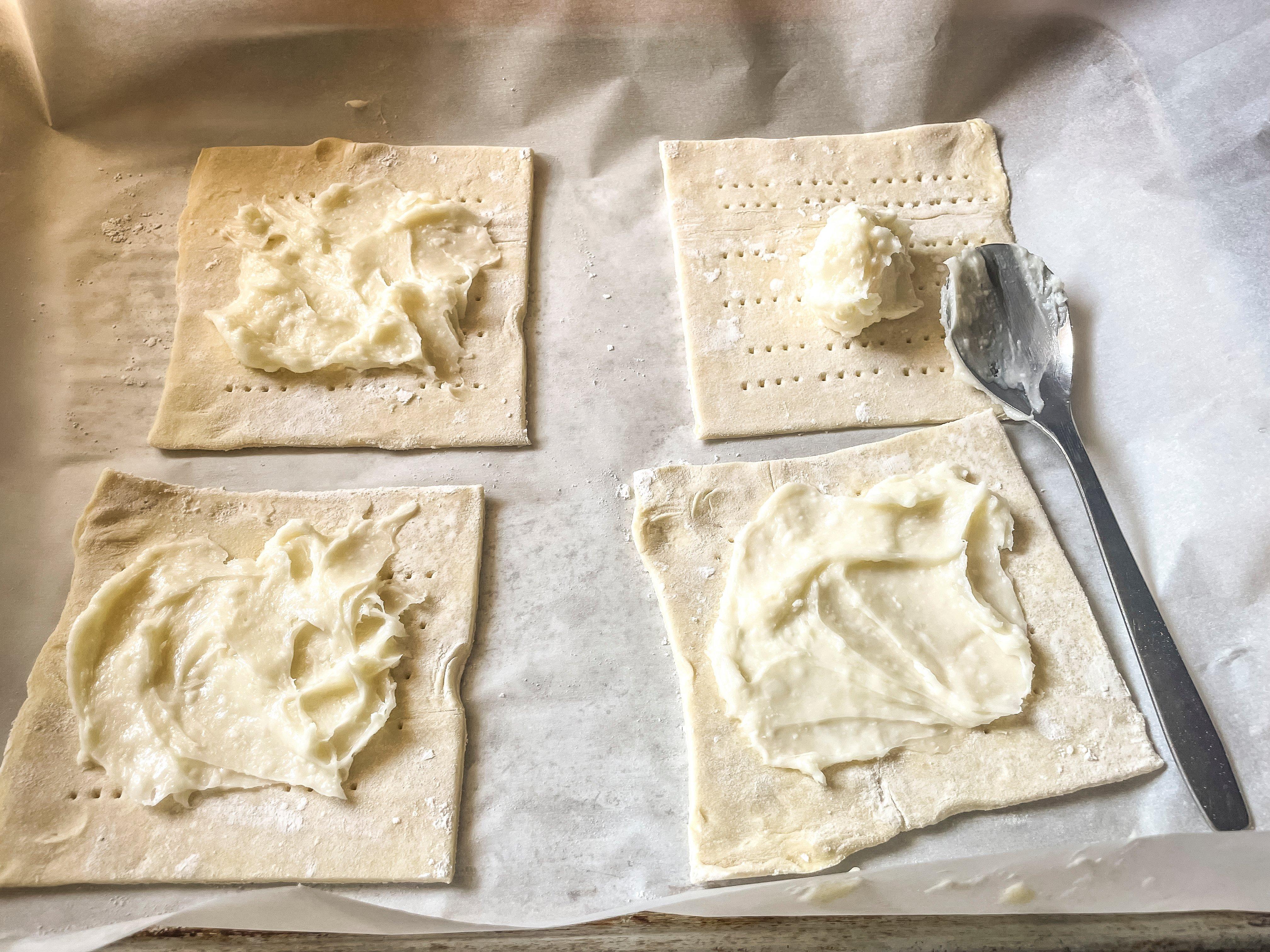 Spread the cream cheese over the puff pastry.
Drizzle the cream cheese with honey. Brush the exposed edges of the pastries with beaten egg. Spread a single layer of fruit over the cream cheese. Drizzle the Danish with honey.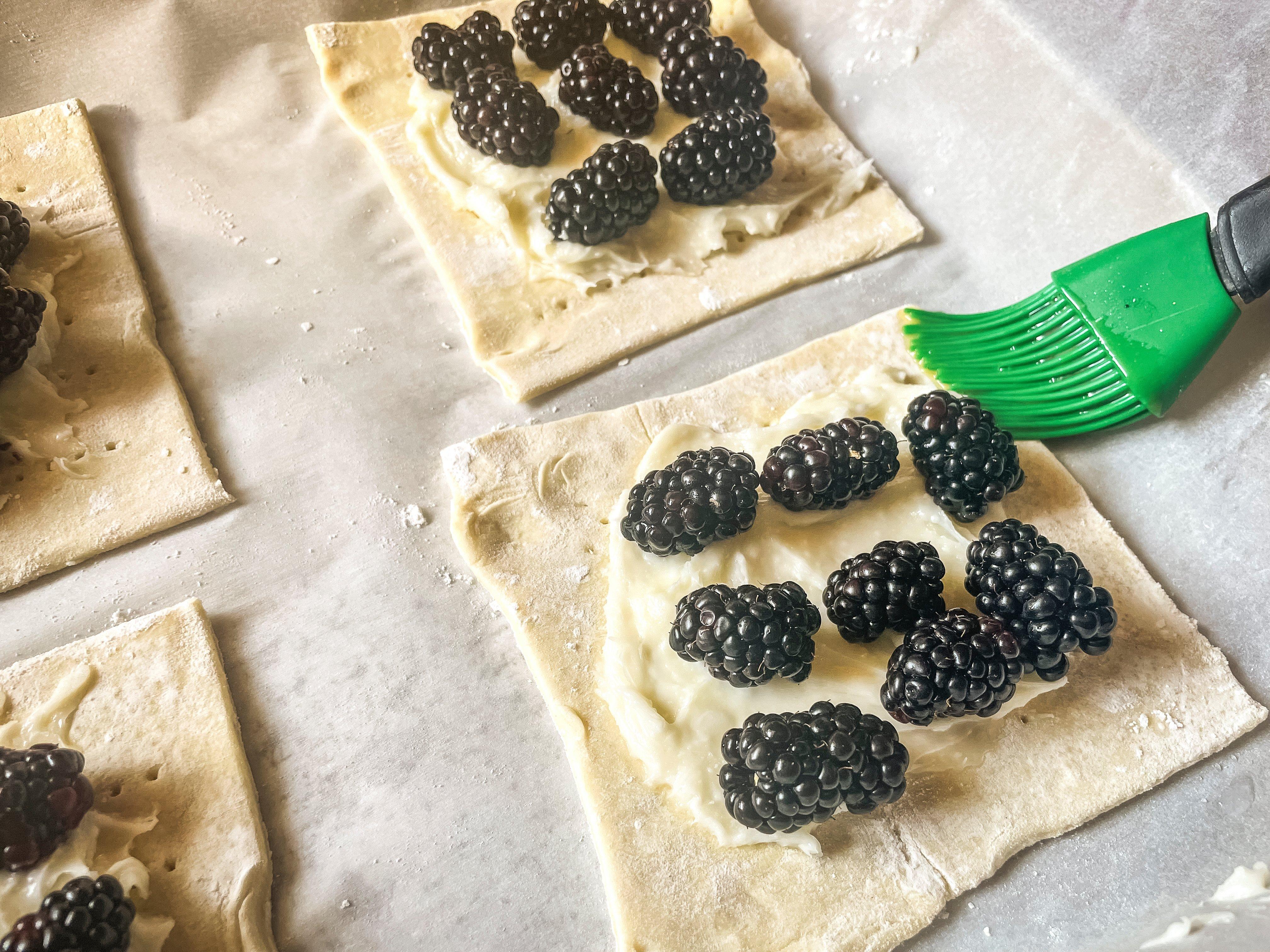 Add a layer of fruit and drizzle with honey.
Bake the pastries for 20-25 minutes or until flakey and golden brown. Remove from oven and transfer parchment sheet to work area. Place fresh parchment on baking sheet and repeat the process with the remaining sheet of pastry and toppings.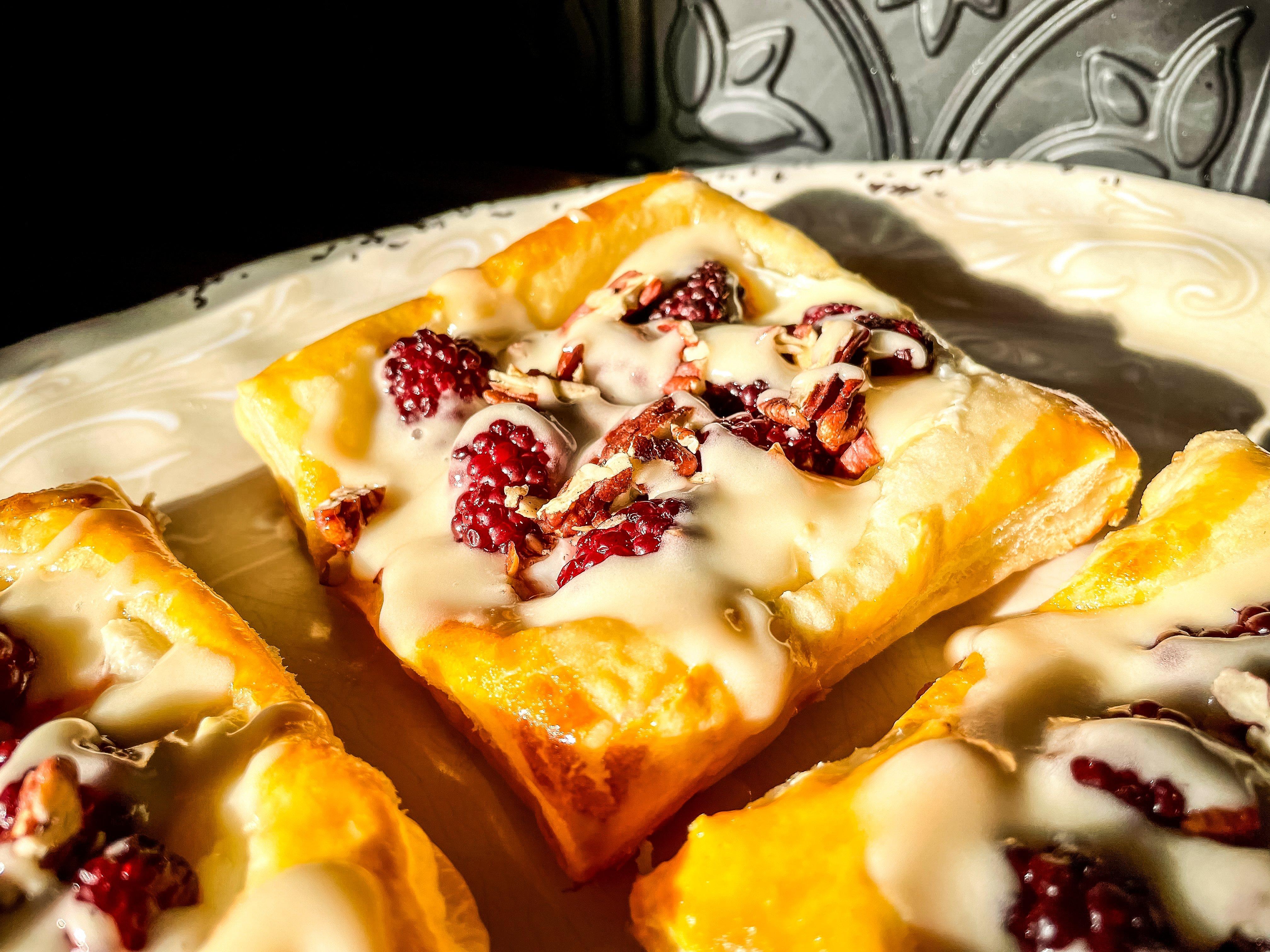 Top the baked pastries with toasted pecans, then drizzle with the cream cheese icing.
While the second batch bakes, drizzle the icing over the baked Danish and top with toasted pecans, if desired.
Ingredients
1 (17.3-oz.) pkg. frozen puff pastry sheets, thawed
2 cups fresh blackberries
All-purpose flour, for work surface
1 large egg, lightly beaten
FILLING
1 (8-oz.) block cream cheese, plus 2 tablespoons cream cheese, both at room temperature
7 tablespoons butter, softened
3 tablespoons milk
½ teaspoon vanilla extract
1 ½ cups confectioners' sugar, sifted
¼ teaspoon salt
3 tablespoon granulated sugar
1 teaspoon vanilla extract
1/2 teaspoon grated lemon zest
3 tablespoons honey
ICING
Remaining 2 tablespoons of cream cheese
1 cup powdered sugar
3 tablespoons fresh lemon juice, divided
Optional: 1/2 cup chopped toasted pecans