Wild Pig with Dr Pepper Blackberry Balsamic Reduction Sauce
Wild pigs are a scourge. They damage habitat, run off native game, eat feed meant for other animals, and just generally tear crap up. You don't want them around. The most effective way to control them is to trap entire family groups, but in some areas hunters can help to keep numbers down by shooting them. Whether they're trapped or hunted, the one saving grace to wild pigs is that they taste pretty good.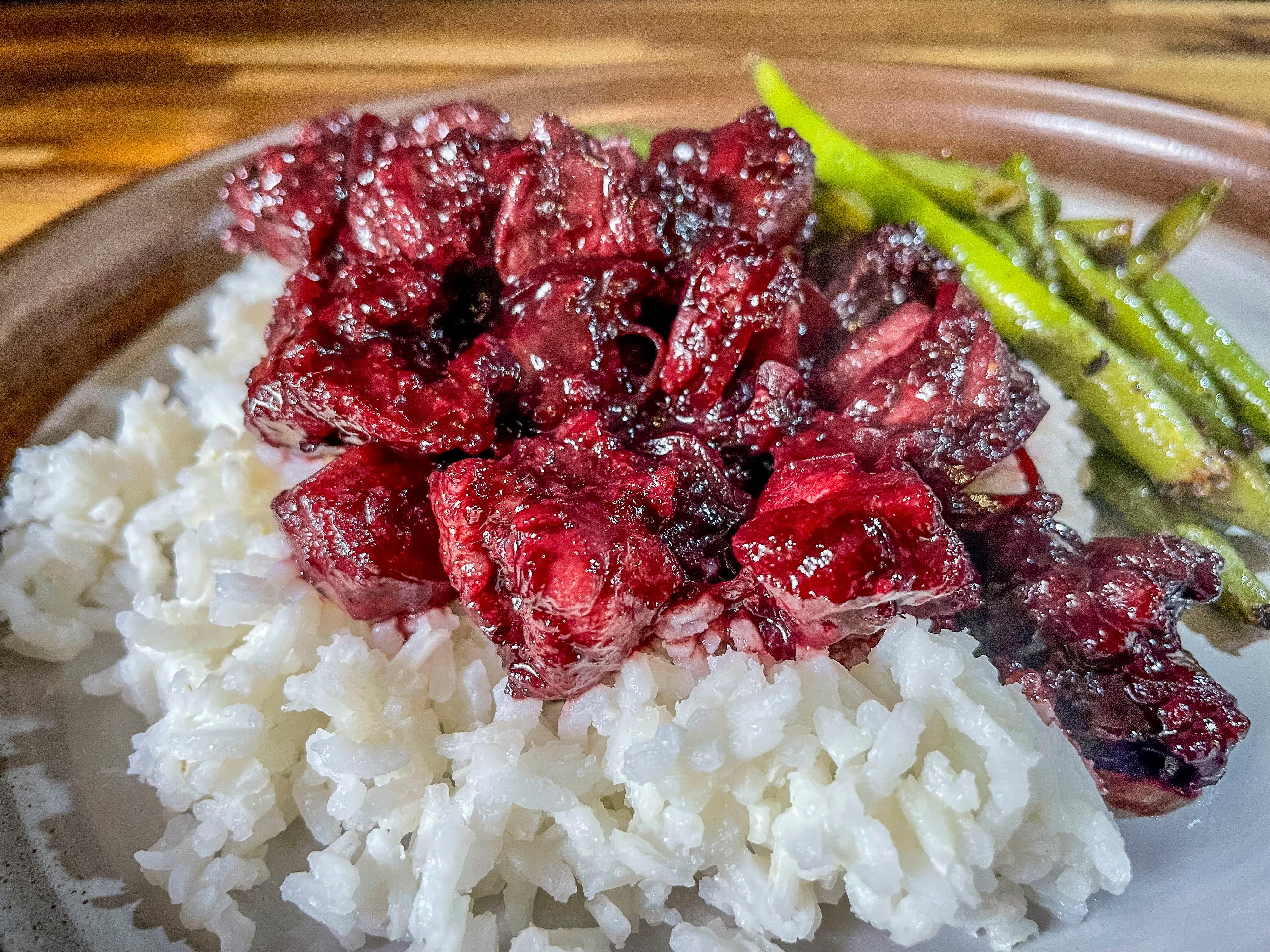 This sweet and tart sauce made from blackberries, balsamic vinegar, and Dr Pepper soda is the perfect coating for wild pork.
When we are targeting pigs for the freezer, we tend to shoot younger hogs for better flavor and tenderness. When we get a really young one (never let a pig get away, no matter the size, because they will grow to produce many, many more pigs in their lifetime), I like to cube them up and cook the meat quickly in a large skillet.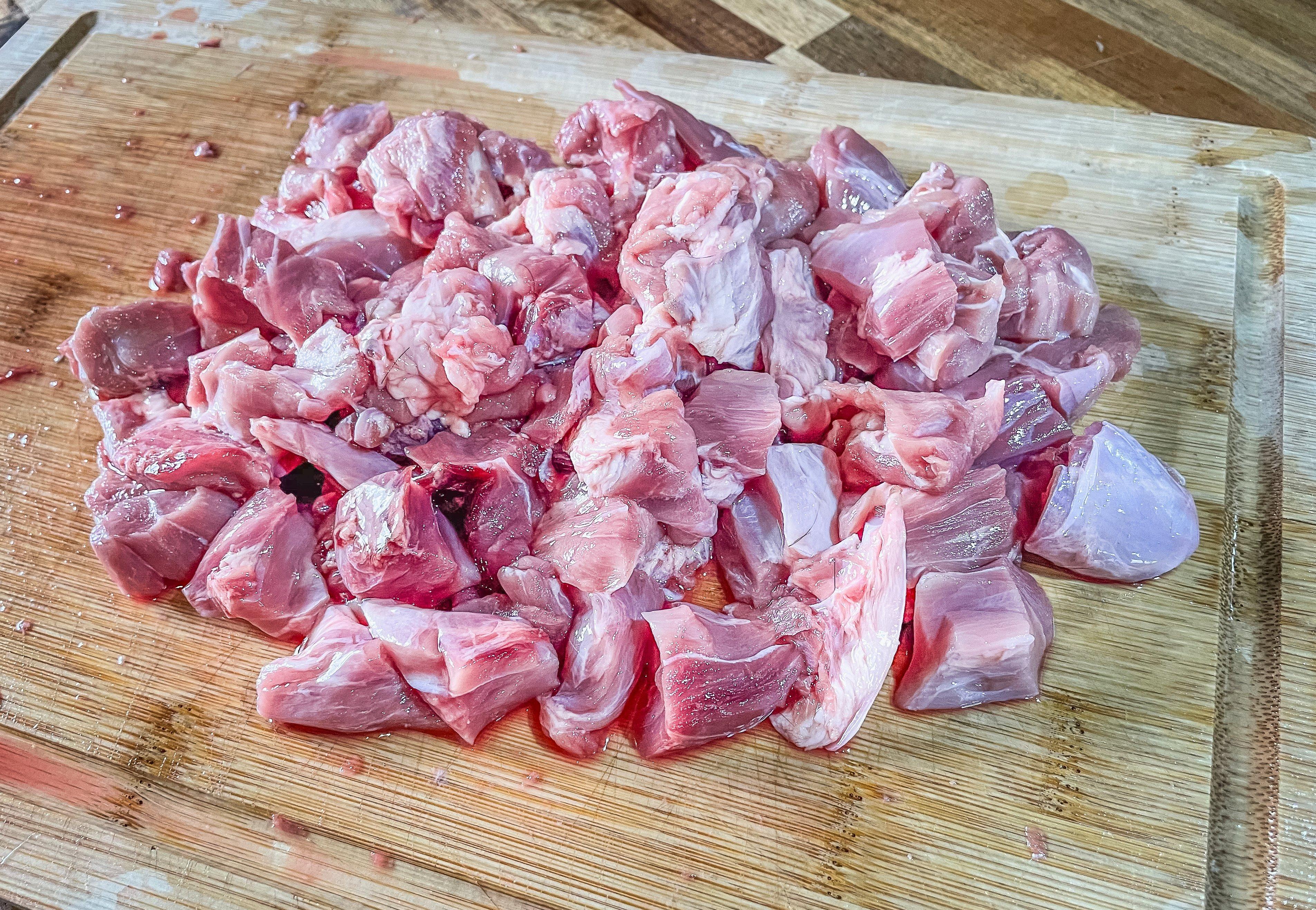 Cube the wild pork into bite-size pieces.
My favorite sauce for topping this meal is made from blackberries, balsamic vinegar, and a secret ingredient, Dr Pepper soda. Think of the finished product as a blackberry barbecue pork with zing. The soft drink gives the sauce a bit of zip and extra sweetness. Since blackberry season is long since passed around here, I go to the freezer to grab a bag of the extra berries we put back during the summer. Frozen berries work even better for sauces like this because the cell walls of the berry tend to burst when frozen, lending the finished sauce a smoother texture and more berry flavor. If you didn't freeze a few wild berries, store-bought frozen blackberries work just fine for this one. Serve over rice and with a green vegetable for a complete meal.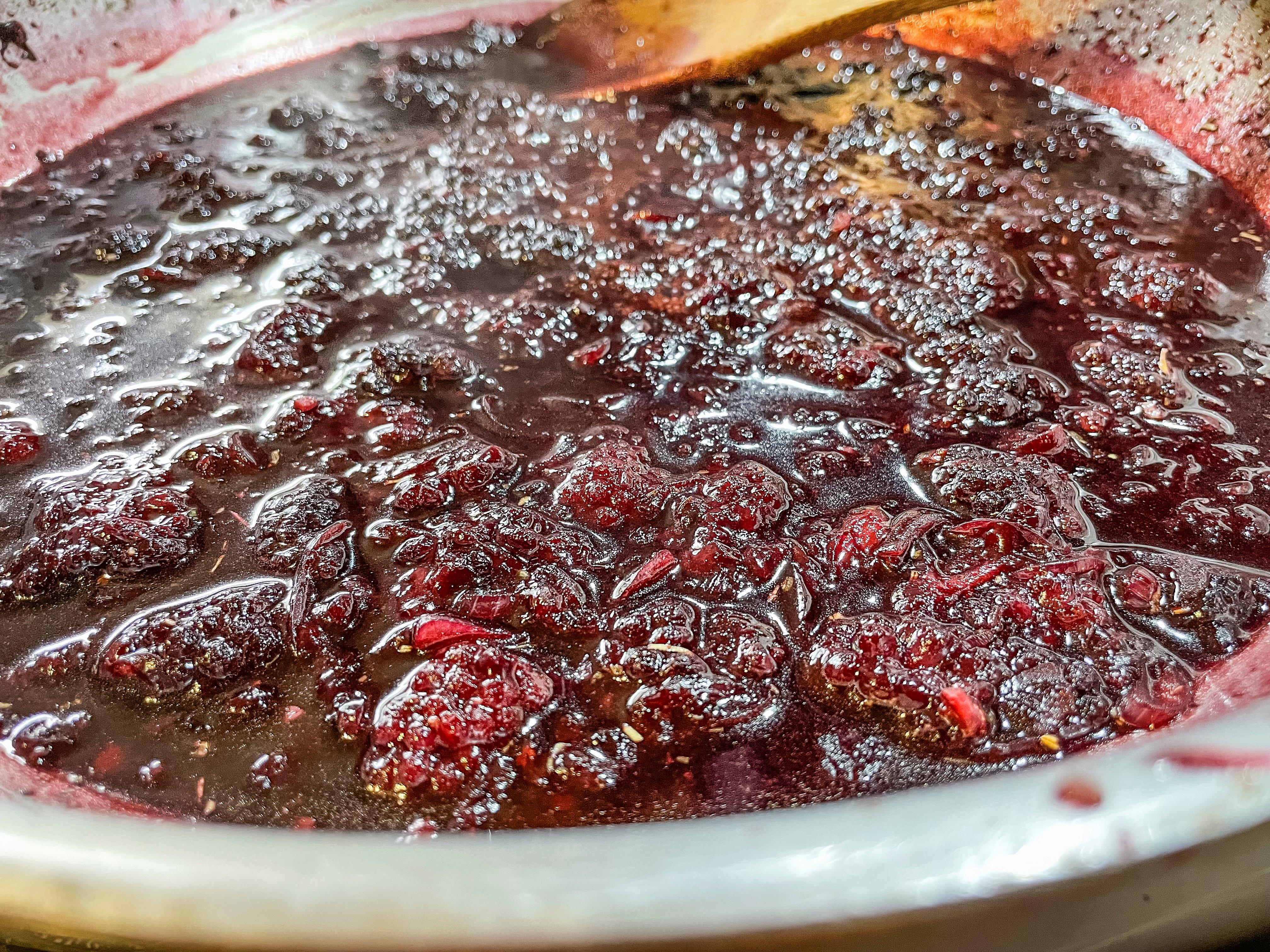 Frozen blackberries make the sauce smoother than fresh berries do.
Start by seasoning the meat with rosemary, sage, salt, and pepper. Set it aside. Heat 3 tablespoons of olive oil in a large skillet over medium-high heat. Add the pork to the skillet and sauté, turning often to evenly brown the pieces. Once the pork has cooked through (10-12 minutes), remove it from the skillet to a warm plate and cover with foil.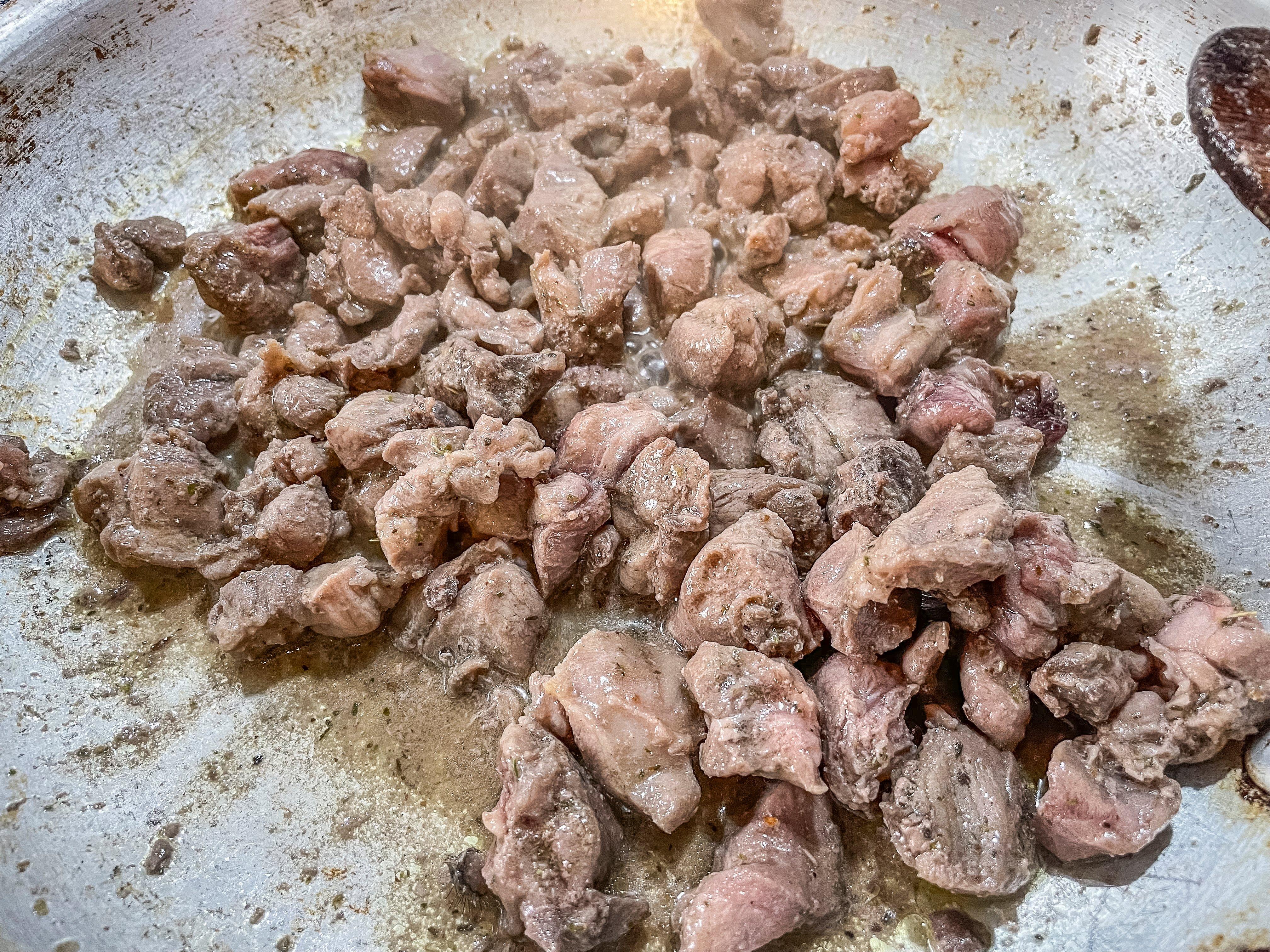 Pan-sear the pork until it is just cooked through, then remove from the pan.
To the skillet, add another tablespoon of olive oil, then sauté the sliced shallot until softened and barely caramelized.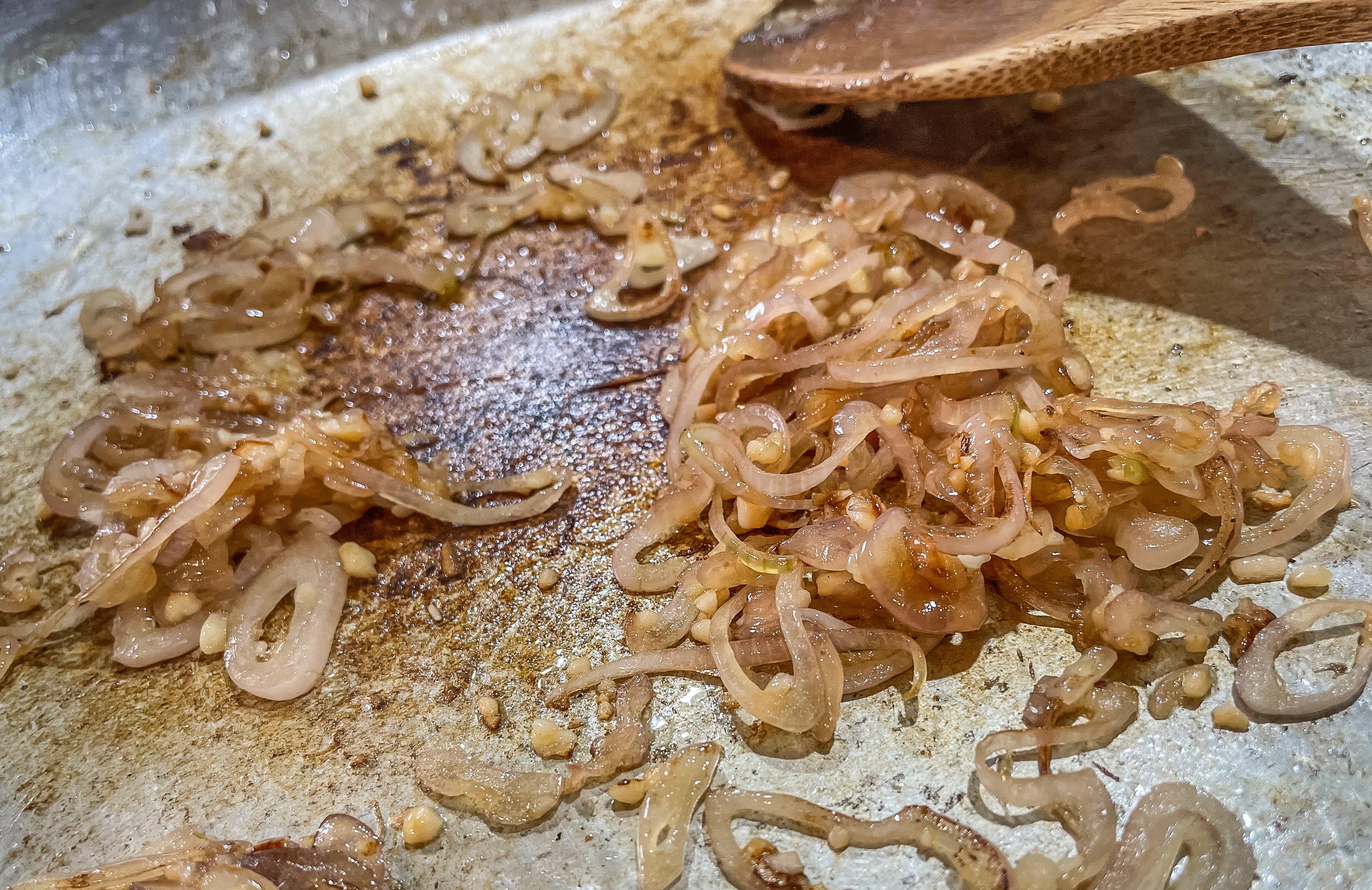 Start the sauce by caramelizing the thinly sliced shallot.
Add the garlic and cook for 2-3 minutes. Add the blackberries and balsamic vinegar. Bring to a boil, then reduce the heat to a heavy simmer. Add the Dr Pepper, honey, rosemary, and salt. Bring the mixture back to a boil and cook until reduced and thickened, about 5-7 minutes or until it coats the back of a spoon. Return the pork to the pan and stir to coat. Cook another 2-3 minutes to bring the pork back to temperature and further thicken the sauce. Serve over rice.
Ingredients
2 pounds wild pork (loin, ham, or shoulder), cut into bite-size cubes
2 teaspoons dried rosemary
1 teaspoon dried sage
Salt and pepper to taste
3 tablespoons olive oil
SAUCE
1 tablespoon olive oil
1 shallot, thinly sliced
2 cloves garlic, minced
2 cups frozen blackberries
½ cup balsamic vinegar
⅓ cup Dr Pepper soda
⅓ cup honey
½ teaspoon dried rosemary
½ teaspoon salt