Did You Know You Could Turkey Hunt These States in January?
Now that deer season is over for some of you, but still underway just a bit longer for others, the notion of turkey hunting has probably crossed your hunter's radar.
Got the urge to travel for winter turkeys, or to hunt your home state if it includes the following places? Check these options out.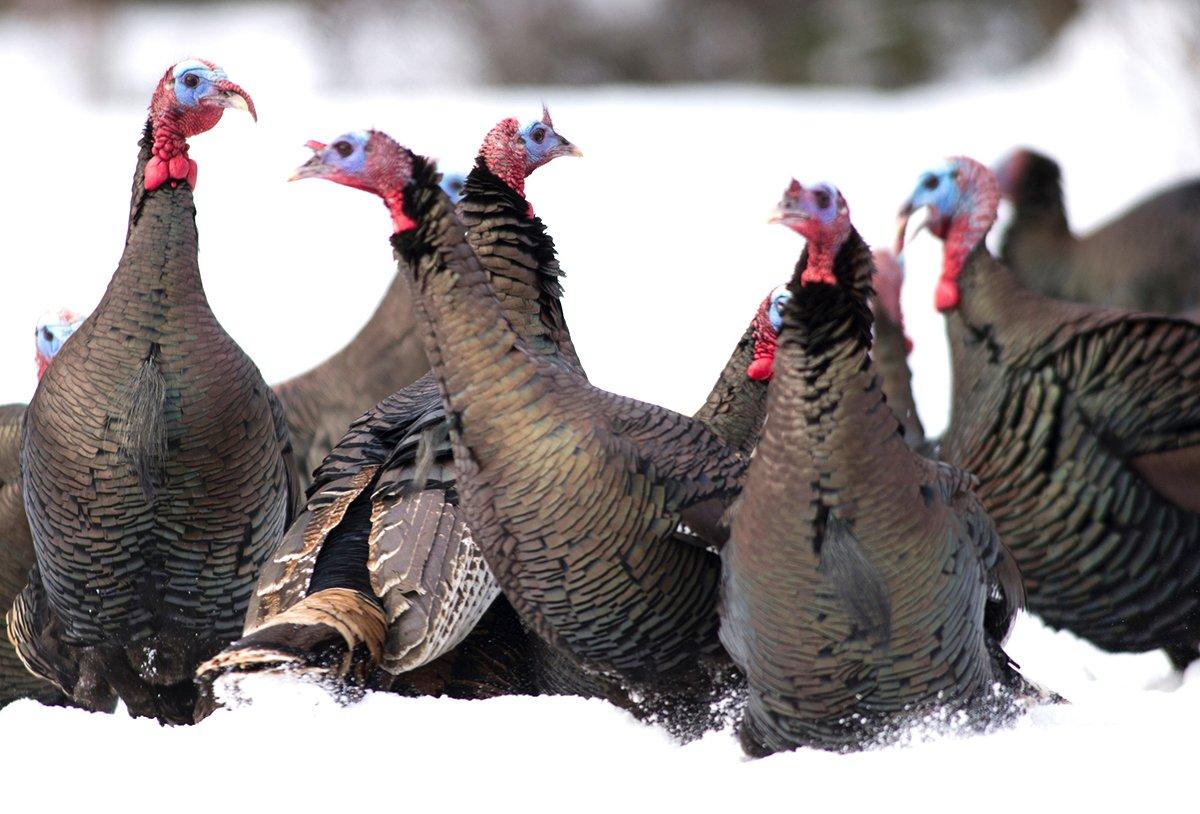 1. Sunshine State Birds
Yep, I know, "spring turkey" seasons aren't open just yet.
Winter Florida turkey seasons are though in select zones.
As turkey chasers, we love hunting Florida turkeys in spring for many reasons. Spring seasons start in March, but winter seasons are available too. It's where the Osceola turkey lives.
And heck, flying southward from the North to the warm Sunshine State has always been appealing to this traveling turkey hunter. (Maine is my home base.)
One challenge with Florida fall turkey hunts: it's gobblers and bearded turkeys only. Other fall turkey hunting states around the country are often either-sex hunts.
So maybe you want to wait a bit. That's cool. Just know the option is out there.
Florida's fall turkey hunting season.
2. Old Dominion Options
Dogs are legal for fall turkey hunting in Virginia. It makes this state appealing for some of us.
Virginia has always had a strong fall (and winter) turkey hunting tradition. Season dates for January wild turkey hunts in specific counties are offered here.
BONUS READ: How to Hunt Fall Turkeys with Dogs
3. Cornhusker Flocks
Okay, you ready? This isn't a typo: the Nebraska "fall turkey hunting season" runs so long it goes well into winter.
Season dates extend from Sept. 15, 2018 to Jan. 31, 2019.
And for those of you who have hunted this great state in "spring," you know snow might even be a factor then. That's cool. We're not complaining at all.
Go here for more on Nebraska fall turkey hunting.
4. Sunflower State Turkeys
Bundle up, fill your backpack with supplies, and get on patterned birds in this January hunting state.
Methods are generous, though some locations are limited.
As I've mentioned in this blog space before, Nebraska and Kansas are surely similar, border each other and have lots of birds.
Seasons for late-season fall turkeys are also generous in the Sunflower State, lasting until Jan. 31, 2019, as well.
5. Bluegrass State Archery Birds
The Bluegrass State has come a long way as turkey hunting goes since I first visited there in the late 1990s.
But let's talk about now. You can bowhunt Kentucky turkeys until Jan. 21, 2019.
According to the NWTF, the Kentucky turkey population estimate sits at 220,000 birds. There's surely one turkey in that big number with your name on it.
6. Sooner State Fall Turkeys
Like to bowhunt turkeys? Oklahoma's fall archery season for the birds runs until Jan. 15, 2019.
7. Old Line State Birds
Maryland offers a short three-day winter season for wild turkeys. Go here.
8. Show-Me-State Turkeys
Missouri's archery season for fall turkeys runs until Jan. 15, 2019.
BONUS READ: How to Hunt Winter Wild Turkeys
Go here for more Realtree turkey hunting.
Follow us on Facebook.