Driver shaken but uninjured . . .
Just guessing, but the insurance-claim conversation was likely a little unusual.
"A wild turkey flew into my windshield. I'll need to replace it."
"A wild turkey did what?"
According to the WHAS 11 news story, a woman driving on 1-64 in Shelby County, Kentucky late last month had an encounter she didn't expect. A wild turkey crashed into her van's windshield, shattering the glass.
In the photo, posted by the Shelby County Sheriff's Department on Facebook, the bird appears to be lodged there . . .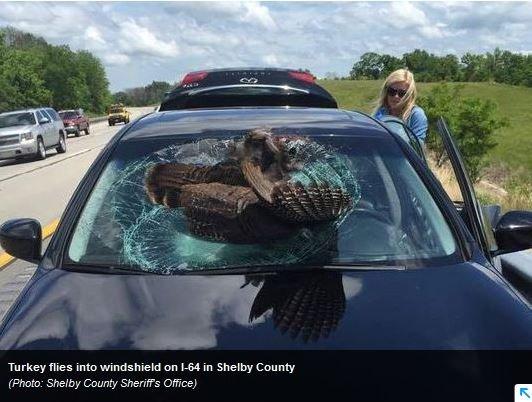 The photo says it all, or does it? The linked post states the "turkey came through the windshield . . . and landed in her lap." Well you know how stories like this go.
Either way, quite an image.