If you can't wait to get a jump on spring gobblers, it's time to pack your bags
While turkey hunting always seems to be on my mind, it weighs particularly heavy this time of year. With the season still a month and a half away in my home state of Kentucky, the thought of leaving winter behind and traveling to somewhere with an early turkey season is pretty tempting. If you find yourself in the same boat, take a look at these six stops. All of them have season openers that will get you in the turkey woods come March.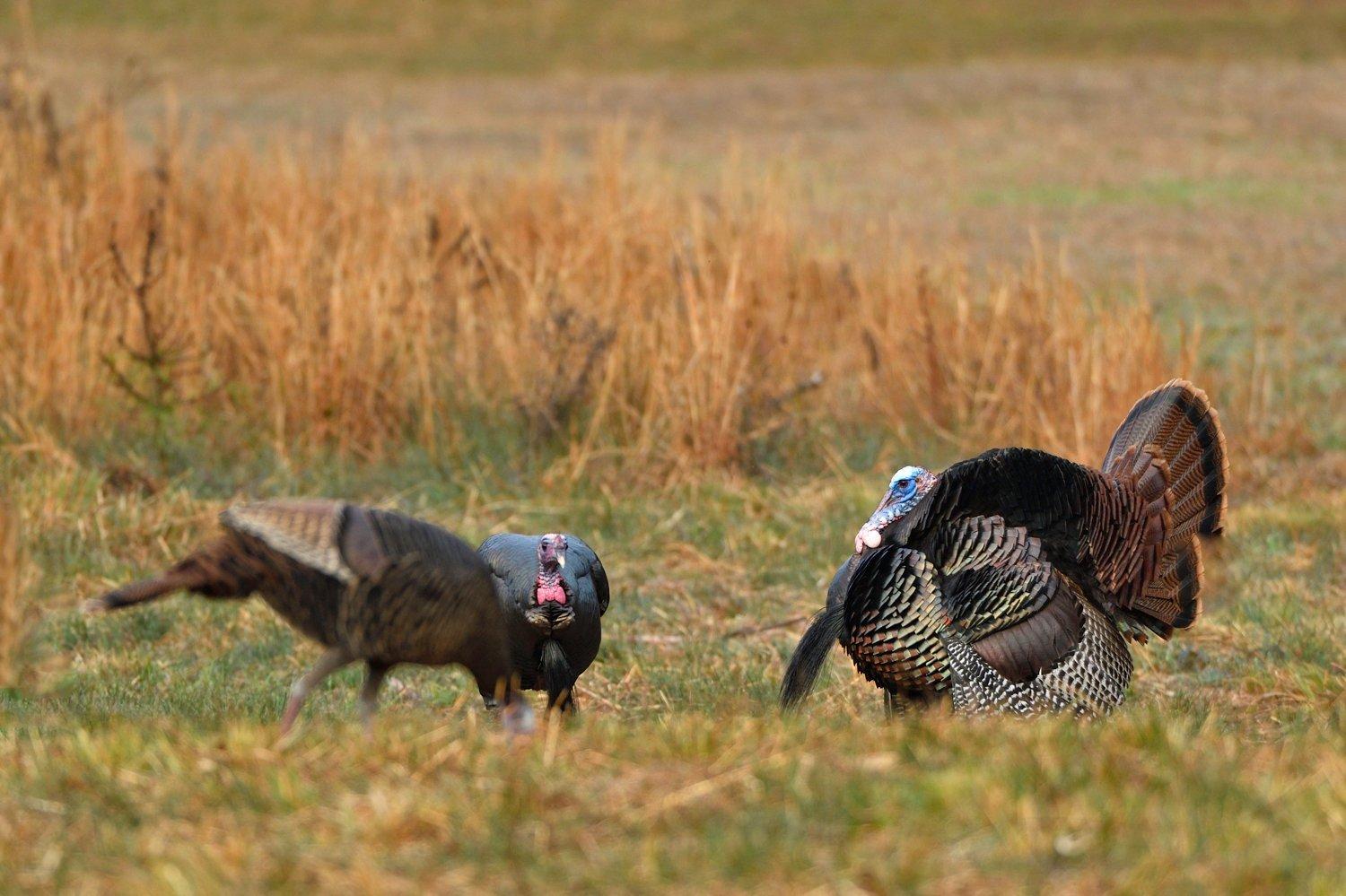 Florida
Season Dates
March 21 - April 26, north of State Road 70
March 7 - April 12, south of State Road 70
Non-Resident Costs
10-day license: $46.50
Turkey tag: $125.00
Population Estimate: 100,000 birds
Species: Easterns in the north, Osceolas in the south, and a mixture of the two in central Florida
For most of us, early turkey hunting means heading south, and you can't get much farther south than Florida. There the season starts early to mid-March, making Florida the perfect spot to scratch that early turkey itch.
Realtree turkey expert Phillip Culpepper says hunting Florida feels almost like vacation.
Back home in Georgia, it's still cold and blustery. Southern Florida is warm and sunny, with temperatures in the 80s. The turkeys are way ahead of ours in the spring breeding cycle, he says.
To find a nearly pure strain of Osceola turkeys, head south of State Road 70, which bisects the state just above Lake Okeechobee. In the Panhandle, most of the birds will be Easterns. In between will be a mixture of the two, and even a few hybrids that exhibit characteristics of both subspecies.
While there is quite a bit of public land scattered around the state, much of it is nearly impenetrable swamp. Be prepared to work your way into the thick stuff to get away from the crowds that hang around the easy spots.
If you're intent on an Osceola, check out the Lochloosa Wildlife Management Area near Gainesville. At 11,149 acres, it offers enough room to get away from pressured areas. Another spot to check out is the Lower Suwannee National Wildlife Refuge, which spans 53,000 acres around the Suwannee River.
If you decide to chase Osceolas on private ground, Culpepper recommends giving jake or full strut decoys a try.
While Osceolas might be the smallest of the turkey subspecies, they seem to want to fight more than the rest, he says. Those birds go nuts when they see the white head of a gobbler or jake decoy.
Alabama
Season Dates
March 21 - May 3, depending on zone
Non-Resident Costs
3-day license: $139.60
10-day license: $197.85
Annual license: $320.30
Population Estimate: 400,000+ birds
Species: Eastern
With nearly half a million turkeys, Alabama should be on every turkey hunter's radar for an early season hunt. But things might not be well down in the Heart of Dixie. Harvest numbers dropped considerably last year, and the Alabama Department of Conservation and Natural Resources has delayed the opener on several Wildlife Management Areas for population research. If you plan on hunting public land this spring, check the state's website for details on what may be closed during the early season.
Public land in Alabama is fair, with more than 760,000 acres spread across 37 WMAs and National Forest lands, but competition can be fierce. The state sold more than 600,000 hunting licenses last year (though that includes deer tags), and Bama has been a traditional destination state for turkey hunters from around the country.
Culpepper recommends letting the birds tell you how to hunt.
If the gobblers are hammering at my calls, I can get a little more aggressive with calling, he says. If they are quiet, say after a cold front, I'll tone back my calling a bit until I get one that wants to work.
Georgia
Season Dates
March 21 - May 15
Non-Resident Costs
Non-resident license: $100
Big-game license: $195
Population Estimate: 335,000 birds
Species: Eastern
While Georgia's harvest numbers are down from a few years ago, they have been consistent for the past few years at around 25,000 birds. Good recent hatches should mean lots of gobbling.
And with more than 1.5 million acres of public land scattered evenly around the state, it's pretty easy to find a spot to hunt. Terrain in Georgia varies from the northern mountains to vast swamps in the south, with some flat farmland in between.
When it comes to early season in Georgia, Culpepper says the weather can play a huge role in how the birds act.
If it gets warm before season and the birds get really fired up, and then a cold front sweeps through, it can really shut down the turkey action, he says. The birds are still there; they just don't gobble and react the way they do when the weather is warm.
And the weather can vary quite a bit across the state this time of year. Even if it's cold and wet in the north, southern Georgia will likely be much warmer in March. Mobile hunters can take advantage of that weather gradient by seeking warmer temperatures and more active birds.
From the swamps of Florida, to the hills of Tennessee, join Team Realtree as they get after longbeards across the country. Watch more Spring Thunder on Realtree 365
Mississippi
Season Dates
March 14 - May 1
Non-Resident Costs
License (depending on length): $125-$300
Spring turkey permit: $20
WMA permit fee (if hunting a WMA): $30

Population Estimate: 225,000 birds
Species: Eastern
Although the season opens early in Mississippi, harsh weather sometimes delays hard gobbling until later in the season, particularly in the northern third of the state, which has traditionally been Mississippi's turkey-hunting hotbed.
While turkey harvest numbers are down from historic highs, the last two years have shown some improvement. The Mississippi Department of Wildlife, Fisheries and Parks reports that good hatches should make 2020 one of the better seasons in almost a decade.
Meanwhile, Mississippi has nearly 2 million acres of open public hunting lands consisting of National Forest land and 53 state-operated wildlife management areas. As an added bonus, the U.S. Army Corps of Engineers manages huntable property, and several National Wildlife Refuges within the state have special hunting regulations and access rules.
Traveling hunters should note that, while the season limit is three birds (one per day), jakes aren't legal for adult hunters. Mississippi defines a legal gobbler as a bird with a 6-inch beard or longer.
Like neighboring Alabama, weather can play a big role in early season hunts. If you plan to hunt the Delta area, check weather forecasts for flood conditions that might close access to large tracts of land.
Nebraska
Season Dates
March 25 - May 31
Non-Resident Costs
Turkey permit: $109 per turkey, up to 3
Habitat stamp: $25
Tags have been available for purchase since mid-January
Population Estimate: 145,000 birds
Species: Merriam's, Rio Grandes, Easterns and hybrids
Don't want to head south? If you hunt with archery equipment, you're in luck. Nebraska sneaks in at the end of the month with an archery season that opens on March 25.
Turkey hunting in March in Nebraska can run the gamut from warm, sunny days to brutal snowstorms with high winds and sub-freezing temperatures. Pack accordingly for whatever conditions you might encounter.
Public land isn't exactly abundant in Nebraska, but with more than 500,000 acres of public and public-access lands, there are places to hunt. If you find several birds while scouting, don't be afraid to knock on a few doors. Private-land permission is still obtainable, and even more land can be opened up with a small trespass fee.
Plan your travel around the species you're targeting. You'll find Merriam's in western Nebraska, hybrids (usually some mix of Merriam's, Rio and Eastern) in most of the state, and some pure Easterns in eastern Nebraska.
Hawaii
Season Dates
March 1 - April 15
Non-Resident Costs
License: $95
Required conservation stamp: $10
Population Estimate: Unavailable, but birds are most abundant on the big island of Hawaii
Species: Rio Grande (transplanted from Texas in the 1960s)
If the thought of hunting in a Nebraska snowstorm isn't appealing, consider a morning turkey hunt on the slopes of a dormant volcano, followed by a leisurely afternoon on the beach.
Since their introduction on the Big Island, and a few surrounding ones, in the 1960s, turkeys have thrived in Hawaii. They can be found mostly on the state's volcanic slopes at elevations between 6,000 and 10,000 feet. Tony Caggiano, the CEO and founder of World Slam Adventures, offers guided hunts on the Big Island. He says the turkeys favor that elevation because the habitat is too tropical below 6,000 feet, and too barren above 10,000 feet.
It's a different world out there. Since the turkeys have no natural predators, they aren't as wary as birds back here. They might roost on a low rock, a fence, or a high spot on the ground, and they will sometimes answer and come to a call, even in the dark, Caggiano says. Just like turkeys here, these birds gobble best in March and April.
If you don't want to go the guided route, there is public land available on Hawaiian Island around Mauna Kea, a dormant volcano, and around the Mauna Kea Forest. Success rates on private land hunts are near 100% and public land rates are also high.
More Realtree turkey hunting.