Billy Barnett is a lineman from Kentucky who recently pulled off a feat that few others have—killing a turkey in all 49 states where they live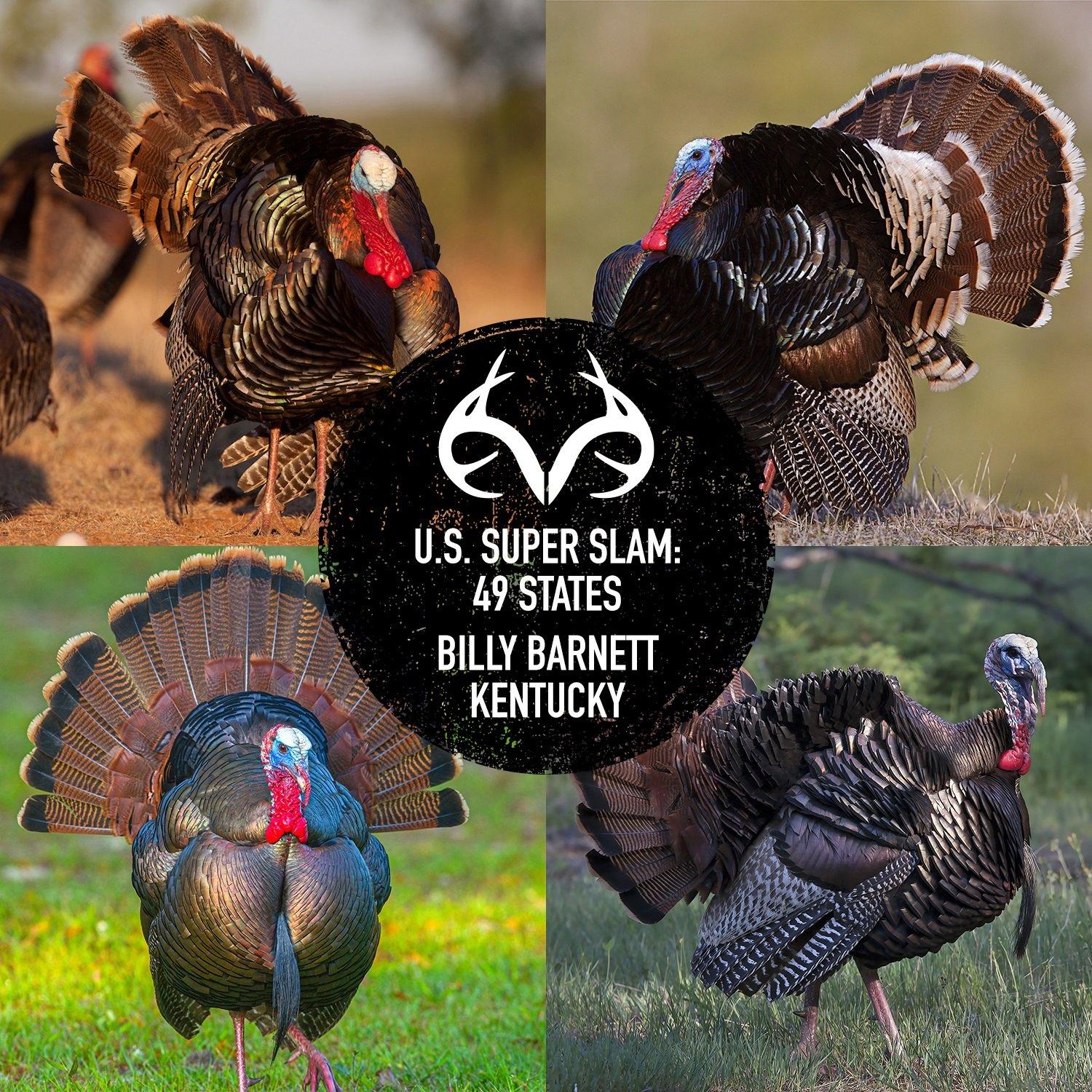 April 2, 2022, was a day of firsts and lasts for avid turkey hunter Billy Barnett. Upon bagging a nice bird in Nevada, he got to mark the final X on his map, making the state the last of 49 he needed to complete his first U.S. Super Slam.
Considered the biggest feat in turkey hunting, the Super Slam requires taking one turkey subspecies in all U.S. states, except Alaska, which doesn't have a wild turkey population.
Barnett, of Pulaski County, Kentucky, calls this his first Super Slam because he's already marking off states for his second Super Slam. In fact, he's well on his way to that, with 15 of the states in the books so far. If he completes his second Slam, he'll be one of only two hunters in history to do so.
Barnett said the obsession to complete his first Super Slam started in 2016 after he accomplished his first Grand Slam, which requires harvesting all four U.S. subspecies: Eastern, Osceola, Rio Grande, and Merriam's. Barnett travelled to Florida, Kentucky, Kansas, and South Dakota to complete that task.
Up until then, I never traveled very far to turkey hunt. The pursuit of my first Grand Slam is what started all the madness. I had no idea what I was getting myself into or what I was missing out on before then, he said.
Grand Kick-off
In 2016, while spending time on a hunting forum, Barnett started chatting with a guy who'd been out West to get his Rio and Merriam's, and all he lacked was his Osceola to accomplish his Grand Slam.
I'd never met him, but we clicked on the forum, Barnett says. So, I asked him, 'Man, do you just want to go on with me to Florida this year and try to get an Osceola to finish up your Grand Slam? He said, 'yeah.' He's from Kentucky too, so he drove to my house and we made the 10-hour drive to Florida - after meeting for the first time in my driveway. Both of us got an Osceola, and now we talk almost every day. We have a great friendship.
(Don't Miss: Turkey Hunting the Evening Shift)
When Barnett returned from Florida, he decided he wanted to go to Kansas, Nebraska, and South Dakota to finish up his Grand Slam. His dad agreed to travel with him, so the two of them loaded up in his truck and headed west.
"Being on the road and being off work and by myself was like a freedom I'd never experienced in my life.
We camped out the whole time, he says. I got my Rio in Kansas, then I headed to Nebraska. Everyone had told me I'd have no trouble there, but I struggled. It was windy and everywhere I went, I'd come upon piles of feathers where another hunter had taken a bird. I had no luck in that state, so I went on to South Dakota's Black Hills and got my Merriam's there, which completed my first Grand Slam.
When driving back from South Dakota, all Barnett could think about was how much fun he'd had. Out West was beautiful country, he says. The Rios and Merriam's gobbled differently. I loved the whole concept of traveling and turkey hunting. I'd heard of others doing the U.S. Slam, so I started thinking about how many states I'd already taken birds in. And then I thought, 'I'll just see how many I can hunt the next year.' It just snowballed from there. It really became a madness. It was like I couldn't stop. I enjoyed it so much and it just got in my blood. Being on the road and being off work and by myself was like a freedom I'd never experienced in my life.
A Self-Taught Turkey Hunter
Like many people, Barnett was introduced to hunting by his father. When I was a kid, my dad would take me and my two brothers squirrel hunting, he says. Then, we moved into deer hunting. But my dad was not a turkey hunter. Turkey hunting was something I jumped into on my own. I watched a lot of turkey hunting videos and tapes. Some of my buddies were getting into it too, and it was a learning experience for all of us. I think part of the reason I enjoy it so much is because I figured it out on my own.
It took a few years before Barnett got his first bird, but he said he was hooked from day one. He loves everything about turkey hunting, especially the gobble. I'm pretty sure I wouldn't hunt turkeys if they didn't gobble, he says.
Plus, he says unlike deer hunting, you can go pretty much anywhere in the country and find turkeys to hunt.
Deer hunting takes so much scouting and time to find the right locale, he says. But you can pull into a public land area in the morning, locate a bird gobbling on the roost and take off after him. I love that turkey hunting can take place on so many different terrains in so many different places.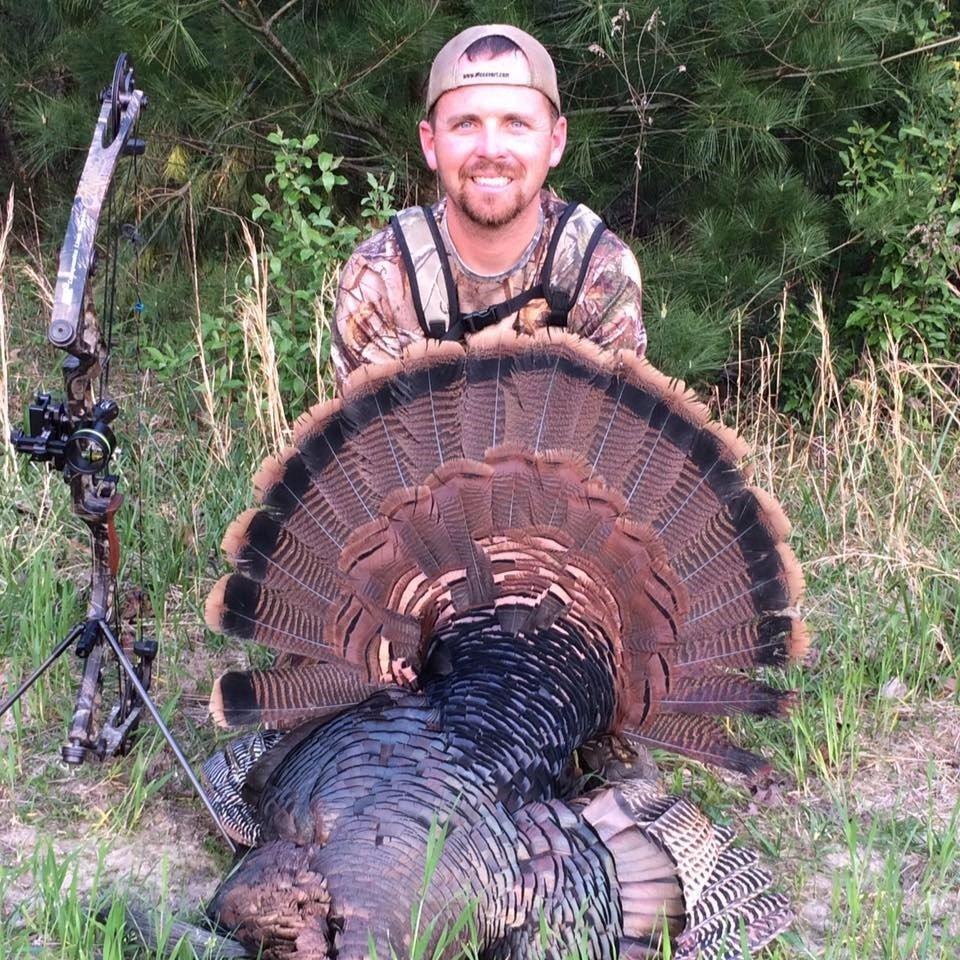 Planning and More Planning
When it came to accomplishing the Super Slam, Barnett says, most of the time, the turkey hunting was the easy part. Now I'm not saying I didn't have some tough hunts, but the preparation, traveling and logistics of each trip was a full-time job, he says. It all has to be right or it can cost you dearly.
Barnett, who works as a lineman for the local electric company, meticulously planned out each state's hunt. As soon as turkey season ended in June, he started compiling info for the states he planned to hunt the following season.
It all has to be right or it can cost you dearly.
I have a big dry-erase board in my basement where I write down each state that I want to hunt the next year, he says. I include when each state's turkey season opens and any other special notes I want to remember. I also make envelopes with important info for each state, like if a state has a certain draw procedure, the limits, shooting times, etc. I put money in one of the envelopes after each paycheck until I have enough money to hunt that one state, and then I move on to the next state. Each envelope contains enough money to cover the license cost, gas, food, and lodging. I usually sleep in my truck to save money, but if I'm staying for a while, or if I get really tired and need better sleep, I may rent a hotel room for the night.
Barnett says he also spends a ton of time on the phone with state game and fish departments.
I'll call each state before season and get them to send me a hard copy of the hunting guide, which I put in the state's envelope.
Going For the Super Slam
The busy family man saves up his vacation days and will often plan his hunts over a three- or four-day weekend. He'll leave after work and will often drive through the night until he reaches his destination. Then, he'll hunt from daylight until dark if possible.
Barnett says he hunted both public and private land during his quest for the Super Slam, usually opting for a semi-guided hunt if he went through an outfitter. He said his two easiest states to harvest a bird in were Kentucky and Hawaii.
Kentucky was easy because it's my home state and I know where to go to locate birds. Hawaii was not only easy, but one of my favorite places to hunt because the state has a lot of birds and they were very vocal. The terrain made it easy to sneak around and into them.
He said Mississippi was by far the most challenging.
(Don't Miss: 10 Ways to Sound Better on a Friction Call)
I had to make a couple of trips to the state before I killed a bird, and I have still yet to hear one gobble in Mississippi, Barnett says. During my first trip, I stayed three days and only saw a hen. I came back and was experiencing no luck until I ran into a park ranger at a campground who took me to a place where he'd seen birds in the past. Sure enough, I was able to find a gobbler in that area and get him. I owe a lot of credit to the people who helped me along the way. I could still be working on locating birds in Mississippi if not for that park ranger.
Barnett also had a tough time in Vermont. On the first morning of his hunt, he had a bird gobbling and moving in his direction, but someone else shot it 100 yards from him.
It's also illegal to hunt in Vermont after 1 p.m., he says. That time limit adds to the difficulty. It makes me feel rushed and changes the way I'd normally hunt. It took me three days to get my gobbler there.
Runnin' and Gunnin' Across the Country
When it comes to working toward a Super Slam, variety is the name of the game. You hunt a variety of states, in a variety of terrain and weather conditions, for a variety of turkey subspecies. And while Barnett definitely noticed some differences in behavior between the subspecies, he says he mostly just stuck to his run-and-gun style of hunting that he loves.
In Arizona, the birds hit the ground running and would travel a very long distance throughout the day, while an Eastern will stay in the same general area. I couldn't tell much difference when it came to the amount of calling each species did. I just stuck to the same tactics and tried to get a good setup on them.
(Don't Miss: How to Hunt the Worst Weather Possible)
Barnett doesn't use locator calls and he doesn't overthink things. Instead, I'll just get out there early in the morning and let them gobble on their own. I'll get as close as I can to them. I'll watch where they're going and will try to get in front of them - and where I think they want to go. It's all just turkey hunting to me.
He rarely uses decoys, but says he did use a fan to lure in and kill a bird in North Dakota. And he says he almost always uses a box call, simply because it was the first type of call he ever used and he decided to just stick with that. He likens his using a box call for every hunt to a fisherman sticking to his lucky bait type every time he hits the water.
My first box call was a Lynch, but I've got about every brand there is. I'm using a waterproof Quaker Boy call right now, he says.
His gun is a Benelli Super Black Eagle II with Nitro TSS with a blend of No. 7 ½ and No. 9 shot. And, when it comes to turkey vests, he says the smaller and lighter weight the better. At the beginning of the season I load up my Knight & Hale turkey vest with all types of gear and accessories, but by the end of the season, it's practically empty, Barnett says.
The Drive to Keep Going
Despite the long hours on the road and away from home, Barnett never grows tired of his longbeard pursuit. Catching the sun come up in a new state motivates me to keep going, he says. I've never wasted a single sunrise. I love to see the woods come alive and hearing a gobbler breaking the silence is indescribable!
Although completing the Super Slam is quite an accomplishment, Barnett says, hands-down, the best part of his quest has been all of the friendships he's made along the way.
Turkey hunters are some of the best people you will ever meet. I've been offered places to spend the night, food, and places to hunt. I sincerely appreciate every single person that's helped me along the way.
Barnett said most of all, he wants to thank God for blessing him with the opportunity to pursue his dream and for watching over him throughout his time on the road and in the woods.
And last but not least, thanks to my wife, Rebecca, and all my family for supporting me, I love you guys.
Barnett's U.S. Super Slam States in Order
2016 - Florida, Alabama, Tennessee, Kentucky, Kansas, South Dakota
2017 - Oklahoma, Texas, Arkansas, Mississippi, Virginia, Indiana, Michigan
2018 - Georgia, Iowa, Illinois, Missouri, Maine, Connecticut, Vermont, New Hampshire, Rhode Island, Massachusetts, New York, Pennsylvania, Ohio, Wisconsin
2019 - South Carolina, Louisiana, Nebraska, Wyoming, North Dakota, Montana, Colorado, New Mexico, North Carolina, West Virginia, Maryland, Minnesota
2020 - Hawaii, Idaho, Washington, Oregon, Utah
2021 - Arizona, California, Delaware, New Jersey
2022 - Nevada