C
20,000 Merriam's, 700 Gould's and 500 Rio Grandes (NWTF estimates)
Wild Turkey Population
Merriam's, Gould's and Rio Grande
Turkey Subspecies
4,555
Number of Licenses Sold Annually
$75
$37, general hunting; $38 turkey
Cost of Resident License and Permit
License options vary; plus $105, turkey
Cost of Non-Resident License and Permit
There are many turkey management success stories throughout the Lower 48. Perhaps the most impressive in recent history is the reintroduction and establishment of the Gould's subspecies in southern Arizona.
Merriam's and Gould's turkeys are native to Arizona. Since 1913, turkeys have been classified as a big-game species in the Grand Canyon State. The original bag limit of three was changed to two in 1929. At the time, only a fall hunting season was offered. However, in 1963, the first spring turkey opportunity was introduced, and 100 tags were sold.
One of this state's two native turkey subspecies, the Gould's at one time was widely distributed in southern Arizona. History tells us overhunting in the early 1900s depleted their numbers within the region.
However, through sound management practices by the Arizona Game and Fish Department — and partnerships with organizations such as the NWTF and others — populations of Gould's now number around 700 in southern Arizona.
According to state officials, Rio Grande turkeys were also recently introduced on the Arizona Strip at Black Rock Mountain as well, transplanted from Utah. The NWTF currently estimates this number at about 500 birds.
Although there is plenty of public ground to hunt turkeys in the Grand Canyon State — and some of the units offer good hunter success rates — getting a tag through their limited license system can be tough. Each year, some hunters are lucky enough to be a part of recent turkey conservation history when their tag arrives in the mail.
Almost any unit offering tags can provide a good hunt, authorities say, but sometimes it can take years to draw. The White Mountains, Kaibab National Forest and the Mogollon Rim from Flagstaff to Springerville are excellent locations for birds. 
The hunter success rate has been about 19% statewide recently. However, the better Merriam's turkey units will provide a 25 to 30% chance.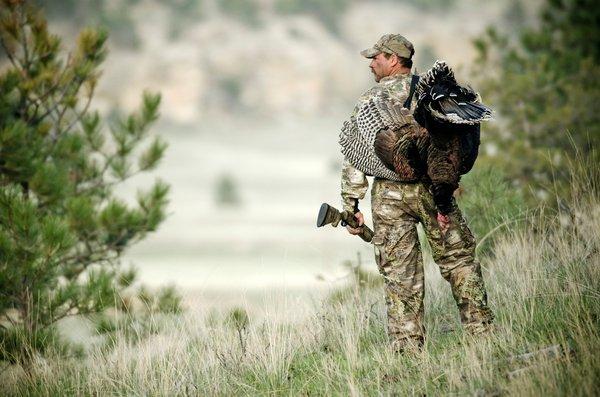 Go here for more Realtree turkey hunting.