You don't need a trailer full of decoys to kill wintertime honkers. This spread will fit in the bed of a pickup truck with a little room to spare
You've seen them. Huge diesel pickups towing 24-foot enclosed trailers emblazoned with 5-foot decals from Waterfowl Company A. Inside the rigs are 200 to 300 full-body decoys if there's one. Once on the 'X,' the rigs disgorge camo-clad men who commence setting the hundreds of fakes in scientifically designed configurations.
Do these monster spreads kill geese? Sometimes. But can today's goose hunter be successful hunting over a spread that will fit in the back of an 8-foot pickup bed? Absolutely.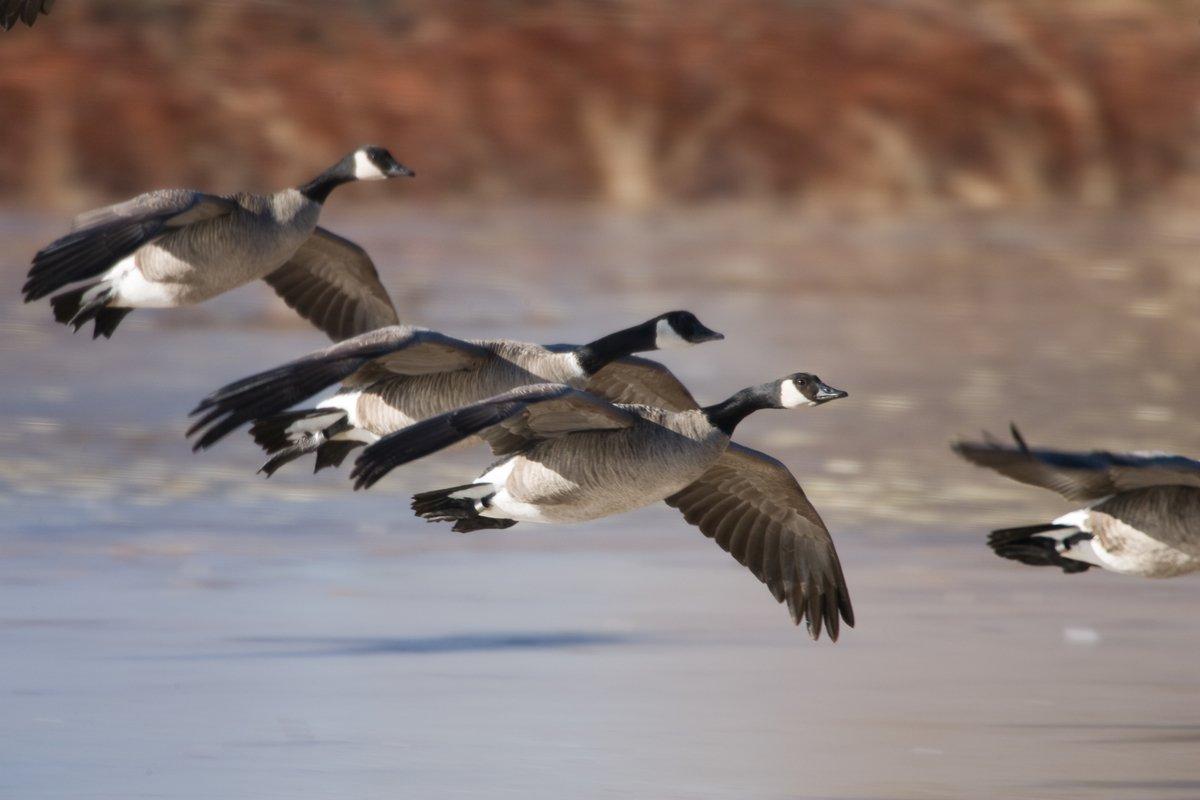 Small spreads - we'll call them One-Truck Rigs - work on late-season geese for several reasons. For one, modern hunters are enamored by the Bigger Is Better theory, so live geese don't often see such small spreads. Two, giant Canada geese—honkers—are now prevalent throughout the country. Some of these big birds never migrate, and actually remain in small flocks all season long. These can be aggressive birds, too, around a good food source, and it seems like other geese know it.
Nick Miller is a buddy of mine from Washington State, and a goose-hunting expert. When we're after big geese late in the season, we'll cut our rigs down dramatically, he says. I might take 24 full-bodies and split them into two smaller groups. With multiple smaller bunches of decoys, incoming birds have to multitask; they have to look at multiple decoy spreads. This helps take their eyes off the blinds and the hunters. He notes here that when running a small rig, his tactic is to off-set the blinds to the spread. I'll quarter the blinds to the spread and the wind, he says. This gives the guns left-to-right or right-to-left shots, but it keeps the birds from looking directly at the blinds.
What all goes into a One-Truck Rig? Here's the plan: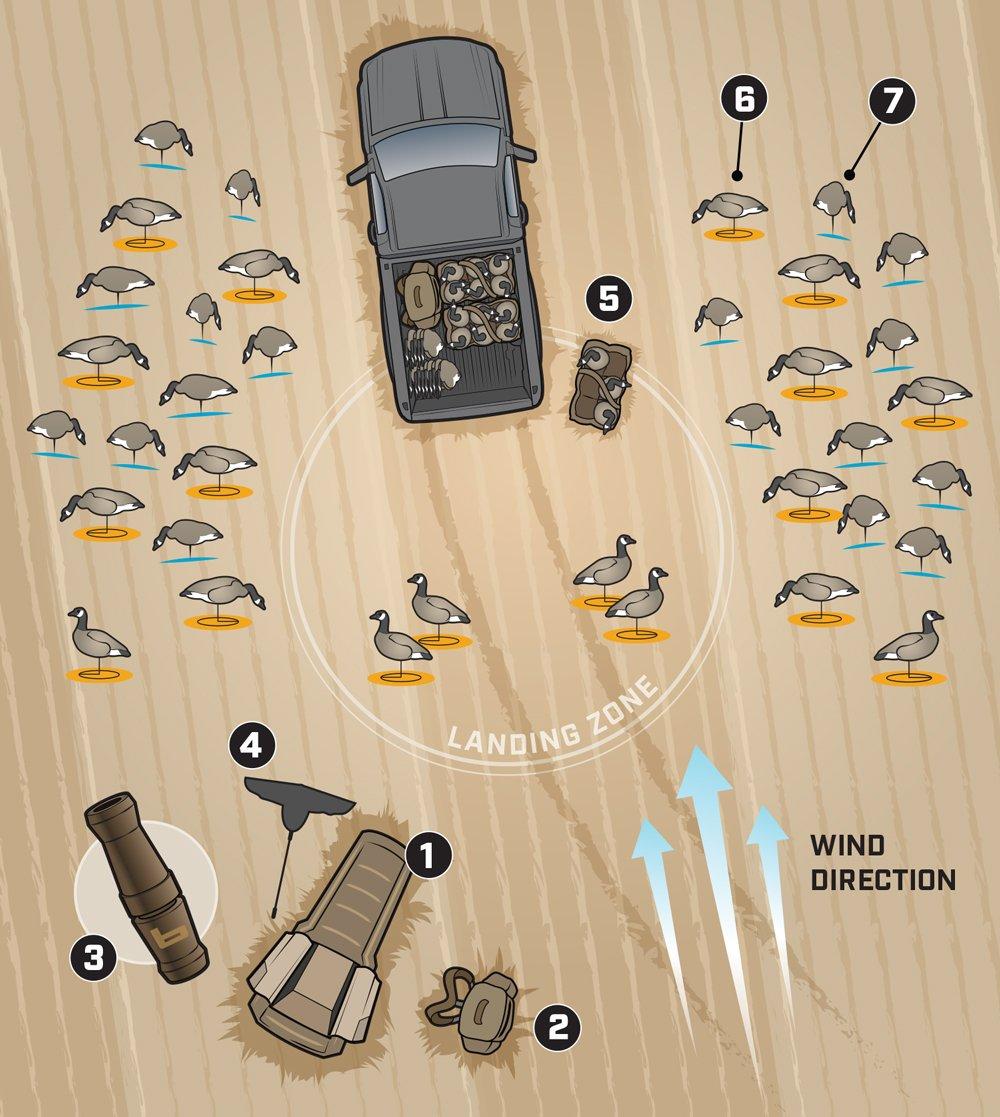 1. Low-Profile Blind
I want something light and ultra-low profile in a layout blind, which is why this one from Rig Em Right goes into Grandpa's pickup. I keep it corn-stubbled or grassed with raffia all season, refreshing it as necessary throughout until I'm forced to slip a snow cover on it. Goose hunting here in Iowa is usually when the weather is snowy and cold. The Low Rider doesn't eat up much space in the rig, and can even serve as an impromptu silhouette hauler should I have to pack blind and skinnies into the field.
2. Big Blind Bag
I know; it's meant for the walk-in duck hunter, but Cabela's Northern Flight™ Ultimate Walk-In Blind Bag really serves double duty. With more than 900 cubic inches of interior storage space, this bag carries everything I need for a full day's goose hunting - calls, ammo, short Thermos, jersey gloves, extra fleece skullcap, handwarmers, water, snacks, dog biscuits, cellphone, headlamp, field first aid kit, bird strap and more. Here, everything's organized and nothing's forgotten. Usually.
3. Short-Reed Call
I like a user-friendly short reed, and few are moreso than the Dark Magic from Banded. The name on the call, however, really doesn't matter; what matters is what you do - or more importantly, don't do - with it. Remember, you're hunting over a handful of decoys, so don't try to sound like 1,001 geese, especially if there are multiple guns in the spread. Assign a pit boss, preferably an experienced caller, and let him do the calling. Learn when not to call, which in the case of wise late-season Canadas, is more often than not.
4. Extendable Flag
Flagging can be more effective than calling in the late-season. An extendable flag like this provides the height necessary to grab the attention of distant birds, yet can be shortened and used effectively as a close-in tool. Quickly flick a wingtip of the flag if the birds need a bit more subtle convincing; a short up / down with the geese on the corners might be all that's needed. Don't be afraid to experiment.
5. Slotted Decoy Bags
I like to take care of my gear, and slotted bags like these help keep my full-bodies looking good and natural. Three to six six-packs jigsaw into the truck bed easy enough, with plenty of room left over for a couple blinds, blind bags and guns.
6. 18 Full-Body Decoys
For a short spread, I'm running 18 Hard Cores - 12 feeders, two sentries on the edges, and two pairs in the hole as if they'd just landed and were walking into the feed of 12. Depending on what the birds want, I may double that number or cut it to eight. Either way, it all fits in the truck.
7. Silhouettes
I don't care what the full-body crowd says - I like silhouette decoys. Why? Because today's skinnies look good, don't glare like they used to, and attract 3-D wary honkers like nobody's business. There are times when I find it necessary to strap a blind on my back, a bag and shotgun over my shoulder, and a satchel of skinnies in my hand - if, that is, I want to kill Can't drive into that field Canadas. In such a situation, silhouettes are the perfect way to set a realistic spread on two legs rather than four wheels. Plus, they don't take up any room whatsoever in the back of the truck, or the backseat for that matter. No reason not to have them.