Three hot-spot areas you don't need loads of points for
The cadence of shoed hooves slapping the ground filtered through the damp piney air as we eased up the pack-trail. The well-used saddle I was straddling creaked and groaned as it shifted from side to side over my horse's rippling strong back, which only added to this true Western hunting experience. As we transitioned from thick fir to the sparse alpine tree line, Mark, the lead wrangler, pointed to a distant ridge and indicated my camp would be enclosed in the small cluster of firs.
After setting up camp, I eagerly studied the emerald-green carpeted ridges around me, and it wasn't long until brown specks of feeding elk appeared. And as if on cue, a lone bugle rang out, and I knew full-well I had found my elk hunting nirvana. Five days after my drop camp began in this vast expanse of public wilderness, I stood slack-jawed as I coveted my first Pope & Young bull elk, a 6X6 public-land prize.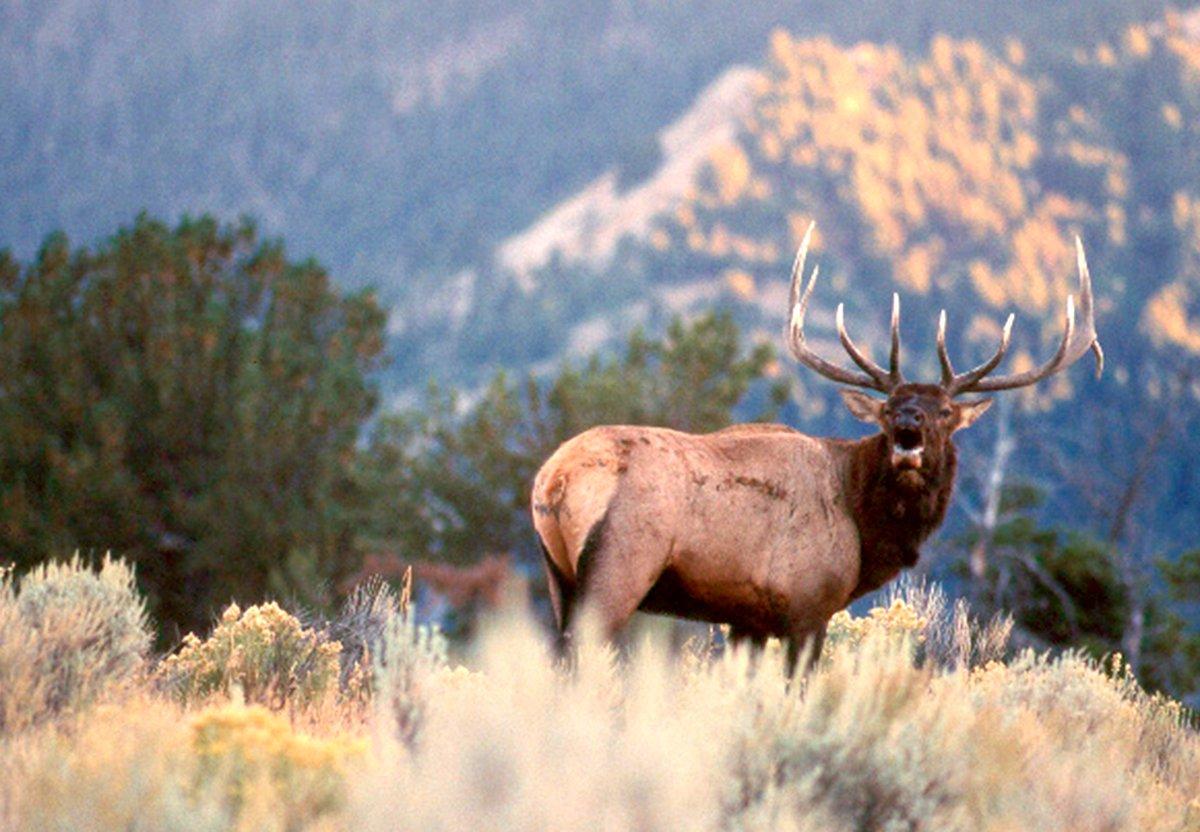 Nothing symbolizes the West quite like a bugling bull elk. And there's no question about it, the Centennial State is an elk mecca and it ranks at the top for the do-it-yourself hunter looking for abundant elk opportunity. With some 270,000 elk scattered across 12 National Forests and countless parcels of BLM land, you can understand why Colorado easily claims the title, elk capital of the world. Add to this over 90 game management units (GMU) that offer over-the-counter elk tags and you can see why hunters sporting their favorite Realtree camo pattern descend here in force each year.
However, with this many GMUs offering OTC elk tags and the mighty wapiti roaming virtually every hidden basin and steep ridge, it can be difficult to choose a region in which to punch your tag. But if your seeking massive amounts of public land to stretch out on, solid numbers of elk and a chance at a quality 5X5 bull, then you might want to consider the impressive elk herds of the White River, Gunnison and San Juan regions. Here's a snapshot of what each has to offer.
Bulls of the San Juan
This Southwestern Colorado gem stretches across game management units 75, 77, 78, 751 and 771 and offers everything from leg-burning wilderness hunting to simply jumping out of your 4X4 and hitting the woods. According to CDOW terrestrial biologist Andy Holland, this region is a good place in which to hunt elk, especially when Mother Nature behaves herself and produces a good dose of the white stuff. Last fall she must have behaved herself because success rates across these units averaged 31% during the rifle seasons with nearly 1,600 bulls falling throughout the region.
The latest population surveys show in excess of 17,000 wapiti roaming the hills there; and if you add this year's calf crop, there will be well over 21,000 taking up residence across these five GMUs. Bull-to-cow ratios aren't too shabby either with an average of 18 bulls to every 100 cows, and according to Holland, most of those bulls will meet the 4X4 age class or better.
Despite this regions OTC status, it has produced some noteworthy bulls over the years. Val Koeberlein's 1989 Archeleta County stud scored 345 0/8 Pope and Young inches. Other more recent Pope and Young candidates were M. R. James' 342 4/8 Archuleta County brute, Lester Hawkins' 336 1/8 Mineral County bull and Kenneth Ryan's 342 0/8 head-turner. Although your chances of seeing bulls of this caliber on every ridge are slim, a handful do roam the rugged hills here, so don't get too shaken if one fills your scope.
Success is often measured in determination and a hard work ethic in this southwest region, and some of the best areas to find elk are in the wilderness areas. The Weminuche and South San Juan wildernesses bleed into several of these units, and older bulls are often found in these remote areas. Also, unit 76 is located in this region and the bulls living there grow some impressive head-bone. Although an over-the-counter tag won't get you access to 76, the bulls living there start streaming out into the surrounding San Juan OTC units when the snow flies during the rifle season. Setting up in one of the main travel corridors can get you a crack at one of them.
The San Juan is also home to the Missionary Ridge which was ravished by a 70,000-acre wildfire back in 2002. Since then it has regenerated with lush grasses and aspens and the elk have piled in there. Roads offer easy access to the burn and success is often high there.
White River Bulls
If seeing a lot of elk is what you're after, then start planning a trip to the northwest region. This area is home to the White River elk herd, and it boasts over 40,000 head. It's not only the largest herd in Colorado, but it's also the largest in the entire West. Don't think, however, with this many elk pulling the trigger is a sure thing. Yes, there are lots of elk, but they roam far and wide in 13 units (11, 12, 13, 22, 23, 24, 25, 26, 33, 34, 131, 211, and 231) that stretch across 5,000 square miles. This vast expanse of high-country real estate offers everything from rolling dusty-gray sage brush hills to the scenic Flat Tops Wilderness that gives hunters a chance to leave the world behind.
Just as impressive as the overall numbers, is the bull-to-cow ratio which floats around 25 bulls to every 100 cows. This herd is managed more for hunter opportunity and is loaded with 4- and 5-point bulls so don't expect to hang your tag on one of the 300-inch variety. But if bulls in the 250- to 280-inch range will put a smile on your face, then this is the place for you.
As far as hunter success and public-land opportunities go, some of these areas are better than others, so units 12, 13 and 211 should make the top of your list. Not only do these units enjoy an ample amount of public access, but hunter success as of late has averaged around 40% to 50% for rifle hunters, with over 2,000 bulls being killed annually.
If you're seeking solitude, then make tracks to the Flat Tops Wilderness, which spreads throughout units 24, 25, and 26. Although hunter success is only about half (typically around 25%) compared to the units listed above, those are still solid numbers; and because it offers a more remote setting you can rest assured some dandy bulls roam there.
Gunnison Basin Buglers
The elk of the Gunnison Basin is no stranger to elk enthusiasts, and every fall camo-clad hunters migrate to this Central Colorado region. It offers three units for the OTC hunter — 54, 55 and 551 — and each has its own uniqueness. These units provide a variety of settings, which include locations for the hunter looking for an easier go of it with good vehicle access, the opportunity to hunt several different wilderness areas, to everything in between. To top it off, public land isn't in short supply either with nearly the entire region going public.
Typically, rifle hunter success hovers around 18% to 20%, and although that might not seem stellar, it's higher than most of Colorado's OTC units. The latest post-hunt population survey shows over 15,000 elk ghosting through the hills there, but what is most impressive is the bull-to-cow ratio, which is about 25 bulls to every 100 cows. With numbers like this, bulls have a chance to reach maturity, and if a hunter is willing to pass up those legal 4X4s, they might come home with a rack for the wall.
A glance at the record books proves that some real brutes take up residence there, starting with John Burritt's 397 2/8 Gunnison County Booner that fell in the early 1970s. More recent noteworthy Pope and Young bulls are Terry Cramer's 2000 hog that measured 348 4/8 inches, John Martin's 333 6/8 stud, Christopher Cluley's 325-plus inch head-turner and Andrew Bohm's 295-inch tape-stretcher. Although bulls of this caliber don't live in every drainage, there is no doubt bulls reaching that magical 300-plus-inch mark take refuge in this vast region.
For the hunter seeking solitude and these above average bulls, the many wilderness areas are a must-see. The Fossil Ridge Wilderness in Unit 55 straddles the elk's summer and winter ranges, so there are always good numbers of bulls living there. Also, part of the Collegiate Peeks and Maroon Bells Snowmass wildernesses skirt the edges of this unit and are excellent places to find elk. In fact, limited entry Unit 48 is just over the Continental Divide from 55, and its older-class bulls often cross the Divide into 55 during the hunting season.
Unit 54 is comprised mostly of the 176,000-acre West Elk Wilderness and the strong numbers of bulls are hard to beat here. Because of its extreme rugged nature hunter success is usually lower, but some truly gagger-sized bulls live within its borders. It is not for the faint of heart and is best tackled with the use of pack horses.
No matter what region in which you decide to show off your best set of MAX-1 camo, if you put in your time and work hard for these over-the-counter public-land bulls, you're sure to have a rewarding hunt. Who knows, you just might head home with a truck bed full of rack.
Don't Miss: How to Elk Hunt on a Budget
Check out more stories, videos and educational how-to's on big game hunting.