This Girl Can Shed Hunt with the Best of Them
Morgan Dobson isn't your average 12-year-old deer hunter. When she isn't out shooting Boone & Crocket whitetails like she has the past two seasons, she is scouting for next season. A big part of that scouting is shed hunting. And Morgan is good at it. She regularly finds 50 to 75 sheds per year, sometimes more. Here are five tips she offers to help you find more sheds in your area.
Bonus Read: Young Girl Kills a Huge Buck
Image: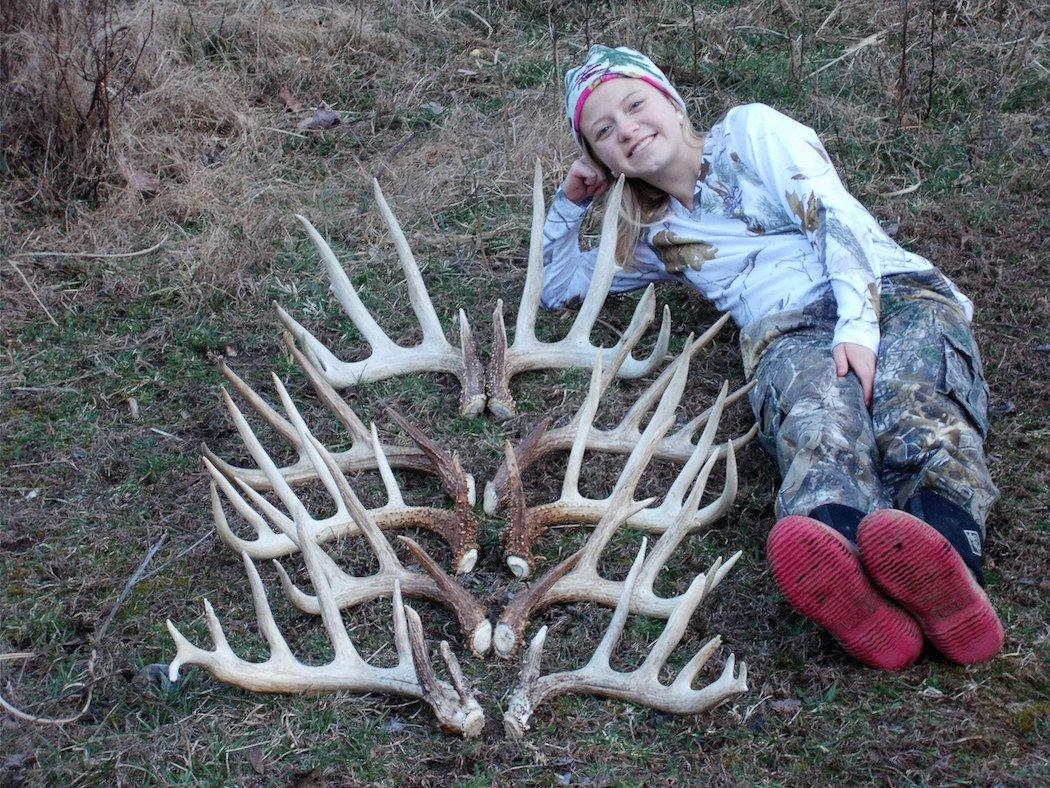 Image Story:
Dobson starts looking for sheds in mid-January and doesn't stop until March. She regularly spends 8 to 10 hours per day on weekends and 3 to 4 hours on weekday evenings out shed hunting.
You have to put in the time. Don't get discouraged if you go a few hours, or even days, and don't find a shed. You know they are there, and everyplace you don't find a shed just narrows down the spots where they actually are, Dobson said.
While she spends all day out in the field, she said she probably finds more antlers around midday.
The sun being high up in the air makes the antlers stand out," she said. "I like cloudy or rainy days best. On clear days, even the sticks shine like antlers, but on cloudy or rainy days, the midday light makes the antlers almost glow against the dark ground.
Photo credit: Beckie and Morgan Dobson
Image: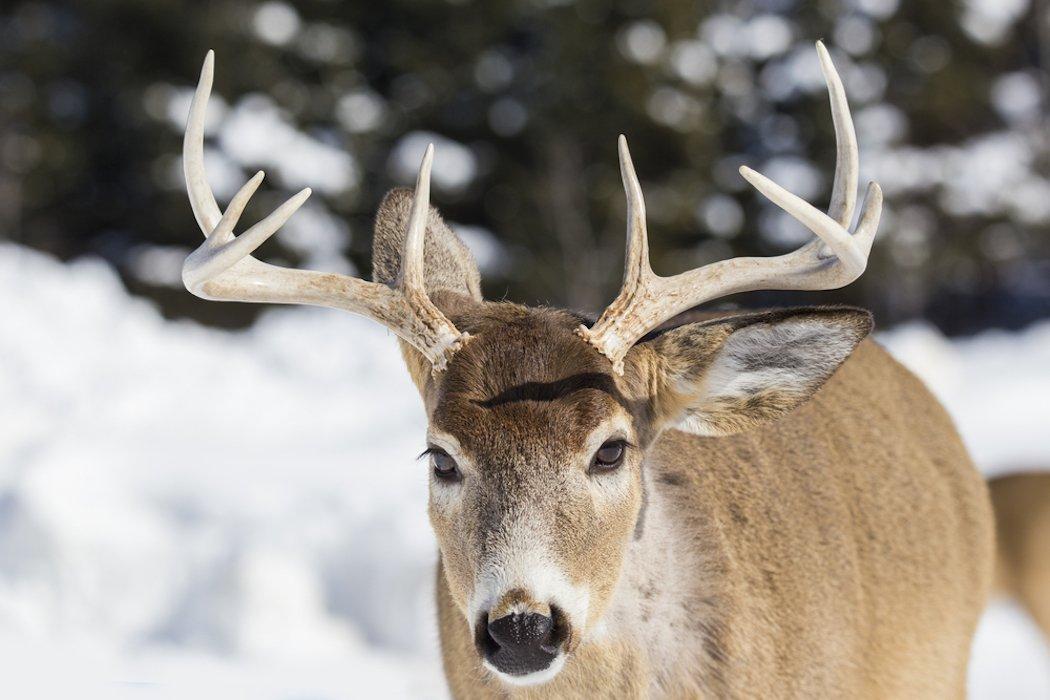 Image Story:
She spends all summer scouting her hunting area from a distance.
I have a few spots way up high that I can sit and glass big areas, Dobson said. I watch the bucks in the early summer to see where they bed and where they come from when they move to feed in the evenings. The bucks may move around a lot during the rut, but their home areas in late winter are usually close to the spots I see them in summer.
And once you find one side of a big buck, stay in the area.
It seems like the big bucks drop both sides close together, Dobson said. I don't know if it is because they drop closer together, or because the big ones don't move around much this time of year, but when I find a good side, I don't quit on the area until I find the other one. It is usually pretty close.
Photo credit: Shutterstock/Mirceac
Image: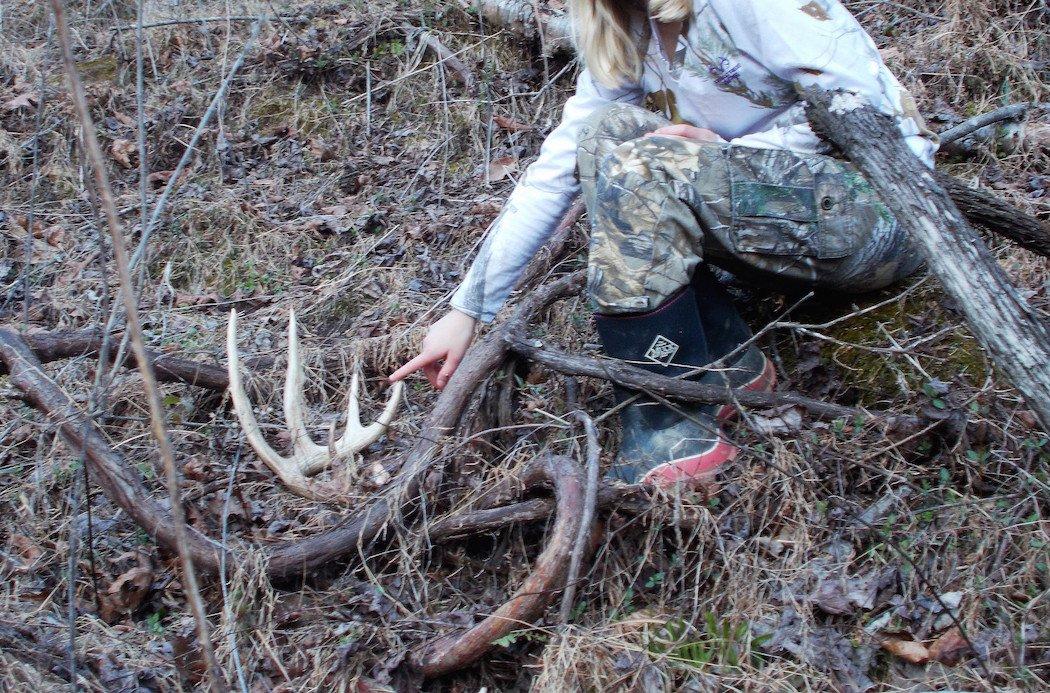 Image Story:
Once Dobson learns where the bucks live, she hits that spot hard in the late winter and early spring.
I don't worry a lot about bumping them once season is over, she said. Even if I push them out, they always seem to come back to their home area. The biggest bucks don't seem to move around a lot this time of year, they bed close to their food sources and stay in that area. I find a lot of sheds right next to spots where I can tell a buck had bedded down the night before.
Photo credit: Beckie and Morgan Dobson
Image Title:
Look for Honeysuckle or Other Green Vines
Image: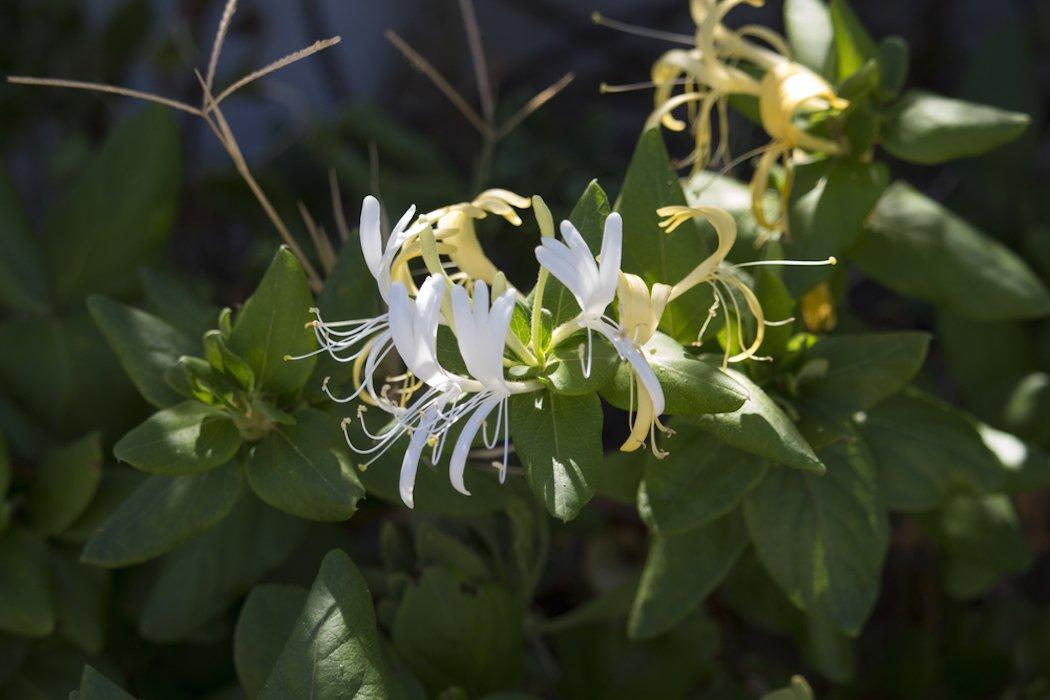 Image Story:
Around here, there are a lot of honeysuckle thickets, she said. Come late winter, they are about the only thing around that is still green. The bucks like to browse on the green buds and their antlers get snagged and pull off. I find a lot of sheds in honeysuckle thickets, some of them still even tangled up.
Photo credit: Shutterstock/Alybaba
Image: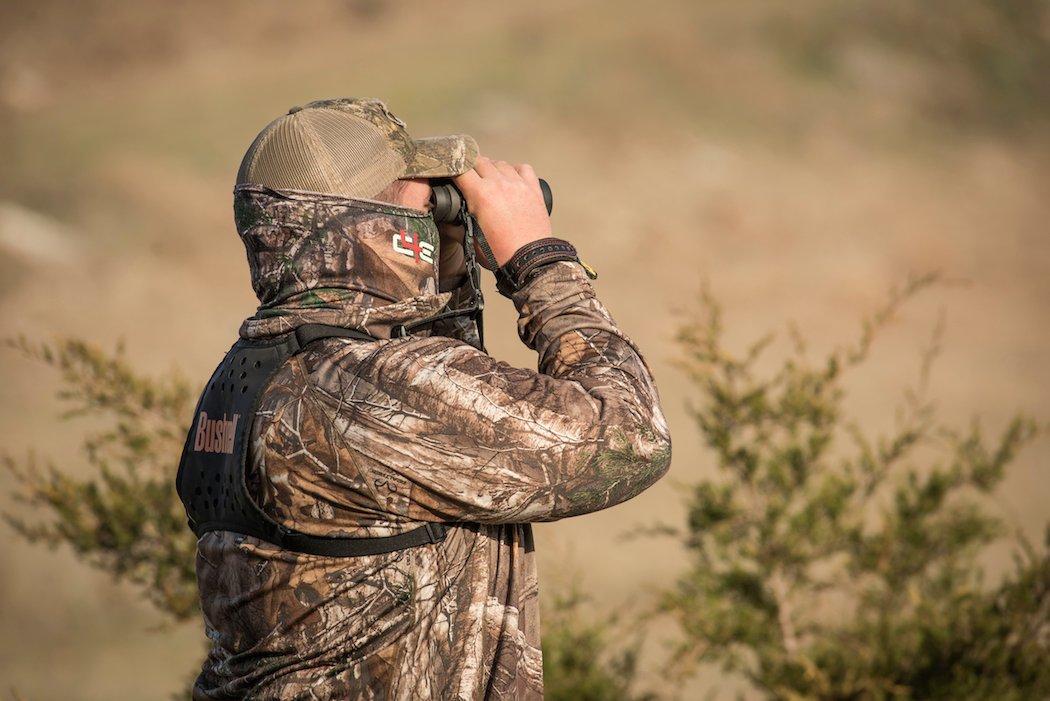 Image Story:
Just like when she is long-distance scouting, Dobson always has a pair of binoculars around her neck while shed hunting.
I like to get up high and scan every square inch of an area with my binoculars, she said. A lot of times I see antlers way away from where I am that I would never have seen without binoculars.
Morgan likes to divide a large space up into chunks and search each small section carefully before moving on to the next area.
Take your time. It's easy to look over an antler that is almost buried in grass or leaves, she continued. Sometimes all I see is a small piece of the antler and not the entire thing.
Photo credit: John Hafner
Image: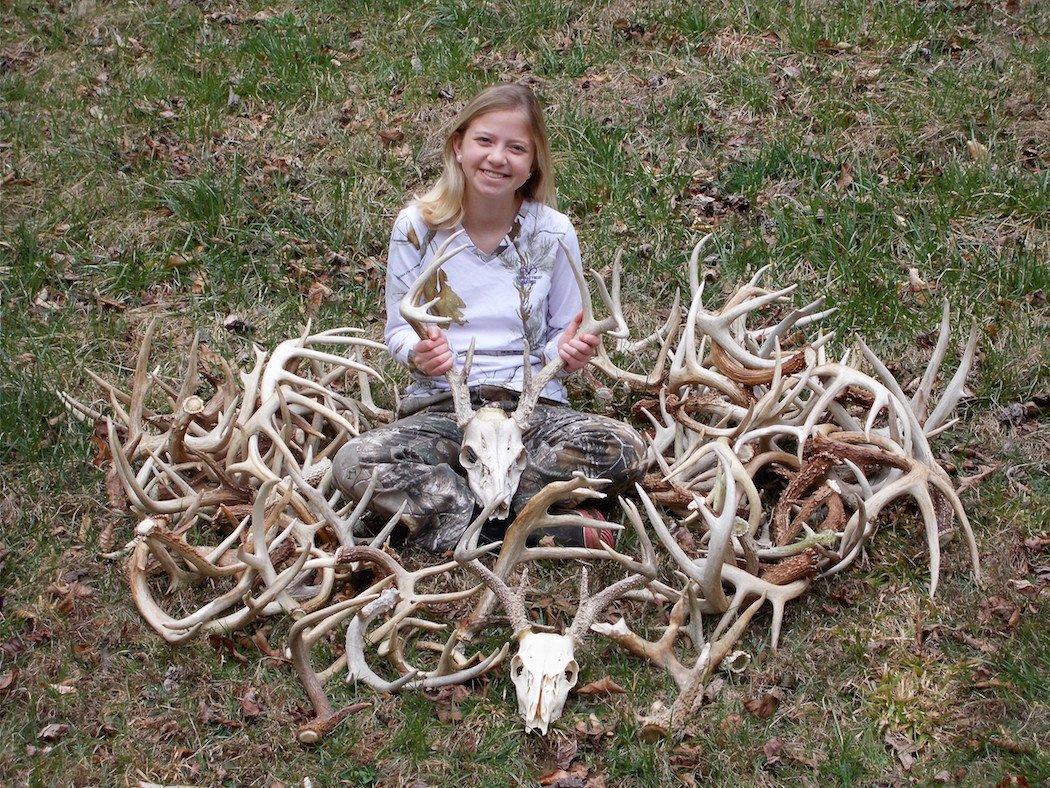 Image Story:
This girl really knows her stuff when it comes to finding big sheds. This pile of antlers that she's found serves as proof of that. I bet she's already got her sights set on a giant buck for this fall. Read about the giant buck she killed last season, here.
Photo credit: Beckie and Morgan Dobson
Image Title:
The 2017 Whitetail Properties Shed Rally
Image: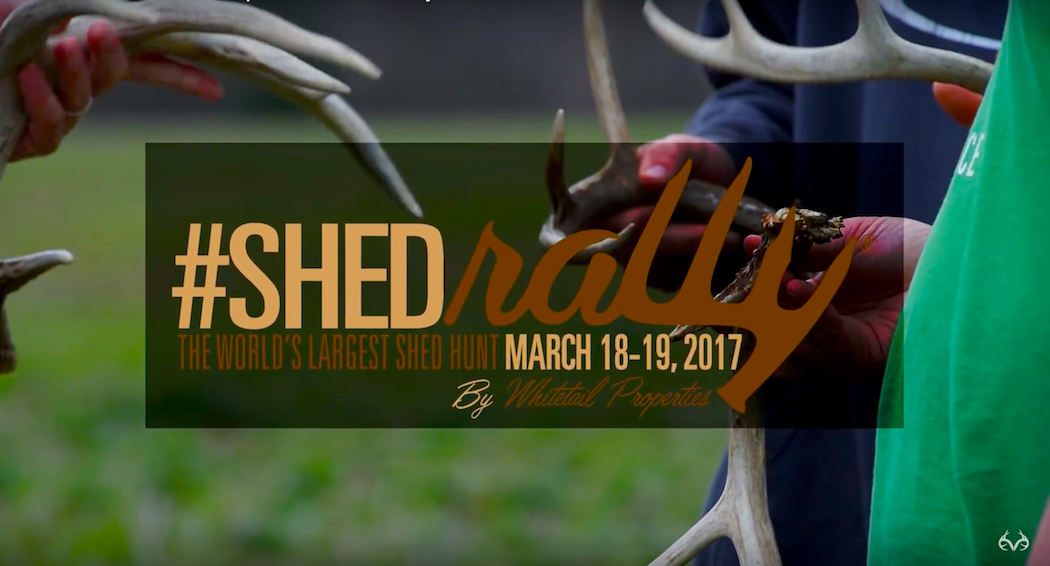 Image Story:
Editor's note: The annual Whitetail Properties #ShedRally is back and bigger than ever. It's the world's largest shed hunt and a day of shed hunting fun with family and friends. On March 18 and 19, deer hunters and outdoor enthusiasts will head afield and have fun collecting sheds around the country. Basically, it's one big tailgate party for deer hunters.
Those who participate have the opportunity to win numerous prizes from partners including: Realtree, Yeti, Lacrosse, Legendary Whitetails, ScentLok, Dog Bone and Whitetail Properties. All you have to do is upload your shed hunting photos and videos to Facebook, Instagram and Twitter. Use the hashtag #ShedRally and you'll be entered into the contest. -- Josh Honeycutt
Photo credit: Whitetail Properties
Click here for more deer hunting articles and videos.
Follow us on Facebook.