COLD WEATHER HELPS EVEN THE ODDS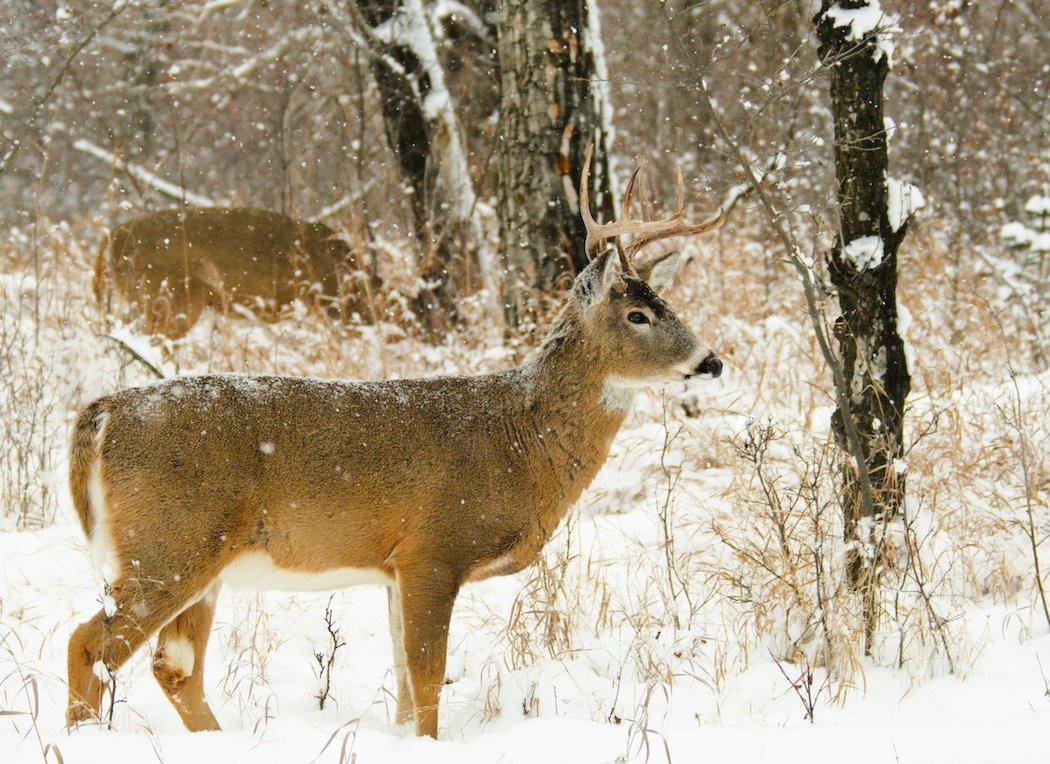 Deer hunting during the late season can be the best time of year to tag a buck. It all comes down to temperature. And if it isn't cold, chances of a mature deer stepping out are slim. Once it gets frigid, the ball game changes. Like us, deer have to stay warm. So try these seven tips for hunting deer during cold weather.
1. HUNT HIGH-CARB FOODS
Deer need carbohydrates and fat to make it through the cold weather brought on by winter. Crop grains such as corn and soybeans are big providers of these. If you can include either into your hunt plan, do it.
2. FIND THE FORBS
Forbs also play a major role in a whitetail's diet. The average deer will eat 5 to 6 pounds per day. Much of that are forbs. Locate them and hunt. It's not uncommon to find forbs near deer sanctuaries or close to thick cover.
3. WATCH A WATER SOURCE
Everybody gets all riled up about water during the early season. It's the late season when it becomes really scarce. When it gets so cold that most water is freezing over, find those sources left open to score big.
4. CROWD THE COVER
Get as close as possible to bedding areas. But remember, entry and exit routes are everything. A good plan of action won't get you anywhere if you don't understand how to implement the earliest and latest stages of it.
5. PEAK ITS INTEREST
This time of year, especially when it's really cold, deer have to fight the urge to rise from their beds before dark. It just so happens that doe fawns are entering estrus this time of year, too. Throwing an estrus bleat at bucks when it's super cold could give them the incentive they need to get out of bed early.
6. GET AGGRESSIVE
Cold weather brings snow. Snow makes it much easier to read deer sign. Use that sign to your advantage and still-hunt through cover. It's a high-risk tactic. You'll bump some deer. But there are only a couple weeks of season left in some places. What do you have to lose?
7. SLEEP IN
Don't hunt mornings. On really cold days, deer may not make it back to their beds until just before or right at daylight. That's a recipe for disaster when you are walking into the stand around the same time. Don't risk bumping them. Wait until the afternoon hunt.