The Best Turkey You Will Ever Eat!
By now many of you have tagged your spring gobbler -- maybe more than one. Looking for something scrumptious to do with it? I asked professional wild-game cookbook authors Tiffany and Scott Haugen for their favorite way to eat a turkey, and they graciously shared this deep fried turkey recipe from their new book "Cooking Game Birds."
Deep-Fried Turkey by Tiffany Haugen
"The phrase alone, 'deep-fried turkey,' gets the mouth watering. Crispy and flavorful on the outside, moist and tender on the inside, even wild turkeys taste great when deep-fried.
"One of the only ways to cook a whole, wild turkey with a high rate of success, deep frying is worth the extra effort. The bird cooks relatively quickly, and although it is cooked in a large amount of oil, the meat is not at all oily or greasy tasting.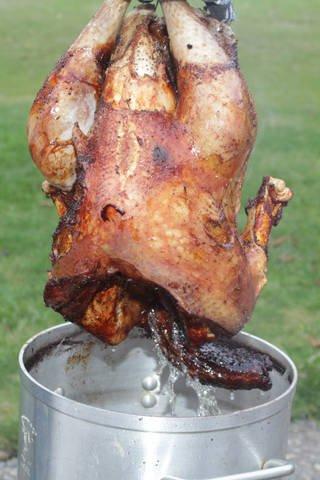 "Keep in mind, turkey legs have very little meat on them but when tossed into a pot with the rest of the (stripped) carcass, they add to a nice turkey stock. With this recipe, no part of the bird goes to waste."
Deep-Fried Turkey:
1 whole turkey, plucked and dressed (skin on)
4 tablespoons Cajun rub (see below)
5 gallons peanut oil (see Deep-Frying Tips below)
Wire
Large fry pot
Long-handled tongs
Deep-fry or candy thermometer
Weigh clean, dressed turkey to determine deep-frying time (approxomately 4 minutes per pound). Dry turkey thoroughly with a clean dish towel and coat with 2 tablespoons Cajun seasoning (see below). Sprinkle 1 tablespoon of seasoning inside turkey. Bind legs securely with wire. Let turkey sit 20 to 30 minutes to reach room temperature. Pour peanut oil into a 10-gallon pot (see Deep-Frying Tips to determine amount of oil needed). On a outdoor propane cooker bring oil to 375 degrees. Using long-handled tongs, carefully submerge turkey in hot oil.
Fry according to the 4-minutes-per-pound calculation or until internal thermometer in the turkey breast reads 150 to 160 degrees. Remove turkey from hot oil and place on carving surface. Sprinkle with remaining tablespoon of Cajun seasoning, cover with foil, and let sit 15 to 20 minutes before carving.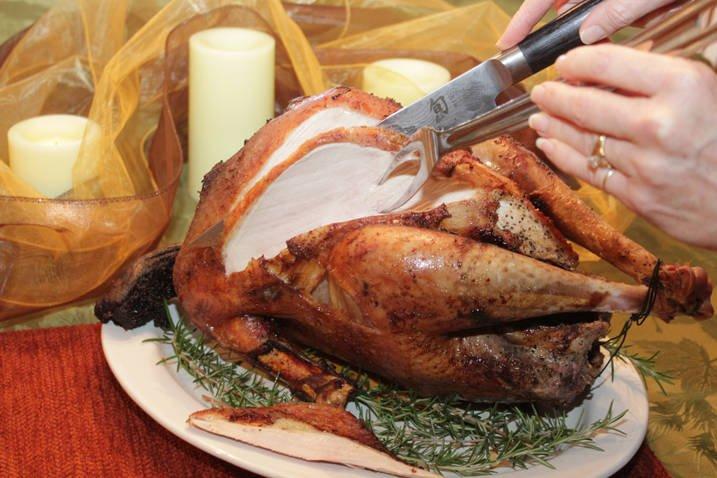 Cajun Rub:
1 tablespooon smoked paprika
2 teaspoons garlic powder
2 teaspoons onion powder
1 teaspoon oregano
1 teaspoon thyme
1 teaspoon black pepper
1 teaspoon white pepper
1/2 teaspoon cayenne pepper
In a small bowl or sealable plastic bag, mix all ingredients until thoroughly combined.
Deep-Frying Tips
1. Never leave frying area unattended.
2. Keep all-purpose fire extinguisher handy.
3. Always deep-fry turkeys on a secure propane burner that is a safe distance from the house or any wood decking.
4. Block area to prevent anyone from bumping the frying pot.
5. If cooking previously frozen turkey, be sure to fully thaw prior to cooking.
6. Use clean peanut oil.
7. Prior to cooking, assure turkey fits comfortably in the pot with at least 6 inches of headspace.
8. To determine exactly how much oil is needed, fill frying pot with water first. Place unseasoned turkey in clean, (unscented) plastic trash bag. Immerse bag in water, letting excess water spill over the edges. Remove water to point 4 inches below the pot lip. Lift turkey out of water and note resulting water level. Discard water and thoroughly dry pot. Fill pot with oil to water level previously noted.
9. To check internal temperature of frying turkey, lift out of oil for accurate reading. Be sure to use long tongs and nonflammable gloves to protect hands from oil splatter. If turkey is not done, slowly lower back into frying oil.
10. Keep clean platter and foil close to frying area for quick access.
Note: For signed copies of Scott & Tiffany Haugen's latest cookbook, "Cooking Game Birds," send check for $20 (free S&H), to Haugen Enterprises, P.O. Box 275, Walterville, OR 97489. Or order online at www.tiffanyhaugen.com.