For the ultimate early season excitement, stretch your legs and sneak up on an open-country buck
The older I get, the more my legs yearn to wander. Truth be told, treestands in the woods can start to feel a little confining to my soul.
Sure, I'm ready to sit in the oaks on a fine and frosty morning later in fall. Or watch a travel lane pinch point all day during the rut. But when early October days are warm and sunny, I much prefer an adventure out on the prairie. There's just something about stalking whitetails (and maybe even mule deer) where public land abounds and you can hunt all day, all week, even a lifetime, without covering the same ground twice.
You can do it too. It's as easy as loading up your vehicle with some camping equipment and the archery gear you've been practicing with all summer and hitting the road. The middle of the country is the place to go. Following is the some of the how to get you started, and five ideas for the where.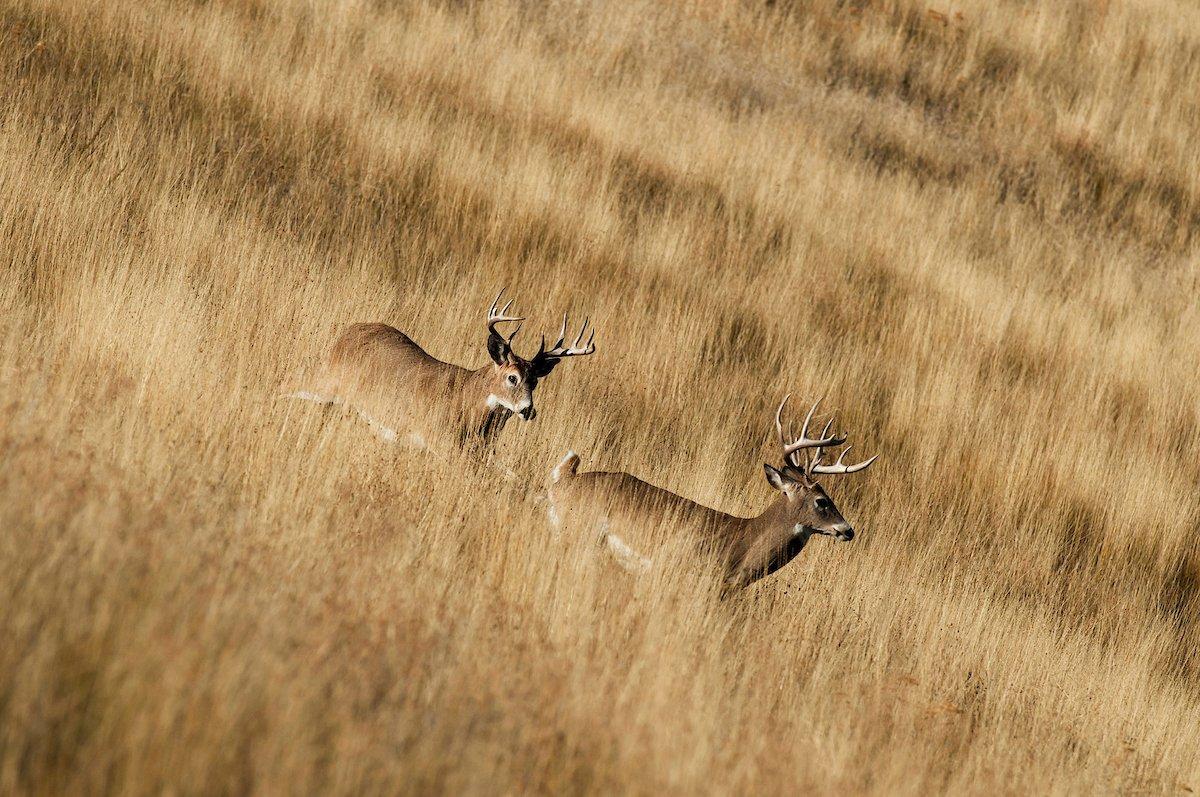 Just Try It
There's no singular, correct way to hunt prairie deer. But I do have a recommendation: just move out and do it. When you get there, it's tempting to try and set up along a waterway, at a food source or next to a travel funnel / pinch point and try to wait out your whitetail, just like at home.
But that's precisely not why you're here. The country is big. Get out there, spot some animals, put on a stalk or an intercept-maneuver, and see what happens. If you're bound and determined that killing something is the only acceptable result for it to be a successful hunt, you'll likely be disappointed. On the other hand, if you're interested in airing things out and getting some boots underneath you, you'll find plenty to keep you busy.
Start at dawn at a high observation point and glass for moving deer. Use binoculars as well as a spotting scope. Move your station as you exhaust each view, then take in another scene for as long as it takes to visually scour the new country.
Sooner or later you'll find some deer on the move. Evaluate whether they're going to bed soon and you'll have stationary quarry to stalk, or whether you should skedaddle out and get ahead of travelling animals for an intercept.
I also like to get into rolling terrain and sneak my way through good habitat, peeking around hills and poking my eyeballs over rises bit-by-bit, to try and get lucky. Habit Outdoors makes a variety of early- to mid-season clothes that are just right for early autumn prairie adventures.
That's it. No magic. No perfect technique. No intense secrets to success. Just get out there with 'em, play the wind right, and give it a go. The real magic is finding the best places to do it. Here are five such locations where whitetails thrive — and where you might see a mule deer, too.
No. 1: Fort Pierre National Grassland
State: South Dakota
Location: South of Pierre, North of I-90, and West of the Missouri River
License Costs: $286 (nonresident archery any-deer tag)
Bow Season: Opens September 1
The farther west you go in the 115,890-acre Grassland, the higher and more rolling the terrain. To the east and north, you'll find more stark topography (drainages, coulees, draws) as the land works its way eastward to the Missouri River or northward to the Bad River.
Truth be told, the only likely hunting competition you'll have will be early season upland bird hunters, and that's only after September 21. Avoid weekends and you'll be golden. Deer populations are good here, and there's plenty of seclusion for those willing to hike. Personally, I prefer the real prairie - that wide-open, rolling terrain - to the west.
More Info: South Dakota Game, Fish and Parks / Deer
No. 2: Sheyenne National Grassland
State: North Dakota
Location: Richland and Ransom Counties
License Costs: $250 (nonresident archery whitetail tag)
Bow Season: Opens August 30
North Dakota offers sprawling but popular grasslands to the far west, and those gems would have been tempting to cover, but the 70,180-acre Sheyenne is often overlooked for two reasons: It's way far to the east in North Dakota, and the 70,000-plus public acres are interspersed with about 65,000 private acres. Arm yourself with an app such as onX Hunt for identifying public acres, and you'll be good to go.
There is plenty of terrain here for putting on stalks, and you'll have a tendency to head toward the treed areas, but don't be fooled: big deer want to be out in the big wide open, and there's plenty of that, with lots of beautiful, knee-high grass to make them feel safe.
More Info: North Dakota Game and Fish / Deer / North Dakota Deer Hunting Guide
No. 3: Cimarron National Grassland
State: Kansas
Location: Norton and Stevens Counties
License Costs: $97.50 (hunting license) and $443 (deer permit)
Bow Season: Opens September 16
It's 108,175 acres of sage, grass, yucca, cliffs, cottonwood draws — and lots of rocks. That's what you'll find in the Cimarron, along with enough room to roam for a lifetime. It takes up the southwestern corner of Kansas. Most of the public land flanks the Cimarron River, which roughly bisects the area from southeast to northwest. This is dry country, so try and be water-centric in your search for deer. It's also a big and lonely place with plenty of room to wander. But that's just what you're looking for.
You get a whitetail buck tag and an antlerless tag too, so that's good news. The bad? The application period is in April. Check to see if leftovers are available for this year, though; or make a plan for next year. (Note: You can get drawn for the mule deer stamp as well, and there are some in the Cimarron too.)
More Info: Kansas Deer Hunting Page
No. 4: Oglala National Grassland
State: Nebraska
Location: Crawford to the south and Chadron to the east
License Costs: $242 (nonresident archery tag)
Bow Season: Opens September 1
In my estimation, these 94,520 acres are some of the prettiest and most remote grasslands in North America. What's more, whitetails and mule deer mix here, and both are legal for archery hunters, so that's a good deal. Bring quality optics because the country is vast. But there's plenty of terrain on which to get up and glass for a stalkable animal. The prairie here is mixed grass, but on the short side, so you shouldn't have a problem spotting deer. Water is good to hunt around. You'll be tempted by the occasional wooded draw or creekbottom, but it's the big-country grass that makes you feel the freedom.
More Info: Nebraska Deer Hunting Page
No. 5: Pawnee National Grassland
State: Colorado
Location: Weld County
License Costs: $396.75 (plus $10 habitat stamp)
Bow Season: Opens October 1
Welcome to the high plains. This is 193,060 acres of short-grass country. Try to nab a leftover tag if you didn't draw. You'll probably see more antelope than deer (another hunt in and of itself), and the deer here may lean toward the muley variety. A good plan is to get out early to glass from elevation, put a deer to bed, then get the wind in your favor and put on a stalk. They'll bed down in a gully side, tucked right up in the shade of a bank or overhang. Get the wind in your favor, get close, and wait it out until the deer stands up to stretch and reposition for shaded hideout.
More Info: Colorado Big Game Page
There's plenty of time to sit in treestands or ground blinds later in the season. For me, those sits are always better when I've already had an early season outing where the horizon goes forever, deer grow big, and the adventure is grand. And remember this: Next year turns into five years, which turns into 10 years, and suddenly, you're out of luck and legs. Hundreds of thousands of public acres await. Go hunt it now.
Don't Miss: 7 Tips for Over-the-Counter Mule Deer Hunting
Check out more stories, videos and educational how-to's on deer hunting.