These four wild-game-with-bacon recipes are Realtree-tested and guaranteed delicious.
It all started around 1500 B.C. when a nomadic hunter ended up with more pork that he could eat. Lacking a $500 rotomolded cooler and a bag of ice to preserve his bounty, he salted it down and suspended it over a smoky fire to keep the flies away. Our resourceful traveler had no idea that he had just changed food history, but you can bet he realized that he had stumbled upon a mighty tasty way to eat a pig.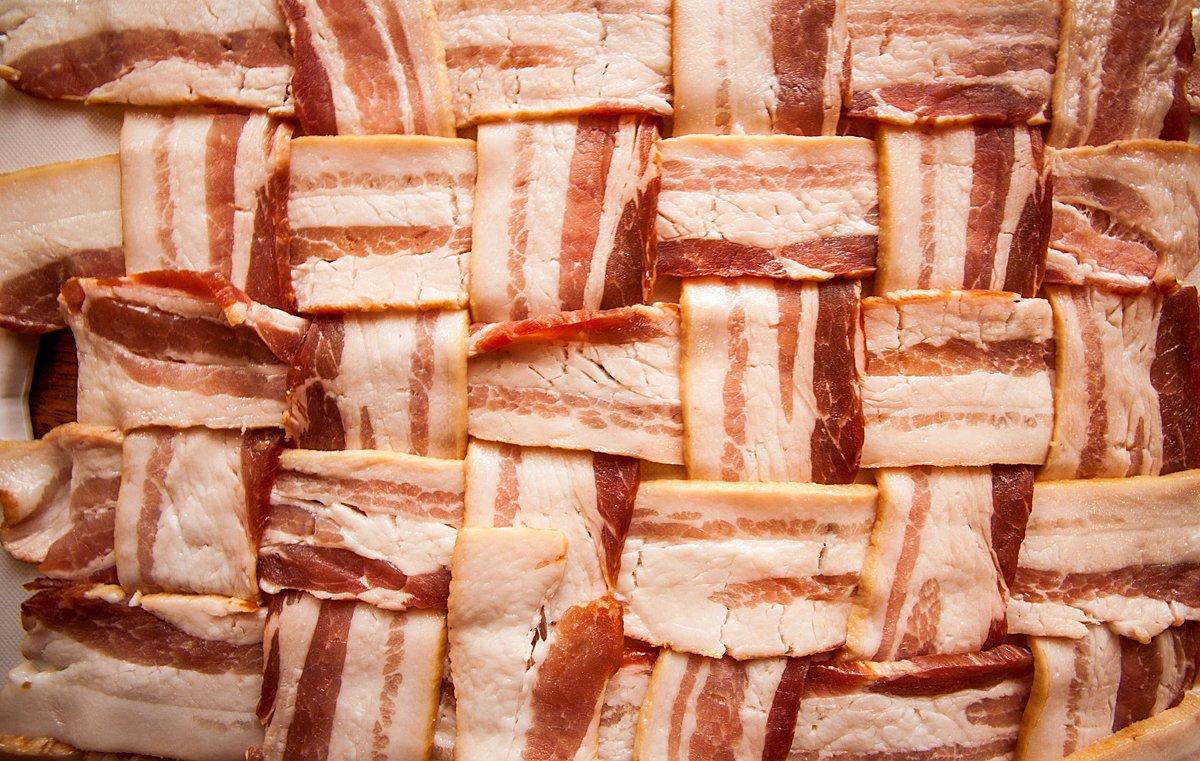 Fast forward 3,500 years or so and bacon is still just about the best thing on earth, and hunters are still putting it to use while preparing spectacular tablefare. Bacon and wild game go together like peas and carrots. The fat, saltiness and smoke of the bacon accentuate the lean richness of game meat, producing a final product that is just as much at home on fine china atop a white linen tablecloth as it is on a knotty pine table at hunting camp. Adding bacon to your recipes is a great way to introduce game meat to non-hunters because, well, about everyone loves bacon.
The old standbys are still great ways to serve up a scrumptious game meat meal. Bacon-wrapped poppers seared on a hot grill have been served at just about every hunting camp in the world and made from just about every edible animal known to man. Try kicking them up a notch with the addition of onions, jalapeno peppers and cream cheese to your marinated venison, duck or dove before you wrap them in bacon. Poppers or wrapped loin steaks on the grill are recipe rarities in that they go best with thin bacon. Going thin allows the bacon to crisp without overcooking the game meat.
Grinding every last bit of your venison into burger is a fantastic way to make the most from your hard-earned deer. Making a good burger patty out of straight ground venison is tough, though, because there just isn't enough fat to hold it together as it cooks. Next time you grind, pick up some bacon (a box of ends and pieces work great) and add it to your venison at about an 80 : 20 percent venison-to-bacon ratio. Not only does it add needed fat to your burger to help hold it together, the flavor and juiciness of the finished product will get a hearty thumbs up from the entire family.
Ready to try a few more game recipes to transform your wild game into spectacular table fare that everyone will enjoy? Try these proven dishes and listen to your friends and family give rave reviews to your culinary masterpieces.
Bacon wrapped backstrap stuffed with mushrooms and blue cheese
A delectable way to serve everyone's favorite venison cut.
Ingredient list:
1.5- to 2-pound section of venison loin
1 pound of bacon
8 oz. sliced mushrooms
4 oz. crumbled blue cheese
3 tablespoons of butter
Salt, pepper and Cavender's Greek Seasoning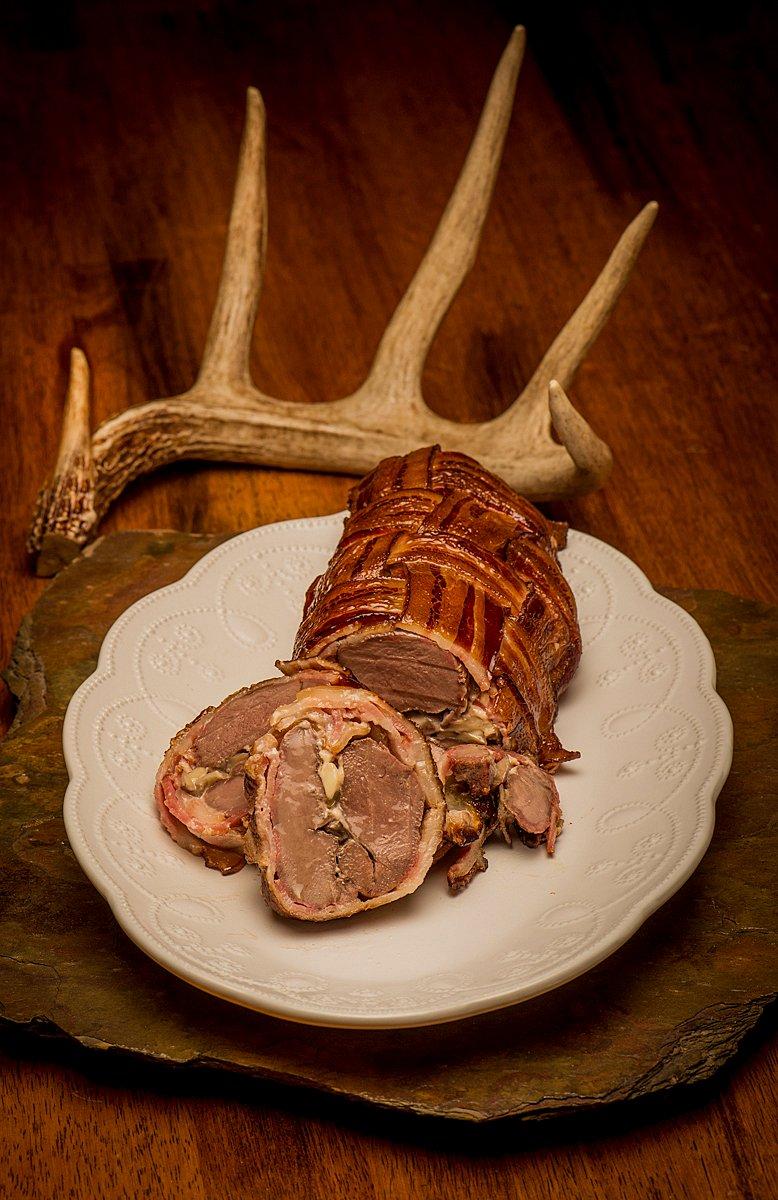 This recipe works great with any hooved game. I have tried it with moose, elk, mule deer and whitetails, and they all turned out lip-smacking good. Living in Kentucky, whitetails are what we use most often. Start with a section of backstrap eight to ten inches long. Clean away all fat and silver skin. Set aside to allow the meat to reach room temperature while you prepare the other ingredients. Sauté 8 oz. of your favorite mushrooms in butter until soft. When they are finished, remove pan from heat and let the mushrooms cool and absorb any remaining butter in the pan.
Anyone can wrap a roast in bacon. To make your presentation stand out, make a weave out of your bacon strips before encasing the loin roast. Think folding lawn chair or basket weave design. Start by laying half the bacon out side by side on a piece of plastic wrap, each piece just touching the one next to it. Now weave other pieces over and under each slice until you have a full sheet of bacon weave.
With a sharp knife, make a slice along one side of the loin roast, about halfway up. Slice the entire length, stopping just short of cutting completely through the meat. You should now be able to open the roast like a book.
Season lightly with salt, pepper and Cavender's Greek Seasoning. Spoon your cooled mushrooms and crumbled blue cheese down the length of your roast, and then fold the roast back over the mixture and into its original shape. Apply salt, pepper and Greek Seasoning to the outside, and then lay your roast onto your bacon weave. Use the plastic wrap to keep the bacon tight as you roll it. Pin the seam shut with toothpicks. Place the roast on a hot grill and turn often to crisp the bacon. After 10 minutes on the grill, start checking with an internal thermometer, and pull when the roast hits 130 degrees. Cover the meat loosely with foil and let rest a full 15 minutes before slicing.

Venison stuffed, bacon wrapped shrimp
This is a quick and easy appetizer that will make you the hit of every party.
Ingredient list:
16 - 20 extra jumbo shrimp, peeled and deveined
8 ounces of ground venison
8 ounces of breakfast sausage (venison or your favorite store-bought stuff)
2 cloves of garlic, minced
1 shallot, minced
One green onion, finely chopped
2 eggs, beaten
8 slices of bacon cut in half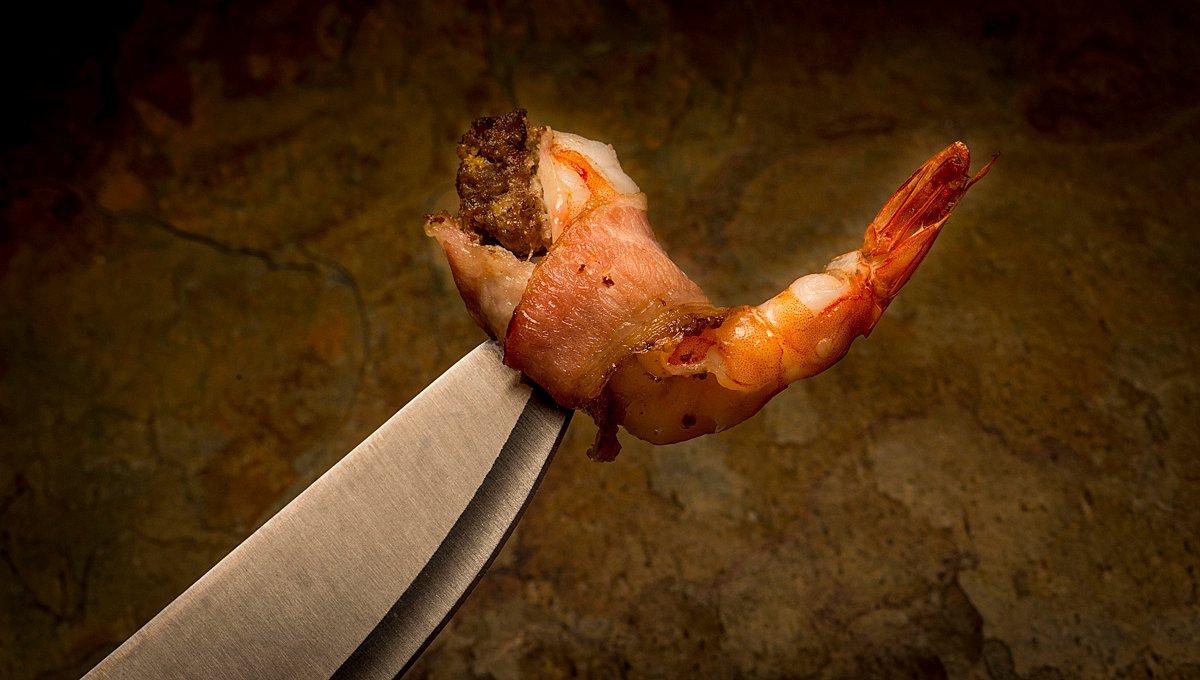 Combine venison, sausage, shallot, onion, garlic and beaten eggs. Mix well. Salt and pepper to taste. Make an incision along the back of each shrimp and stuff with meat mixture. Wrap each shrimp with a half slice of bacon, secure with a toothpick and place on a sheet pan. Place under a preheated 400-degree broiler for 10 minutes, and then remove. Turn shrimp over and place back under broiler for five more minutes until the meat is cooked through and the bacon is browned. Be careful not to overcook the shrimp.
Wild turkey Kentucky Hot Browns
A hearty warm meal perfect for a cold winter day.
Ingredient list:
One half of a boned-out wild turkey breast, about 4-6 pounds, roasted
4 thick slices of sourdough bread
12 slices of bacon, cooked
Tomato, sliced
1 tablespoon of poultry seasoning
Cheese sauce (recipe follows)
2 tablespoons unsalted butter
2 tablespoons all purpose flour
2 ½ cups whole milk
1 cup of grated sharp white cheddar
1/2 cup grated Parmesan cheese
Salt and pepper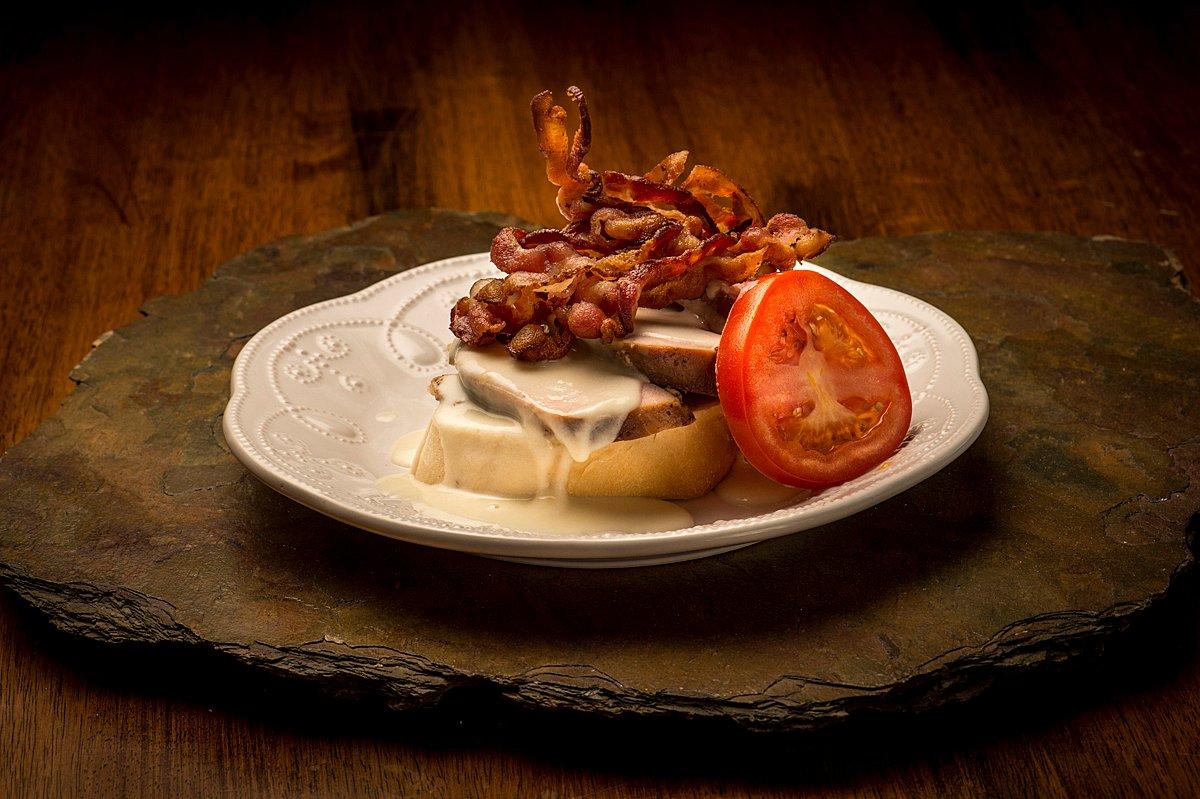 Begin by brining the turkey breast overnight in ½ cup of salt, ½ cup of brown sugar mixed into one gallon of water. Remove turkey from the brine and dry it well. Rub the entire breast with softened butter, sprinkle all over with poultry seasoning, and then salt and pepper liberally. Place in baking sheet and cover tightly with foil. Roast in 350-degree oven for one to one and a half hours, basting often with melted butter, until the turkey reaches an internal temperature of 155 degrees. Pull turkey and let rest, covered, for 20 minutes. Slice breast across the grain into one-half-inch-thick slices.
While the turkey is resting, make the cheese sauce. Melt butter in a medium saucepan. Whisk in flour and cook for one to two minutes. Whisk in milk, bring to a boil and cook, stirring constantly, till thickened. Wisk in ¾ cup cheddar cheese and ¼ cup Parmesan cheese until melted, then season with salt and pepper to taste.
Assemble the hot brown by placing a slice of warmed sourdough bread on a plate. Top with 2-3 slices of roasted turkey. Ladle cheese sauce over the turkey and top with a sprinkle of remaining grated cheddar and Parmesan cheeses, a slice of tomato and three slices of bacon.
Duck, sausage and peppered bacon gumbo
The classic Cajun dish
Ingredient list:
2-3 whole ducks plucked and cut up or 6 to 8 duck breasts (preferably skin on)
1 pound of peppered bacon, diced
1 pound Andouille or other smoked sausage, cut into rounds
1 cup flour
1 ½ cup of onion, finely diced (I like to use a food processor for this, as I don't enjoy spending the time it takes to finely chop everything)
¾ cup of celery, finely diced
¾ cup of bell pepper, finely diced
6 cloves of garlic, minced
1 bottle of dark beer
6 cups of chicken stock
2 bay leaves
1 tablespoon cayenne pepper
1 teaspoon of onion powder
1/2 teaspoon each of dried oregano and thyme.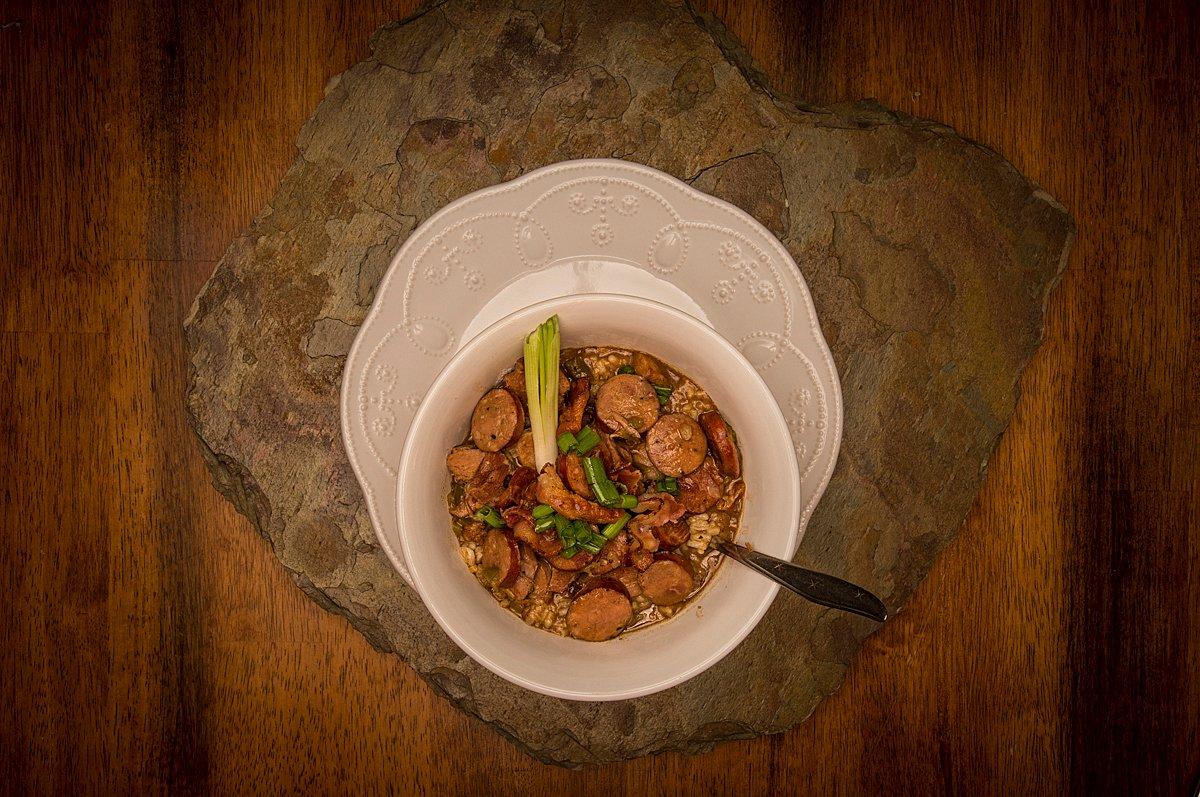 Begin by rendering diced bacon in a heavy stock pot or Dutch oven. Once bacon is crisp, remove from pan and reserve. Remove most of the bacon grease from pan, reserving extra. Salt and pepper the duck and place skin-side down into Dutch oven. Sear until golden, around 7 to 8 minutes. Turn breast and sear another 7 to 8 minutes. Pull duck from pot and set aside.
Now to make the roux. A good roux takes time and attention. This one is cooked to a medium dark color. I measure my roux by the number of beers it takes to finish one. This is about a two beer roux. Add ¼ cup of your reserved bacon grease back to the pot. Stir in the flour with a wooden spoon. Keep stirring over medium low heat until the roux takes on a nice mahogany color. Add the onions, celery, peppers and garlic and stir until they are coated with roux and slightly softened.
Pour in the dark beer and chicken stock and stir well to make sure everything is blended. Bring pot back to a boil, then reduce to a simmer. Add in remaining spices and salt to taste. Remove the skin from the duck, eat it as a cook's snack (the main reason to leave the skin on was to render out the fat), and dice the duck into 1-inch pieces. Add duck and sausage to the pot and continue to simmer for another 1.5 hours.
Ladle finished gumbo over steamed white rice and top with diced bacon. Enjoy.
Editor's note: This was originally published on April 10, 2016.