What rut activity are you seeing?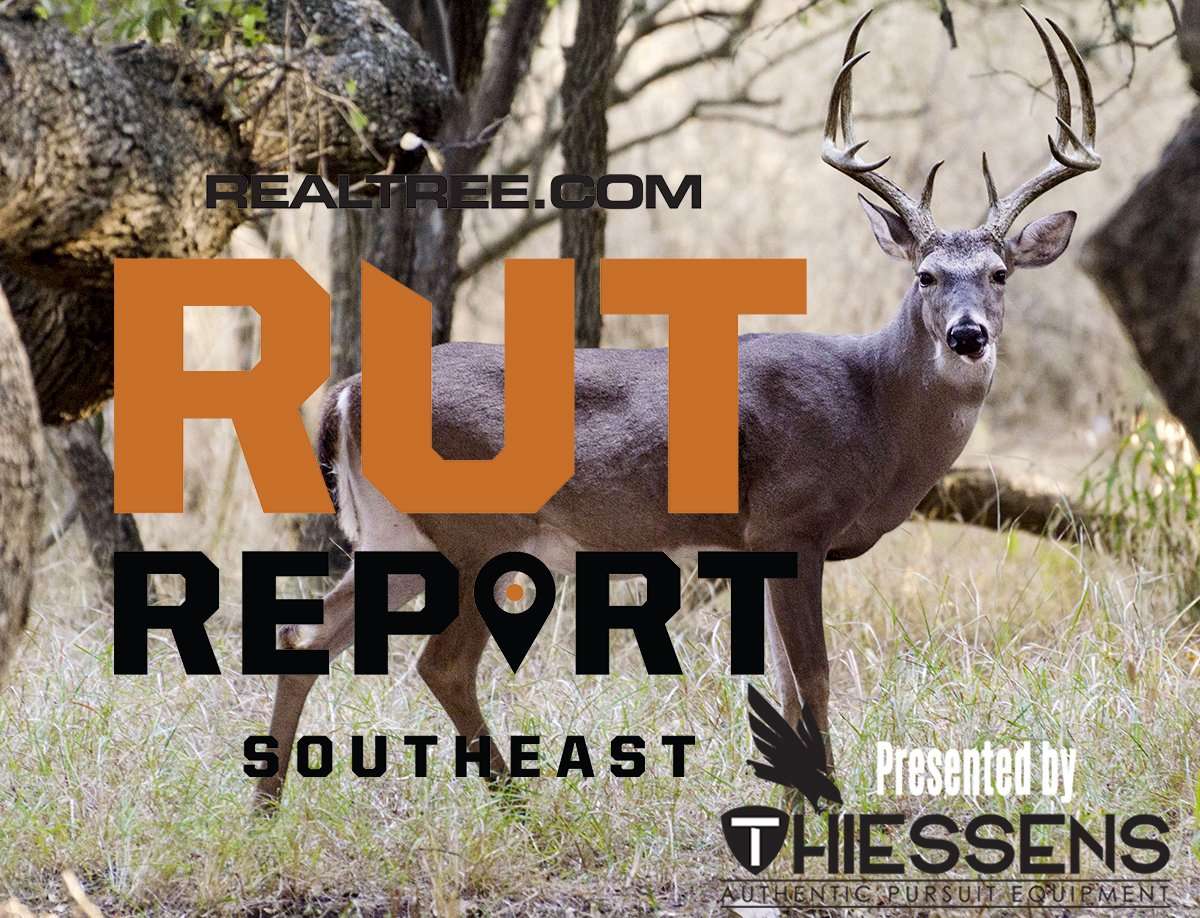 We had another cold front moving through parts of the region. But it pushed through during the middle of the week and really won't benefit weekend warriors.
Florida
For now, with the exception of an 80- to 100-mile radius around the Winterhaven area, the northern two-thirds of the Florida Peninsula is really picking up. Rut sign is increasing, and the Florida Fish and Wildlife Commission is reporting decent chasing and breeding activity for the area. Focus on doe groups.
Arkansas, Mississippi and Louisiana
In Razorback country, rut sign is beginning to dot the landscape. Rub lines and scrapes are showing up. While the rut is still a couple weeks out, the historical data shows that a few counties typically get started a little sooner than the rest and hit their stride between late October and early November. Those include: Washington, Madison, Sebastian, Logan, Yell, Pope, Garland, Clark, Nevada, Hot Springs, Saline, Conway, Van Buren, Searcy, Cleburne, Independence, Izard, Randolph and Craighead. Arkansas Game and Fish Commission's Ralph Meeker confirmed.
A few early scrapes have been detected in Western Arkansas, but pre-rut activity is still another week or two away," Meeker said. "Earlier breeding behavior is usually first witnessed in Western Arkansas (last week in October) and witnessed much later in eastern and southeastern Arkansas.
In Mississippi, there's no rut activity on the radar. Deer are still bachelored up and sticking to early season bed-to-feed patterns. Focus on food and don't even think about rut tactics for weeks in some areas and months in others.
Louisiana is showing signs of the rut in the southwestern corner of the state. It's been either on or off depending on the specific location since late September. According to Louisiana deer biologists, some areas have cooled off, while others in that region are just kicking in gear.
North Carolina and South Carolina
South Carolina's coastal counties are in the thick of it right now. But the rest of the state won't see true rutting activity until the first week of November. As for their neighbor to the North, Tarheel State hunters are seeing the best rut activity in coastal counties as well. These include Tyrrell, Hyde, Dare, Carteret, Columbus, Brunswick and New Hanover.
Kentucky, Tennessee and Virginia
In Kentucky, Tennessee and Virginia, deer are really starting to make rubs and scrapes. We're still about two weeks out before things start getting good, though. And we're three weeks away from peak chasing activity.
James Kelly, the deer management program leader for the Tennessee Wildlife Resources Agency says deer are entering the pre-rut. And he's also worried about EHD impacts.
There is pre-rutting behavior in most areas of the state at this point, Kelly said. We're also still getting several reports of dead deer in or near water, particularly in Middle Tennessee, indicating the EHD outbreak is still ongoing. The first hard frost should make conditions a lot better for deer and for hunters.
Minus the EHD, things are much the same in Virginia. Deer are just entering the pre-rut. It's still two to three weeks away from really good action.
Alabama and Georgia
Still no rut in sight for Alabama. And there won't be until late November to early December. That said, Bart Goins explained that rut sign is picking up a little. Stay focused on bed-to-feed patterns though.
In Georgia, things are getting really good in Chatham, Liberty, Bryan, McIntosh, Glynn and Camden Counties. According to the Georgia Department of Natural Resources, rut sign is really picking up statewide, but especially in Effingham, Long, Wayne, Pierce, Brantley, Ware, Charleston, Atkinson, Lanier, Clinch and Echols Counties.
Conclusion
Overall, with the exception of southwestern Louisiana, southeastern South Carolina, eastern North Carolina and parts of Florida, the rest of the region is still in the early season or just entering the pre-rut. The message? Focus on bed-to-feed patterns and use good, old-fashioned deer hunting skills to find — and hunt — whitetails. We're still at least two weeks out before new rutting activity. And because of the latest warmup, daylight deer movement will likely decrease across the Southeast this weekend.
Don't Miss: 10 Best Times to Deer Hunt
Check out more stories, videos and educational how-to's on deer hunting.
Day Activity

Rubbing

Scraping

Fighting

Seeking

Chasing

Breeding