What deer activity are you seeing?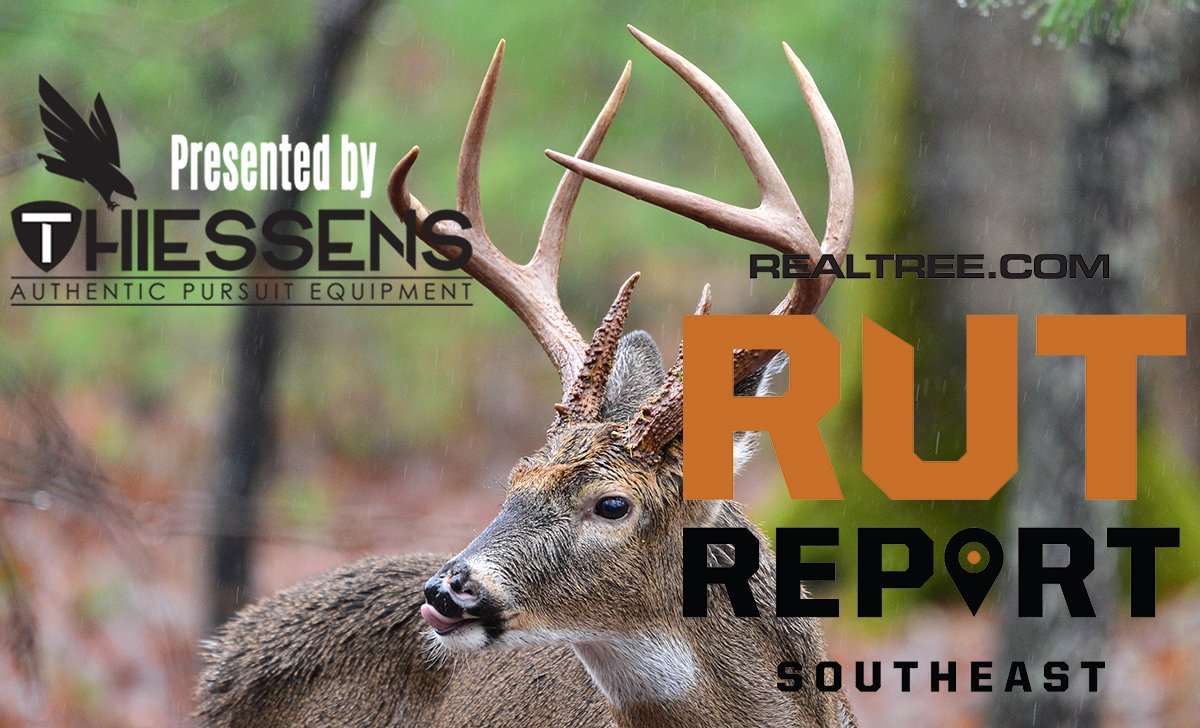 Sorry, Dixie. The rut is winding down or already snuffed its flame throughout the vast majority of the region. But 'Bama is still rockin' on strong, and Louisiana is trying to get back the mojo it had a couple weeks ago. Here's the latest in the world of whitetail love.
Alabama
It's on, said Whitetail TV's Bart Goins. They're moving good and starting to chase hard where I am. Once this cold front hits Saturday, I look for things to be on fire.
He also said bucks of all age classes are cruising really well. That's a surefire sign that the bulk of estrus does are just around the corner.
According to the historical rut data provided by the Alabama DNR, there are quite a few counties that will see peak breeding activity in the coming week. Those include parts of: Greene, Hale, Shelby, Talladega, Clay, Randolph, Sumter, Perry, Chilton, Coosa, Tallapoosa, Chambers, Choctaw, Marengo, Dallas, Autauga, Elmore, and Lee Counties. That said, solid rut activity could even be occurring in other central and southern counties. There are reports of some northwestern counties — such as Lamar, Marion, Franklin, Colbert and Lauderdale — showing solid rut activity, too.
Louisiana
While Louisiana has been the hottest state the past few weeks, things are actually slowing down a bit. The rut has slowed down tremendously, said Realtree United Country's Slade Priest. Hot weather has slowed deer movement in general. It's harder to gauge, but for now, just watch cams closely. Look for what food sources they're hitting. The bucks are hungry, for sure.
Further South, things are much the same for Southern Boyz Outdoors' Kinion Bankston. The rain and southern winds are holding temps in the mid 60s at night and low 70s during the day. It's made the last week of the South Louisiana gun season hard. We have bucks eating together in food plots and haven't seen any chasing this week. I don't think the rut is over, but I think as soon as we get some nights in the 20s they will turn back on, but looking at the 10-day forecast, that won't be until February.
Looking back to the historical data, parts (but not all) of: Avoyelles, St. Landry, St. Martin, Pointe Coupee, West Feliciana, West Baton Rouge, Assumption, Ascension, St. James, St. Helena, Tangipahoa, Washington and St. Tammany Parishes are seeing the best rut action this week. That should continue into the final days of January.
Mississippi
The bulk of the rut is finally over for most of Mississippi. That said, some of the easternmost counties are producing solid rut activity. Mississippi Wildlife, Fisheries & Parks' historical rut data backs that up. These areas include parts of Jones, Clarke, Wayne, Forrest, Perry, Pearl River, Hancock, Harrison, Chickasaw, Lee, Monroe, Itawamba, Prentiss and Tishomingo Counties.
Florida
We're singing the same song as the past few months in the Sunshine State. However, according to the Florida Fish and Wildlife Conservation Commission, the rut action is the hottest along the western third of the Panhandle. A few central Peninsula counties are holding strong, too.
Arkansas, Georgia, Kentucky, Tennessee, Virginia and The Carolinas
The rut is over for the remainder of southeastern states. Some seasons have closed, and others soon will. Kentucky ends Monday, January 20, and several other seasons will end soon after. There's a warm front pushing through as we speak, and truly cold weather won't hit until early next week.
For those still packing tags in open seasons, focus on bed-to-feed movements. Deer are feeding heavily, and with the coming cold front, deer activity should spike this weekend and next week.
There isn't much foliage left on trees now, and that advantage goes to the deer. Use good stand locations, entry routes and exit routes that shield you from their senses.
The clock is ticking. Get out there and get it done.
Don't Miss: The Ultimate Late-Season Trail Camera Plan
Check out more stories, videos and educational how-to's on deer hunting.
Day Activity

Rubbing

Scraping

Fighting

Seeking

Chasing

Breeding