What deer activity are you seeing?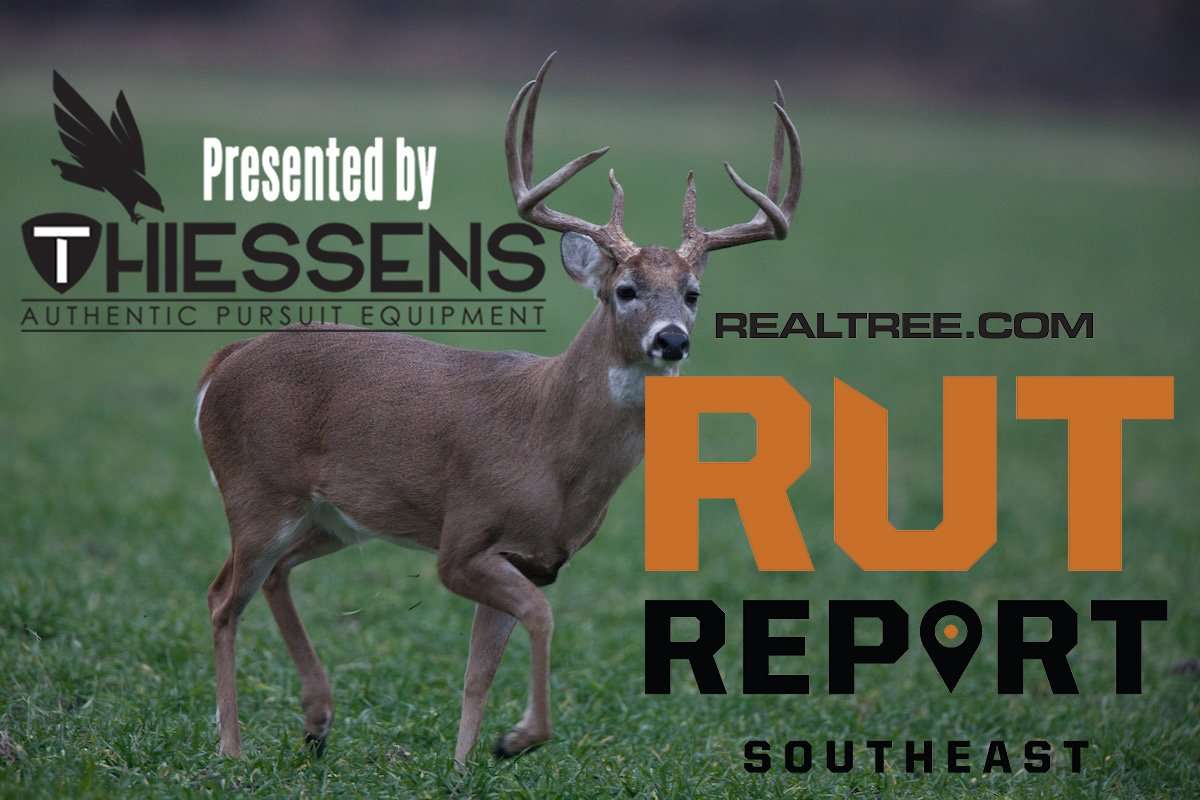 Last week, deer really started rutting hard in parts of Louisiana, Mississippi and Alabama. This week, that trend continues, but a few areas are experiencing lockdown now.
Louisiana
Louisiana is a weird state, said Realtree United Country's Slade Priest. Our rut isn't as defined. We'll have solid rut activity the rest of the month on and off. Our rut is scattered out. But we're definitely past the peak. I did have a new buck show up on camera this morning that I've never seen. Some bucks are still breeding, and some are focused on food again. But further south of me, it's just getting started. Hunt does and food, and don't be afraid to put in some butt time (on-stand).
Priest's report seems to pair up almost perfectly with Kinion Bankston's, who is a Realtree pro staffer and founder of Southern Boyz Outdoors. He hunts further southward than Priest.
None of the mature bucks are showing up on camera, so I'm thinking they're locked down in thickets with the first few hot does, Bankston said. Most of the does that are on camera aren't showing any signs of being in heat. Their hocks aren't even dark and they're still with other does and yearlings. However, we had a mature buck show up this morning while in pursuit of a doe. It's just kind of hit and miss. Hopefully, it'll pick up before season closes.
Overall, the Pelican State is seeing the best rut action in parts of East Carroll, West Carroll, Catahoula, Concordia, Avoyelles, St. Landry, Lafayette, St. Martin, West Feliciana, East Baton Rouge, Iberville, Ascension, Livingston, St. Helena, Tangipahoa, Washington, St. Tammany, St. John the Baptist, St. James, Assumption, and St. Mary Parishes.
Mississippi
The northwestern counties are almost finished rutting now. The most current rut reports are coming out of the eastern quarter and southern third of the state. That's where the best action is and where you should be if chasing the Mississippi rut.
Alabama
Movement is getting better by the day, said Whitetail TV's Bart Goins. A lot of the Alabama rut is in full swing. On my farm in northwestern Alabama, the deer are hitting scrapes hard. Bucks are busting up, does are getting scared and it's progressing every day. I'd say it'll be hopping in the next week to two weeks.
His brother, Blair, also part of the Whitetail TV cast, wasn't as optimistic. It's not happening yet, Blair said. Does are still grouped up where we are. Most counties throughout the northern half of the state will crank up soon if they haven't already, though.
Florida
It's the same old story in the Sunshine State, but with a slightly different twist. According to the Florida Fish and Wildlife Conservation Commission, the rut action is finally progressing westward and now encompasses the western third of the Panhandle. There is also some rut activity in a few central Peninsula counties, too.
Arkansas, Georgia, Kentucky, Tennessee, Virginia and The Carolinas
The rut is over for the remainder of southeastern states. Some seasons have closed, and others soon will. For those still packing tags in open states, focus on bed-to-feed patterns. Scout quickly and efficiently, but don't pressure deer. Whitetails are extremely wary of human intrusion at this point in the year, so make sure you have good stand locations, entry routes and exit routes that shield you from prying eyes, ears and noses.
Don't Miss: 5 Tips for Killing a Rutting Buck in the South
Check out more stories, videos and educational how-to's on deer hunting.
Day Activity

Rubbing

Scraping

Fighting

Seeking

Chasing

Breeding