What deer activity are you seeing?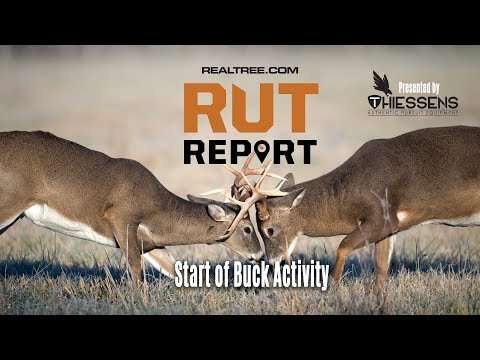 It's hard to believe, but another deer season is here. And for most, another rut is around the corner, too. But a few places are already in the thick of it. Find out which states those are and get an update on what's happening in your neck of the woods, even if love isn't quite in the air yet.
Florida
Florida has the hottest action. The southern third of the peninsula (south of Sarasota, Sebring and Vero Beach) experienced a rutting window from late July to late August, with a peak around mid-August. Now, with the exception of a 100-mile radius around Winter Haven, the northern two-thirds of the Peninsula are heating up. Expect localized, on-and-off rut activity in that region through the end of the month.
Right now, the hottest Florida counties are those up and down the East Coast, including Okeechobee, St. Lucie, Martin, Indian River, Brevard, Seminole, Volusia, Flagler and Putnam. According to historical rut research data compiled and provided by the Florida Fish and Wildlife Commission, you should soon start seeing rut activity in and around Manatee, Sarasota, Highlands, Citrus, Gilchrist, Alachua, Lafayette, Taylor, Hamilton, Columbia, Baker, Union and a few other surrounding counties.
The Delta States
A very small pocket in Louisiana — parts of Cameron, Vermilion and Iberia parishes — is showing signs of rut activity. On the flip side, a few Louisiana deer are still in velvet. There are big differences in that state right now. To the north in Arkansas, things are mostly slow right now, with deer hanging on to late-summer patterns.
According to Realtree United Country's Slade Priest, things are beginning to take shape in Mississippi. About 95% of the deer are out of velvet, he said, Scrapes and some rubs have definitely started showing up. Bucks that were buddies a week ago aren't friends anymore. Also, some of their ranges are changing. Where they have been all summer is not necessarily where they are hanging out now.
The Carolinas and Virginia
In North Carolina, there's a very small area on the East Coast — Hyde County — that historically sees rut activity in mid-October. It seems the historical data isn't far off this year. Expect some of the other coastal counties to experience localized peak ruts within the next few weeks.
South Carolina is singing a similar tune this week. Some of the southern coastal counties in the Low Country are reporting volumes of scrapes and rubs. Peak rut activity is likely only two to three weeks out for Brunswick, New Hanover, Pender, Onslow and Jones Counties.
Virginia typically sees a more traditional, mid-November rut. Right now, bachelor groups are breaking up, bucks are beginning to swell a little, and the first rubs and scrapes are being found.
Kentucky and Tennessee
There's no rut in Kentucky yet. The action won't increase there until early November. As for general deer activity, it's been hot and dry. Daylight deer activity has been minimal. And most of what's occurred has been early of a morning and late of an afternoon. Deer haven't been moving far from their beds. Mast crops are spotty this year. You either have a lot or none at all. Crops are beginning to come out, though. Focus on cut cornfields and the last of the green soybeans.
Much is the same in Tennessee. No breeding yet. However, like in Kentucky, scrapes and rubs are beginning to show up. I found a small-car-hood-sized community scrape in southern Kentucky just last weekend. Others are reporting as much in the Volunteer State.
Georgia and Alabama
In Realtree's home state and to the west in Alabama, it's been hot, and daylight deer activity is minimal for most hunters. According to the Georgia DNR, the only Peach State counties even hinting at rut activity are parts of Chatham, Bryan, Liberty, McIntosh, Glynn and Camden. But the good stuff is still a couple weeks out.
It's been scorching hot here, said Realtree's Phillip Culpepper. I have a lease just North of Columbus. Even with the hot temps, some nice rubs are showing up. In just the last few days, I've started to see some respectable-sized scrapes. The first cool snap, if we ever get it, should be great hunting. Water oaks are starting to hit the ground within the last couple days. Also, deer are starting to push each other around a little bit. I have some Spartan video [proof].
Bone Collector's Travis T-Bone Turner had much the same to say about that part of the state.
It's extremely dry in Georgia. The weather is record setting highs, and I have lots of nighttime trail camera photos, Turner said. Folks I know are not hunting. They're attending church more often and doing rain dances daily. I have noticed deer hanging onto velvet longer than normal.
Looks like everyone should keep dancing, because it ain't brought the rain yet. Maybe things will change by next week.
Don't Miss: How to Deer Hunt Each Week of the Deer Season
Check out more stories, videos and educational how-to's on deer hunting.
Day Activity

Rubbing

Scraping

Fighting

Seeking

Chasing

Breeding