Many Mid-South whitetails are locked down with does, while the party's just starting in parts of the Deep South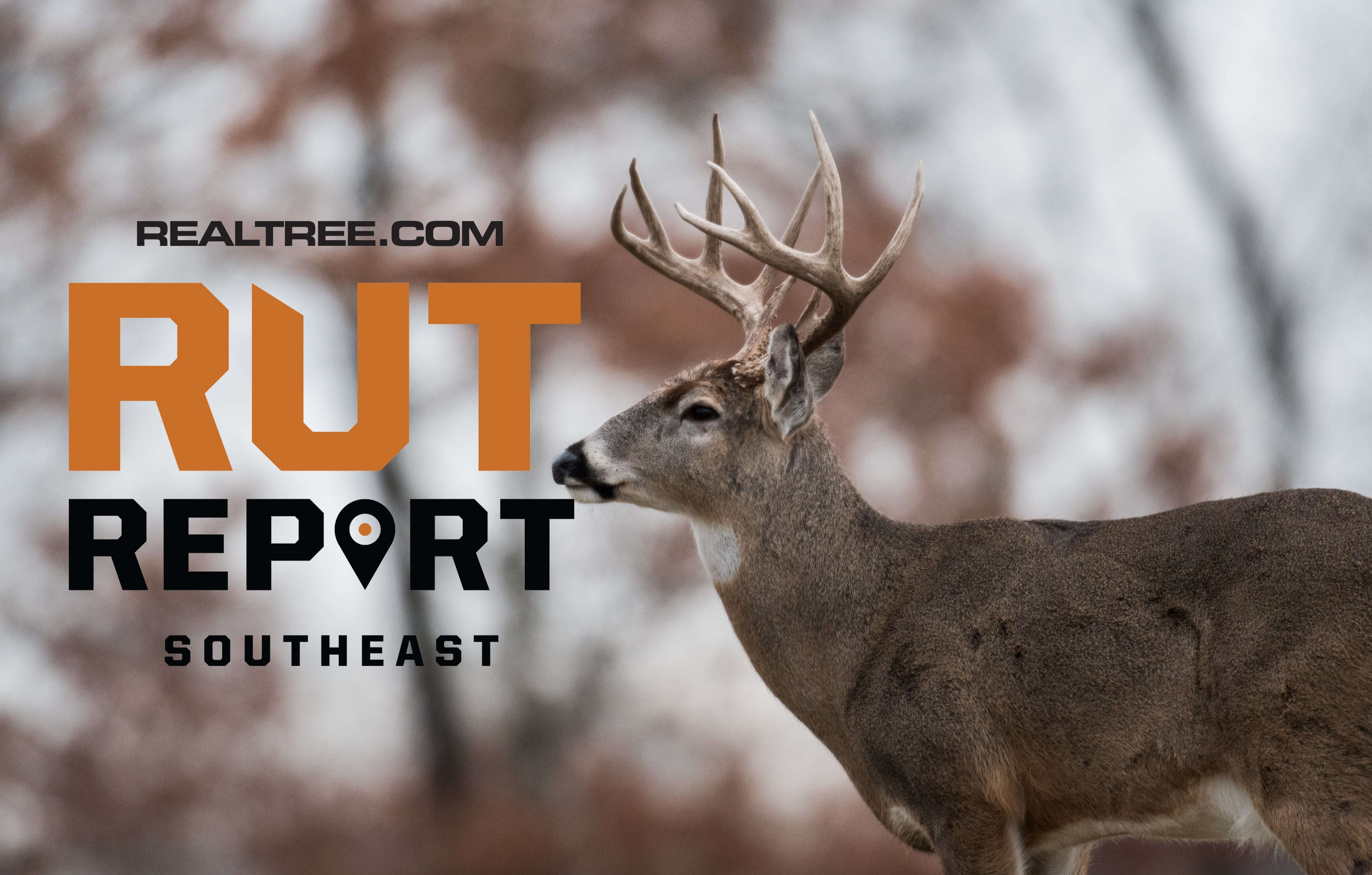 Perhaps the No. 1 complaint we get from readers of the Realtree Rut Report is, "That guy covering the Southeast has no idea what's going on!"
Truth is, it's impossible to summarize the activity from the entirety of the region because what's happening in Kentucky, Virginia, and northern Tennessee looks way different than Mississippi, Louisiana, and Alabama. Deep South deer hunters know that timing the rut can be a scattershot type thing. Still, we are seeing some common threads as hunters across the region check in on deer activity.
November as a whole has been warm, and that's tempered the daylight activity across the region. Still, I'd classify this year's rut in Kentucky and Tennessee, where I've been hunting, as pretty good overall. Though evening hunts have been balmy and slower, morning sits have been excellent overall. I guided a hunter from Montana in Kentucky last week, and the plan was for him to sit daylight-to-dark on a white oak ridge overlooking a gnarly creek drainage, a place where does bed by the dozen. He saw a parade of deer activity the first morning, and made it to about 7:30 the next morning before shooting a heavy 8-pointer. That buck was duped by an aggressive rattling sequence, and my hunter killed him at 15 yards with a .350 Legend.
On Sunday morning, hunting in Tennessee, I watched another starry-eyed 8-pointer hem a doe into a thicket next to a large, fallow pasture. My 9-year-old son, Anse, and I slipped in that evening to try to get a shot at the buck, and we were privy to an awesome show of the buck fending off multiple smaller bucks and doing his best to keep the doe at his side. We couldn't get close enough for a shot that evening, so I checked Anse out of school the following morning. The action on the field was comparatively dead until the same buck, accompanied by a smaller 8-pointer, stepped into view at around 9 a.m. Anse made a perfect shot on his first Tennessee buck.
Farther east, South Carolina hunter CJ Davis reported less chasing and rut activity lately than he had been seeing. White oak acorns are almost gone, and so Davis is focusing on finding alternative food sources. But he says drought conditions have put food plot growth way behind, and the long South Carolina rifle season has deer on edge. "Hopefully I'll find a red oak dropping next to a nasty thicket," he said.
Up in Virginia, Mike Hanback says the warm weather has caused a "trickle rut." "When it's warm, daylight activity lessens, but little cool fronts do help pick things up for a day or so. There's some lockdown going on too," Hanback says. "It's an unpredictable rut right now, but there are lots of big deer moving on camera at night. You just gotta stick in the stand and keep grinding."
Realtree's Tyler Jordan is hunting in Louisiana this week, where the warm weather has also been a challenge. "I've seen bucks bumping does a couple times but nothing too crazy. The hot weather has really hurt us this trip, but we had a big storm roll in last night and the weather will be in the mid-50s for highs through the Thanksgiving weekend. Most buck movement has been at night up to this point, but I expect that to change with this front."
Don't Miss: 6 of the Best New Deer Loads for 2024
Day Activity

Rubbing

Scraping

Fighting

Seeking

Chasing

Breeding