Jerame Hugunin's borrowed smoke pole went off before he was ready, scoping him in the face and leaving two blood trails, one from the buck and one from him
Rack Report Details
Buck:
208 3/8"
Time of Year:
Sept. 11, 2023
Place:
Coffey County, Kansas
Weapon:
Muzzleloader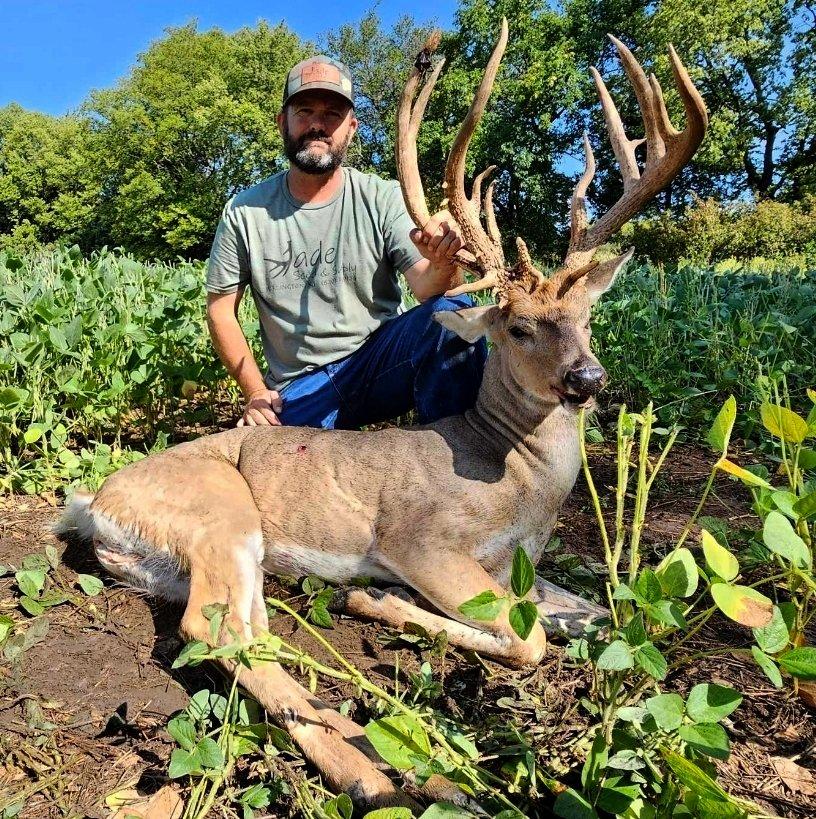 Kansas's Jerame Hugunin took his largest buck ever, this 208-3/8-inch monster, with a muzzleloader on the Kansas archery/muzzleloader opener. Image courtesy of Jerame Hugunin
Whether he's leading his 12-man construction crew, running his side hustle of Jade Seed and Outdoor Supply LLC, or hunting big Sunflower State bucks, Jerame Hugunin is a worker. So it's no surprise that he'd rather kill his target buck on the last day of the season rather than opening day. However, Hugunin's 2023 Kansas deer season ended almost as quickly as it began.
In the weeks before the archery/muzzleloader opener, Hugunin had tabs on a huge buck he'd watched closely in 2022. The buck now flaunted a long, S-shaped left eye guard and a dagger-like second main beam on its right antler.
Knowing the deer bedded nearby, Hugunin always drove his truck in to feed, hoping that his movements would sound like normal farming practices and wouldn't impose pressure on the buck. It worked. Immediately after each feeding, two fawns would show up, and then a little buck, and then the huge double-beamed buck.
"The buck was coming to corn and our Jade Signature feed blend by my daughter's Redneck Blind," he said. "She hunts there every rifle season. There's quite a lot of pressure around here, so I told her that she was welcome to come hunt the buck with a crossbow, but that I wasn't waiting until rifle season on a deer this big. By then, he'd be dead or miles away."
Because Hugunin meets with his construction crew early in the morning to start the day, and because the buck was typically at the food at 5:30 a.m., he knew that hunting opening afternoon was the answer. Rain began falling a little before noon, and Hugunin left work at about 2:30 p.m.
"It was still raining pretty hard at that time," he said. "I took a scent-free shower, and then loaded my Rambo e-bike onto my pickup. I parked about a half-mile away from the Redneck Blind and then drove the Rambo on the same exact route I always took when I'd feed. I parked it at the base of the blind and then climbed up."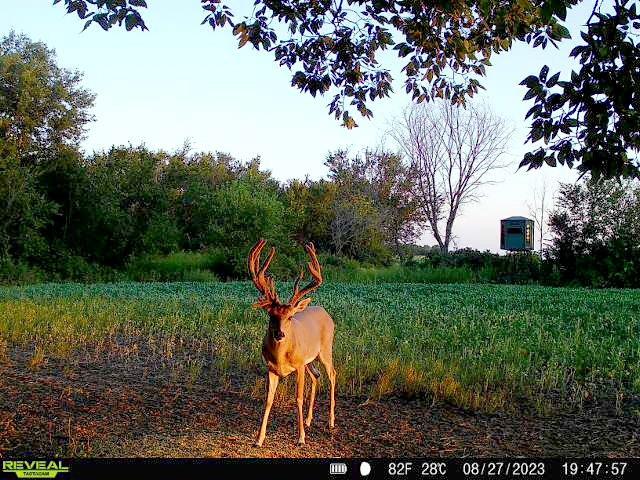 The buck visited the Jade Signature feed like clockwork in the weeks before the opener. Image courtesy of Jerame Hugunin
Although he's a bowhunter through and through, Hugunin carried a muzzleloader in addition to his bow. Not five minutes into the afternoon, a buck that he hopes will survive the 2023 season came out. That deer was notorious for coming in just before dark. Evidently, the weather conditions had deer moving earlier than usual.
"Eventually, all of the usual deer besides the big one were out in front of me," he said, "so I was sure he had to be nearby. I had the blind windows closed and was periodically peeking through the curtains. I looked up to check on the other deer, and there he stood 40 yards away. My initial thought was, 'He's quartering away at 40 yards. Grab the bow'. But it was still raining, and I can honestly say that I've previously lost deer in the rain. It seemed like too big of a risk for too big of a deer."
Hugunin picked up the CVA muzzleloader. He couldn't open his front window because at least 10 deer were within 40 yards. Carefully, he opened the side window.
"I raised the muzzleloader and cocked the hammer," he said. "I was looking through the scope without shouldering the gun. Basically, I was making sure that no other deer were in the way before I settled in to shoot. I put the scope on his rack, and then I followed the neck down to the shoulder. I was just about to pull the gun tight against my shoulder in preparation to shoot when it fired unexpectedly. I was borrowing this gun from someone, and the trigger is so light. I barely had my finger on it."
Because Hugunin didn't have the muzzleloader's buttpad securely against his shoulder, he got rocked by the scope as the gun recoiled. He remembers seeing stars.
"As the smoke cleared, I saw what I believed was the buck heading right and then up into the bedding cover," he said. "Unsure exactly what type of hit I made, I decided to get down and look for first blood and then leave. I was looking around by the feed and didn't see any blood. Carefully, I started walking toward the direction I'd last seen the buck. Nothing. I regrouped and started over."
Hugunin immediately found blood near the food.
"I started following the blood trail, but it stopped right at the edge of the bedding area, which is right where I stopped the first time," he said. "I leaned way over, and that's when I realized that I had scoped myself harder than I initially thought. I was following my own blood trail for about 20 yards (laughs)."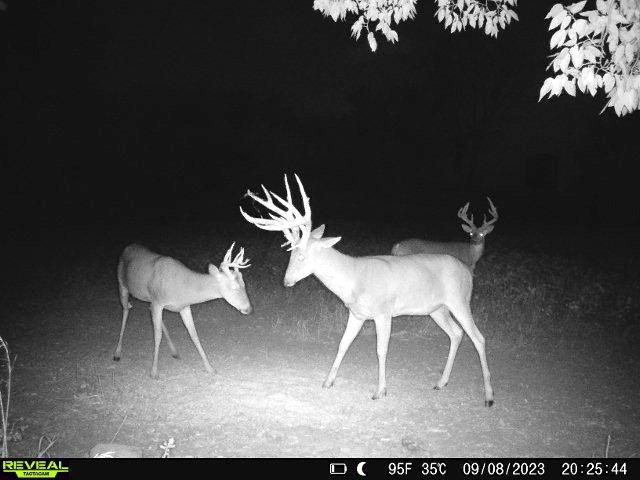 How would you like to see a buck this big on your trail camera? Talk about a monarch. Image courtesy of Jerame Hugunin
Hugunin left the area and lined up two buddies to help track the buck. Back in the field, he explained how everything had happened and showed them the blood trail that his forehead had created.
"We headed in the direction we thought he likely went, and we found nothing," he said. "We looped back around, and that's when we realized that the deer went left, not right. We found the blood trail, and it took us to the buck. He'd gone 80 yards and died in the nearby bean field."
Hugunin admits that taking his biggest buck ever on opening day was bittersweet.
"It honestly felt like an easy hunt," he said. "Almost a gimme. I don't want to sound unhappy, but I would've loved to hunt him for three months, encounter him multiple times, maybe even miss him, and then get him in November or December. But with all of the hunting pressure around here — I'm sure the neighbors knew about him — I had to jump on the opportunity right away."
Don't Miss: LEE ELLIS TAGS ANOTHER SUBURBAN VELVET MONSTER BUCK
Watch all the latest video episodes