Do You Deer Hunt in the East?
Rack Report Details
Buck:
183 Inches
Time of Year:
November 12, 2017
Place:
Southeastern Virginia
Weapon:
CVA Apex Muzzleloader Muzzleloader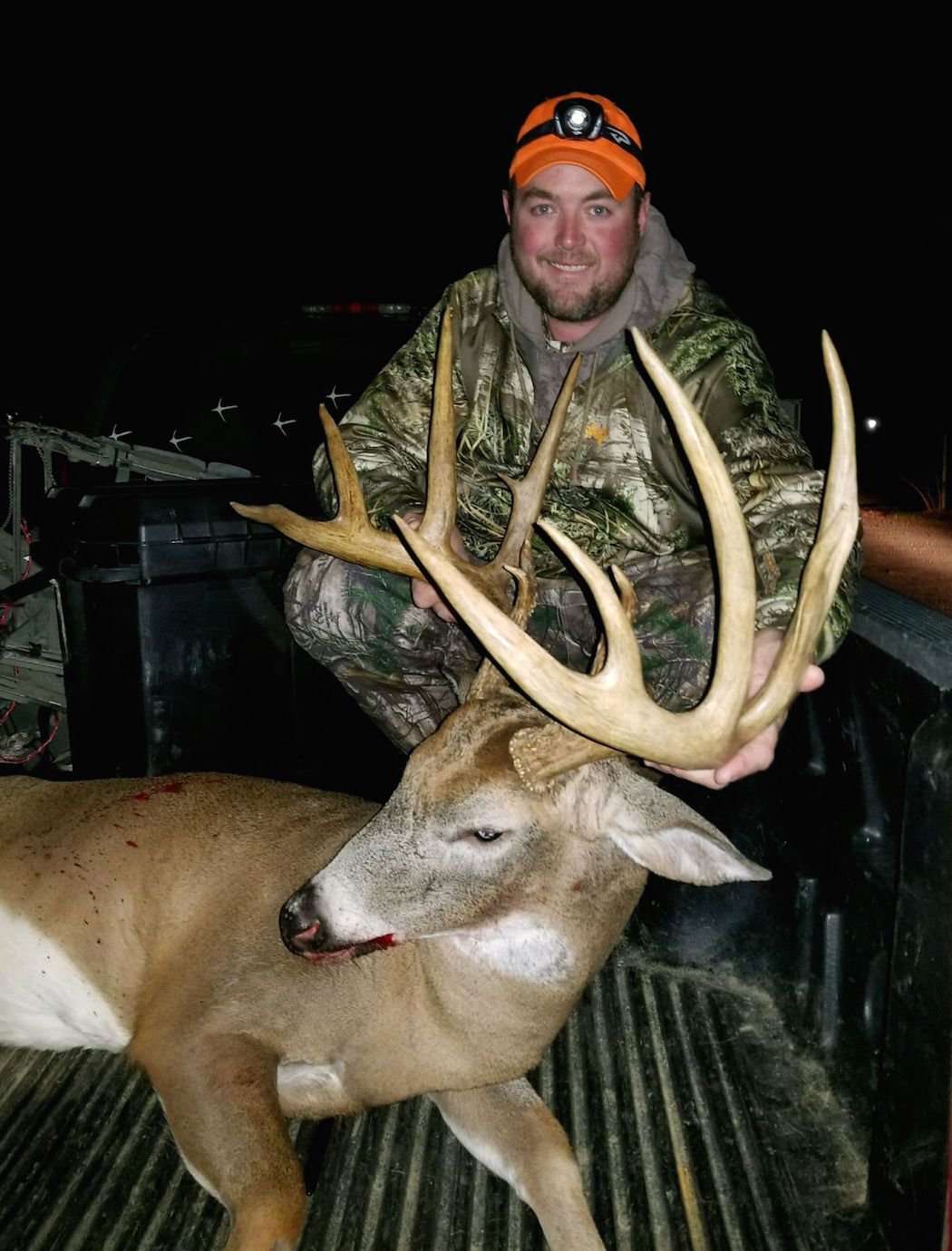 Russell Haynie is a serious deer hunter, as serious as they come in fact.
I hunt every day of the deer season, he said.
And he has a lot of land to hunt. Between land his family owns, and land leased by his group of family and friends, their total hunting properties tally about 3,000 acres. Much of it is broken up into smaller plots. One of those smaller plots, a 30-acre piece owned by Russell's grandparents, will go down in family history as the place where one of the largest bucks ever to be taken in that area of the state was bagged.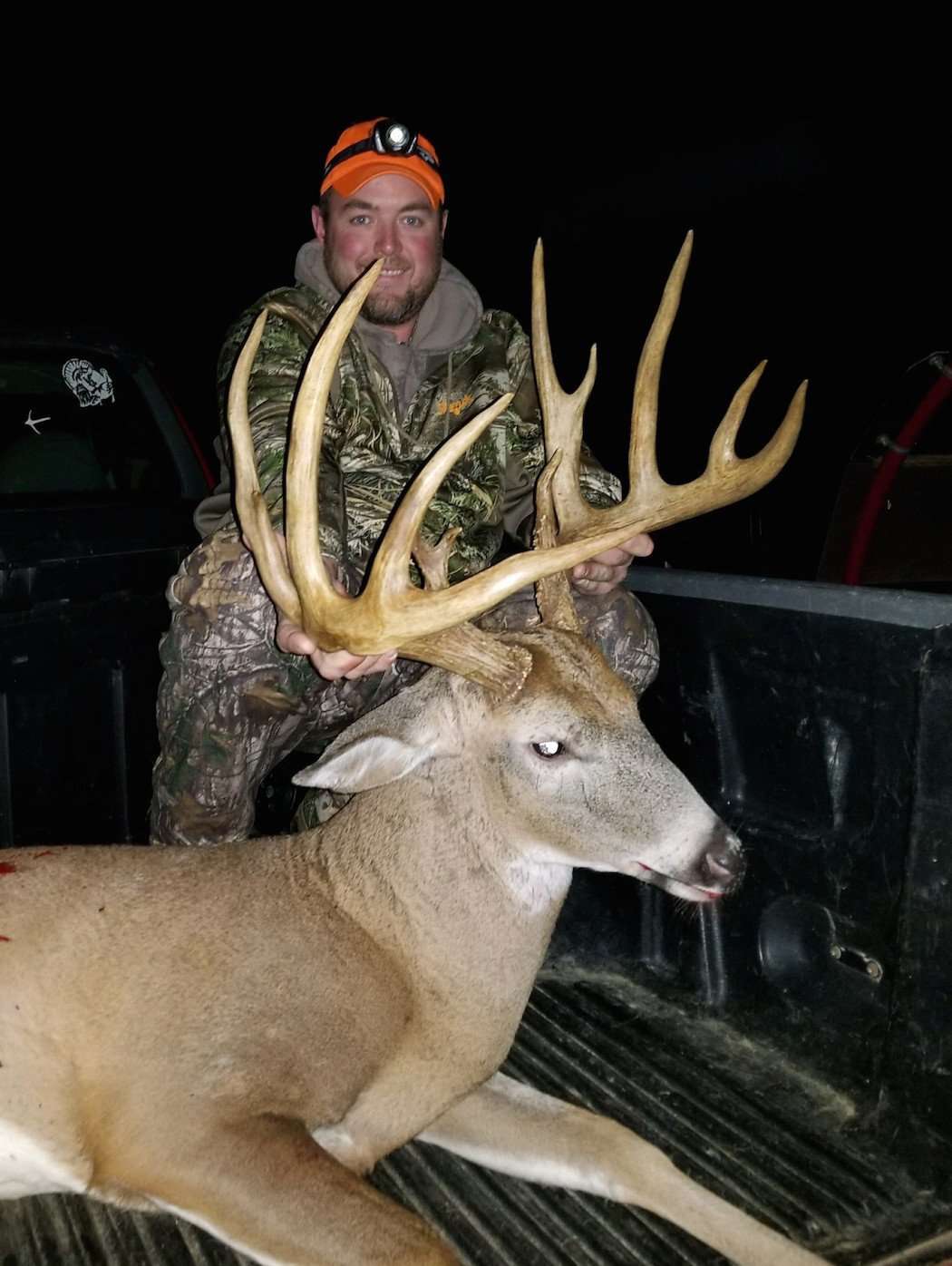 The property backs up against four square miles of unbroken timber in an area not known for huge whitetails.
We have a strong genetic of big 6- and 7-point bucks, Russell said, If you want to shoot a mature 6-pointer, this is the place to do it.
So when a great looking 10-point buck showed up on his trail camera in November of 2015, Russell hunted it hard. The buck's photo was taken at a scrape on the edge of a field on November 11. Despite putting his time in for that big buck, Russell never saw the buck in person and did not get a photo of him again.
Fast forward to November 11 of 2017, exactly two years later. Russell's hunting buddy Brian Wallace sent him a photo of an absolute giant from the same area, a fuzzy nighttime photo that showed an obvious monster of a buck. The photo was taken near that same scrape on November 8.
An older hunter in the area which Russell looks up to saw the photo and told Russell, You need to hunt that deer every day until you get him. You may never see another one like it.
That was Russell's plan when he headed out to the property the following day. He put some synthetic deer lure in the scrape and topped it off with a fresh dose of his own urine and settled into the stand. Soon, a doe came along and worked the scrape, pawing, licking the overhead branch and spending quite a bit of time there before moving out into the soybean field to feed. Russell saw movement in the woods behind the scrape and assumed it was the doe's fawn, but when he put his binoculars up, his heart skipped a beat.
Gear Highlight: Rocky SilentHunter Scent IQ Mask Jacket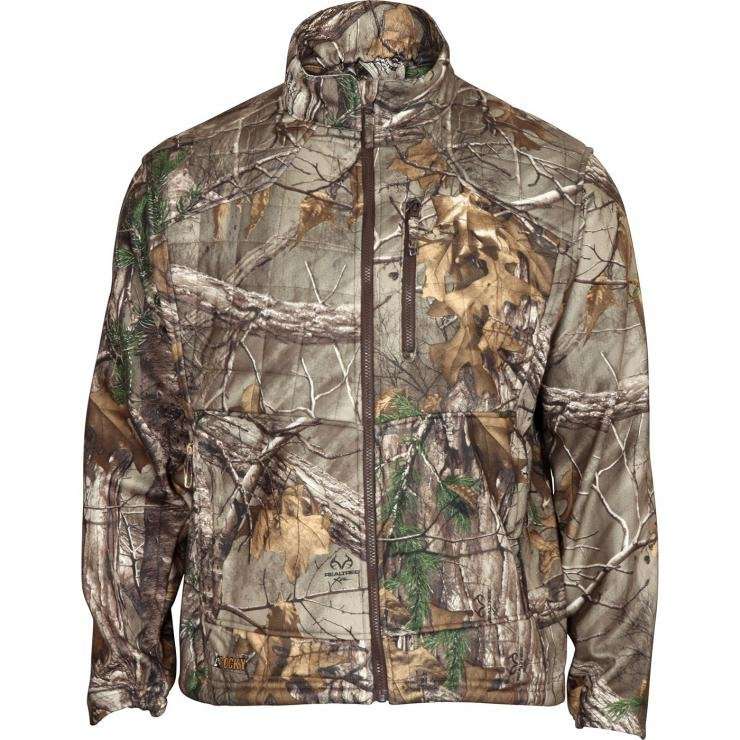 It was the giant buck, and it was standing on the edge of the woods staring out into the field. It stood there a long time, but Russell kept his cool, with his muzzleloader at the ready. Finally, the buck made a move, exposing its vitals. Russell's shot was perfect and the buck dropped in its tracks.
I have killed a lot of deer and I don't get shook up. he said. But this time was different. I was trembling so bad I couldn't get the top off the speed-loader to reload.
A large group of people shared in his excitement. The buck is a main-frame 10-pointer with kickers; the longest tines are over 13 inches. It green-scored 183 and netted 176 as a typical.
Russell hopes the buck makes Boone & Crockett because taking a B&C buck is something few people from the area have ever done.
Don't Miss: Bowhunter Tags a Big Bizarre Booner
Are you a deer hunter wanting to learn how to accomplish your goals? Check out our stories, videos and hard-hitting how-to's on deer hunting.
Watch all the latest video episodes