Have You Ever Shot a Buck and Discovered Someone Else's Broadhead in the Meat?
Rack Report Details
Buck:
192 2/8 Inches
Time of Year:
November 1, 2017
Place:
Missouri
Weapon:
Hoyt Carbon Defiant Bowhunting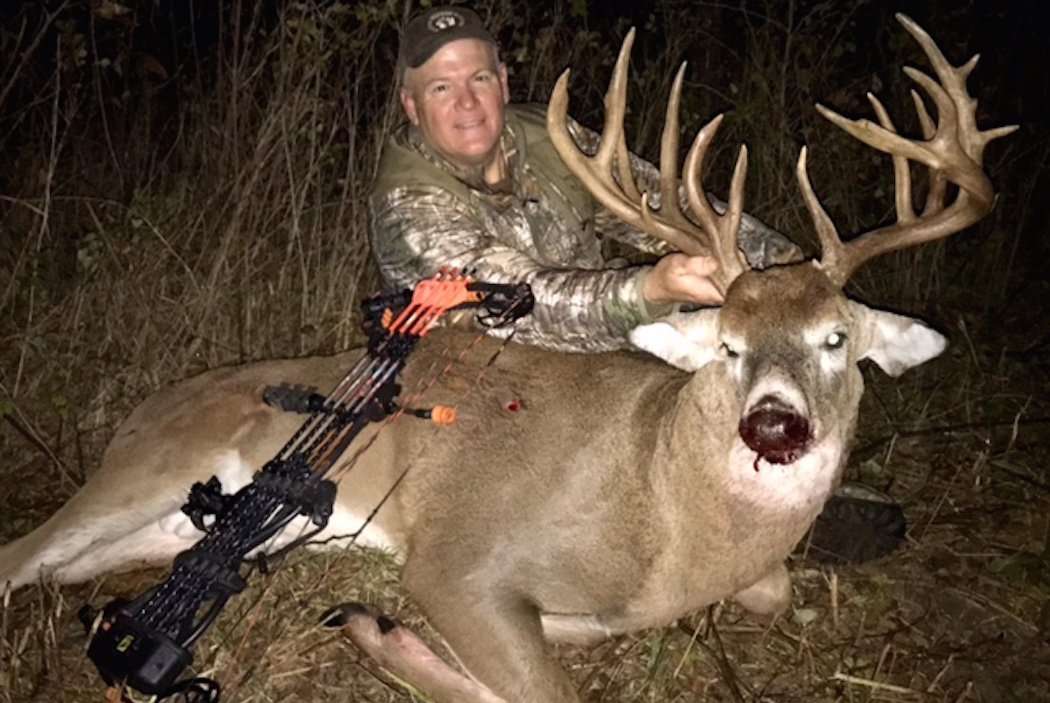 Hoppy Kempfer of Deer Park, Florida, has been managing a northcentral Missouri farm with six other hunters for 13 years. Collectively, their efforts have produced quality deer hunting. We normally capture a solid mix of 130- to 150-inch bucks on our trail cameras each year, and we always seem to capture one booner every year, too, Kempfer told. We usually only see it once or twice on the camera, and then it disappears.
Things changed in 2017 when one of Kempfer's hunting buddies placed several trail cameras on the Show Me State farm following a spring turkey hunt. We started getting pictures of a really big buck as his antlers were growing throughout the summer.
Before we continue, let's rewind to fall 2016. One of my buddies got a crack at a 140-class typical 9-pointer that year, Kempfer said. Unfortunately, his arrow hit the shoulder and didn't penetrate into the vitals. Of course, the wound was superficial, and the buck lived.
Back to 2017. When the trail cameras started shooting photos of the giant velvet buck, the group of hunters didn't recognize him. We had lots of daylight photos of this deer, and when season opened, we homed in on the block of woods we identified as his core area. We know exactly where deer bed in that block of timber, so we made sure to hunt the buck only when the wind was perfect.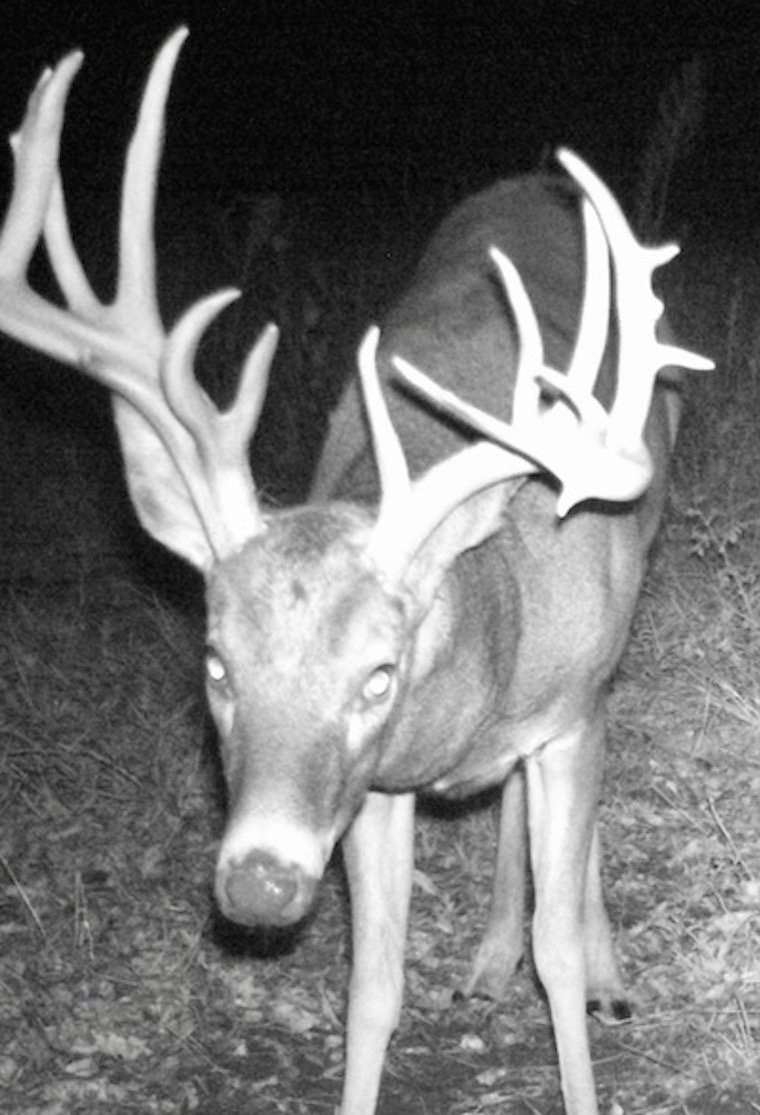 On Nov. 1, I took a bush hog and mowed along a trail that borders the 60-acre block of timber and our property line, Kempfer continued. In fact, I mowed right past one of our treestands, and I originally didn't plan to hunt it because of the commotion I'd made. However, there was a southeast wind, and the stand I'd driven by was the only one in the area that works with a southeast wind.
Thus, Kempfer climbed into the stand for the afternoon hunt. I had a hunch that deer would walk the trail and smell the fresh-cut grass, he noted. I had a cut beanfield on two sides of the block of woods, and cow pasture on the other two sides. It's an ideal spot.
Kempfer said that a young buck appeared first. Next, a one-antlered buck came out, he recalled. He made a little scrape in front of me, and then I heard a grunt behind me. It wasn't very deep, so I wasn't expecting it to be a big buck.
I shifted and saw the giant — clearly our No. 1 buck — approaching on a deer trail leading to the base of my tree, Kempfer said. He was obviously working into the wind, and although he wasn't downwind, I knew he would be if he continued his course. Fortunately, he spotted the one-antlered buck and veered. At that time, I picked up my bow and attached my release to the loop.
The buck crossed a little ditch, then stopped on a bank 20 yards away. I remember telling myself, 'Don't screw this up!' Kempfer said. It was the easiest shot I'd ever gotten in all my years of deer hunting. My NAP-tipped Easton arrow hit its mark, and the buck ran 50 yards and dropped. With shaky fingers, I texted the other guys who were all hunting to tell them not to be waiting for this buck since I'd killed him.
Kempfer and his son recovered the deer, and they immediately were wowed not only by the impressive rack, but also by the buck's tremendous body size. We didn't weigh him, but I'd be surprised if he wasn't 300 pounds on the hoof, Kempfer said.
Gear Highlight: 2018 Hoyt REDWRX Carbon RX-1 Series in Realtree Edge

This is where a revelation unfolds. As Kempfer began butchering the deer three days later, he found a broadhead lodged in its shoulder. You guessed it, the broadhead was the same exact make and model as the one Kempfer's friend had shot the 9-pointer with one year earlier.
It's hard to believe that the buck could've packed on 50 inches of antler in one year, Kempfer said. But, I took the buck only 150 yards from where my buddy shot him the year before. The broadhead was the same, and it was lodged in the same side shoulder that he hit his deer on. By his deer's characteristics, we'd hoof-aged him at 3½ years old. My buck was 4 ½ years old. All those similarities have drawn the consensus that it's the same buck.
It's unfortunate that, when you bowhunt long enough, mishaps do occur, including shoulder hits. If Kempfer's buck truly is the same deer his buddy hit a year earlier, this is a testament to a deer's ability to survive and even thrive. I mean, to pack a broadhead and add 50 inches of antler in one year — that's impressive.
Don't Miss: 20 Deer Hunting Lies Your Granddaddy Told You
Are you a deer hunter wanting to learn how to accomplish your goals? Check out our stories, videos and hard-hitting how-to's on deer hunting.
Watch all the latest video episodes