Trail cameras have taken the mystery out of deer hunting, you say. Well, not completely.
Rack Report Details
Buck:
173 3/8 inches (gross green score)
Time of Year:
Oct. 18, 2020
Place:
Stafford County, Kansas
Weapon:
Mathews VXR Bowhunting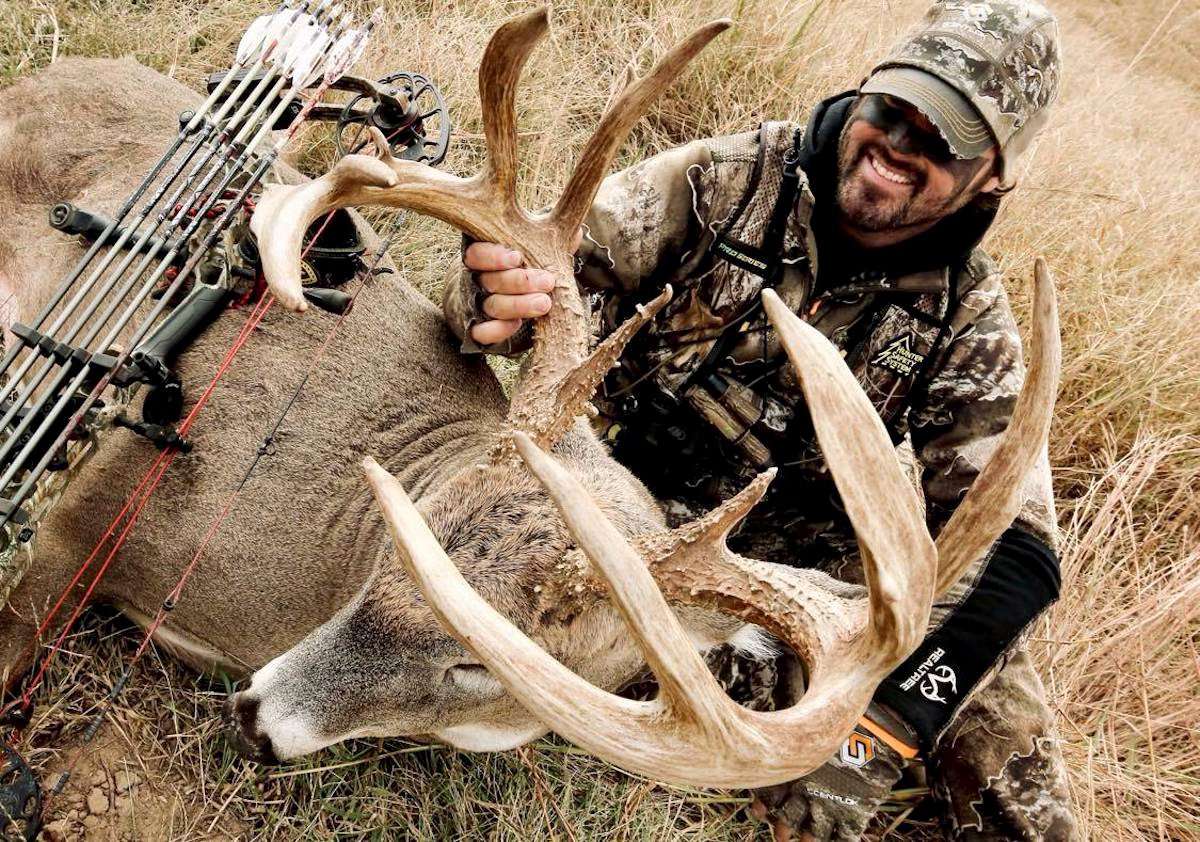 Most big-buck stories start out with years of history, full of trail-camera photos and close-call encounters. Well, that isn't the case with HeadHunters TV co-host Nate Hosie and his recent Kansas kill. A mid-October cold front seems to have spurred a buck's last-minute transition from summer to fall range.
The outfitter we were hunting with didn't have a single trail-camera photo of him, Hosie says. I've hunted this part of Kansas several times. Triple Creek Outfitters does a great job and has some awesome hunting. That is just one of those places that, at any moment, a deer of a lifetime can appear.
On Oct. 18, the weather was perfect. A major cold front pushed through, bringing brisk northerly winds and high pressure. That's a recipe for solid big-buck action, and this bowhunter wasn't missing out on it.
It just felt like the perfect day for the big fellows to go for a walk, Hosie says.
The area is mostly crop fields, CRP thickets, and shelterbelts. They were set up on the edge of some timber overlooking a cedar thicket mixed with native grasses.
It's one of those stands that, regardless of what you see in a sit, it just looks right, Hosie says. Perfect transition between bedding and feeding areas.
After settling in, Hosie and his cameraman, nicknamed Scooba, observed some small bucks and does ease in and out of view. A small buck rubbed a tree, then started bumping does. Hosie hoped the commotion would catch a big buck's attention. Sometimes, that's all it takes to lure a mature deer out of cover.
That's exactly what happened. I could see deer moving throughout the CRP, and right about prime time, he appeared out of a cedar thicket and headed our way, Hosie says. When he first stepped out of the cedars, I didn't know what he was, but he was big.
Hosie picked up his Mathews. Scooba got eyes on the buck and grabbed the camera. The giant walked toward the setup and showed some aggression to the smaller deer that had been bumping does. Lowering his head was all it took, and the smaller deer trotted off.
Afterward, the monster entered some thick cover but reappeared moments later. Hosie drew back, settled his pin, and took the 30-yard shot.
I tucked it as close to the shoulder as I could, and hit him good, Hosie says. He ran a little ways, stopped, and offered me a second shot. It hit good, and he went less than 100 yards.
The recovery was epic. Hosie, Scooba, and six other friends went to find the giant. It didn't take long to spot a white belly, but the camaraderie was as much fun as the moment when Hosie kneeled down and grabbed that massive, 173 3/8-inch rack.
Deer hunting means so much to me, Hosie says. Throughout my life, it's been a consistent place of peace, respect, and admiration. I put out a music project called 'The Woods.' One of the songs is called 'Why I Hunt.'
The chorus?
It's the way the good Lord speaks through the breeze and trees,
When I'm sitting in a white oak stand.
I do it because it's in my blood.
It's just part of who I am.
I find my way back to my roots every time I lace my boots,
and hit the woods as the sun comes up.
That's why I hunt.
Looking back on this particular hunt, it's one he won't ever forget.
It was truly a special deer, and special moment with friends that I'm beyond thankful for, Hosie says. I have so much respect for the animals we chase, and for all of God's creation. Hunting is special, and we are blessed to be able to enjoy it. My grandpa taught me success isn't in the tag punched. It's just being in the hunt and in the woods.
(Don't Miss: A Giant Crossbow Buck Named 13)