After a long sit, Chris Ogle tags a huge Oklahoma monarch nicknamed Odin
Rack Report Details
Buck:
186 3/8 inches
Time of Year:
October 1, 2022
Place:
Oklahoma
Weapon:
Crossbow Crossbow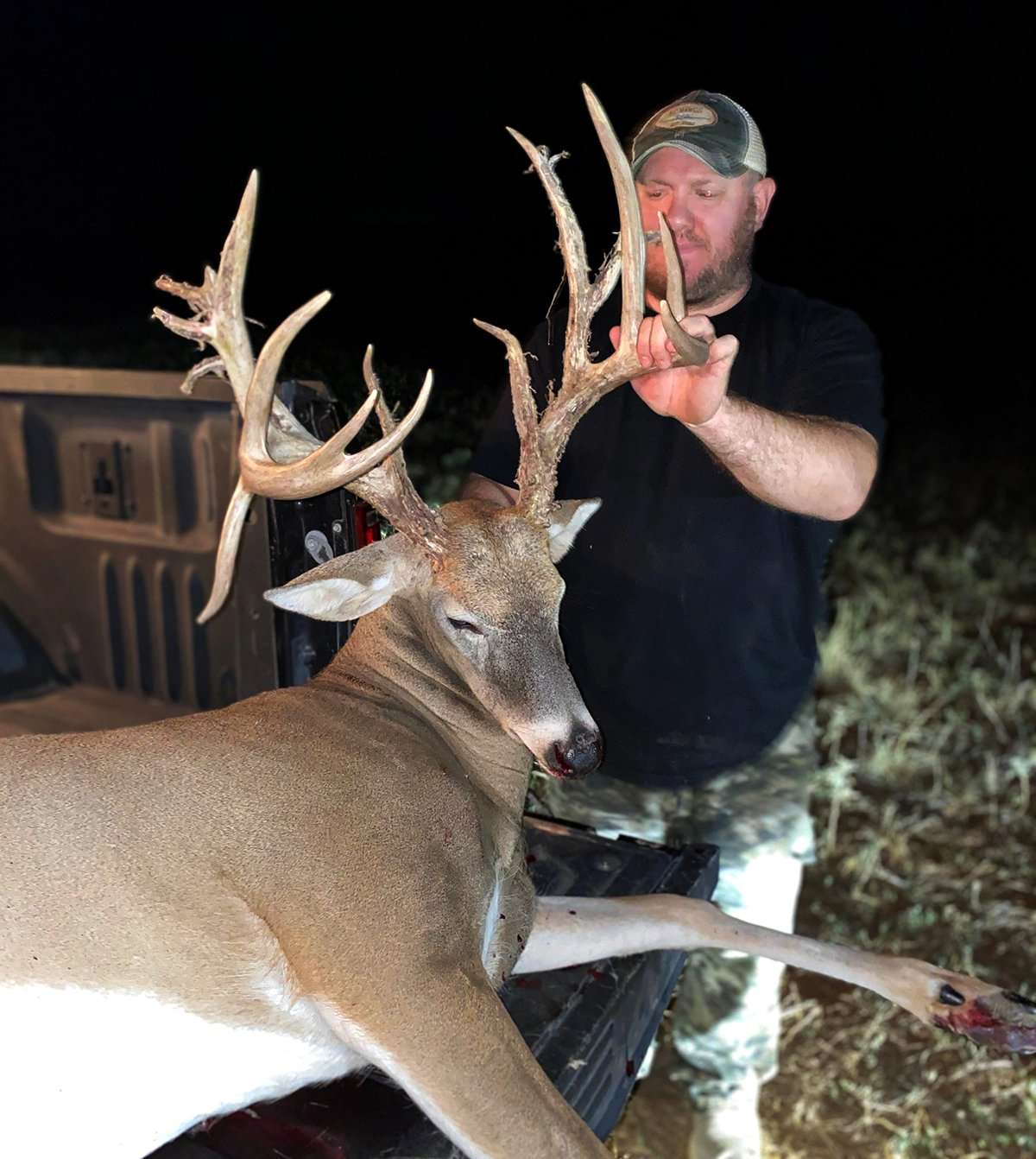 The first buck Christopher Ogle captured on his trail camera this past summer was a huge whitetail he didn't expect to see. Ogle knew the property was good, but it turned out to be better than expected. He hoped for an opportunity at the deer.
Unfortunately, a serious drought hit the region, which largely killed the wheat fields and food plots in the area. So, Ogle started feeding corn heavily to hold deer on the property.
I started pouring out corn, and I got a lot of early daytime pictures of this buck, he said. I ended up moving a feeder to this spot, but I quickly noticed he went away for a week and only returned in the dark. So I moved the feeder to the center of the property, about 600 yards away, and he started coming back in daylight to the poured-out corn.
On Oct. 1, Ogle went afield in hopes of getting a shot at the giant whitetail.
It was hot and generally not a day I'd want to be out, he said. But the buck had been coming in that spot almost daily in daylight.
The area featured an ag field and a small line of timber along a creek bottom. It was in a pinch point where most deer funneled through as they entered the field. Sitting in a Redneck Ghillie blind, Ogle could view deer as they walked along the main trail from the bedding cover into the open.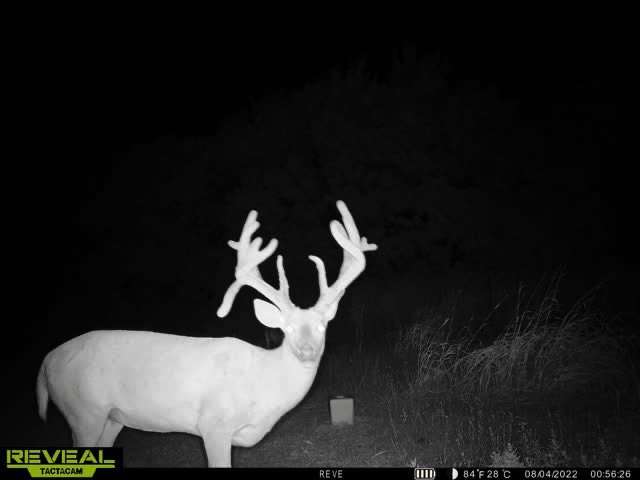 Hoping to allow plenty of time before sunrise, he settled into the blind around 4 a.m. About 5:30 a.m., while it was still dark, he heard two huge bucks begin fighting.
It was very close to me, he said. It lasted until almost 6 a.m. I could tell it was two mature bucks with lots of tines. It surprised me how hard and long they were sparring, given the early season.
As the day progressed, about 30 to 40 deer meandered in and out of view. A 130-inch buck was in the group. Another good buck joined the group and started feeding in the field, too.
Later that afternoon, the big one Ogle called Odin appeared.
I glanced and saw Odin coming with the long tines, he said. He came in about 10 yards away from my blind and went to the corn I spread the night prior.
Ogle settled his crossbow sights on the buck's vitals and took the 30-yard, slightly-quartering-away shot. The bolt hit the mark. The buck ran about 50 yards and fell, but Ogle didn't see him fall.
The recovery had me absolutely scared, he said. I did not find one drop of blood. I knew the shot was a tad high but in the crease. The bolt had good color of blood but no bubbles. Due to being on the ground, and not from a tree, all his blood pooled up inside and didn't have a chance to flow out.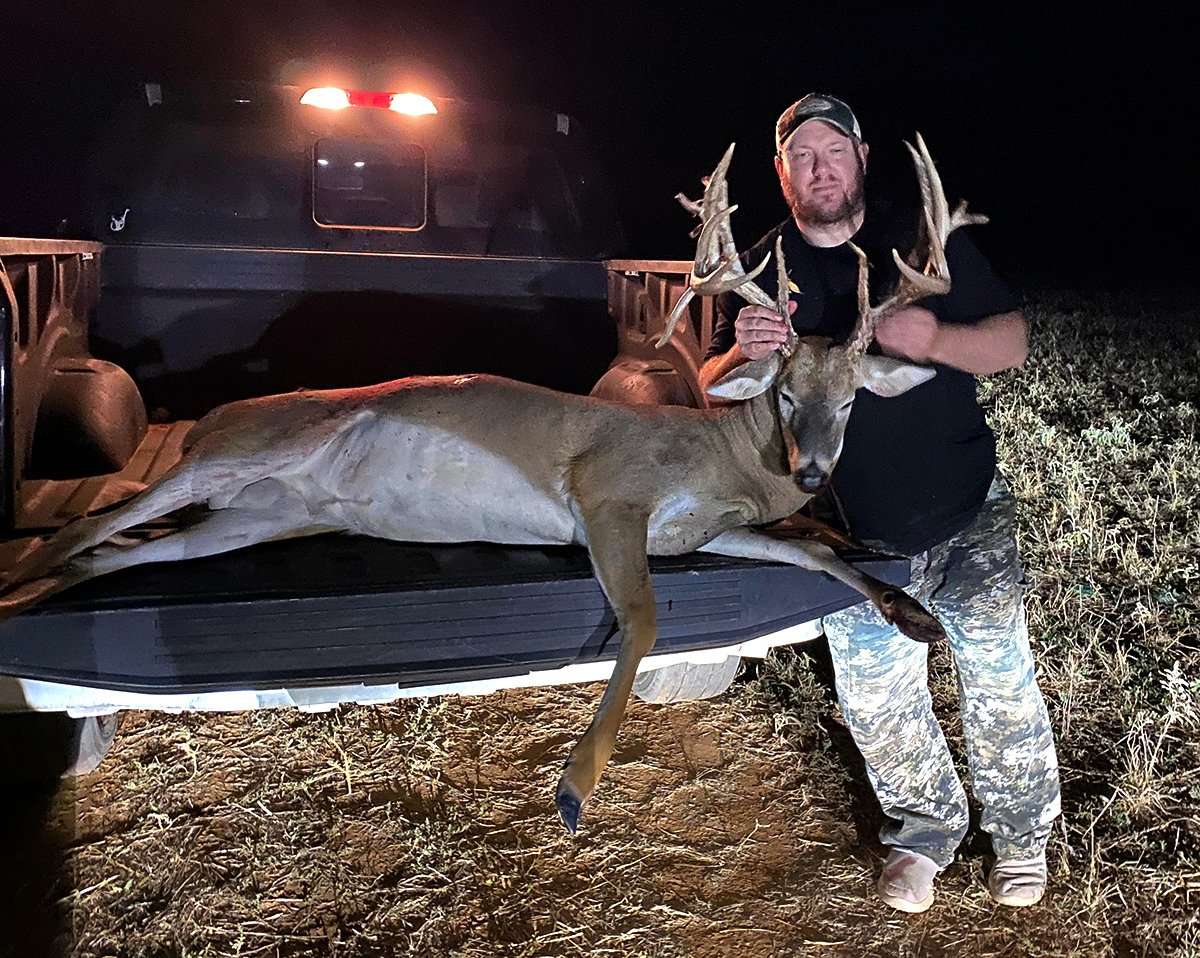 Ogle started scanning the area. He couldn't find the buck. So he started back toward the point of impact. That's when he spotted the deer.
I saw his tall G3s sticking out of the prairie grass, and the celebration began, Ogle said. I'm still in shock and can't believe that I killed this buck. Every property around me had bowhunters looking for this deer. People put out stands the day prior to the season 100 yards away from where I was sitting. It's a dream come true.
Despite tagging the deer, Ogle feels for the neighboring hunters, who spent so much time and energy trying to accomplish what he did.
Honestly, I do feel bad for some of the other hunters that have been watching this deer for years, Ogle said. Those that reached out to me were all respectful. They all knew what type of deer this was and had seen him a lot over the years. I put in a ton of work and sweat into this buck, and I'm very grateful to have harvested him.
Overall, the deer scored 186-3/8 inches. Ogle said he might never top it, but he plans to keep hunting mature bucks. Despite being a Texan, he also plans to continue living in Oklahoma and retire there. He even hopes to continue helping inner-city children and other new outdoorsmen to learn the outdoors.
I'm a Texan, and I love my state, but there's something magical about these Oklahoma whitetails, Ogle said. It's my rehabilitation, passion and obsession.
(Don't Miss: Oklahoma Hunter Shoots 7-Year-Old, 14-Point Buck)

Watch all the latest video episodes