A father and son harvest Sooner State bucks on consecutive mid-October afternoons from the same setup
Rack Report Details
Buck:
168 1/8
Time of Year:
Oct. 13, 2022
Place:
Grady County, Oklahoma
Weapon:
PSE EVO EVL bow Bowhunting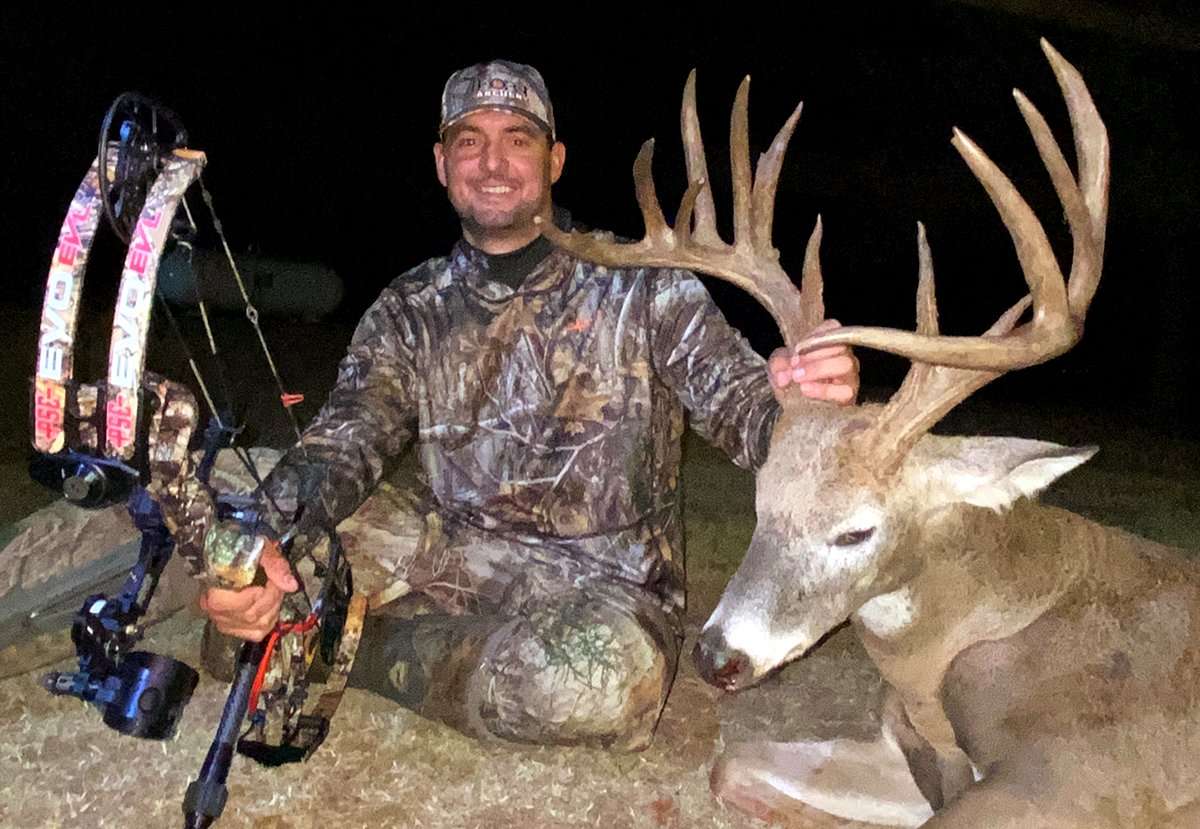 Trent Parrish and a couple of friends have access to some very good whitetail ground where they hunt in Oklahoma. And they've had great success. Friend Paul Powers arrowed an incredible 186 4/8-inch buck in 2018, and another hunting partner, Johnny Maxwell, bow-killed a 214-incher in 2021. This season, Parrish began targeting a monster buck he first saw late this past summer.
To say that we're blessed with great hunting is an understatement, Parrish said. Going into each fall, we target very mature, high-quality deer on the ranch that we hunt. I also have some family land to hunt near my house that offers excellent deer hunting. On it is a wheat field that typically attracts bucks. They show up every fall, and they travel through a specific grouping of trees.
A few months ago, I spotted a tremendous buck about half-mile from there. As soon as he shed his velvet, I started seeing him on my trail camera at that wheat field, where I feed corn.
When Parrish started hunting on Oklahoma's Oct. 1 bow opener, the buck seemed to have a hit-or-miss pattern. Meanwhile, about 12 other bucks moved in, based on Parrish's hunting observations and trail-camera intel. The concentration of bucks likely occurred because of Oklahoma's major drought conditions. Ponds and creeks are drying up, so deer seem to be focused on areas with water. A stock tank sits about 75 yards adjacent to Parrish's trail camera.
It's just a phenomenal spot, he said. One buck that we called the Big 6 was in there regularly. We figured he had to be at least 7-1/2 years old. He'd come in and push every other buck out. He'd even push out the big deer that I was trying to kill. So, my buck would disappear for four or five days when the Big 6 was in there, and then when the Big 6 wasn't there, my buck would return. It was a guessing game.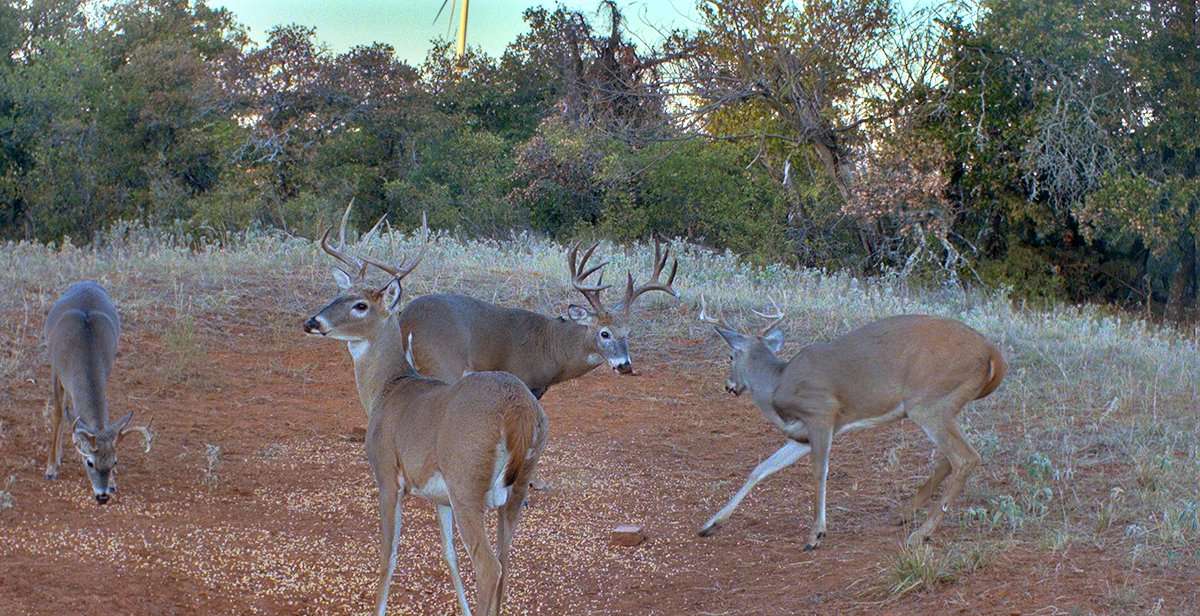 Parrish is a basketball coach, and he finished practice Oct. 13 feeling positive about his odds of killing his target buck. Conditions were a bit cooler, and he believed the buck would be on its feet during daylight.
He'd been there for three of the previous four nights, he said. I had my son, Case, drive me in on the four-wheeler and drop me off by the wheat field. I have a spot I like to sit on the ground against a tree and behind some cedar branches. I got all settled in there and felt great about everything. I'm on the Final Descent Outdoors pro staff, so I was self-filming my hunt for the show.
Soon after 6:30 p.m., Parrish's suspicions became reality when the monarch materialized.
He appeared with several other bucks, he said, and I got the chance to watch and observe him to make sure that he was as mature as I'd thought, which he obviously was. At one point, he came over a ridge and was skylined through the trees. It made for some awesome video footage.
He came right in, but he made me wait. First, he faced toward me for about seven or eight minutes. Then, another deer came in. I expected him to turn broadside, but he turned and faced directly away instead. After about four to five more minutes, he turned and presented me with a good shot opportunity.
Upon release, Parrish said he knew his arrow had hit the buck hard. The buck dashed toward the ridge where he'd been skylined on earlier and then stopped.
His antlers were silhouetted, Parrish said. I saw his head move a few different times, and after about 30 seconds, I saw a big movement, and then nothing. After waiting for some time, I slipped out and called Paul and a couple of other buddies. We talked about it and reviewed the video footage several times. We decided to play it safe and give the buck a couple of hours before tracking.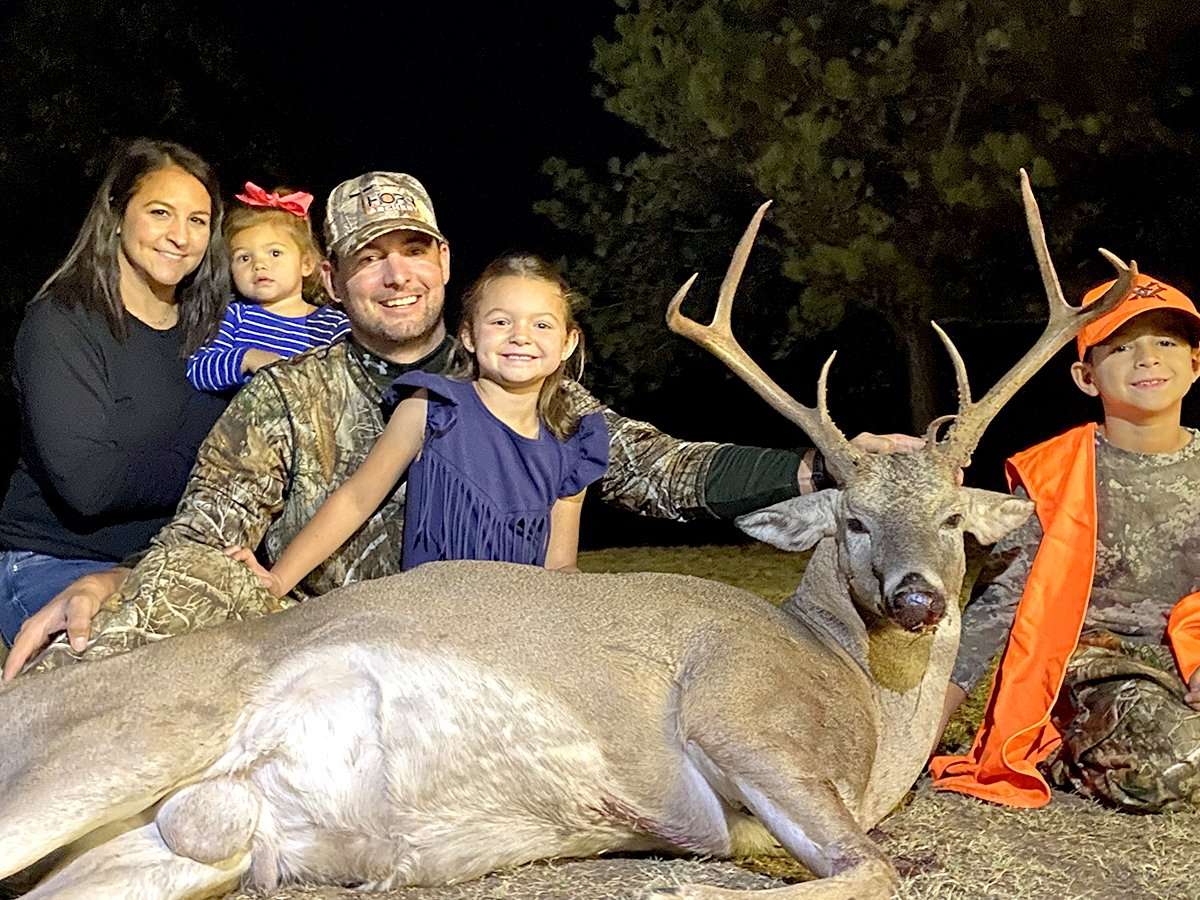 They found the buck piled up where Parrish had last seen it.
The last big movement was evidently him falling down, he said. My hit was just a little bit back, but we all make it a point when bowhunting not to hug the shoulder. My arrow seemed to have gotten the back of the lungs, resulting in a quick kill."
The next afternoon, Parrish took Case hunting at the same spot for Oklahoma's youth hunt.
I hadn't seen the Big 6 down there for about a week or so, he said. Well, the Big 6 came right in and gave Case a great opportunity. He put him down with a .243. It's the third buck he's taken in the last two years.
We follow specific criteria to make sure that we harvest the right deer, and we do that with the kids, too. We make sure that they have fun, but we want every deer we harvest to be very mature. That ensures that we'll always have incredible bucks to chase in the future.
Taking two mature bucks during consecutive afternoon hunts is about as good as it gets. I'm sure the Parrish father-and-son duo will relive and tell stories about their mid-October bucks for weeks to come.
(Don't Miss: Iowa Bowhunter Arrows Old, Heavy-Beamed Monarch)

Watch all the latest video episodes