Late Season Mississippi Palmated Monster
Rack Report Details
Buck:
152+
Time of Year:
January 7, 2023
Place:
Yazoo County, Mississippi
Weapon:
.308
When this big buck first showed up on Chuck Mcginty's trail camera in mid-October, it instantly rose to the top of the list of bucks he wanted to shoot. I'm lucky that our place is surrounded by very large tracts of land that all practice QDM. It gives the bucks a chance to mature, and it isn't that unusual for a new buck to show up… but this one definitely got our attention, Mcginty said.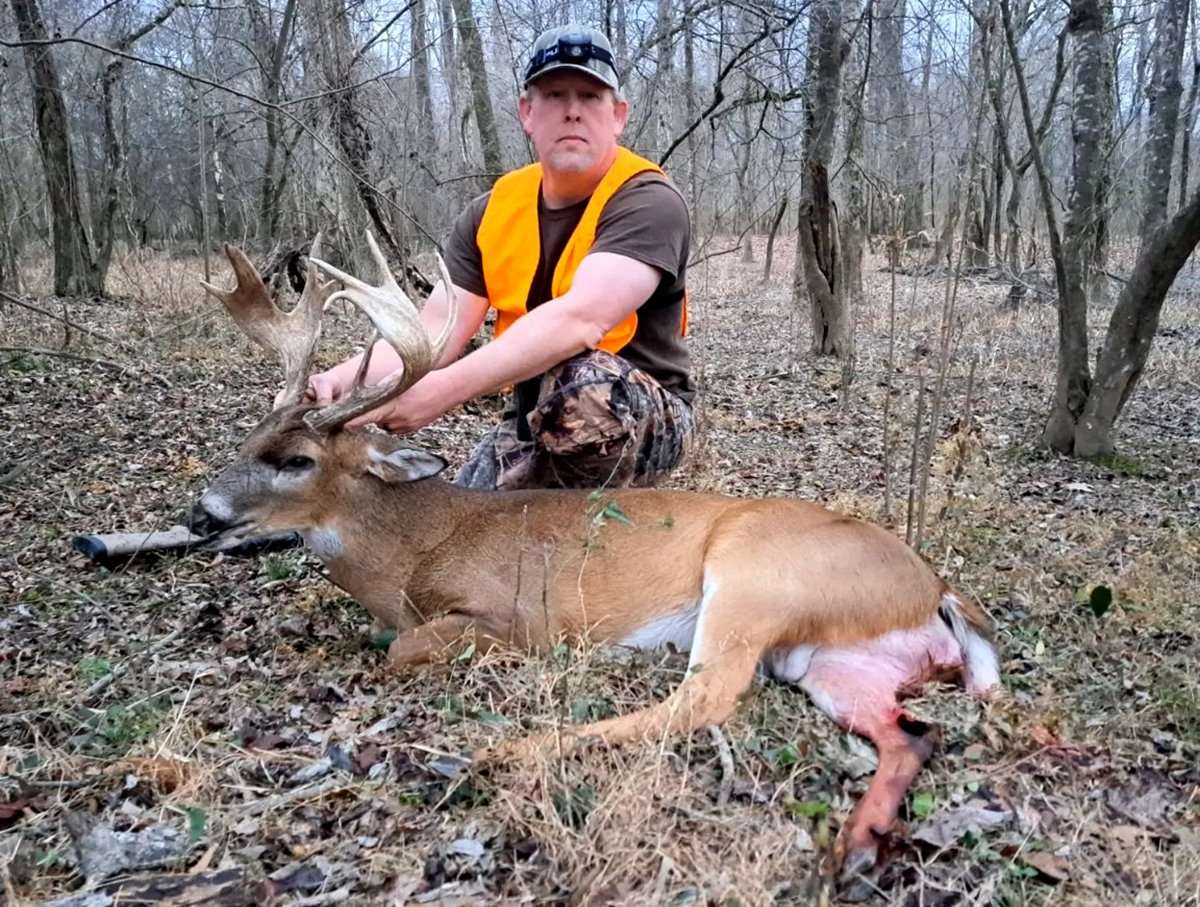 Chuck, his daughter Chloe, and his brother Chad all started hunting the deer. They never saw him — at least not in during shooting hours. The buck remained a regular on Mcginty's trail cameras just about every night.
As the season wore on, other target bucks showed up and were taken, including a nice 8 by Chloe. She loves to hunt. Once rifle season comes in, we are almost always hunting together. She's passionate about it, Mcginty said.
By January, the hunters were starting to wear down a bit. Chloe and I hit the stand for a morning hunt on January 7. Things were slow and it was unseasonably warm. We saw a few young bucks bumping does, but no shooters, Mcginty said.
Chuck and Chloe left the stand and returned home for lunch. Everyone was out and the house was quiet. I ate and laid down for a quick nap. To be honest, I wasn't really feeling an afternoon hunt that day. The warm temperatures seemed to have buck movement down, Mcginty said.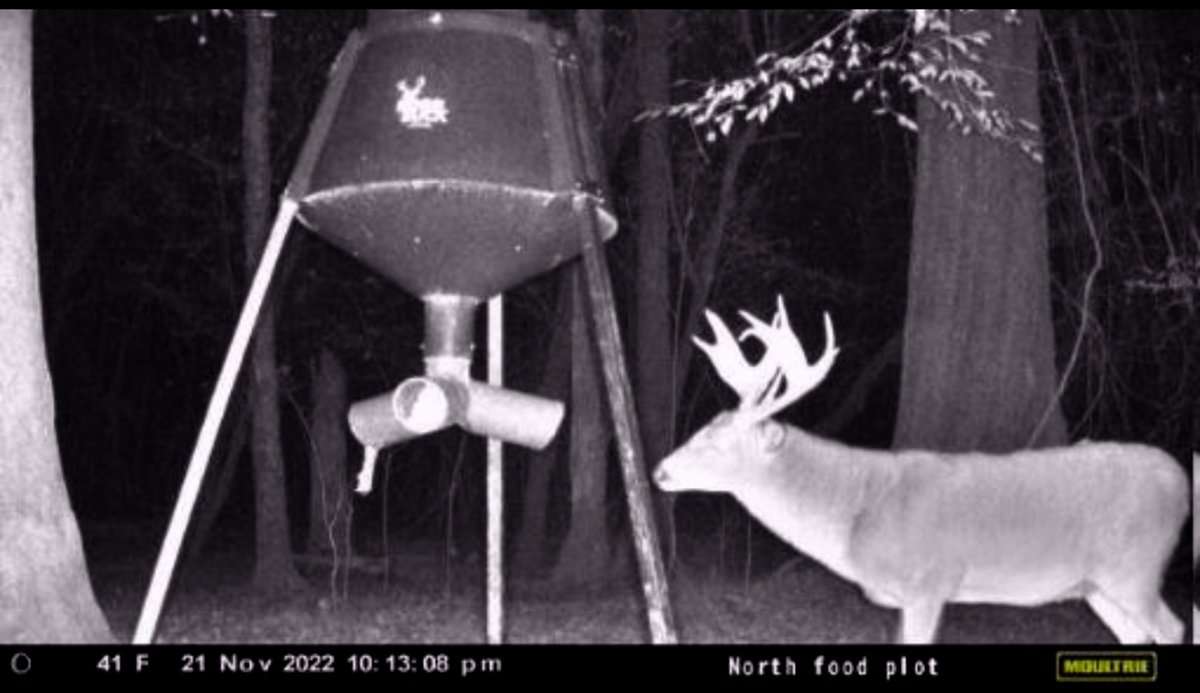 Luckily, Chloe urged Chuck to head back for an evening hunt. The pair headed to a stand located in a hardwood bottom. The plan was for Chloe to take a doe or two. The pair settled in and waited for evening deer movement.
It didn't take long for a bit of action to begin. A lone doe stepped out at 65 yards. She started to blow and Mcginty assumed that a wayward swirl of wind had carried some of their scent to her. Instead of bolting, the doe ran toward the waiting hunters. A young 8 soon appeared behind her, pushing her down the trail.
(Don't Miss: The Whitetail Restoration Story)
As things began to settle, another deer appeared on Mcginty's side of the blind. It was the buck, instantly recognizable due to his thick, palmated rack, and it was close. Chloe was on the opposite side and couldn't get a shot. I didn't even have the scope covers off my rifle, Mcginty said.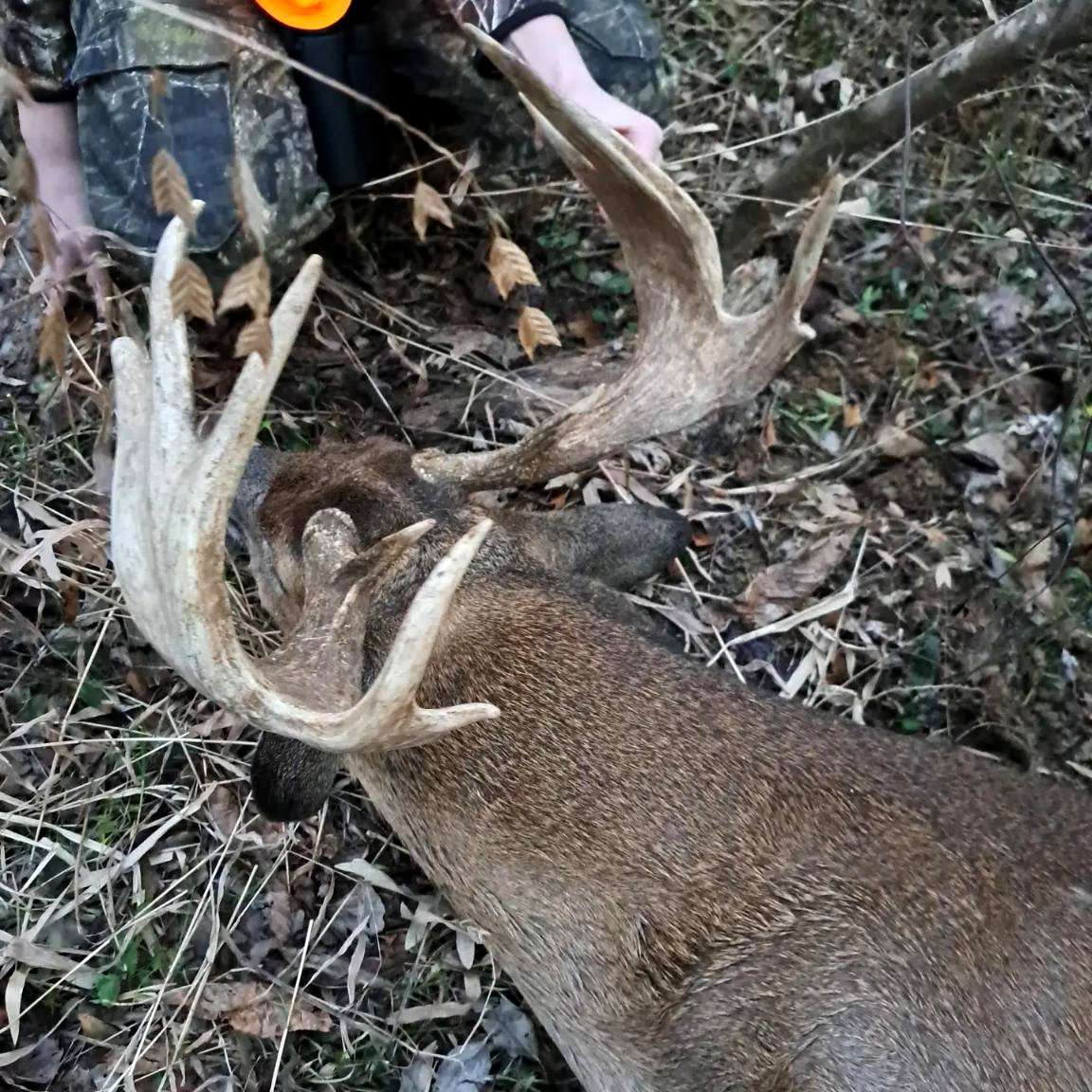 Quickly getting his rifle situated, Mcginty took the shot. He thought he might have hit the buck a bit back, so they settled in to give the deer some time. Honestly, the thing I was most worried about was that Chloe was going to be upset because she couldn't get a shot. She quickly let me know she was overjoyed that one of us had finally gotten a shot at the big deer, Mcginty said.
Chuck got down to look for blood while Chloe stayed behind in the blind to direct him to the right spot. At first, I couldn't find any blood, but Chloe signaled to move over a few yards and I soon saw the blood trail, Mcginty said.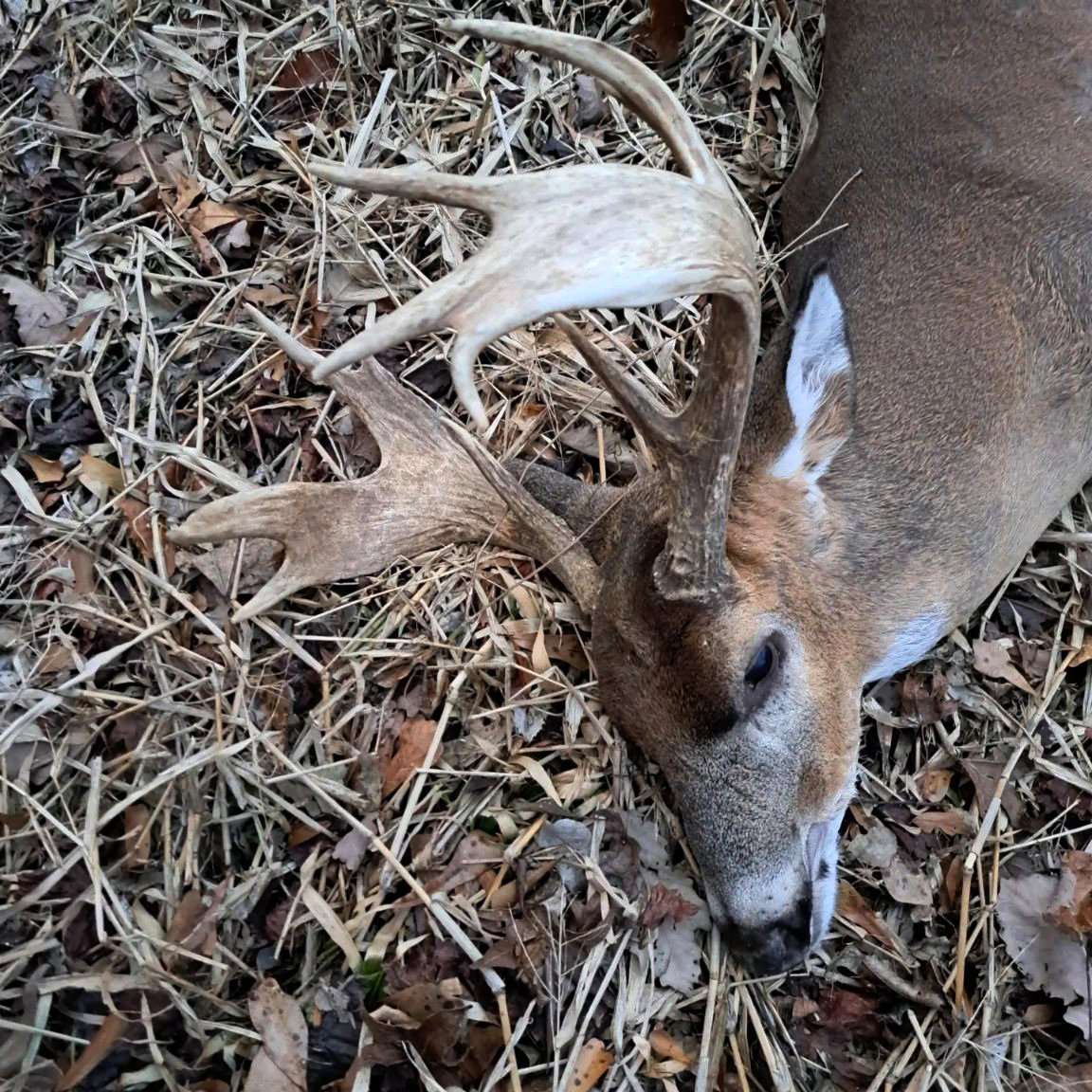 The pair easily followed the trail to find the buck, which was even more impressive in person. The rack was extremely wide, flat, and palmated more like a small moose than a normal whitetail. The 8-point frame had three kickers and incredible mass measurements. The last circumference measurements on each side stretched to over 7 inches. Chuck and several friends attempted to score the deer and came up with around 152 inches, but Chuck plans to have it officially scored after the drying period.
News of the deer traveled quickly. A friend of Chuck's stopped by to see the deer and to tell Chuck he had photos of the deer on his place in early October, just before he showed up on Mcginty's cameras. The two farms were over five miles apart.
(Check Out This Story of another Deep South Moose Buck)

Watch all the latest video episodes