A Christmas Daylight Sighting and a Deer Blind Prayer Lead to Massive Louisiana Buck
Rack Report Details
Buck:
151
Time of Year:
December 26, 2022
Place:
Madison Parish, Louisiana
Weapon:
.308 bolt action
Fisher Brown was 9 years old when he first learned of the freakishly palmated buck on his grandfather's Louisiana deer lease, three seasons ago. Poppa Charles was the first to see the buck, and he knew right away that he wanted Fisher to get him.
No one else on the lease had seen the buck, with strange antlers that resembled a small moose. Fisher immediately gave the deer the fitting nickname, Moose. He and Charles hunted hard for Moose for the rest of the season. A few nighttime trail camera photos told them the buck was still in the area, but they never laid eyes on the deer again.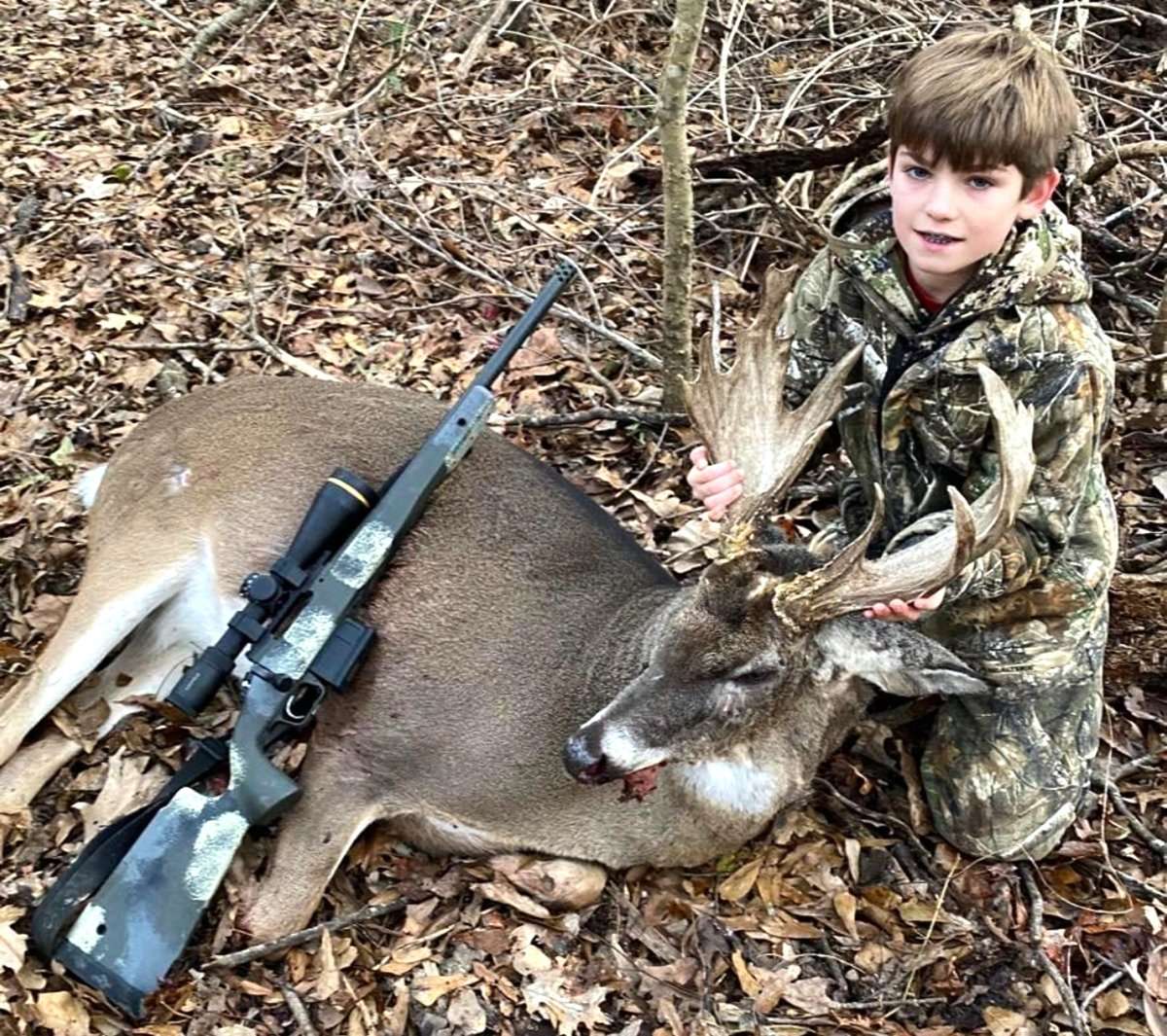 The 2021 season opened, and Charles and Fisher were at it again. A trail camera photo here and there kept the pair on the hunt, but the season slowly ticked by without an actual sighting. As Louisiana's relatively long firearm season approached the mid point, Fisher and his Poppa were in the stand when a nice 10-point stepped out into the opening. Knowing he had additional buck tags for Moose, Fisher decided to take the big 10.
The shot was a long one and the buck bolted out of sight. After giving the deer some time, Charles and Fisher got down and searched for a blood trail. They soon found a drop, then more, and followed the blood along a well used deer trail. Then they saw it: One of Moose's sheds from the previous year was on the ground next to the trail. Fisher excitedly picked it up and they continued along the blood trail to find the big 10 just a few yards farther down. After locating his buck, Fisher wanted to go back and search for Moose's matching shed antler. They soon found it.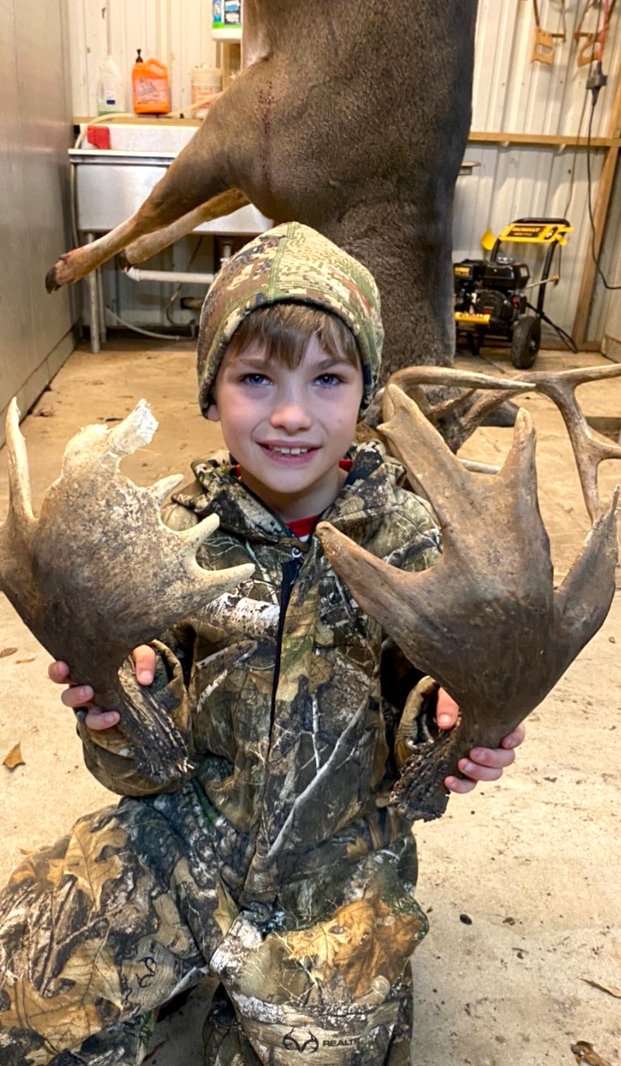 The discovery of the sheds renewed Fisher's desire to take the buck. Once we found those sheds, we knew we were kind of in Moose's core area, Charles said. They put out more cameras and continued hunting.
With the season winding down, grandfather and grandson were spending every available moment in the stand. By this time, everyone on the lease knew about Moose and was hunting him, but he seemed to stay in Charles' area.
Then it happened. Late one evening, Moose stepped out in front of the waiting pair. Charles nudged Fisher and pointed out the deer. Fisher's pulse quickened, his breathing grew erratic, and he tried to steady himself. At the shot, Moose bolted into the thick cover and out of sight. The pair gave the deer some time, then searched for blood. They found none. Just to be sure, they brought in a tracking dog. No luck there, either. Fisher was pretty excited at actually seeing the buck for the first time, Charles said. It was a clean miss. Moose showed back up on camera that night, no worse for wear. The season ended without any additional sightings of the buck.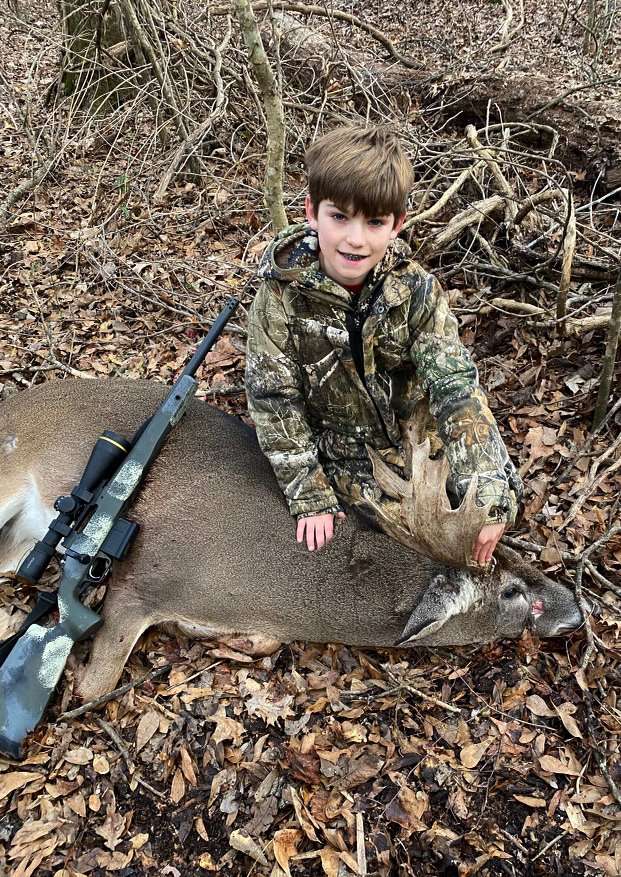 As the 2022 season approached, Charles and Fisher were concerned. Moose hadn't been on camera. They hunted all fall, but never saw the buck. But finally, about two weeks before Christmas, the deer showed back up. You could tell he was pretty beat up, like he'd been fighting, Charles said.
(Don't Miss: 10 Big-Buck Lessons Learned from Last Fall)
The buck stayed in the area, but all the photos were at night. Then, on Christmas Day, Charles and Fisher got what they were looking for: Moose was on camera in the daylight. Fisher wanted to stop the Christmas festivities right then and there and head to the stand. Charles convinced him to wait till the next day. He wasn't very happy about missing a daylight sighting, even if it was for Christmas, laughed Charles.
The next day, the two were in the stand where Moose had been the day before. At three o'clock, a huge bodied buck stepped out. Charles knew immediately that it was Moose. Poppa reached over and shook me. I might have been asleep, Fisher said. With the the buck standing just 80 yards away, Fisher eased his .308 out the blind window.
Oh my God, I was really excited. Poppa kept telling me not to look at the antlers, just to look at the body, but his body was so big compared to the other bucks around that I was just as excited about it, Fisher said.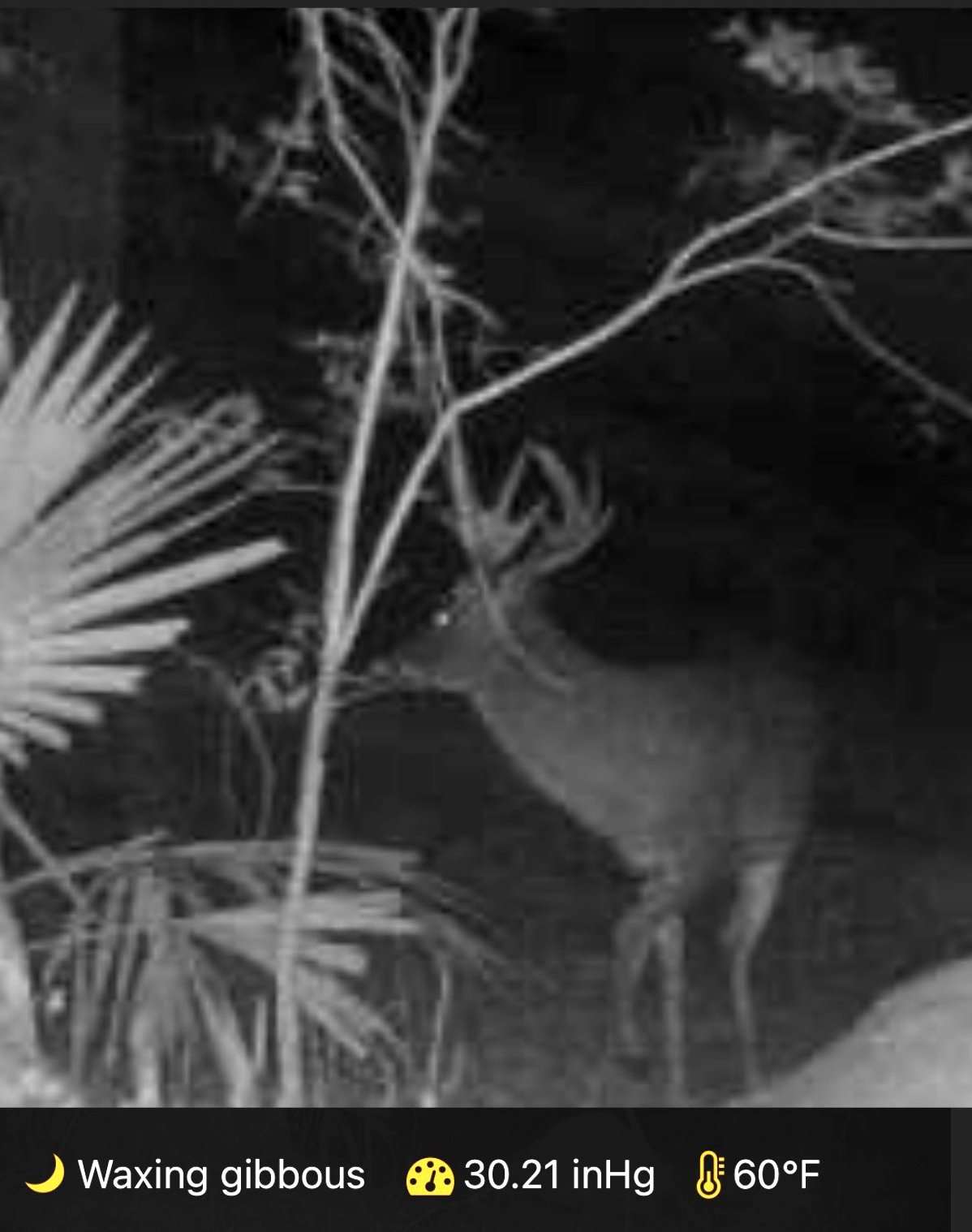 Fisher bore down and tried to steady himself. At the shot, he thought he saw the buck stumble, but Charles wasn't sure. I was pretty sure I hit him. I wanted to get down right away and go look, but Poppa said we should wait to give him time. It was the longest 45 minutes of my life. It felt like eight hours, Fisher said.
Fisher looked up at his Poppa and asked if they could pray. I just prayed what my heart felt. I thanked God for giving us a deer like that and letting me get a chance at him and asked for help finding Moose, Fisher said.
After what seemed like forever to Fisher, and maybe to Charles too, they got down to look for blood. At first, they didn't find anything. I started to feel sick to my stomach, Fisher said. But finally, they found a drop. Then another, then more.
They had been following the trail for about 100 yards when Fisher looked up and saw him. I was so excited. As long as I live, I'm never going to forget that moment, Fisher said.
The buck ended up having a total of 13 scorable points around a pair of broad paddles. The unusual shape gave even experienced measurers in the area a hard time nailing down the score. One came up with a gross score of 151 inches, while two more came up with even higher totals due to the incredible mass measurements.
I don't care what he scored, Fisher said, to me, he scores a thousand! Charles reports that the buck was estimated at 9+ years old when he was taken.

Watch all the latest video episodes