With the right tackle and approach, you can catch smallmouths, walleyes, lake trout, and northern pike throughout the open-water season
There are still remote places to be explored. Places with no roads, no motorized vehicles, no grocery stores or restaurants. They're wild, bucket list places where the only sounds you hear are birds, waterfalls, windswept waves, insects, and the occasional moose grunt or wolf howl. Places where it is still possible to cast to trophy fish that have lived their entire life having never seen an artificial bait. There's no point in even looking at a cell phone, because there won't be cell service anyway.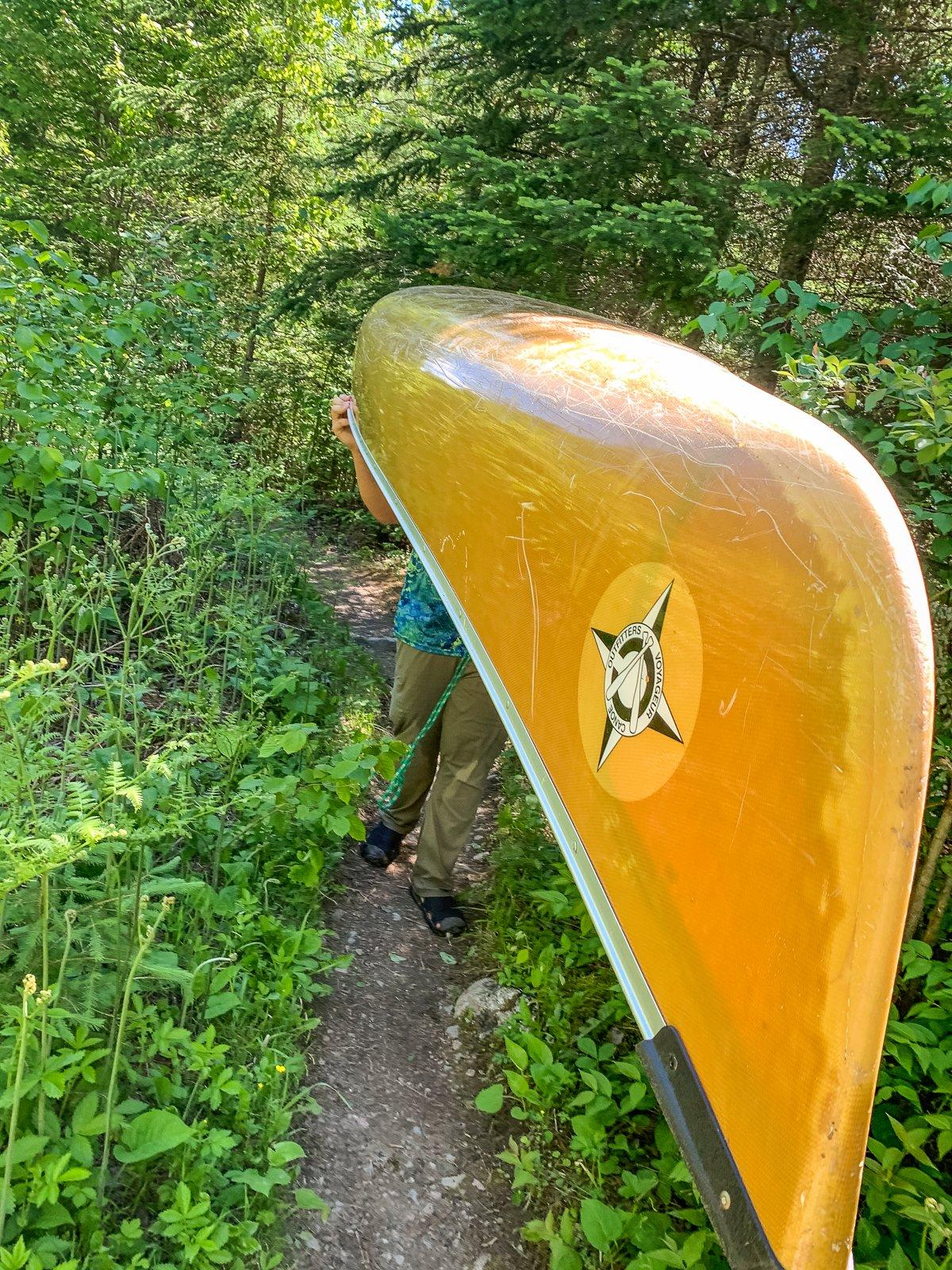 One of those places is the Boundary Waters Canoe Area (BWCA) in northern Minnesota. Covering just over a million acres along the Minnesota/Canada border, the Boundary Waters stretches some 150 miles from the town of Ely, Minn., to the end of the Gunflint Trail, near Lake Superior. Along that route you'll find more than 1,100 lakes and miles of river and some of the best fishing in the country.
(Don't Miss: The 10 Best Baits for Great Lakes Fishing)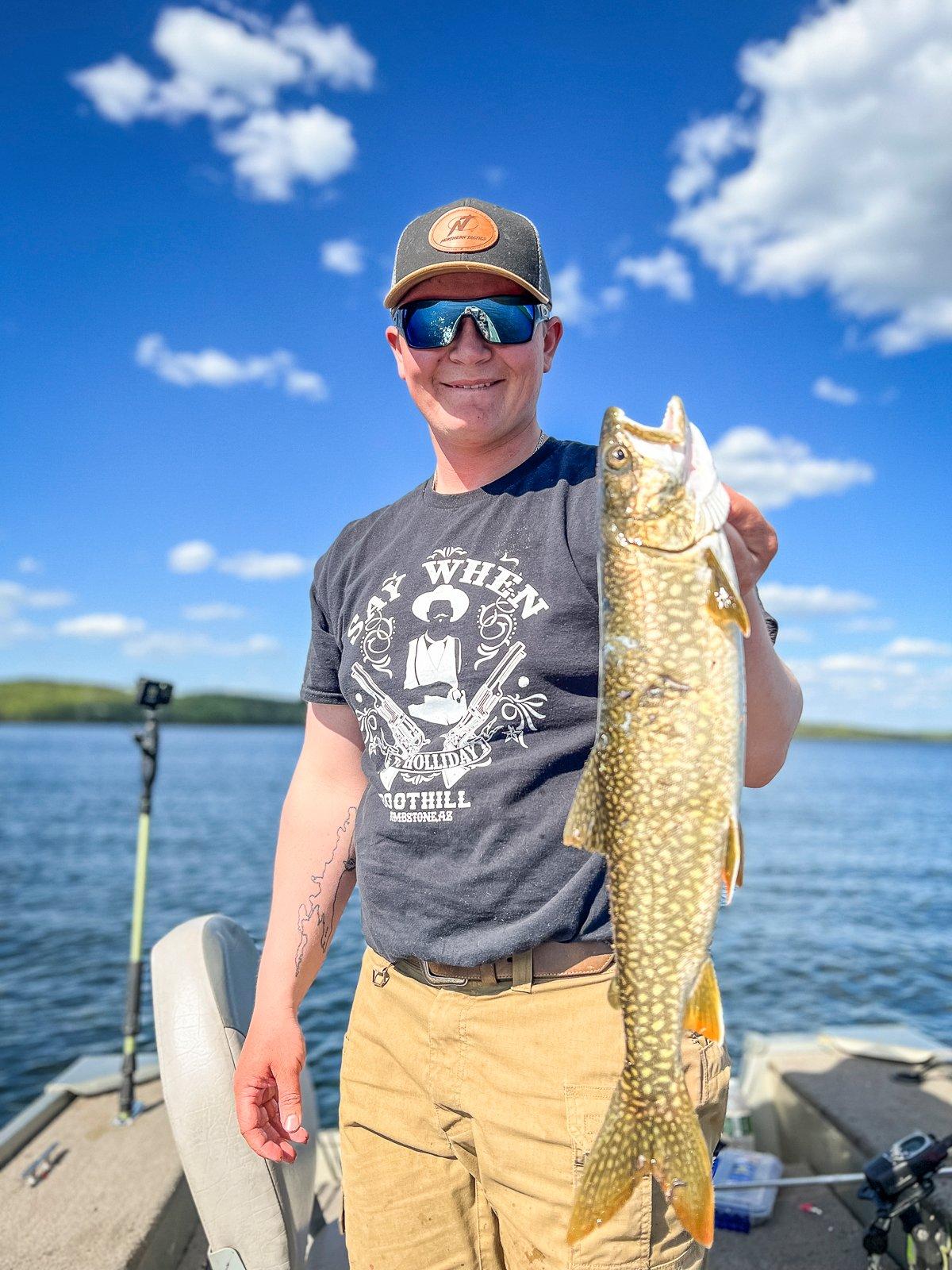 The four main species of fish found in the BWCA include northern pike, lake trout, walleyes, and smallmouth bass. Many longtime visitors only consider it a successful trip when they catch all four on a single outing.
Fishing the BWCA isn't easy. You have to want it. To start, you can't just fire up your gas or electric motor and move from spot to spot. While you can fish some of the surrounding lakes by boat, most of the Boundary Waters are paddle only. That means a canoe or kayak. You won't find any stores or tackle shops along the way, either. There are no services or buildings. You pack everything you need with you when you head out, including camping gear, food, fishing equipment, clothes, and bug spray. Lots and lots of bug spray. More on that later.

The Permit
Sound like a spot you would love to visit? It takes a little planning. To keep the BWCA from being overran with guests each season (May 1 to September 31), visitors must first apply for an entry permit from the U.S. Forest Service. Permit numbers are limited by day and entry point in order to make sure there are enough camp sites available for the number of people in the area at a given time. These permits go on sale in January of each year at www.recreation.gov and many of the most popular entry points and times sell out quickly. Apply for your permit as far in advance of your trip as possible.
Outfitted vs. Do It Yourself
Once you have your permit reserved, decide if you want to go completely DIY or go through one of the many outfitters located around the border of the BWCA. You can choose any of several levels of service from the outfitters, from simply supplying a canoe or kayak all the way up to a fully outfitted trip with food and gear packed when you arrive. Many of these businesses offer motorized boat pick up and delivery shuttles of your gear and canoes to more remote entry points, getting you away from the crowd at the main entry areas. We usually choose a hybrid trip, with us bringing our own gear and Voyageur Canoe Outfitters supplying the canoes and a shuttle from their base camp at the end of the Gunflint Trail to the beginning of the paddle only area.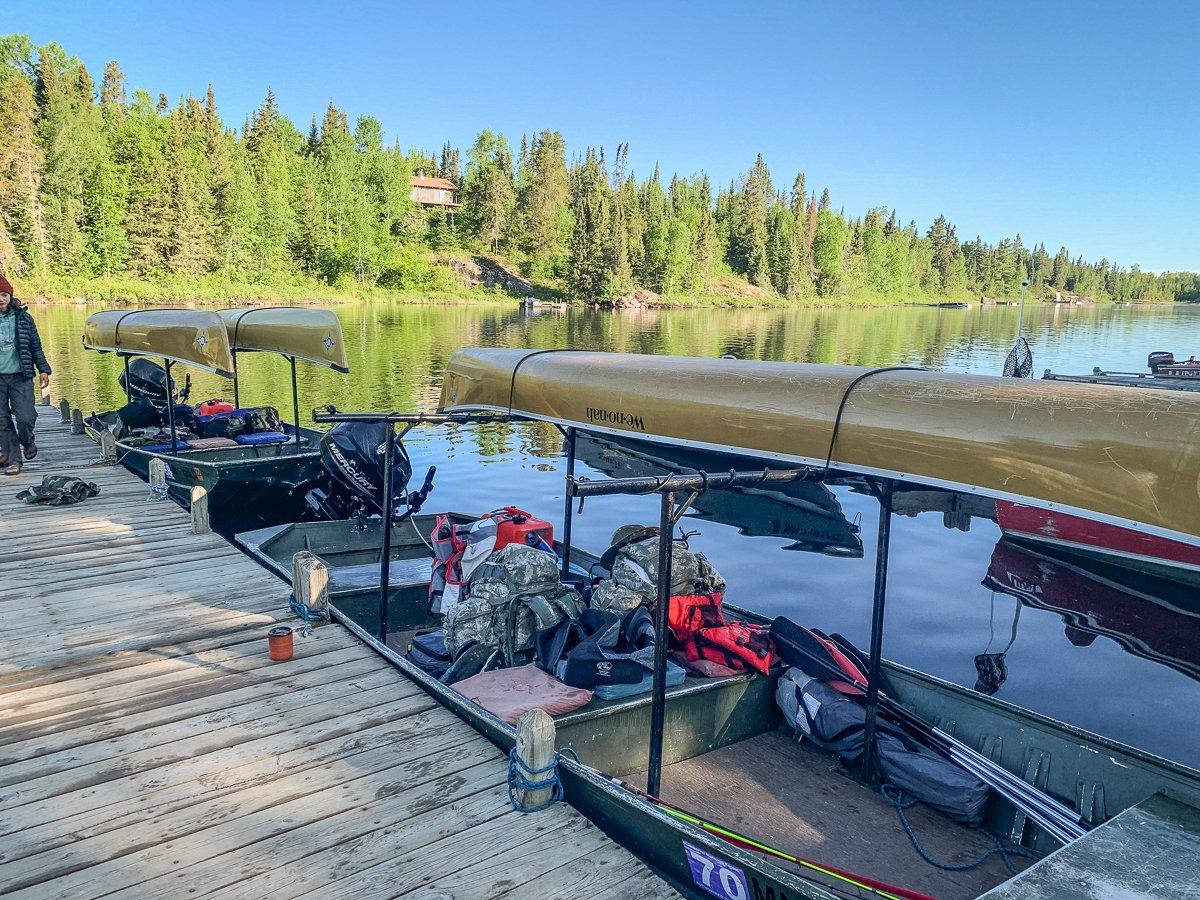 Gear List
You can find detailed lists of camping gear online, but the basics are a tent or covered hammock, sleeping bag, a water filtration system, a small camp stove since wet weather or fire bans might prevent cooking over an open fire, food, and insect protection.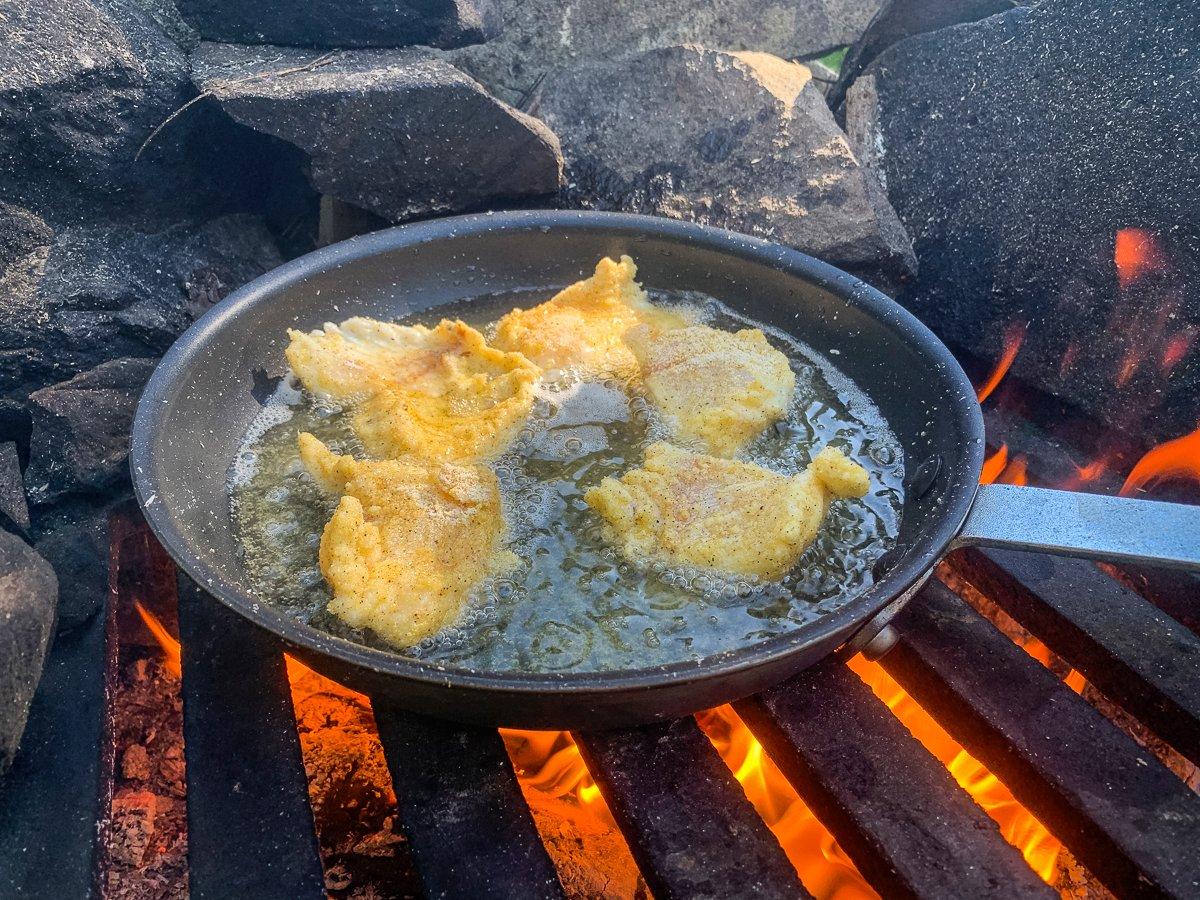 With that many miles of water to breed in, Boundary Waters mosquitoes have achieved legendary status. There are times late in the evenings when you can hear the roar they make as they leave their leafy hiding places and prepare to feed. To combat the bugs, wear lightweight long-sleeved shirts and long pants. We pack along a mesh head net or even a full mesh jacket and head net for times when the bugs get really bad.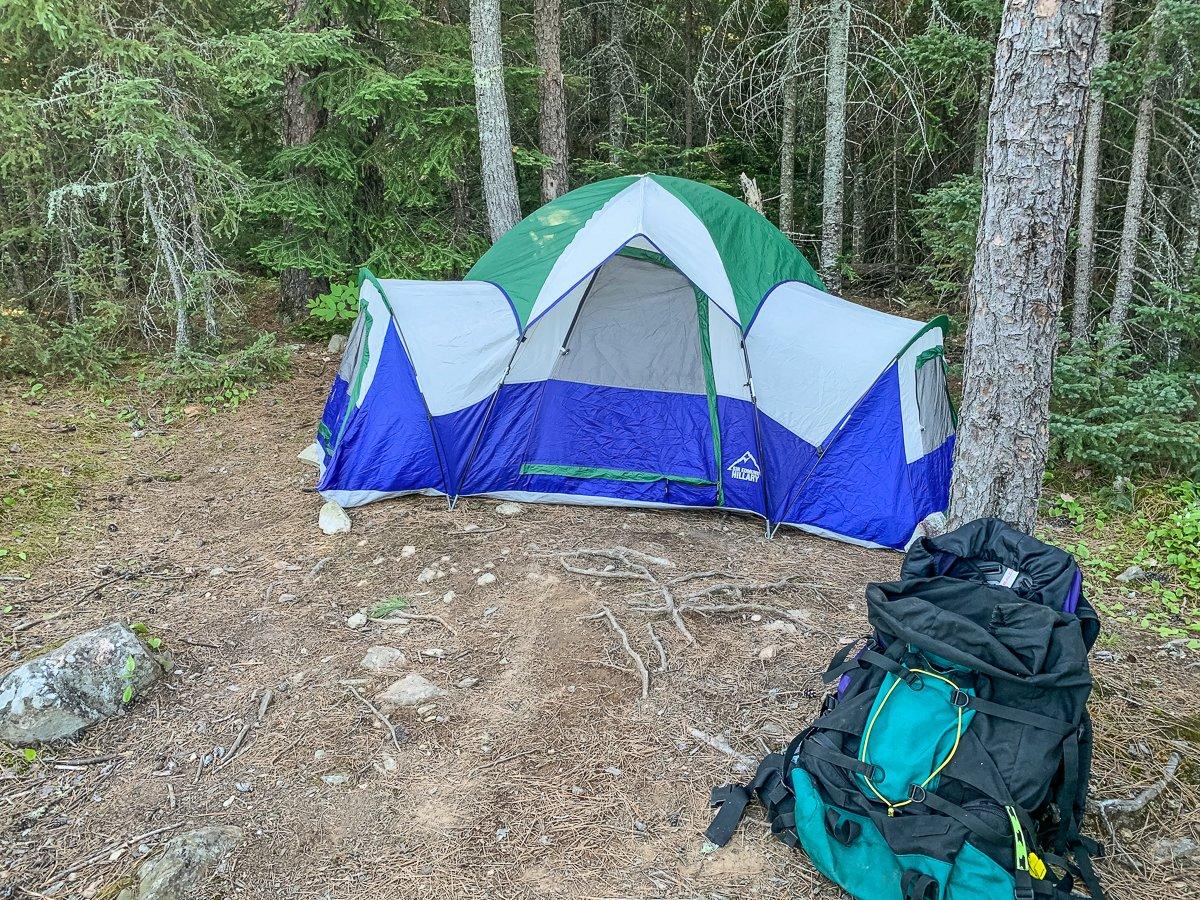 Insect repellents work, but keep in mind that repellants containing DEET can ruin camping gear and destroy waterproof coatings. We've had good luck with repellants containing Picardin. Compared to DEET, it's odorless, not as oily, and much less destructive to gear. Campsites located on open, rocky points tend to hold fewer insects than more sheltered spots deep in the timber.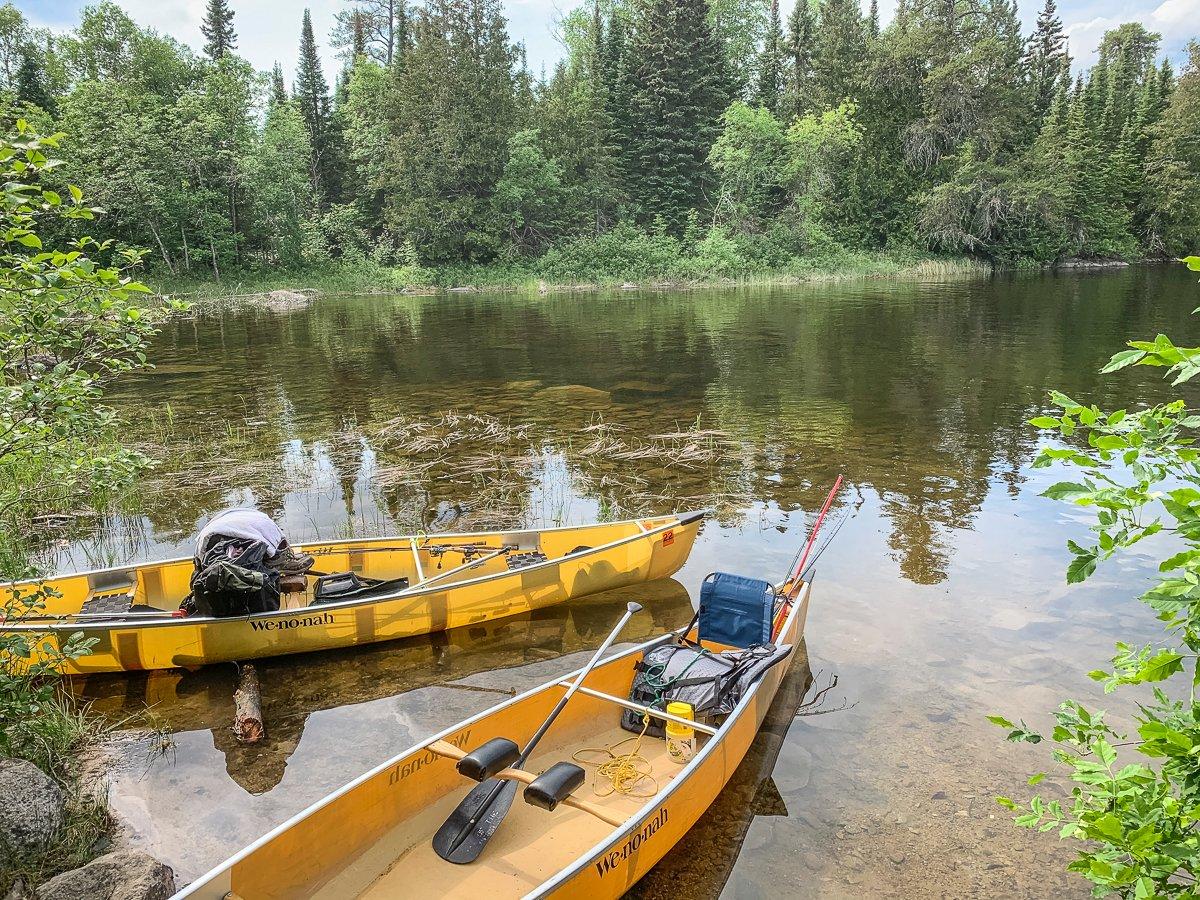 Fishing Tips
Once you have your permit and gear sorted out, it's time to get down to the serious stuff; what fishing gear and tackle should you pack, and where should you fish when you get there?
When packing for a canoe-based trip, remember that gear weight is the limiting factor. The goal is to pack light, but bring along enough of the basics to catch fish. We usually pack two spinning rods per person, one main and one for a back-up in case something goes wrong. Pick a 6' medium or medium-heavy rod with plenty of backbone that will stand up to big northern pike and lake trout. Pair the rods with a medium spinning real spooled with 10-pound-test mono or spool one real with mono and the other with braid for targeting bigger fish in deep water.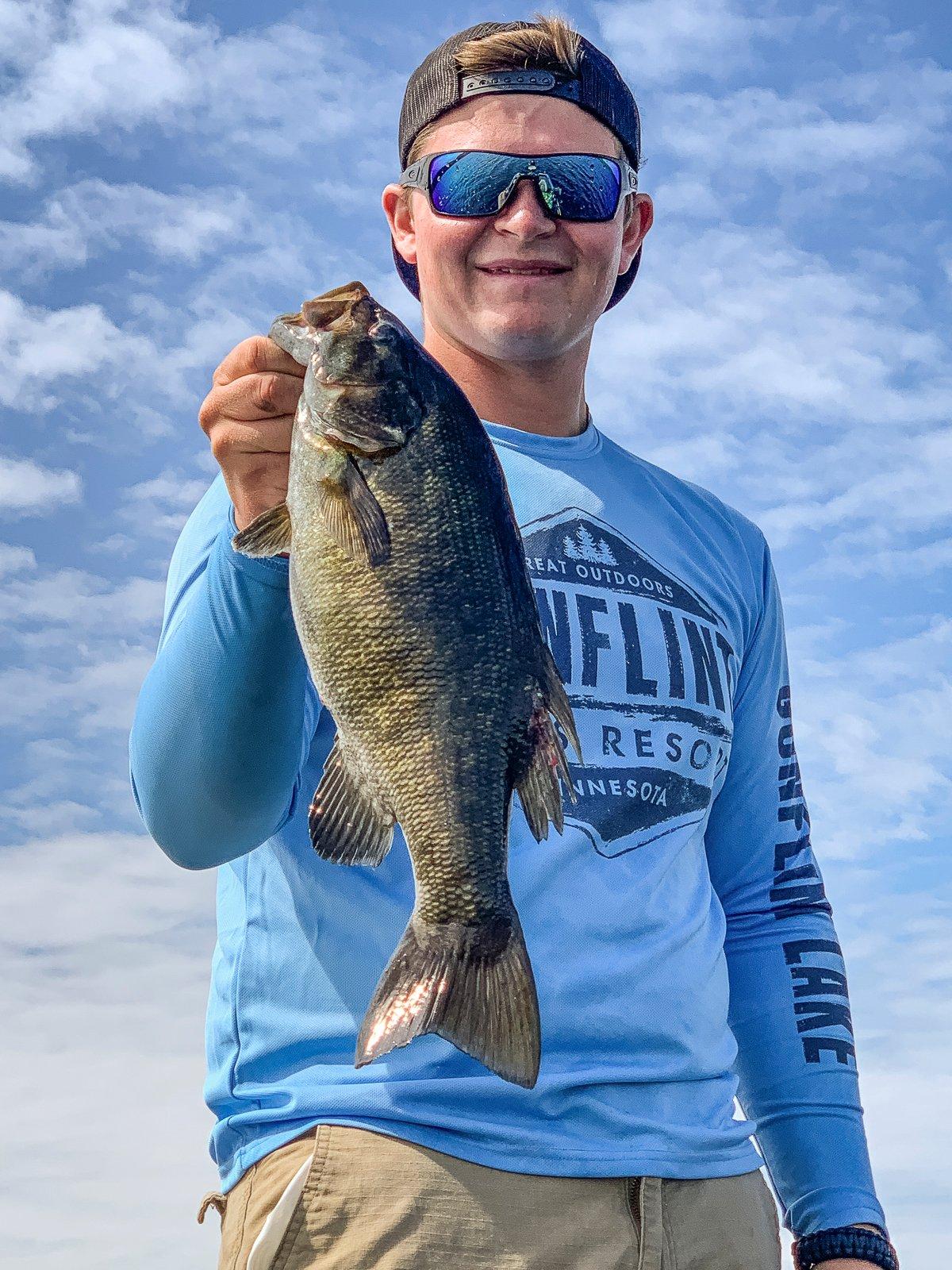 A small tackle box should hold all the basic gear you will need. Like any area, if you want the best info on what bait and tackle to use, ask a local. Jaret Baker grew up fishing these waters. His popular YouTube channel, Northern Tactics, chronicles his fishing both in the BWCA and its surrounding lakes. Regardless of season, Baker knows where to fish and what baits to use to fill a stringer.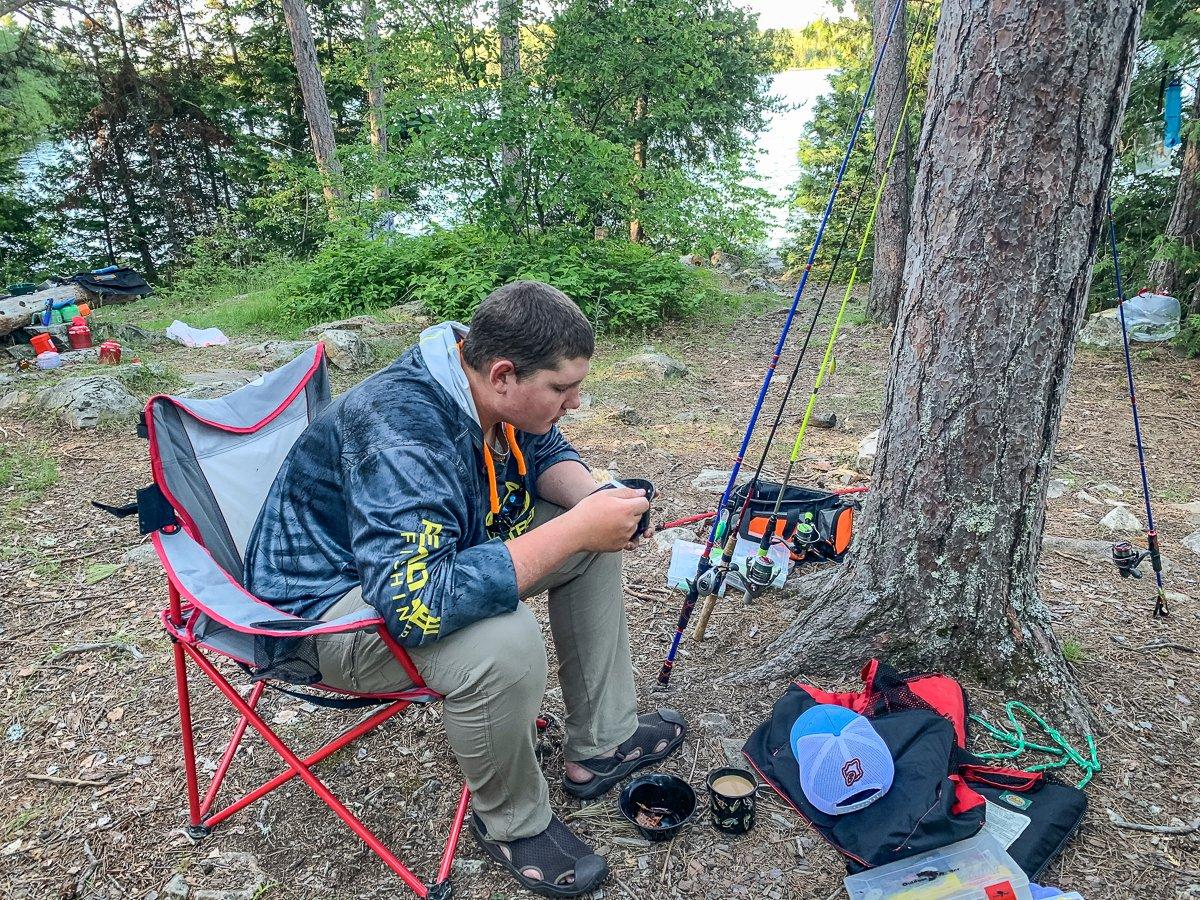 For a good, basic all-purpose tackle box for the BWCA, I'd pack along some shallow diving crankbaits like the Rapala F13. I'm a big fan of firetiger, gray, and gold colors. I'd also pack some Rat-L-Traps, and maybe some deeper diving cranks. ​It's hard to beat soft plastics, so I'd put in some jigs, worms, and swimbaits. I like green colors when fishing some of the clear water lakes around here. I'd probably include some spinnerbaits, and I love to fish Chatterbaits when the fish are shallow. White and chartreuse are my go-to colors for these."
(Don't Miss: The 10 Best Baits for Great Lakes Fishing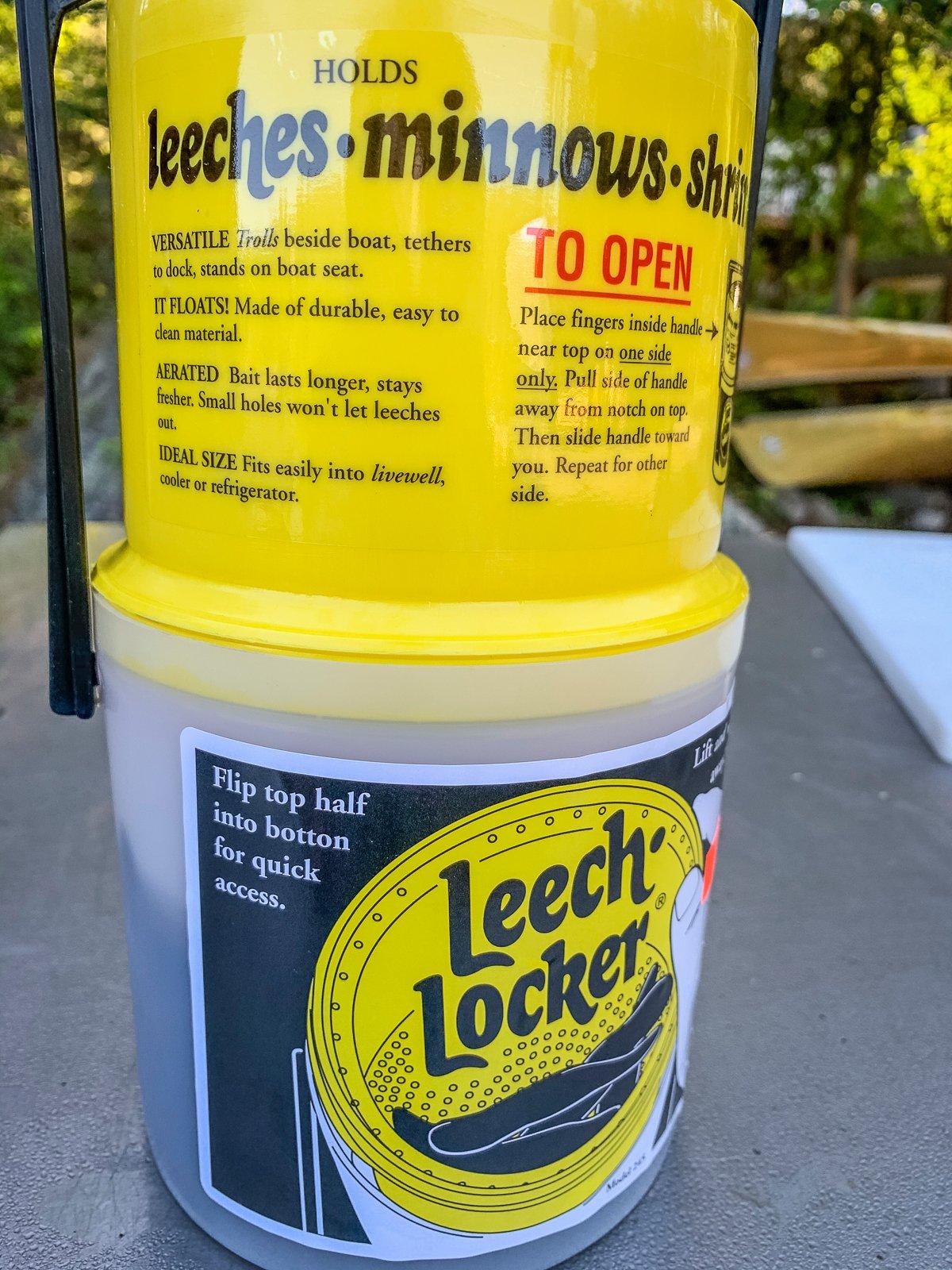 When it comes to catching fish, you can't beat live bait. I like to fish leeches, crawlers, and minnows on Lindy rigs with a light ⅛-ounce sinker. I tie my own rigs with #6 octopus hooks, so I make sure to pack along everything I need for those, plus some bigger sinkers for when fish go deep. "Don't forget to include a few bobbers for those times when fish are suspending in 12 to 15 feet of water around structure or rock piles, said Baker. When fish go deep or when he is targeting big northerns, Jaret likes to include some spoons like Daredevles. Spoons are perfect for trolling behind your canoe as you paddle. Go with both traditional painted and some shinier versions, too, like gold or silver.
By The Season
Ice-out in the Boundary Waters usually happens in early to mid May. The lakes freeze again sometimes as early as October. During that six-month window, there are three distinct seasons, and for clarity we'll label them spring, summer, and fall even though they last only a couple months each. Water temperatures range from the 40-degree range in the spring and fall up to a high of around 70 in the summer, depending on lake size and depth.
Spring
Baker says to think shallow when spring fishing. I like to start right up against the shore and gradually move deeper until I find fish, he said. He tends to target walleyes and lake trout early in the mornings, then switch over to bass for late morning to afternoon before returning to trout and and walleyes in the evening. Go-to baits for all three species include swimbaits, Chatterbaits, and shallow cranks worked around points, structure, and rock piles. If you don't find fish up close, target points and rock piles in 10 to 15 feet of water, Baker said.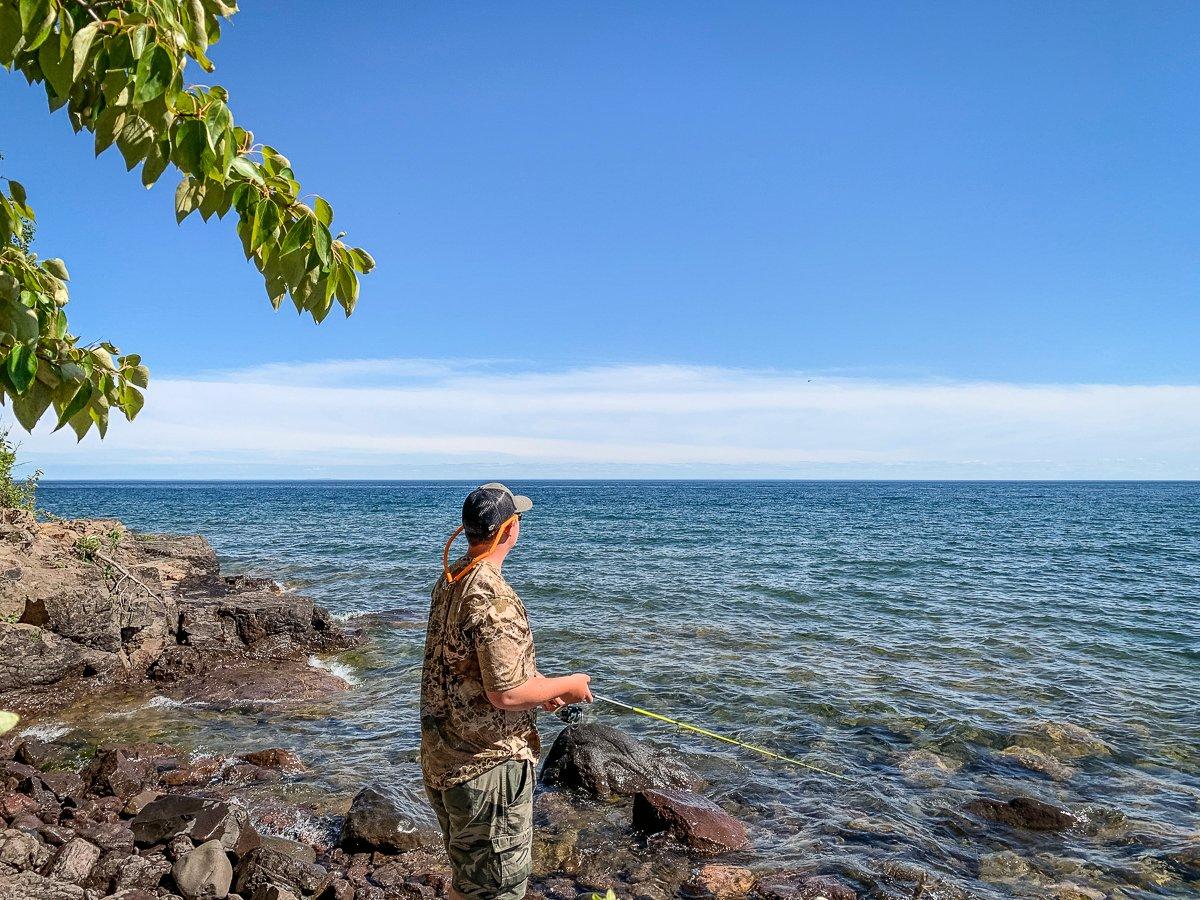 When the lake trout move up shallow, Baker targets them by trolling a Lindy rig behind his canoe as he slowly paddles back and forth over structure.
For spring northern pike, Baker starts shallow and works to deeper water with big, flashy spoons or spinnerbaits. Big pike can't resist something big and flashy," he said. "It might take a few passes, but eventually they will strike at a big bait almost out of reflex."
One of his favorite tips for spring walleyes is to bounce a minnow or leech-tipped Lindy rig off bottom in 10 to 15 feet of water close to the bank, especially if the wind is blowing onto shore. Big walleye can't resist this setup on late spring evenings; just be sure not to jerk the circle hook out of their mouth when you feel a bite. Just give them a few seconds and slowly apply pressure to set the hook. If you try to set the hook like you would on a bass, you'll miss them every time, said Baker.
Summer
With the bright summer days and warmer water temperatures, Baker says smallmouths and walleyes still relate to shoreline structure, but move out to 10- to 20-foot water depths during the day and tend to scatter more than they were in the spring. He recommends fishing submerged rock piles with soft-plastic jigs or jigs tipped with live bait.
One of his favorite tactics when summer fish seem lethargic and reluctant to bite is to rig a suspending swim bait and fish it slowly around deep structure so that it stays in the fish's strike zone for a long time. These fish will eventually hit, but they need to see the bait for a while before they do, said Baker.
(Don't Miss: Fishing Drop-Shot Rigs for Big Summer Bass)
Targeting deeper points and and rock piles with bait under a bobber can be deadly this time of year. Rig the bait on a slip-bobber so that it holds just off bottom or off the rock pile and just toss it out. You can catch both bass and walleye like this, sometimes out of the same spot, said Baker.
Lake trout tend to move to deeper water in the summer. Baker says some of these lakes can be 80 feet deep or more, and you will often find big lakers suspending in 60 to 80 feet of water this time of year. He targets them by fishing jigging spoons vertically around deep structure or by slow-trolling a deep spoon, soft plastic, or Lindy rig tipped with a night crawler behind his canoe.
Summer northerns still like to hold in and around shallow structure and Baker tends to target them the same way he does in the spring by casting big, noisy, flashy baits like Rat-L-Traps. A lot of times you can see big northerns in the clear water and just repeatedly run your bait in front of them until they eventually strike out of frustration or anger, said Baker.
Fall
Fall comes early this far north. By early September, days are getting shorter and chilly night time temperatures are cooling the water. Baker says the fish are still actively feeding this time of year, but they move deeper to do it. For walleye, I like to move out to 30 to 40 feet of water and bounce live bait off the bottom this time of year. Early mornings and evenings are the most productive, he said.
(Don't Miss: 5 Best Fall Smallmouth Fishing Tactics)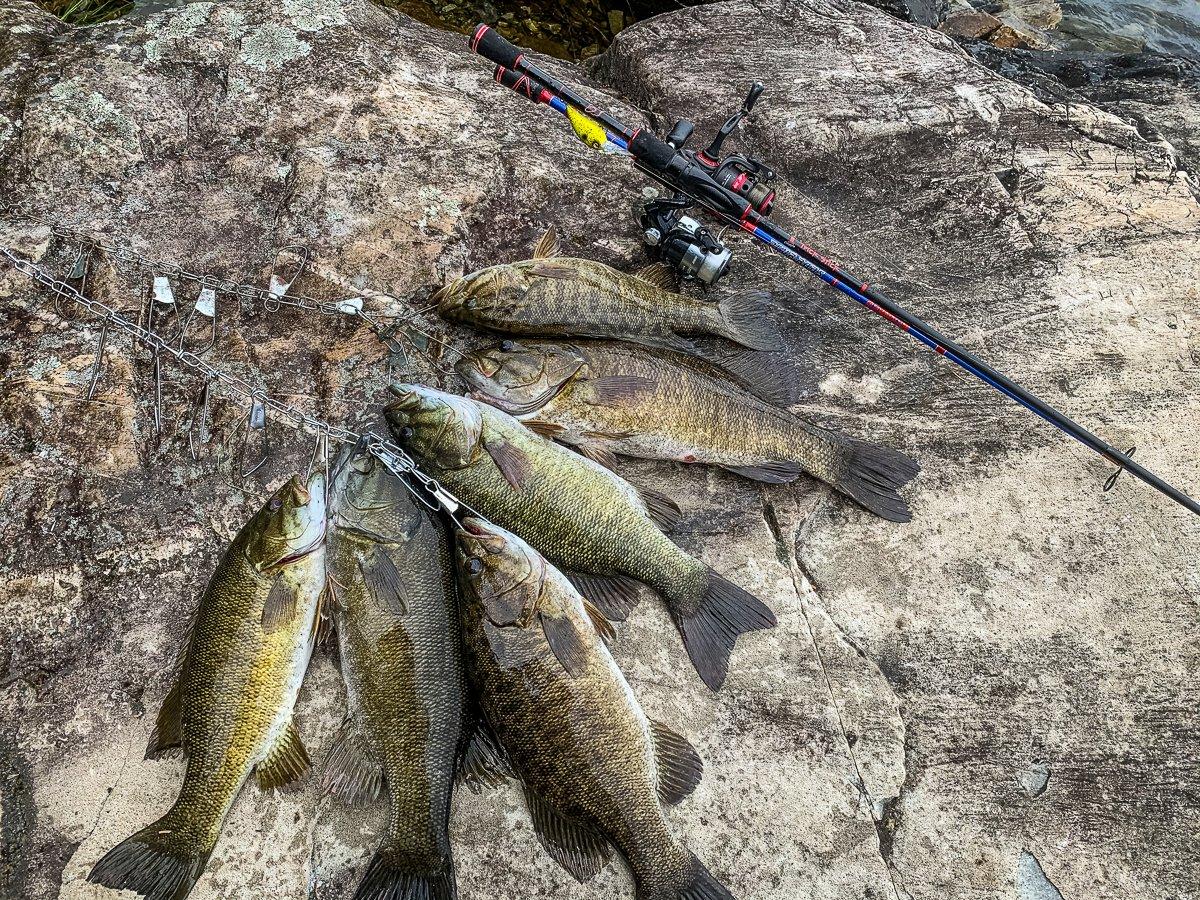 Fall bass tend to hold similar patterns to summer, but may move a little deeper. For fall bass, I start targeting areas with rock piles or structure in about 20 feet of water, then if I don't find fish, I keep moving deeper until I do. Soft plastics and deep crankbaits are perfect this time of year, Baker said.
(Don't Miss: Is It OK to Eat Bass)
Just like spring, an onshore wind in the fall can move warm water and bait close to the bank and draw fish shallow. If I get a decent onshore breeze on a rocky bottom this time of year, I'll go back to my spring patterns and give the shallows a try, especially if I'm not finding fish deep," Baker said.
Lake trout remain deep in the fall, but Baker said to target islands near deep water in early mornings and late evenings to find fish moving up shallow to feed. Baker likes to target deeper fall fish with a glow-in-the-dark Buckshot jigging spoon from Northland Tackle.
Big pike tend to move to deeper water in the fall and Baker targets them by trolling spoons or deep crankbaits, sometimes making three or four passes over a good looking spot before moving on.
Whatever the season, a trip to the BWCA is a bucket-list item for many anglers. If days of peaceful solitude, world-class fishing, beautiful scenery, and abundant wildlife sound good to you, give it a try. Be sure to pack the ingredients for a fish fry each evening as you admire the setting sun over a remote lake from your campsite.