Stories of the world-record channel, blue, and flathead catfish, and the whiskerheads who caught them
Found in every continent except Antarctica, catfish rank among the most abundant fish on the planet. There are just shy of 3,000 different species, though in the U.S. anglers arguably are most interested in the blue, flathead, and channel catfish varieties. Glamourous they are not, but they get big and fight hard. And for that, they are treasured by whiskerhead fishermen who target the biggest of the bunch.
And who knows? They might also catch a new world record in the process. To some extent, catching a world-record catfish of any sort is a matter of luck. With the exception of a trophy angler who targets bigger fish, the fisherman who actually lands a record probably wasn't expecting to do so. Still, a record is a record, and in fishing luck trumps skill with regularity. It separates a relatively small band of dedicated anglers from all those who at one time or another had their lines broken along with their hearts.
Following is a look at the circumstances and stories that led to the current world records for blue, flathead, and channel catfish. Catfish heavier than these records probably have been landed in times past by commercial fishermen with nets or trotlines, but such behemoths don't count in the records book administered by the International Game Fish Association, the final arbiter of what is, and isn't, a record.
(Don't Miss: Is It OK to Eat Bass?)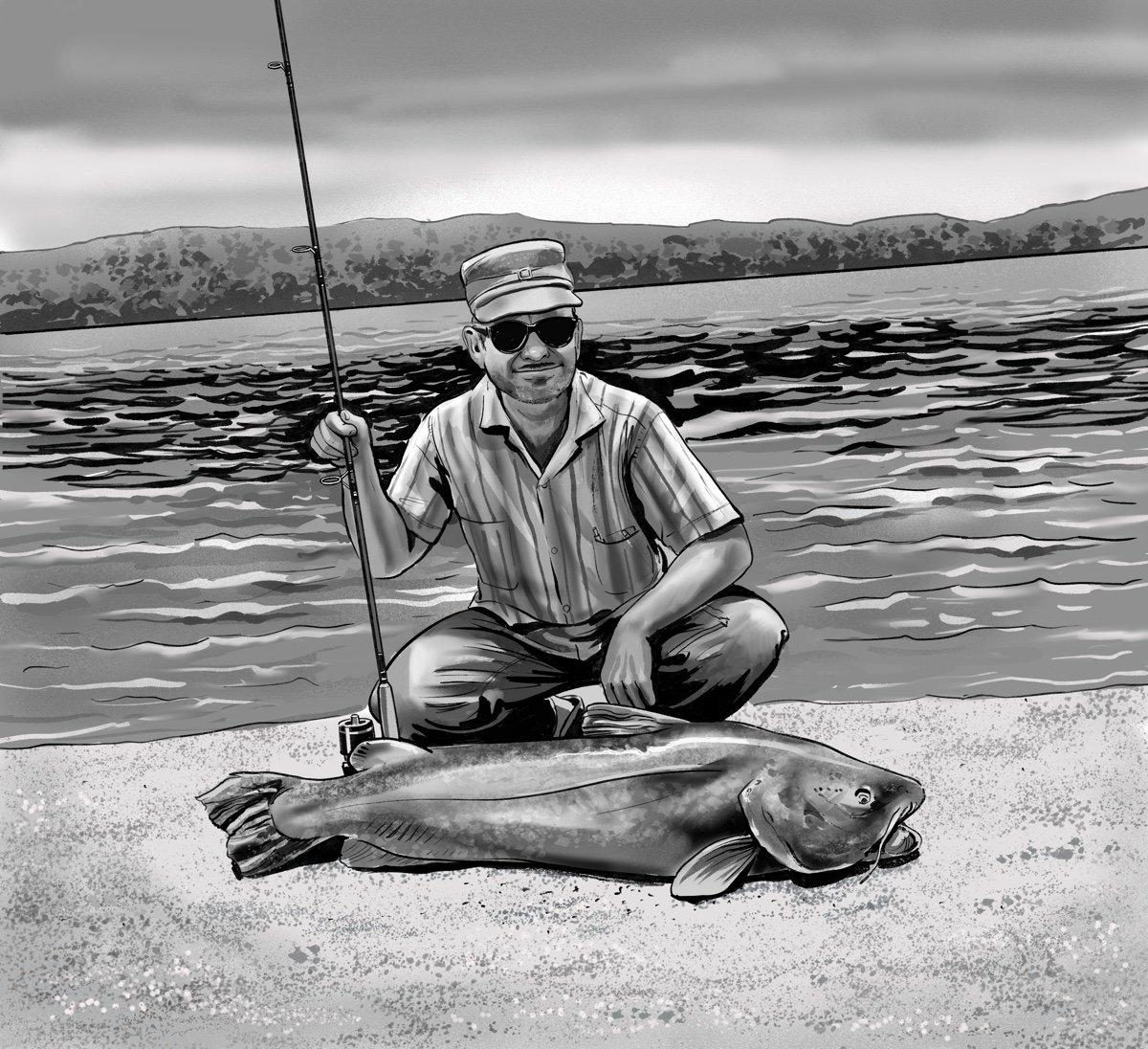 Channel Catfish
Weight: 58 pounds
Length: 47 ¼ Inches
Girth: 29 Inches
Angler: W.H. Whaley
Location: Santee-Cooper Lakes (Lake Moultrie), South Carolina
Date: July 7, 1964
It wasn't surprising that W.H. Whaley caught a channel catfish on a bucktail jig that hot summer day in July 1964, given the channel cat's bass-like propensity to hit artificial lures of various sorts. What was completely unexpected is that the 58-pound catfish he caught established a world record that is still going strong after more than a half-century.
In times past, it was common for anglers who entered winning fish in the prestigious Field & Stream Magazine Fishing Contest to discover that they also were entitled to claim a world record. That was how Whaley, of Pineville, South Carolina, wound up as the record holder for the channel catfish he caught from Santee-Cooper Lakes (Marion and Moultrie). He was encouraged to enter the fish in Field & Stream's 54th annual contest and, once longtime Fishing Contest Editor contest Mike Ball declared the catch legitimate, he also sent the required paperwork to the IGFA.
Fishing the bucktail on a Bronson rod and reel and 17-pound-test Berkley monofilament, Whaley no doubt wasn't expecting to tangle with a catfish of that size.
Whaley's catch, one of the oldest records in the IGFA books, was not immune to controversy at the time. Some suggested that the widely circulated photo of Whaley with the fish show a blue or flathead catfish rather than a channel catfish. However, Ball settled most doubts when he asked a Michigan fishery biologist to verify the species.
I know of no reason why this claim should not be validated, Reeve M. Bailey, curator of fishes at the university, wrote to Ball. The general physiognomy and the configuration and length of the anal fin (about one fourth of the standard length) are typical of channel catfish and preclude identification as a blue cat.
(Killer Buy Alert: Men's Realtree Aspect Sea Foam Fishing Performance Long Sleeve Shirt)
Interestingly, there's not much known about the world record prior to Whaley's catch and none listed in the IGFA online archives. The organization's catfish files for those years are sketchy at best, though the letter from Bailey to Ball contains a clue that Whaley's catch barely outweighed the previous record.
Though only a trifle heavier, this fish is substantially longer than the previous record fish, concluded Bailey.
In a March 1960 issue of Sports Illustrated, there's reference to a 57-pound channel catfish caught from Lake Moultrie by Blease Dennis. The angler was using a homemade pole [rod?] and it took him 40 minutes to land the fish, according to the magazine snippet. Other details about the catch remain something of a mystery.
Notarized affidavits attesting to Whaley's catch were provided by county officials and Robert E. Stevens, a fishery biologist with what is now the South Carolina Department of Natural Resources. The fish was weighed on certified scales and its length (47 ¼ inches) and relatively slender girth of 29 inches further suggest that it wasn't the typical pot-bellied blue or flathead. Besides, South Carolina didn't start stocking blue and flathead catfish in state waters until late 1964.
Fishing the bucktail on a Bronson rod and reel and 17-pound-test Berkley monofilament, Whaley no doubt wasn't expecting to tangle with a catfish of that size. His patience and skill as an experienced fisherman served him well. Others have come tantalizingly close to taking away Whaley's record, including a 55-pound fish caught by Craig Durban from the Red River in 2008, but close doesn't count.
As it has for the past 57 years, Whaley's name remains in the records books.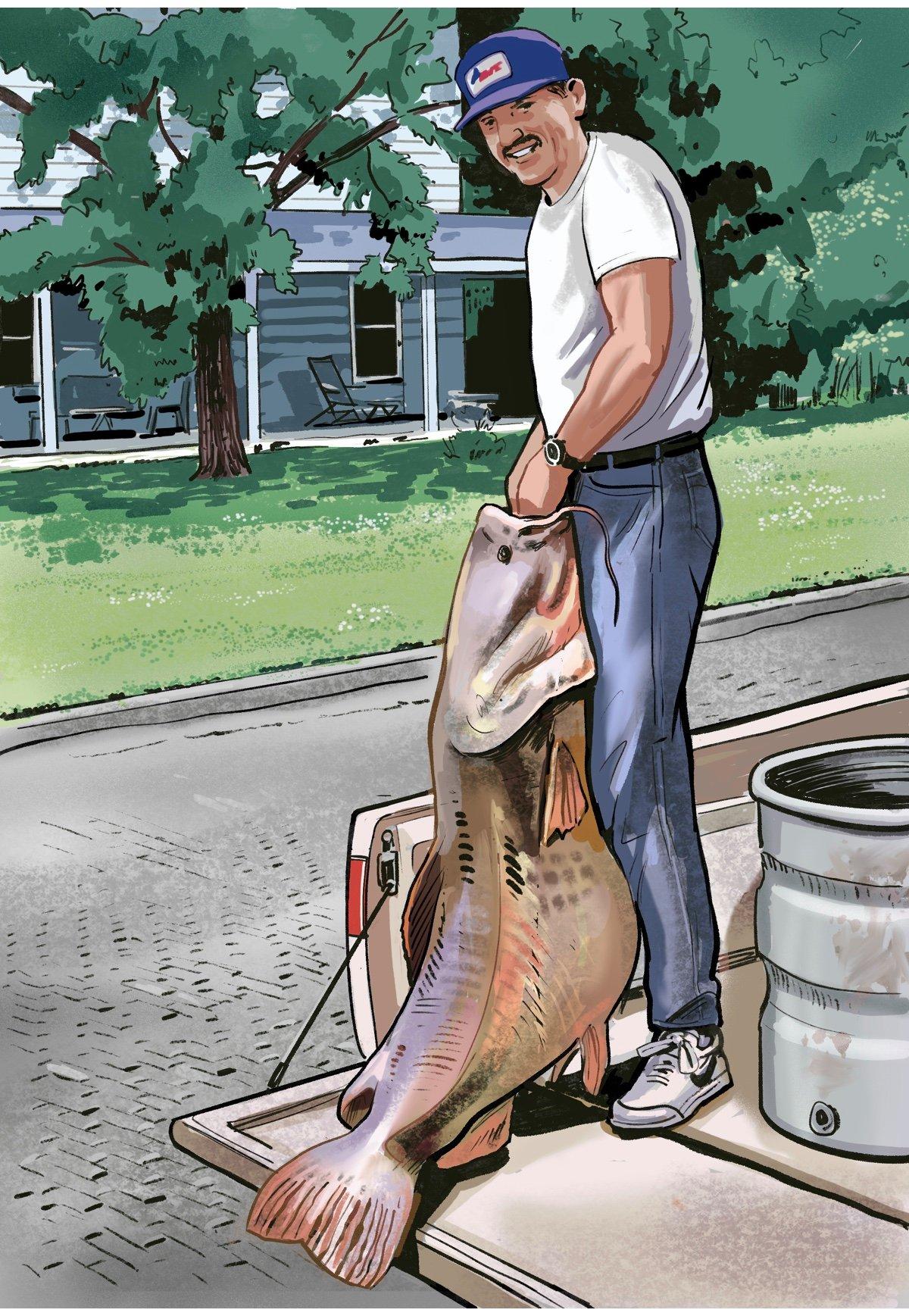 Flathead Catfish
Weight: 123 Pounds
Length: 61 Inches
Girth: 43 ¾ Inches
Angler: Ken Paulie
Location: Elk City Reservoir, Kansas
Date: May 19, 1998
Ken Paulie got help from a stiff onshore wind the day in 1998 when he caught the world-record flathead catfish of 123 pounds. He was fishing for crappie at Elk City Reservoir outside Independence, Kansas, and casting a small jig from the shoreline when he noticed that the bobber on his secondary minnow rig had disappeared.
The south wind had really picked up that morning, causing some pretty big waves to roll in toward the shore I was on, Paulie told the International Game Fish Association (IGFA) in a handwritten note regarding the circumstances of the catch. My line had drifted in several times until it would just get caught on the rocks or just drift too close to the edge, so I would recast.
When I noticed my bobber sort of go under, come back up, then just kind of disappear, I gave the line a lite [sic] sharp tug as you would for hooking a crappie. It seemed awfully solid so I knew it was not a crappie.
"My adrenalin suddenly kicked into overdrive and my heart felt like it was going to explode … I remember saying 'Oh, God, please let me land this fish.'"
Paulie tried to dislodge the hook from whatever snag it had encountered, but then the snag started moving. At first, the angler thought he might have hooked a log or brush that was being pushed by wave action, and he applied pressure to the rod tip in hopes of pulling the obstruction out of his fishing hole.
It seemed to move about a foot or so, then just pulled my line and pole right back and began stripping line off the drag, recalled Paulie. I just kept my line tight and let it pull out the drag until it would slack off, then I would pull back and reel as much as I could until it began to pull back hard on me. I really was not sure just what I had hooked into. I could tell it was very heavy and yet it really didn't pull fast or jerk like a fish.
Log, fish, or snapping turtle — at that point, Paulie still wasn't sure what was on the other end of his line. After about 20 minutes of back-and-forth, the waves rolling in toward shore helped him move it closer to the bank. Then he caught flashes of the fish's off-white belly, and a big square tail broke the surface.
(Don't Miss: 16 Years of Noodling for Catfish)
It was at that moment I knew for sure I had hooked a big fish, said Paulie. Everything from that point on is almost hard to even try to put into words. My adrenalin suddenly kicked into overdrive and my heart felt like it was going to explode … I remember saying 'Oh, God, please let me land this fish.'
Paulie, who by this time had waded out into the shallow water off the bank, realized that the catfish was virtually helpless in the big rollers. Without trying to horse in the floundering whiskerhead, the patient Paulie synchronized rod pressure with the waves so that with each swell the catfish got closer.
The fish was so big and round it could hardly maneuver in that shallower water, and I knew I had one chance to get my hands on that fish before something happened, he told the IGFA. With [the] pole in my left hand I swooped down with my right, hoping to get it by the gills. I grabbed hold and pulled backwards as hard as I could. I had him halfway between the rocks, then dropped my pole and got hold of him again with both hands on the back of the gills.
Dragging the catfish and stumbling back to the bank, Paulie managed to wedge it between two rocks that were half-in, half-out of the water. He then grasped the flathead by its mouth and pulled it onto the shore. As he struggled to catch his breath, Paulie, whose catch was verified by the Kansas Department of Wildlife, Parks and Tourism, admired the fish and reflected on what he had just accomplished.
He was definitely listening to me that day, said Paulie, giving credit to Divine Intervention. I've fished all my life, but I never really thought something like this would ever happen to me!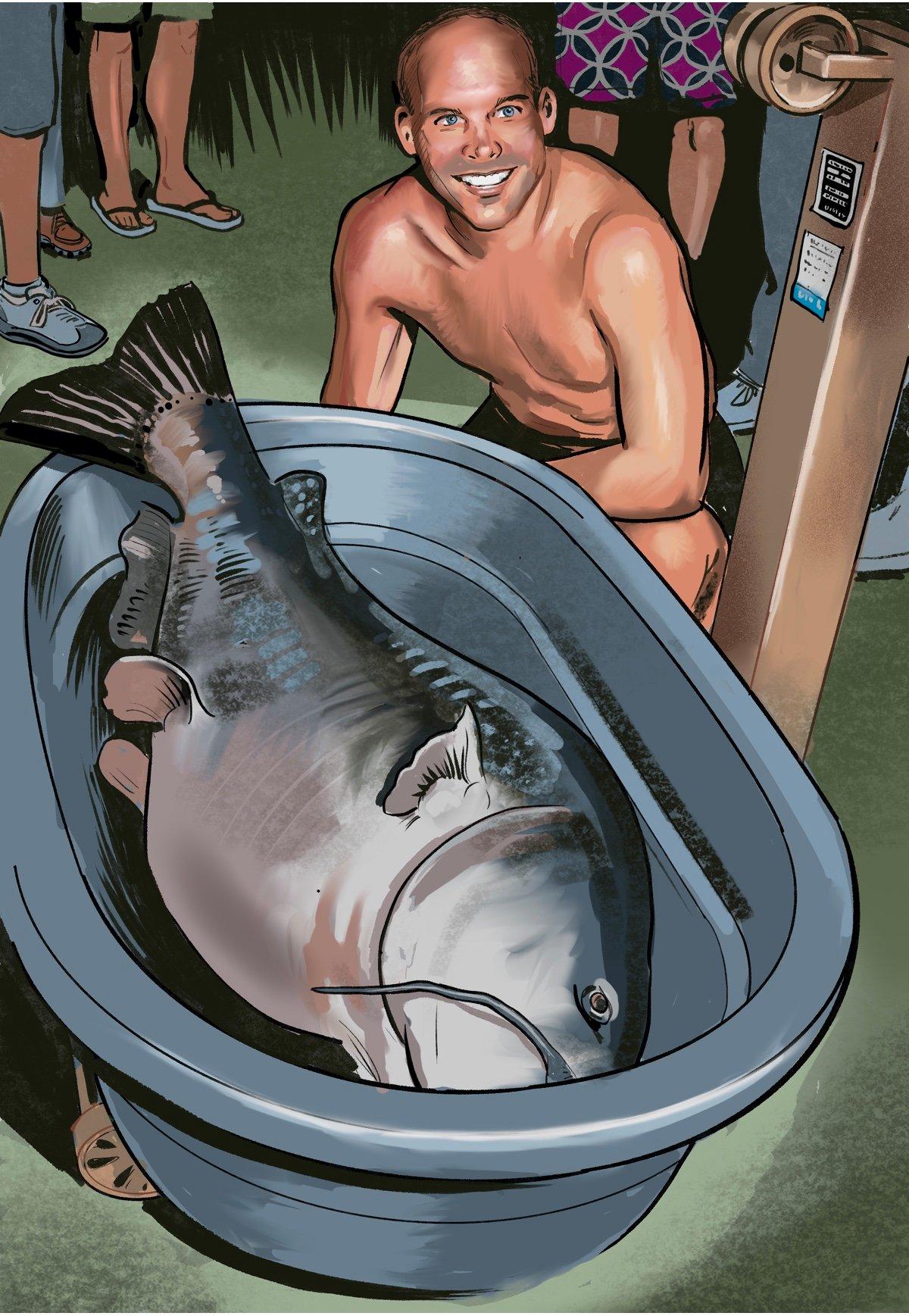 Blue Catfish
Weight: 143 Pounds
Length: 57 Inches
Girth: 47 Inches
Angler: Nick Anderson
Location: Buggs Island Lake near Clarksville, Virginia
Date: June 18, 2011
Heck of a Father's Day present! That notion must have flashed through the mind of Rick Anderson the day in 2011 when his son Nick broke the year-old world record for blue catfish at Buggs Island Lake (Kerr Reservoir). Even so, he couldn't have been too surprised by the Father's Day eve catch, considering the family of fishermen pretty much had big catfish dialed in.
Just a few weeks before, the elder Anderson boated a 95-pound blue in the same general part of the 50,000-acre lake astraddle the Virginia-North Carolina borders. It weighed 35 pounds less than the world record of the time, which was a 130-pound monster caught the previous July from the Missouri River. Less than a year later, Nick came along with his 143-pound record-breaker.
Everybody knows Southerners like their chicken, and that's what proved to be the undoing of Nick Anderson's Buggs Island blue, according to the IGFA application he completed.
Everybody knows Southerners like their chicken, and that's what proved to be the undoing of Nick Anderson's Buggs Island blue, according to the IGFA application he completed. The whiskerfish went for a hunk of poultry, drift-fished on a hook of suitable size and a Daiwa reel and Shakespeare Ugly Stick rod. The line was listed as 30-pound-test and it took the angler about 45 minutes to subdue the record fish from the deep waters of the lake. After the catfish made four long runs that tested Anderson's mettle, it was finally subdued and manhandled aboard their pontoon boat.
My brother [stepbrother Jeramie Mullis] and my dad were jumping up and down, Anderson, a 29-year-old high school football coach at the time, told the Richmond Times-Dispatch. I just sat there kind of shocked. At the time we didn't know how much he weighed. We knew he was big. We knew we were going to get him certified and measured. But we didn't know he was going to be a world record.
(Killer Buy Alert: Women's Realtree Aspect Orange Sorbet Fishing Performance Long Sleeve Shirt)
The adventure didn't end there. The trio didn't know how much the catfish weighed, only that it was the biggest one they had ever seen. The anglers decided to keep the catfish alive and, after weighing it, take it to a Bass Pro Shops store so it could be put on display in an aquarium. By that time, any stores in the area that had certified scales were closed, so they contacted the county sheriff and asked for his help. The sheriff contacted a local farm store owner, who said he would weigh the catch. An officer from the state's natural resources department witnessed the weigh-in of Anderson's fish on certified scales. Unfortunately, Anderson's plan to keep the catch alive went awry. The catfish was placed in an aerated 250-gallon tank, but died the next day.
For some reason that science can't fully explain, blue catfish flourish in Buggs Island. Although they're non-natives and considered an invasive species in Virginia and elsewhere in the coastal states, blues have made themselves right at home there. The lake has produced a few blue catfish that weighed more than 100 pounds each, and probably record-size fish such as Anderson's are still swimming there.
In February 2017 an angler named Dale Lowe Jr., hauled a blue catfish out of Buggs Island Lake that weighed almost 142 pounds. Its length was 61 inches and it had a girth of 46 inches. Lowe was fishing in a local tournament called the Ice Bowl Tournament. He kept the fish alive in his boat's 100-gallon aerated tank and, finding no good reason to keep it after the weigh-in, released it.
Presuming the big blue is still swimming in Buggs Island, it's packed on a few pounds by now. The people who know about such things say that given the right habitat and lack of natural enemies, a catfish can grow in size all of its long life of 20 years or so. So if you regularly fish in rivers or lakes such as Buggs Island that are loaded with blue catfish, your chances of latching on to the next world record aren't bad at all.
Do you feel lucky?