What's It Worth: Colt Woodsman
Manufacturer: Colt
Model: Woodsman
Caliber: .22
Value: $2,750 to $3,000
This gun belongs to a friend of ours, and it is very special to her family. Her father has been unable to get an accurate appraisal, so she asked us to help.
The Colt Woodsman has a 6½-inch barrel and is chambered in .22 Long Rifle. It has a 10-shot magazine. This gun was special ordered on March 3, 1938, for Mr. A.G. Gutterson of the National Park Service. It was ordered by Colonel G.H. Collins, 606th CA. (TD) in Anchorage, Alaska, by letter to J.H. Fitzgerald at Colt Fire Arms Division in Hartford, Connecticut. The price was $26.40.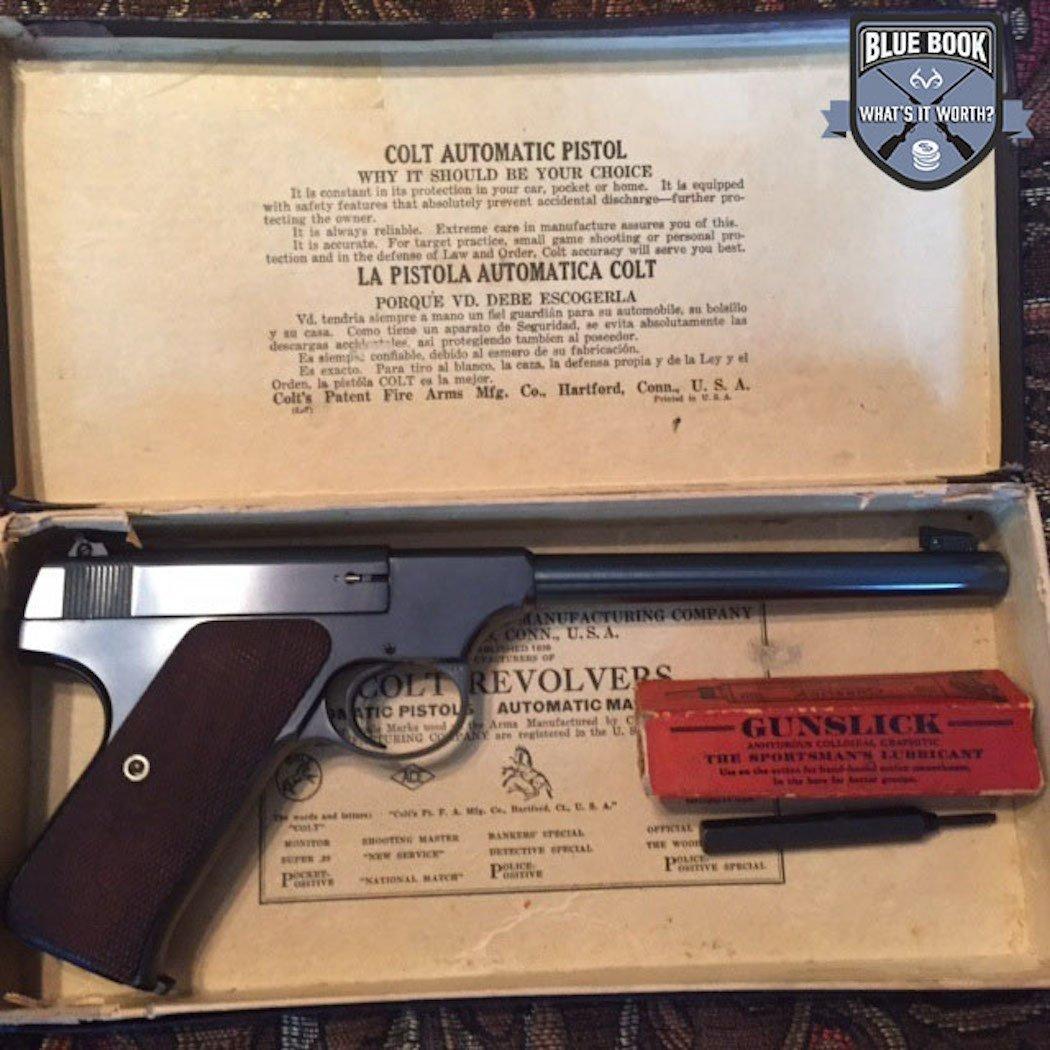 The original letter from Fitzgerald to Collins was dated Jan. 25, 1938. The original test target—signed by J.H. Fitzgerald—accompanies it. The original letter (ordering the gun) from Collins to Fitzgerald was dated March 3, 1938. All of the above is protected in plastic folders and is in excellent condition. He has the original box, which is in fair condition. The family was told it has only been fired during test firing at the Colt Factory. The gun is in mint condition (98 to 100 percent).
Since this is a pretty niche gun, being an unfired and clearly collectible Colt, we enlisted the help of some of The Blue Book of Gun Values staff for their expert analysis. Here's what they told us about this Woodsman:
In our database, we show the Colt Woodsman 1st Series Target Model pistol in 98 percent condition at $1,300 and 100 percent at $1,800. There is also a category note that mentions 100 percent as new condition pistols with box, accessories, and original paperwork can sell for double or triple the 98 percent condition value. This is a good example of how the crazy snake gun [Python, Anaconda, etc.] market has affected other areas of the market.
Again, the Mr. A.G. Gutterson Colt Woodsman 1st Series Target Model pistol is in 100 percent mint condition, was only test fired at the factory, has the original matching serial number box, and is accompanied by the original signed letters by both Colonel Collins and Mr. Fitzgerald. Because of that, the package can expect to sell in the $2,750 to $3,000 range.
In December of 2014, Rock Island Arsenal sold three Colt Woodsman 1st Series Target Model pistols similar to this one. The first sold for $1,035. The second sold for $1,265. The third sold for $1,610. So don't expect all of these guns to go for three grand.
But I bet this family is glad they've taken such good care of this gun. Even adjusted for inflation, this gun has appreciated approximately 700 percent since it was purchased.
Have a gun that you'd like appraised? Send us photos and information to [email protected]. And remember, if we don't pick yours, look it up on your own through their website.