Once the colorful leaves have fallen, the trees, and much of the forest, suddenly take on a dull gray winter appearance. Squirrels that were up in trees gnawing on nuts and pine cones must now come down and dig among the leaves for acorns and other mast. Now is a prime time to hold a .22 rifle and seek a popular forest species — squirrels, a.k.a. bushytails.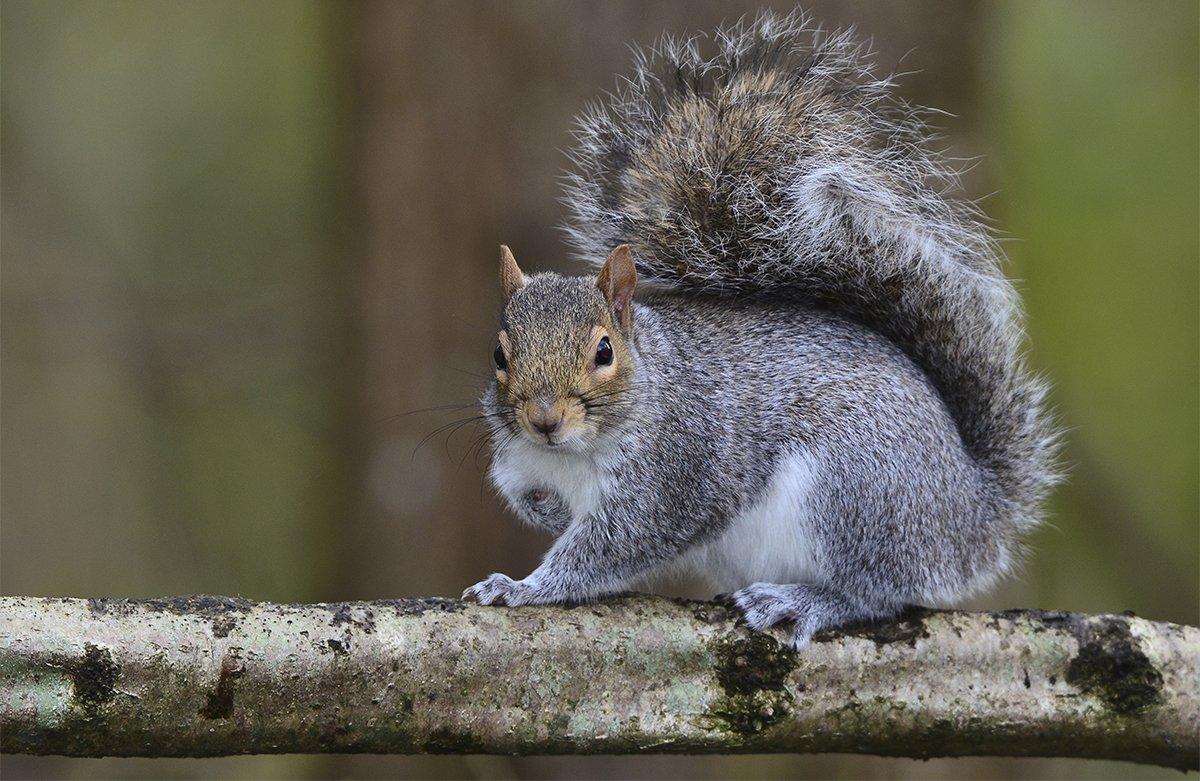 Squirrels can be found and hunted from coast to coast, and when properly prepared, they make great table fare. Better news is that these small mammals are fun and challenging to hunt. Squirrel hunting requires improved woodsman skills and marksmanship skills. If you are a good squirrel hunter, you'll be a great deer hunter.
While some hunters feel shotguns are the best option when squirrels use early fall trees that are cloaked in leaves for cover and to avoid detection by hunters, it's when those same trees become bare of leaves that serious hunters grab a rimfire rifle and head for the forest.
More great news for squirrel hunters is that there are some great small bore rifles to help you collect more squirrels for the frying pan or stove-top stewing pot. Unlike bigger bore deer rifles that deliver big bangs and significant recoil, when you shoulder and shoot a rimfire rifle, the shot report is a less noisily pop and there is no recoil. Most squirrels pay attention to the noise for about a minute, then go back to feeding or other normal activity.
If you are slowly walking through a forest and using Realtree camouflaged clothes while often pausing behind thick tree trunks for additional concealment, you can often move close to unsuspecting squirrels. Using a quality binocular to scan the ground ahead and tree limbs overhead can help you easily find hidden squirrels as you move. Topping the hunting rifle in your hands with a scope can dramatically increase the effective range where squirrels can also be discovered and toppled.
Squirrels can be called to make them sound off and reveal their location. Several game call sources offer squirrel calls. Using a screaming hawk call can also make squirrels sometimes sound off. Finding a squirrel is the first important step to sliding squirrels into your game bag.
When you decide to go squirrel hunting, here are five rimfire rifles to consider. Calibers can range from .22 Long Rifle to the .17 HMR and .17 WSM. Many hunters find it important to add a sling and riflescope to complete the perfect squirrel hunting rifle.
It's up to you to decide whether to carry a classic lever rifle, a bolt-action, or possibly a single shot. Hunting with a squirrel rifle definitely helps keep the hunt challenging — and fun.
Henry® Lever-Action Octagon Frontier Model Rifle
This classic Henry lever-action rifle features an octagon barrel, a fully adjustable rear sight and a raised blade front sight. The stylish octagon barrel is designed to help repel heat and reduce the barrel temperature after repeated shooting — plus it looks stylish. The 20-inch barrel and action are blued steel and a metal barrel band secures the barrel to a walnut forend. This rifle weighs about 6 pounds, holds a dozen rounds in a tube under the barrel, and features a hand-finished walnut stock. The top of the action will accept a riflescope in a machined grooved slot. This small bore rifle is available in .22 LR. The suggested retail price is approximately $400.
Details are available here.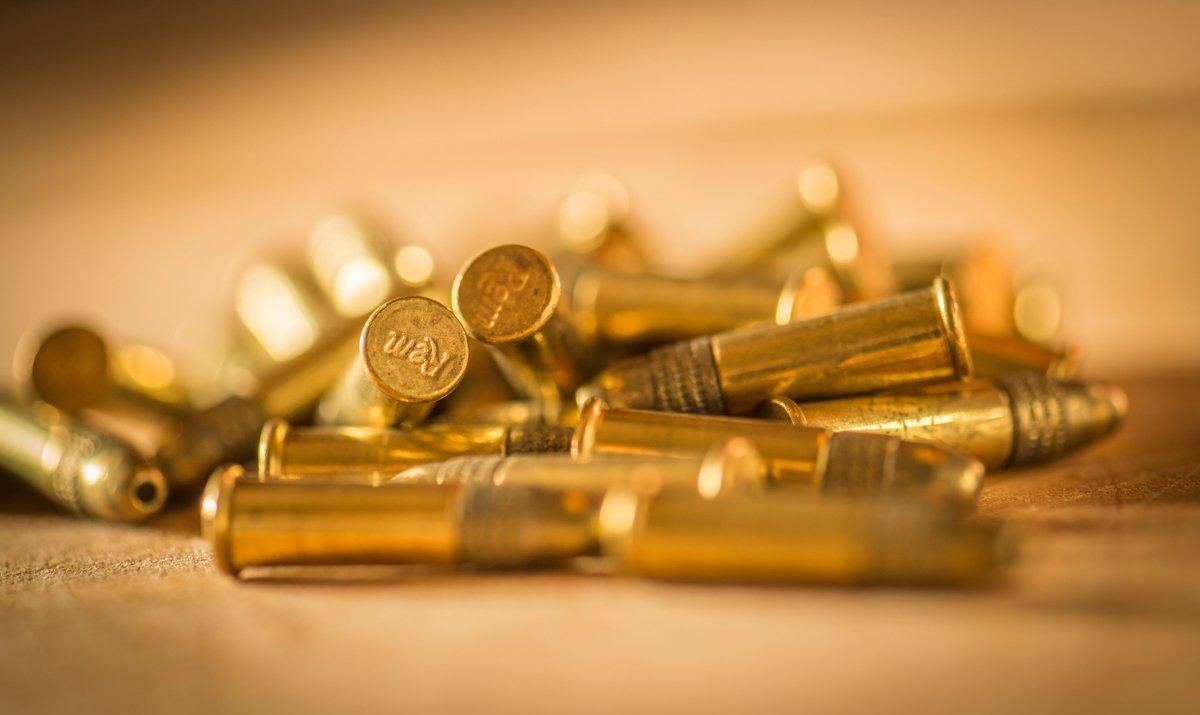 Remington® Model 597 Semi-Auto Rifle
Remington offers several rifles chambered in .22 caliber, including the popular pump-action Model 572 Deluxe Fieldmaster. Squirrel hunters, however, should also take a look at the Model 597, an autoloader that offers several models. The 597 action utilizes Remington's proprietary bolt-guidance system with a unique set of twin tool-steel guide rails for better stability, feeding reliability and best out-of-the-box accuracy. The Model 597 arrives ready to take a rifle scope with slots atop the action, has a durable synthetic stock, and feeds bullets from a removable magazine. Prices start at $215 for basic models.
Any hunter wanting to carry a classic rifle should shoulder the Remington Model 552 BDL Speedmaster, a semi auto that's been in production 50 years plus and features steel adjustable sights.
Additional details on this rifle and the numerous models can be discovered here.

Browning® Buck Mark Sporter
When Browning's popular Buck Mark pistol was introduced a decade or more past as an extended length firearm with an attached rifle stock, squirrel hunters released a loud round of applause. The Buck Mark is known for accuracy and dependability and this .22 caliber rifle continues that trend. Features of this unique rifle include blowback semi-auto action, a crisp single-stage trigger, and interchangeable magazines with the pistol models. The Buck Mark Sporter rifle has a rail for easy scope attachment and a tapered barrel. For those who want options, a heavier bull barrel model with laminated wood stock is offered.
Browning also offers the BL-22, a lever-action rifle, in several models. These rifles are super accurate and are simply great fun to hunt with and shoot. If you want to own a historical hunting-style rifle, Browning's SR-22 was one of John Browning's last rifle designs and one of the first produced .22 semi-auto rifles in America. It's now offered in several grades, including one with a gold inlayed squirrel on the action.
More details are found here.
Bonus Read: Squirrel Hunting Myths and Facts.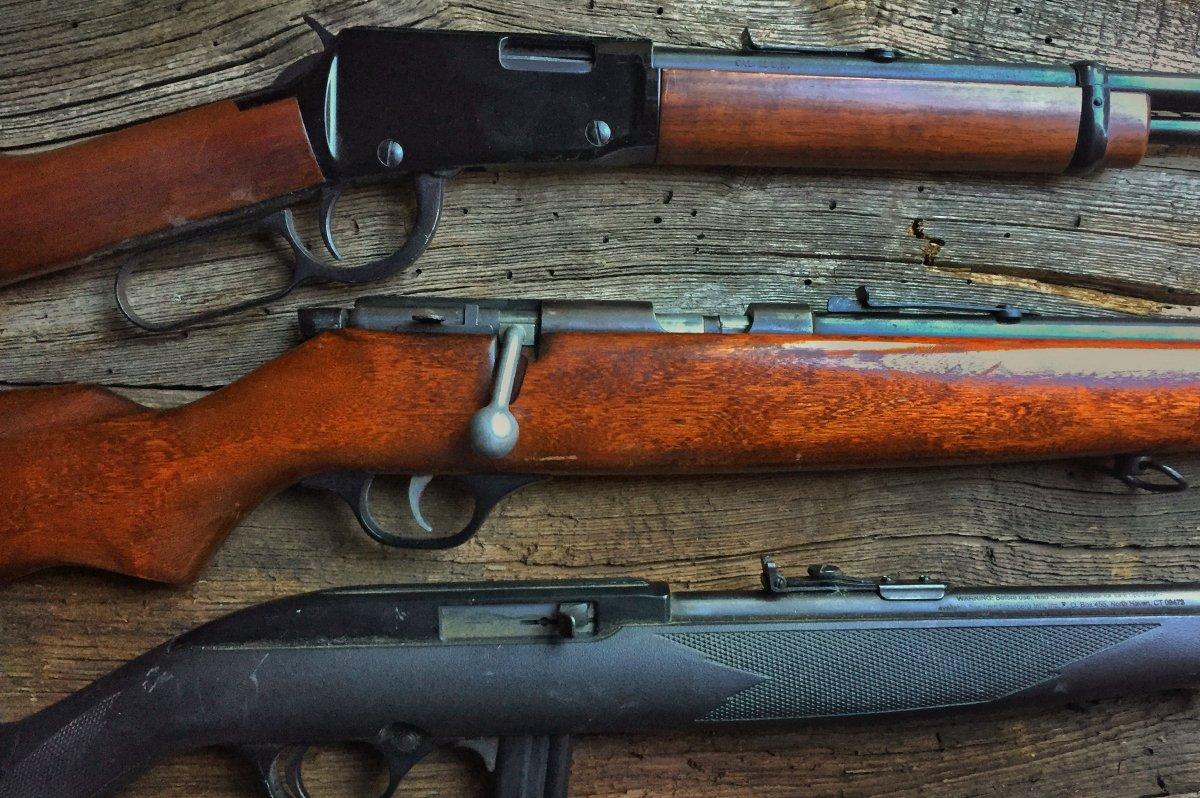 Winchester Repeating Arms® Model 1885 Hunter Rimfire Rifle
Winchester Repeating Arms is well known for producing many models of dependable rifles, and the Model 1885 low-wall single shot continues this trust with hunters. Among the features of this locking-block action rifle are a checkered walnut pistol grip stock paired with a stylish Schnabel forearm, 24-inch blued octagon barrel with Marble Arms gold bead sight on the muzzle, and a softer Pachmayr buttpad. The top of the action is drilled and tapped for easy base and riflescope mounting. The black walnut stock has a durable semi-satin finish. This rifle is chambered in .22LR and wears a price tag of around $1400.
More details are found here.
Savage Arms® Mark I G Bolt-Action Rifle
Savage rifles are known among hunters for accuracy — and affordability. This single-shot bolt-action rifle from Savage meets and exceeds those guidelines. The Mark I .22-caliber rifle features a wooden stock with high luster natural finish, utilizes a blued barrel, and has an adjustable rear and fixed front post sight installed. The action has been drilled and tapped for base and riflescope mounting. Another feature of interest to hunters is Savage's two-piece AccuTrigger that is designed to aid with smooth trigger use.
This Savage Mark I rifle has sling swivel posts installed in the stock and on the forend. The barrel is 21 inches long, and the rifle weighs 5.5 pounds.
Additional details are found here.

Squirrel Hunting Challenge
These smallbore rifles offer squirrel hunters many great rifle options. During the 1950s and 60s in America, mentioning you were going hunting often meant you were going squirrel hunting. There were few deer in the nation then. Today, more and more hunters are re-discovering the challenges and thrills of squirrel hunting.
Bonus Read: 5 Reasons Why Squirrel Hunting is So Popular.
Follow us on Facebook.