In an ongoing series of posts, Balog checks out new waterfowling gear for this season
Today's layout blinds come in a variety of styles based on function. Some are designed for ease of mobility. Others feature a low-profile look for wary birds and a lack of field cover. Some concentrate on comfort. In this edition of our new product review, we'll see examples of each. While we all share a common bond in our passion for the pursuit of waterfowl, where and how we do it differs greatly. One of these blinds, or the accompanying accessories, will surely fit into most of our lifestyles.
Cabela's Northern Flight Sit-Up Layout Blind
Without question, this blind keys on comfort more than any other in our review. If you're sick and tired of lying on your back and having to pop-up when the birds decoy, or if you're simply unable to do so, this is the blind for you. The Cabela's Sit-Up Blind is designed to give hunters just that option: sitting up while in the field. The blind keeps the hunter upright and ready to shoot at all times, and features ergonomic foam lumbar support and raised knee-pads for even more comfort. While this blind offers a great alternative to hunters unable to sit up quickly, it also allows all hunters a super-cozy option in areas with abundant ground cover. It's priced at $299.99.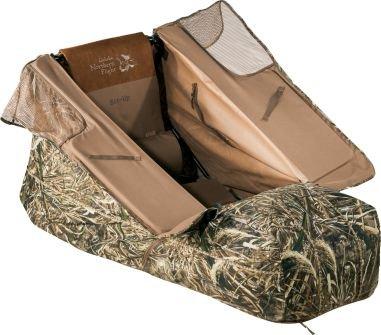 Hardcore Run-N-Gunner Layout Blind / Decoy Bag
I had the opportunity to test this blind extensively last year, and it really opened up my hunting opportunities. Unable to get on the X previously due to beat-down, late season cover, the Run-N-Gunner allowed me to pack in, yet get completely concealed on a key spot. It was the key to mallard mania. The blind weighs only a few pounds, and it doubles as a decoy bag, able to transport a dozen floaters. There's no frame, but the blind doesn't lack comfort and function. The padded backrest has an elevated wedge design, and the entire unit features concealment straps. When faced with a how are we gonna get in there… type of spot, the Run-N-Gunner is the answer. It's economically priced at $149.99.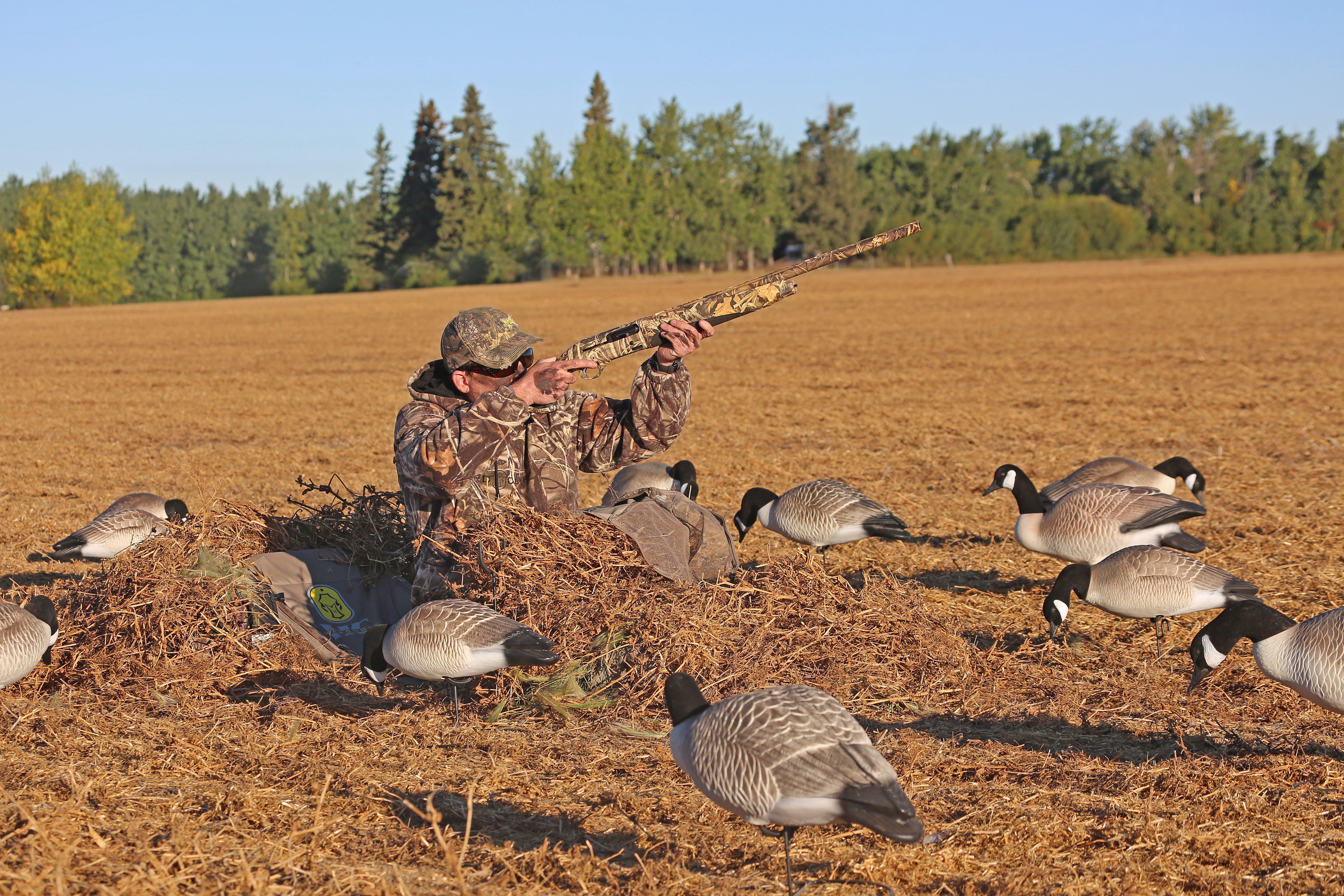 Rig 'Em Right Low Rider 2 Layout Blind
The Rig Em Right Low Rider 2 is really unlike any other blind in the industry. It features no pins, and sets up in seconds. The base of the frame system features incredibly easy sliding poles with cam locks, able to be deployed wearing any gloves in any light conditions. The doors come completely off the unit at tear down, but easily snap right back on when it's time to hunt. The unit is super low-profile, features heavy duty hardware like everything Rig 'Em Right makes, and comes in MAX-5 for $329.99.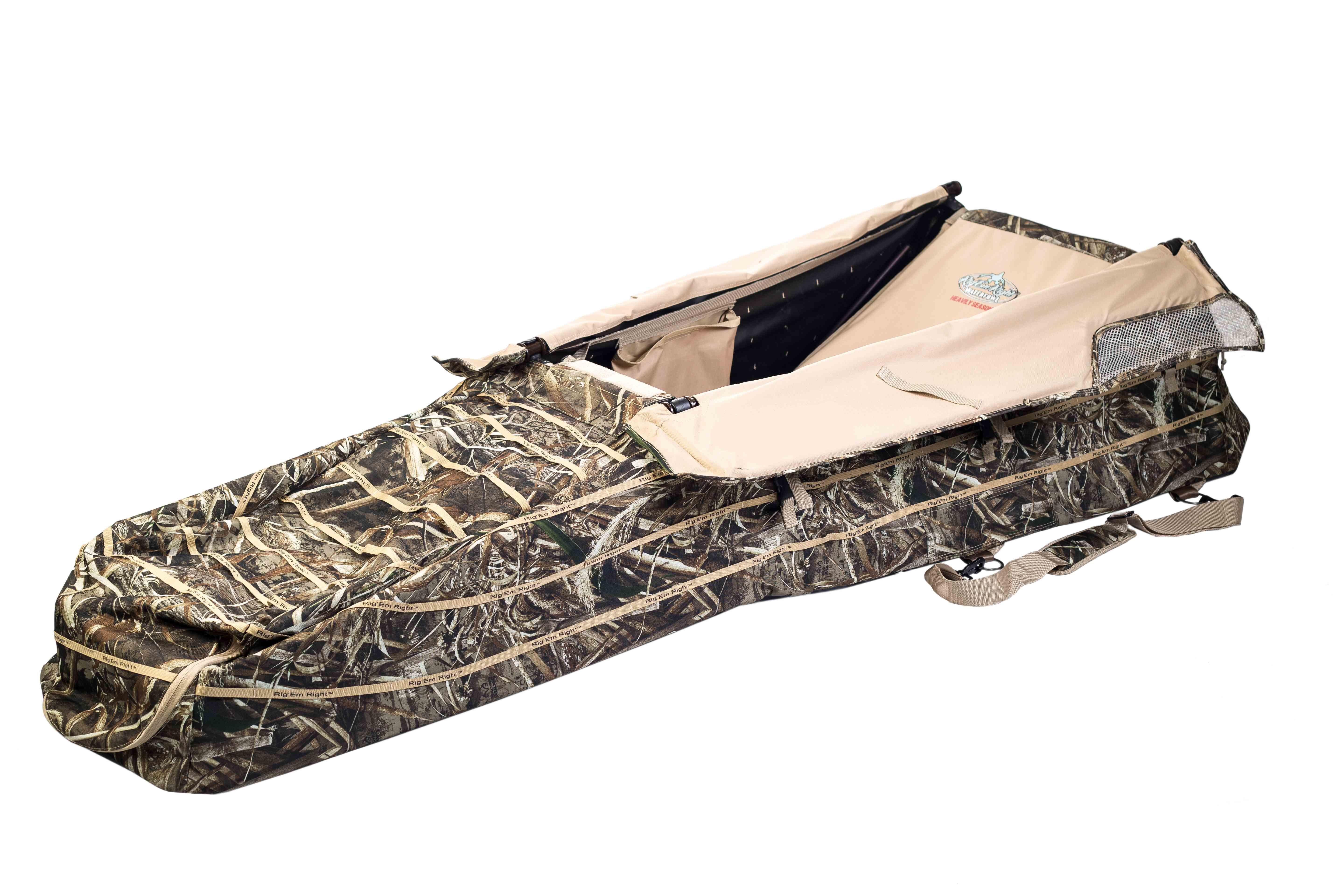 Accessories:
The days of synthetic camo blinds and systems at a reasonable price, offering non-glare concealment, are drawing closer each year. This season, Camo Systems offers the Speed Reed system: a fully synthetic, cattail-like cover for your waterfowl needs that doesn't rot or retain water, and can be used for years to come. Panels measure about 24X29, but they're not cheap, retailing for $69.99 for a two-pack. However, their longevity is certain to overshadow price.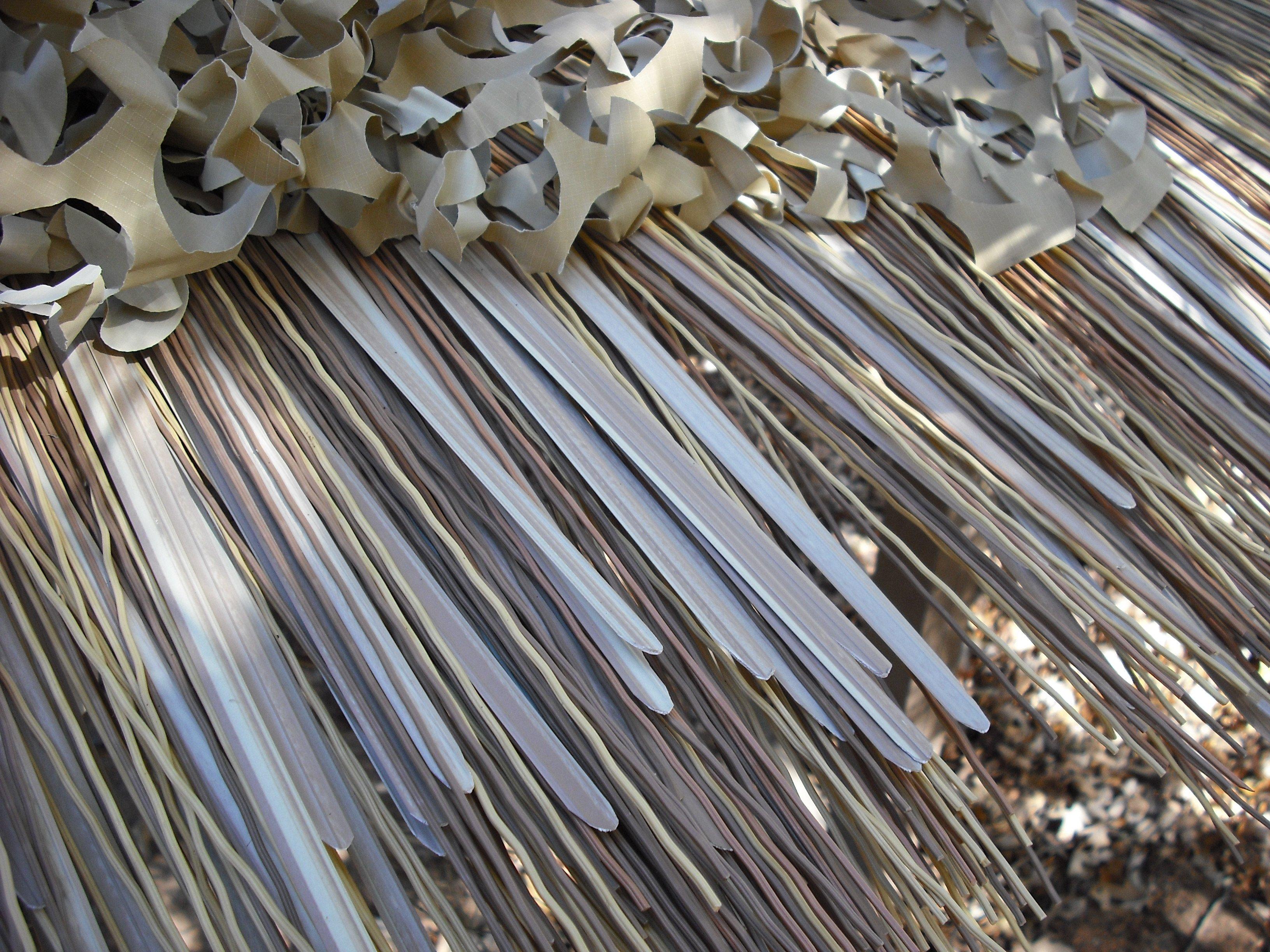 Primos Water Moccasin
This welded, 100 percent waterproof cover slips around the Primos Eliminator Blinds, rendering them dry in water up to 10 inches deep. The blind can still be collapsed, transported or stored with the Moccasin in place. A must for "sheet water" fields that are often the best hunts of the year, priced at $138.95.