Try these realistic layouts for ducks that have seen it all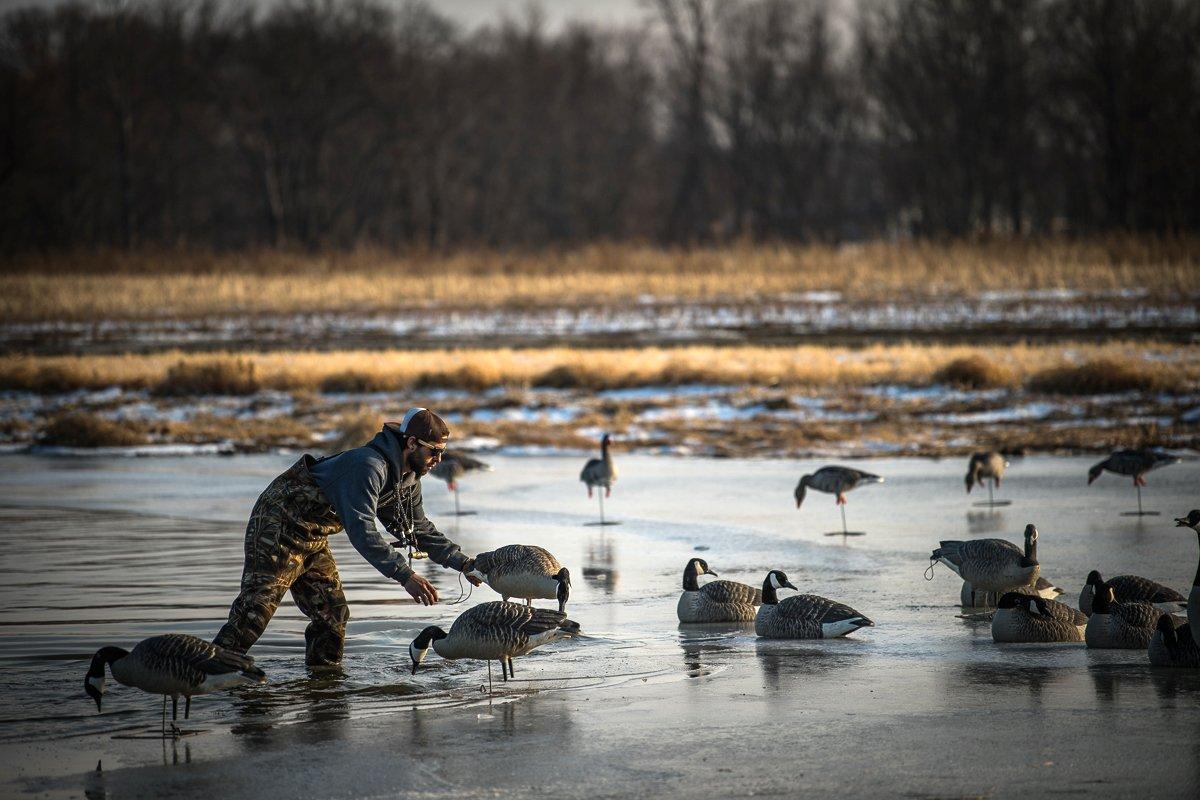 Free-lancing during the late season might be the apex of American waterfowling. With a pair of binoculars, a tank of gas and a few decoys in your truck bed, the possibilities seem endless.
But that spawns a potential dilemma. You never know what you'll find when scouting the prairies or exploring a vast WMA, so it can be difficult to pack the right decoys, especially if you're not pulling a trailer or running a big boat.
Don't fret. These truck-bed spreads let you stay mobile but ready for many late-season scenarios.
Small Waters
Puddle ducks love fresh sheet water and remote destination sloughs. Hunting such spots is relatively easy, but you must often access them by foot, so you'll want to keep your rig light — basically as many puddle-duck floaters as you can cram into a decoy bag. Mallard blocks always work, but if you're in a multi-species situation — gaddies, wigeon and greenheads in a flooded pasture, for example — it never hurts to mix in some other ducks.
Keep the spread simple. Set a pod of decoys slightly upwind of your hide, and then place another downwind, leaving a good kill hole between them. Or, use tried-and-true J-hook or V-shaped formations. During calm days, spread decoys out into a long, loose blob.
Mixed-Bag Waters
When hunting divers and puddlers on small waters, you can often get away with a simple puddler rig. However, on slightly larger sloughs or lakes, you'll want some white bodies to provide attraction for divers at a distance.
Grab your bag of puddlers, and then throw six to eight Texas-rigged divers — cans or bluebills always work — over your shoulder. Set the puddlers in a blob upwind of your hide, and then run the divers in a small tail stretching downwind. This should attract puddlers and divers and give each plenty of room to finish in the kill hole.
Sandbars, Loafing Waters
Mallards and geese often loaf much of the day along river sandbars or hidden ponds. Many times, birds hop up on shore to sleep or preen, and your spread must mimic that to look realistic.
Stuff two slotted decoy bags with full-body goose decoys. Loafing and sleeping poses work best, but include a few sentries and feeders. Arrange these in tight lines or groups along the shoreline, and then throw a half-dozen mallard or goose floaters in the water nearby. This should create the illusion of content, relaxed birds at a safe location.
Timber Holes
Decoys aren't as critical in the sound-oriented world of timber hunting, but a few well-placed fakes can help wary birds finish after they flutter down through the canopy. Arrange blocks in realistic fashion, with some in or near cover, like birds that landed in open water but then swam into the trees. Avoid standard-looking spreads, which late-season mallards have seen hundreds of times since the migration began.
Many days, motion is far more important than a big spread. Ditch the spinners, and tote several jerk rigs into the timber. If you're hunting with a group, every shooter can operate a rig while calling to passing birds.
Dry Fields
This is the trickiest late-season situation, as hunting ducks and geese in large ag fields is often a big-numbers game. But location trumps presentation, so even a meager spread can work, provided it's squarely on the X.
Forget the duck decoys, as mallards and their brethren decoy wonderfully to goose spreads. Load your truck with as many realistic full-body goose fakes as possible. To boost numbers, throw in some shells or silhouettes. Place your most realistic-looking decoys at the downwind edge of the spread, as birds will see these first and for the longest time. Set some shells or silhouettes around field blinds to boost concealment. Use a flag to hail distant geese, and run a few spinners in your kill holes for ducks. Just turn them off when geese are in the air. Above all, make sure the spread is loose, relaxed and looks real.

Click here for more Realtree waterfowl hunting content. And check us out on Facebook.