Sometimes your choices in the field or on the water pay off, and sometimes they don't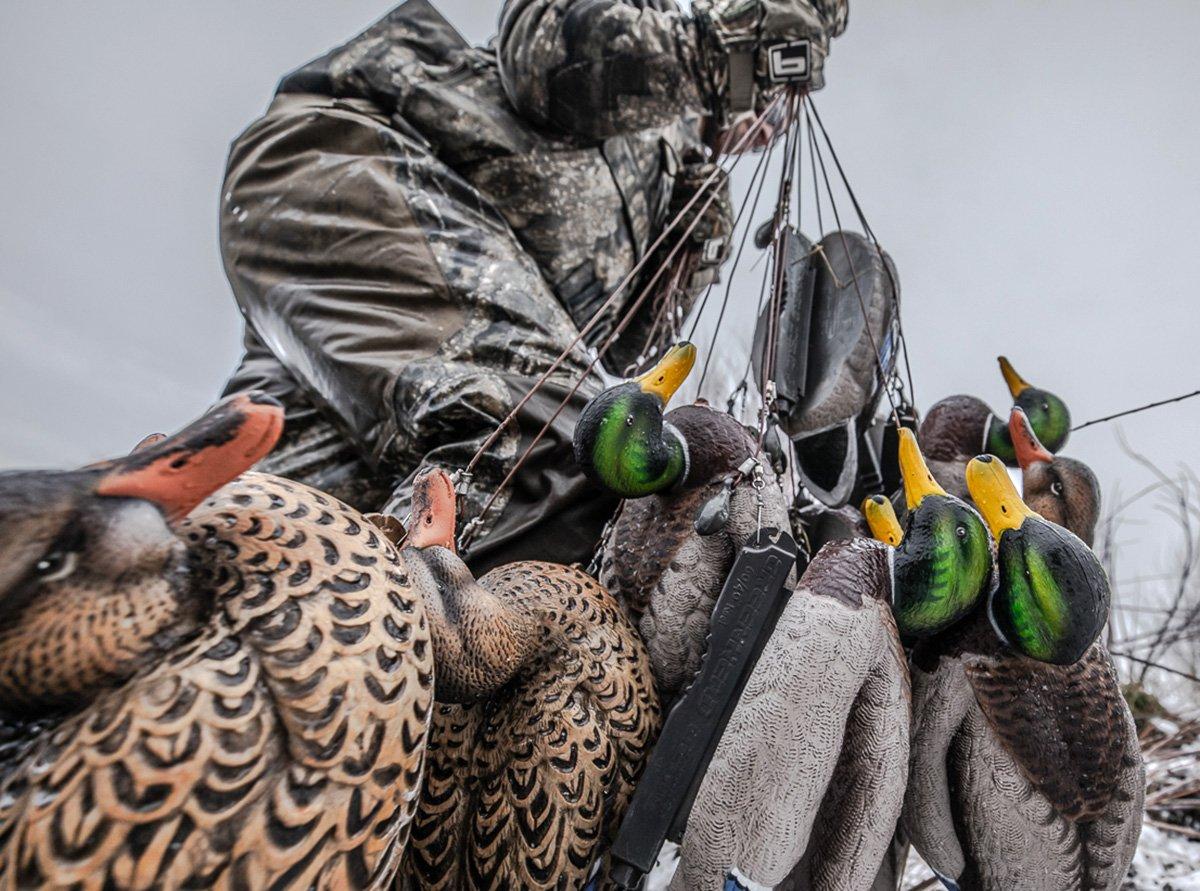 As I've mentioned in previous blogs, success or failure in the duck marsh often hinges on quick in-the-field decisions. Some work. Many don't. And in hindsight, the wisdom or folly of your actions becomes clear. Consider these examples from my 2019-'20 season.
Moving On
The first hour at the flooded South Dakota bean field had been red hot. My buddies had killed six ducks apiece, and I was only two shy of a limit. But then the action stalled, and it became apparent I'd have to switch gears.
Glassing the property, I noticed a decent concentration of ducks on sheet water about a half mile away. A quick move seemed wise, but I hesitated. We'd already had a great day, and trudging all that way through muck, flooded cattails and sodden beans seemed like loads of work.
Common sense soon kicked in, so I pulled my decoys and made the long trek to the sheet water. The ducks flushed immediately, but enough returned to let me finish the day in style. The walk out was long and exhausting, but I grinned with every step.
The Great Wall
Rain had inundated my home-state hunting areas the week before teal and early-goose seasons. Despite the high water, I was determined to start the year at a small kettle lake that often attracted good numbers of early bluewings.
The forecast called for temperatures in the high 80s, and I cringed at the idea of dragging my heavy skiff to the lake and then trying to ram through the lush shoreline cattails. Instead, I figured I'd wade the perimeter, position my retriever on a muskrat hut and enjoy an easy shoot.
The gaffe became apparent long before sunrise. The lake's shoreline was so flooded that I couldn't get close to open water. I stumbled through cattails for 30 minutes, drenched in sweat, before giving up and throwing out a few decoys at a tiny pothole.
My dog gave me dirty looks all morning. And I sat there for an hour without shooting, listening to unseen teal and other ducks frolic behind the wall of cattails.
An Ill Wind
Throngs of bluebills cruising around my favorite lake almost begged for an afternoon layout hunt. A northwest wind ripped across the landscape, however, roiling the water into whitecaps a half mile offshore. My buddy and I made tentative plans to hunt, but I worried that conditions might not be safe.
We gauged the situation at the boat landing. The wind was blowing offshore, which was in our favor. To be legal, we only had to set up 1,000 feet from the shoreline, which would help us avoid big waves. If we took our time and proceeded carefully, we'd likely be OK. So we unloaded the boat and headed out.
Ninety minutes later, we returned to the landing half-frozen and red-cheeked. Everything in the boat was caked in ice. But with six bluebills and a bonus drake bufflehead on the rails, we'd experienced an open-water adventure to remember.
No Returns
I knew I'd hunt the season's final day, but I didn't know where, having burned out most of my late-season mallard spots. Trying new water seemed like the smart option.
Maybe sentiment got the best of me. Or perhaps I was sleep-deprived after a long campaign. Whatever the reason, the next morning I decided to revisit a shoreline area where I'd killed four greenheads a week earlier. They might have settled back in there, I thought.
Wrong. I saw some mallards, but they avoided my pathetic setup. Instead of enjoying a last-day adventure, I watched mergansers and ice chunks float by, while my shotgun sat on my lap. So much for a strong finish.
Click here for more Realtree waterfowl hunting content. And check us out on Facebook.