Think there's no cure for overpressured birds? Look again with fresh eyes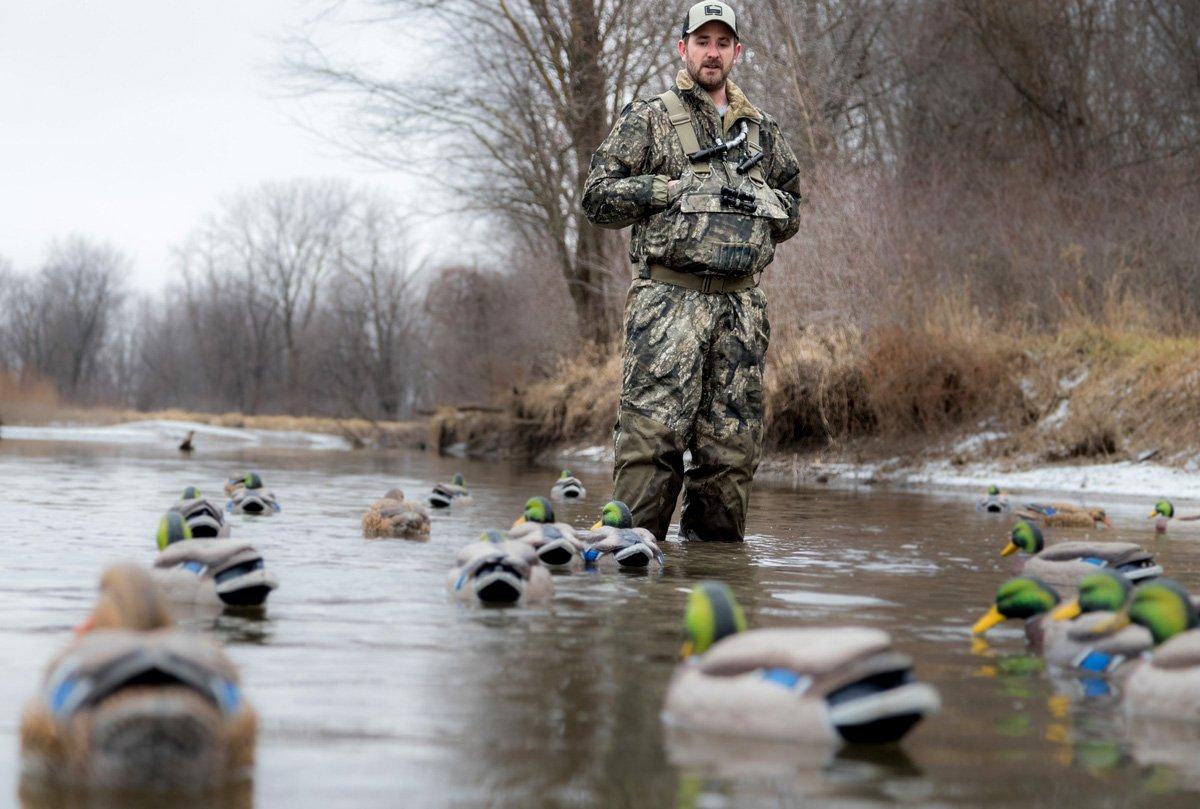 Duck hunting holds few guarantees, but here's a solid bet: At some point during the season, stale, overpressured birds will give you fits.
It happens every year. Warm weather and southerly winds stall the migration. Ducks that arrived days earlier and seemed so naive and eager suddenly act like local birds. And your success plummets.
Don't get mad. Get innovative. When Mother Nature hands you stale ducks, respond with a fresh mindset and approaches to fill straps. These tips can help.
Capitalize
Stale ducks might only give you a few opportunities every day, so you must be ready to take advantage. Be ready to shoot at first legal light and, if hunting a nighttime roost, last light. And don't get overly picky about calling the shot. If birds swing by in decent range, take them. Waiting for pressured birds to finish often leads to frustration.
Further, pay particular attention to shooting form, especially your foot position and mounting your shotgun. You want to make the most of every shot opportunity, even if they're scarce.
Switch Up the Game
Often, some types of ducks or hunting opportunities remain productive even when most birds are stale. Consider switching your approach to target less pressured species or try new methods.
Are canvasbacks slow on the big water? Try jump-shooting bayous and backwaters for puddlers. Have mallards and honkers locked into using protected fields and roosts? Drag out some diver decoys and see if bluebills and buffleheads will play.
You get the idea: Don't stubbornly lock horns with stale ducks while ignoring other opportunities. Change can be great.
Perfect Your Craft
When ducks get tough, you must be at the top of your game to succeed consistently. Use lulls or slow days to hone your essential skills, such as calling, concealment, decoy placement, boat handling or even duck identification. That can seem more like maneuvers than war, but striving to be a better hunter always pays off — whether with a few chances on stale ducks or when better days arrive with the north wind.
Hunt Longer
Experienced hunters know quickly when poor conditions and pressured ducks conspire to create slow days. Many — me included — take the hint and quit early, trying to avoid wasting time and longing for better days.
That can be a mistake. When hunting gets tough, you should respond by staying out longer and putting forth more effort. Sure, you'll spend some fruitless hours staring at bluebird skies, but you won't get any ducks sitting on the couch or cutting the grass. And consider this: More time on the water might net you another bird or two, and even long hours in the marsh are never wasted.
Find Un-Stale Ducks
I hear you: Lovett sounds like a broken record. Work harder to find unpressured birds. That's easy to say but difficult to accomplish. Still, many industrious hunters do it every season.
Here's the catch: You can't wait for hunting to get slow and then start exploring. Recon work must be done long before the season, and you'll have to accept many more whiffs than hits. However, when you find one or two little hidden pockets that attract ducks, you've struck gold.
Scout like a madman and compile a list of possible honey holes. Maybe one will produce a surprisingly good hunt when other guys are complaining about stale ducks and quitting early.
Click here for more Realtree waterfowl hunting content. And check us out on Facebook.