New episodes of Realtree Road Trips will premiere each Tuesday at 9 p.m. EST.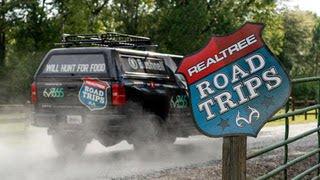 Realtree fans can now enjoy hundreds of hours of Realtree content on Waypoint TV, a world-leading entertainment destination for hunting and fishing content.
Launched in 2016, Waypoint provides access to the outdoors through its multiple TV and digital platforms including online streaming video, apps, live channels, and podcasts.
New episodes of Realtree Road Trips will premiere on Waypoint TV each Tuesday at 9 p.m. EST.
The Road Trips series follows a near-live format as Tyler Jordan and crew travel down North America's dirt roads, highways, and byways after whitetails, elk, turkeys, and waterfowl. Viewers will enjoy all aspects of the hunting experience including land and game management, hunting strategies, patterning bucks, and season-long stories as the Road Trips crew share their knowledge and tradition of hunting.
We have too much fun shooting Realtree Road Trips, and we're just happy so many people enjoy watching it, co-host Tyler Jordan said. Of course, this show has a great history, and we intend to honor that in our hunts, our conservation work, and our efforts to keep our hunting heritage alive and well. It's great to be working with Waypoint TV to make sure even more people get to enjoy Realtree Road Trips, and hopefully join us in the hunting lifestyle.
Waypoint TV director of partnerships Graig Hale says many great memories have been made for its extended family of sportsmen and women while watching original content throughout the years.
Now, Waypoint is thrilled to create new memories in the tens of millions of living rooms across the country that have adopted Waypoint TV's free streaming service, Hale said. We look forward to providing hundreds of episodes from Realtree's original content library, beginning with Tyler and crew's expeditions on Realtree Road Trips, and share in the mission of getting more people outdoors!
(Killer Buy Alert: Men's Realtree EDGE Waterproof Jacket)
For more crazy outdoor stories, visit The Realblog and check out Realtree's Facebook page.