Hank Shaw's latest cookbook is the definitive guide to venison.
Buck Buck Moose Cookbook Review
If you are a regular reader of the Timber2Table blog, then you have probably already know about Hank Shaw. Award-winning cookbook author, hunter, and owner of the Beard Award (the Oscars of food, it's a big deal) winning Hunter Angler Gardener Cook website, Shaw has been teaching people to prepare wild game and fish for years.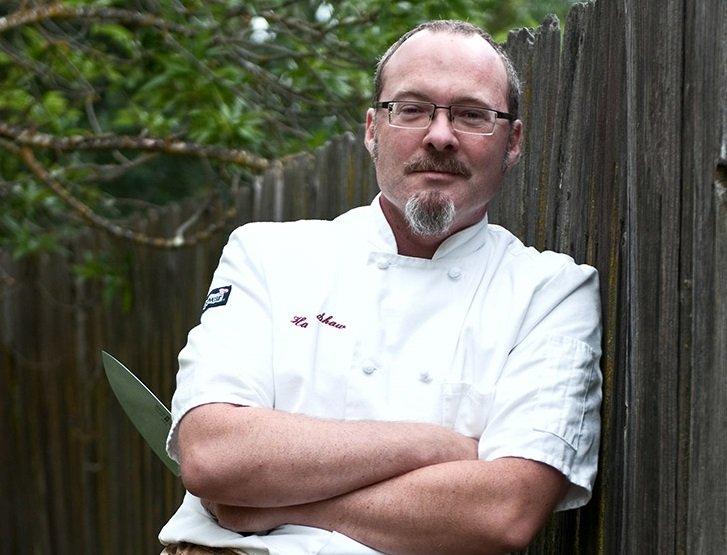 Hank's latest book, Buck Buck Moose, is the definitive guide to venison. From field care, to processing, to recipes, the book gives you everything you need to know to transform your trophy into many delicious meals that are certain to please. And not just the normal steaks, roasts and burger meat, Buck Buck Moose includes recipes for The Wobbly Bits as well. Recipes for hearts, liver, kidneys and tongue help the hunter make the absolute most of their kill and introduce diners to tasty bits of their deer that might have formerly gone to waste.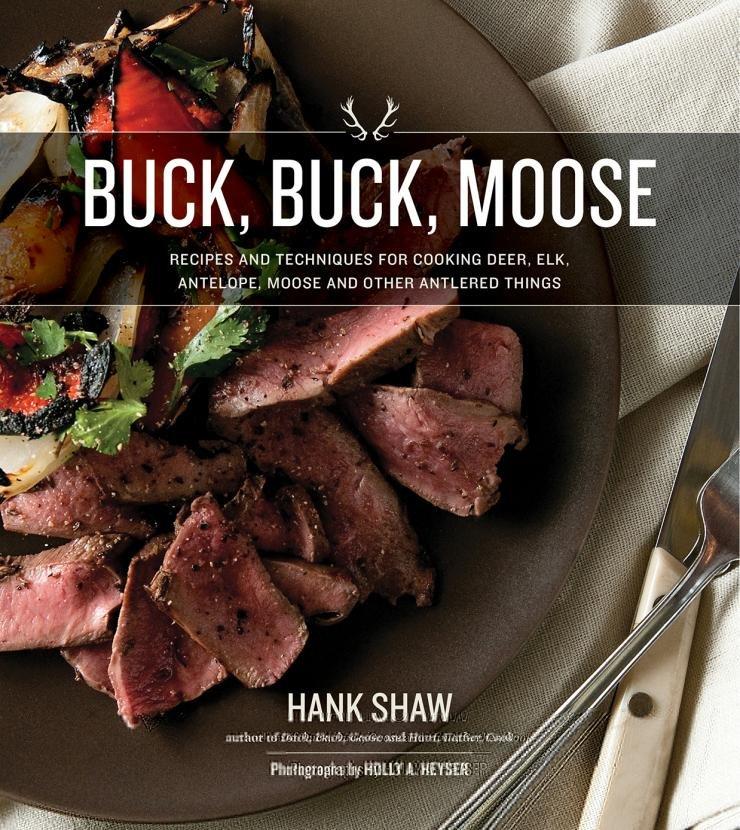 While Buck Buck Moose contains classic recipes like burgers and country-fried deer steaks, Hank expands venison's horizons by using it in recipes from around the world. From Chinese Potstickers, to Indian Kofta Meatball Curry, to Kentucky Smoked Venison Barbecue, the recipes are an eclectic collection that is sure to contain a favorite for everyone in the family. The cookbook also includes an extensive section on canning, curing and sausage making, including several recipes for everyone's favorite, jerky.
During a recent conversation, I asked Hank about the new book and the recipes it contained.
I wanted the book to be a mixture of tried and true classic recipes and new stuff that regular readers of Hunter Angler Gardener Cook hadn't seen before. I feel like we came up with a pretty good mix, but the majority of the recipes are new, said Shaw.
I then asked why he chose to self-publish the new book instead of going the traditional route as he had with his previous cookbooks.
Hank replied, Really, it was about control. The big city publishers didn't seem all that interested in the subject, even questioning if hunters would read a cookbook. I also wanted to work without publisher constraints on page count and content. In the end, I am pretty pleased with how it turned out.
Hank pointed to one particular recipe that he thought would be of interest to Timber2Table readers. I agree, the recipe demonstrates perfectly how Shaw thinks outside the box when it comes to new ways to prepare venison. The recipe is named Food Plot, and is on page 167 of the cookbook. Hank's inspiration came from reading the ingredients on a bag of food plot mix designed to attract whitetails. As he perused the content label, he realized that everything in the bag was edible. The idea for Food Plot Stew was born.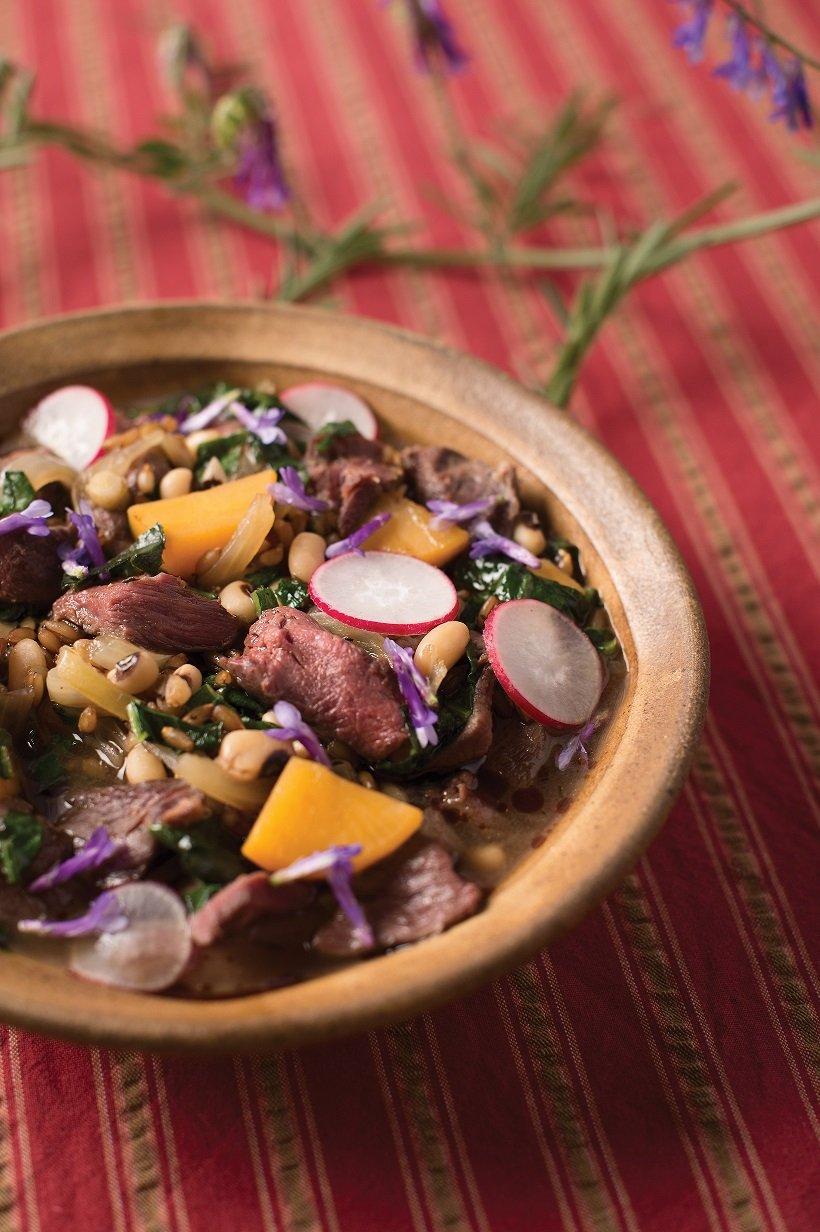 From Buck Buck Moose
Food Plot Stew

Nothing in this stew is especially difficult or hard to find, although you really do want some sort of high-quality finishing oil to drizzle on at the end. I used a roasted pumpkin seed oil that really adds a lot to the dish, which is otherwise pretty low fat. Other good choices for a finishing oil would be walnut oil or a good olive oil.
Be sure to cook the rye separately, as it can take a full hour of boiling to get tender. Rye has its own earthy flavor, but barley, oat groats or wheat berries also work well — and cook faster.
Cowpeas are nothing more than a different name for black-eyed peas. Keep in mind they cook much faster than other dry beans; you don't want them to disintegrate in your stew.
When it comes to the venison, you have two choices: Brown the meat first or cook the stew below a simmer. I cooked the stew below a simmer for the photos, but I also really like the flavor of the meat when it browns first. The tradeoff is that if you brown the meat, it might take an extra 30 minutes or so to get tender.
Serves 6 to 8.
Prep Time: 90 minutes, mostly soaking time for the rye and beans
Cook Time: 2 hours
3/4 cup black-eyed peas
3/4 cup rye berries (or barley or oat groats or wheat berries)
Salt
3 tablespoons unsalted butter
2 to 3 pounds venison stew meat
1 large onion, sliced thin from root to tip
6 cups venison broth, beef broth or water
1 teaspoon dried thyme
1/4 teaspoon celery seed
1 pound turnips or rutabagas, peeled and cut into chunks
4 cups chopped dandelion greens, chicory leaves, kale or chard
GARNISH
4 to 5 red radishes, thinly sliced
Black pepper
Roasted pumpkin seed oil, walnut oil or somesuch, for drizzling
Vetch or pea flowers (optional)
__________
Put the black-eyed peas and rye berries in separate bowls. Bring a quart or so of water to a boil and pour it over the rye and black-eyed peas. Let this sit for at least 1 hour. You can also just soak them in cool water overnight.
Bring a small pot of water to a boil and salt it well. Add the rye berries and simmer them until tender, 45 minutes to 1 hour.
Meanwhile, get a large Dutch oven or other heavy pot and set it over medium-high heat. Heat the butter. While the butter is melting, take a few pieces of the venison and pat it dry with paper towels. Brown the venison in the hot butter, salting it as it cooks. Do this in batches so you don't crowd the pot, and pat dry each new batch before you put it into the pot. Set aside the browned venison pieces in a bowl.
When the venison is all browned, add the onion and cook over medium-high heat, stirring often, until the edges of the onions begin to brown, about 5 to 6 minutes. Return the venison to the pot and add the broth, thyme and celery seed. Bring this to a simmer and cook gently for 1 hour.
After an hour, add the rutabagas or turnips and the black-eyed peas. Simmer this for another hour or so. (The rye berries should be tender by now, so drain them and set aside.)
About 5 minutes before you want to serve, stir in the chopped dandelion greens and rye berries. To serve, ladle out some stew — it should be a thick stew, with lots of stuff and not too brothy — grind some black pepper over it, sprinkle the thinly sliced radishes and vetch flowers (if using) on top and drizzle with the oil. I'd serve this with a strong beer, such as a good IPA.