Chile Lime Venison Skirt Steak Fajitas
Over the next month or two, a lot of us will be skinning and processing deer. The next time you do, take notice of the two strips of meat that lie along the bottom of the rib cage on both sides of your field-dress cut. Those are the plate, or outside skirt steaks. There are also a pair of inside skirt steaks where the diaphragm attaches to both sides of the chest cavity. On most whitetail-sized critters, these inside skirts are a little small for anything other than the burger pile. On elk, moose, or even an exceptionally large mule deer or whitetail, the inside skirts can also be used for this recipe.
Very often, these outside skirts are also relegated to the burger pile, but there's a better option. Try saving them for venison fajitas. A pair of skirt steaks from a mature buck is the perfect amount of meat for a family-sized fajita meal.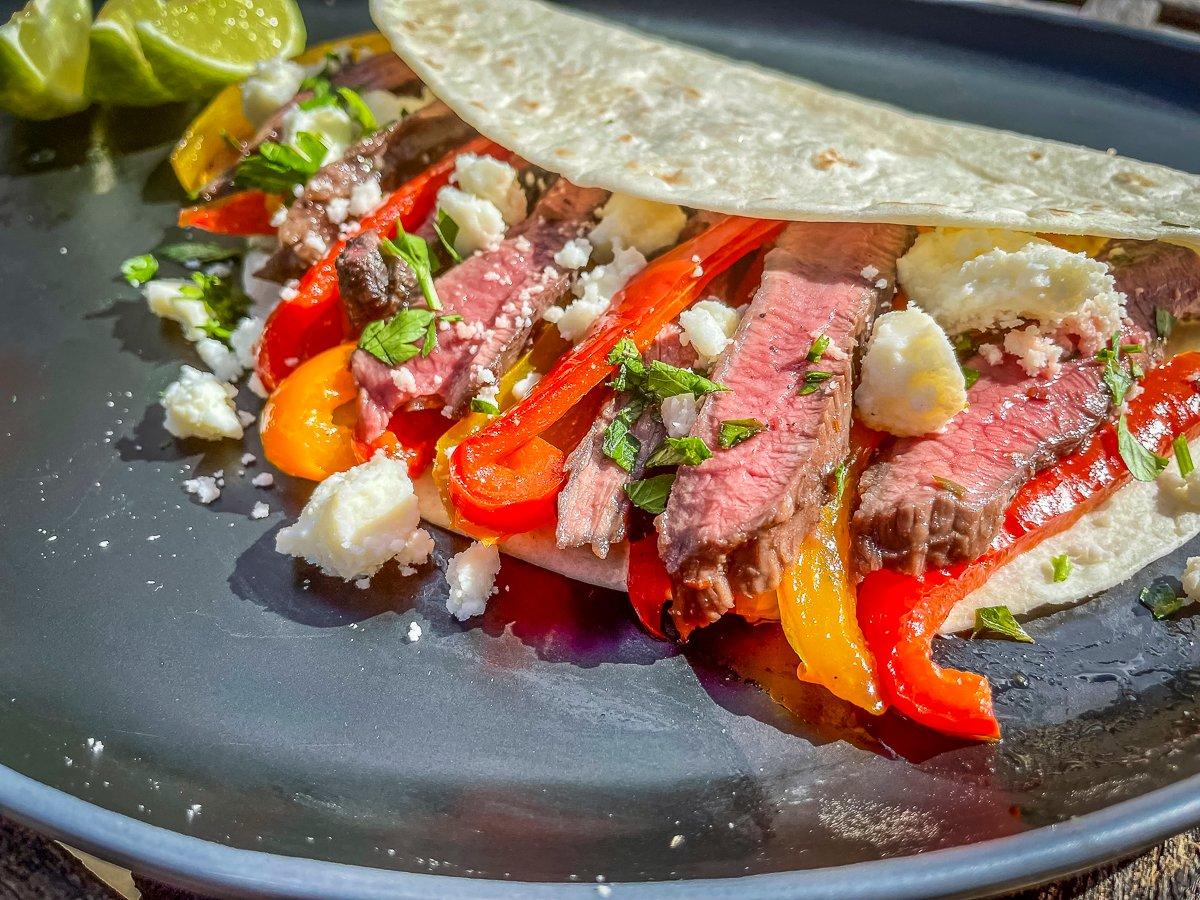 (Stay warm and dry in the stand: Men's Realtree Edge Waterproof Jacket)
For this recipe, we add them to a marinade with fresh lime juice to tenderize and flavor the venison before grilling. Always slice the skirt steaks into thin strips against the grain for maximum tenderness.
Ingredients
2 venison outside skirt steaks, seasoned
3 bell peppers, sliced
1 yellow onion, sliced
6 flour tortillas
Sour cream
Chopped fresh cilantro
Crumbled queso fresco
2 teaspoons vegetable oil
Seasoning blend
1 teaspoon ground cumin
1 teaspoon salt
1/2 teaspoon garlic powder
1/2 teaspoon onion powder
Marinade
1/3 cup olive oil
1/3 cup freshly squeezed lime juice
2 tablespoons fresh chopped cilantro
2 cloves garlic, minced
1 teaspoon honey
1 teaspoon salt
3/4 teaspoon red chile flakes (adjust to your spice requirements)
1/2 teaspoon ground cumin
Cooking Instructions
Trim the skirt steaks of any fat or connective tissue. Mix the marinade and pour into a gallon-sized zip-style bag. Place the skirt steaks into the marinade bag and massage well to evenly coat the meat. Marinate overnight.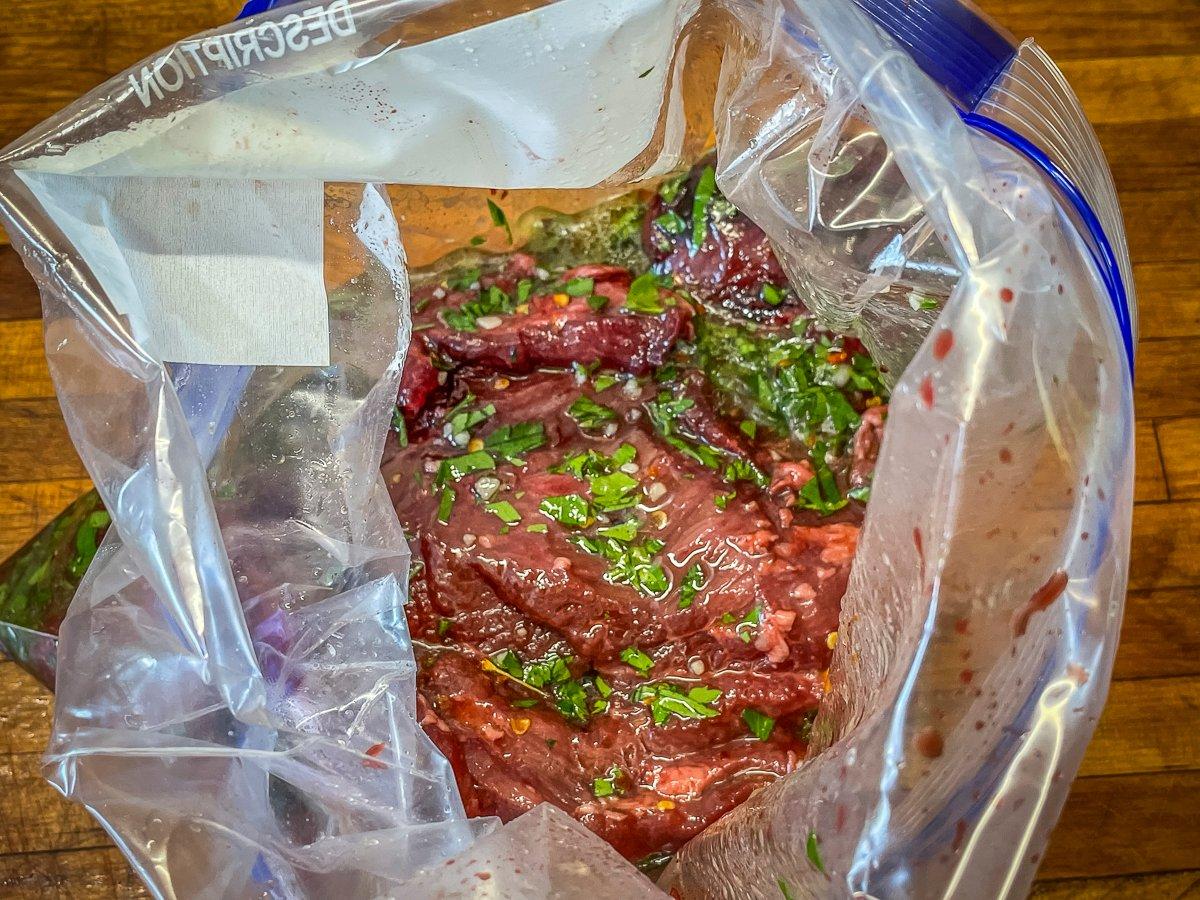 Add 2 teaspoons vegetable oil to the hot skillet. Add the peppers and onions. Sprinkle on half of the seasoning blend. Season the venison with the remaining spice blend. Cook the peppers and onions for 3 to 5 minutes, stirring often, before adding the steaks to the grill.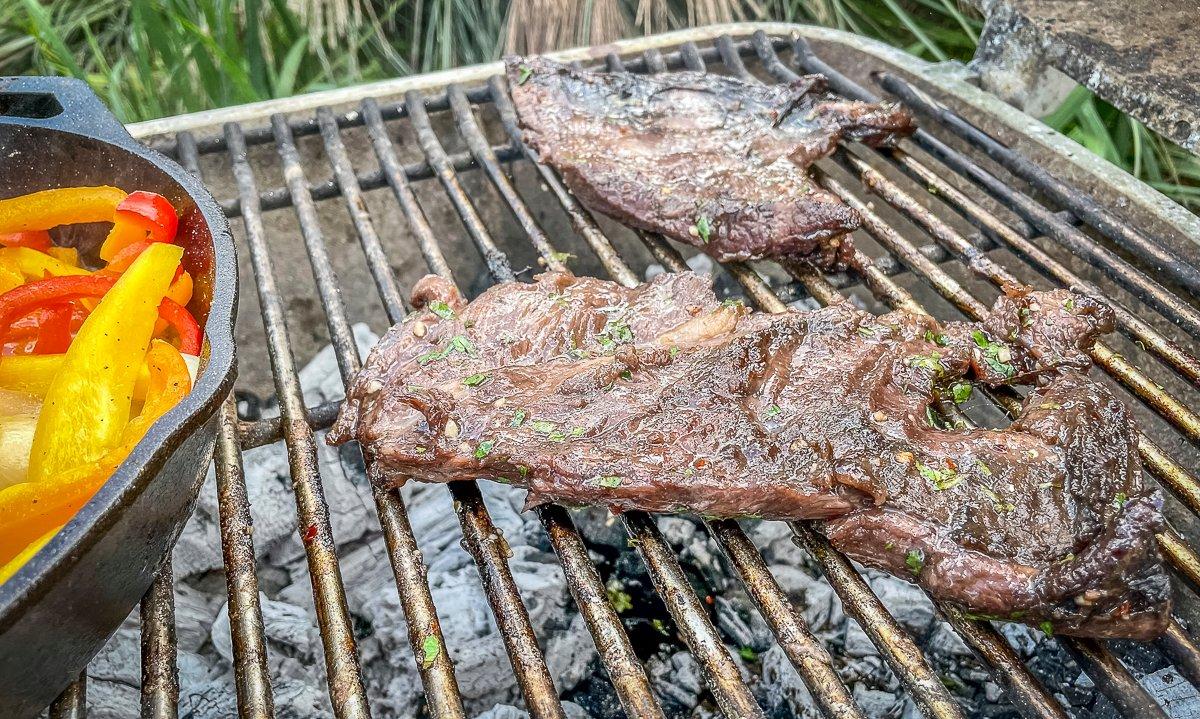 Skirt steaks are thin and can get a little tough when overcooked, so 2 to 4 minutes per side on a very hot grill is usually adequate for medium-rare. Move the steaks to a cutting board and tent loosely with foil to rest for 5 to 10 minutes. Remove the peppers and onions from the grill. Slice the skirt steak into thin strips against the grain of the meat. Lightly sprinkle both the steak and the peppers and onions with kosher or sea salt.
Assemble the fajitas by adding peppers, onions, and steak to a warm tortilla. Garnish with crumbled queso fresco, sour cream, and fresh chopped cilantro, if desired.