Easy Cheese Ravioli Wild Turkey Soup
Apologies to fellow blogger Michael Pendley for highjacking his space, but my editor insisted, even if Pendley is the outdoor world's answer to Chef Mario Batali (both are big dudes, great cooks and wear Crocs while mastering their recipes; though MP's are in Realtree camouflage, not Batali's signature orange footwear). Anyhow, here's my recipe.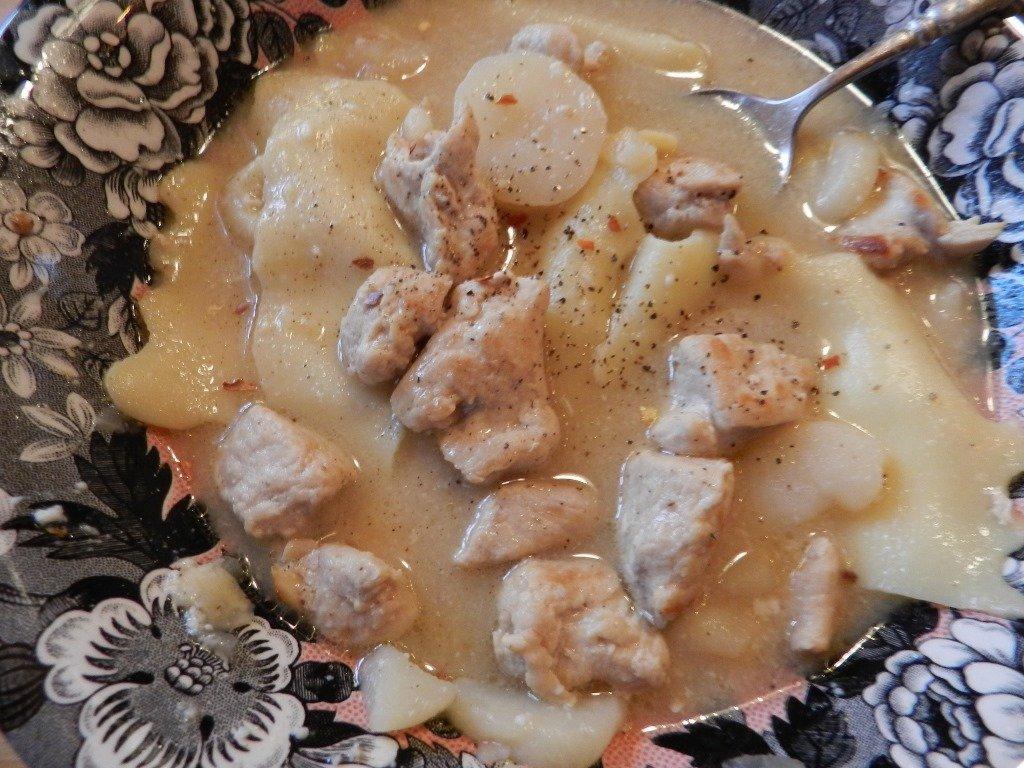 Ingredients
Two young fall turkey breasts, and/or spring jakes (this works with one big longbeard breast as well, though you may need to tenderize the pieces with a meat hammer).
32 oz. carton of chicken stock (add water as needed).
Frozen cheese raviolis.
Tablespoon of brown sugar.
Teaspoon of salt.
Teaspoon of black pepper.
Teaspoon of red pepper.
1 yellow onion, chopped.
Whole canned potatoes, sliced.
4 tablespoons of butter.
2 tablespoons of flour.
Cooking Instructions
It's been a good fall turkey season in four states and over several thousand road miles. Missing it all recently and looking forward to the spring campaign, I defrosted two young gobbler breasts and cut the meat into bite-sized pieces. Variations of this soup over the past several decades have taken place in hunting camps and here at home.
I'm impulsive with game cooking. I tend to prep and fry, broil, bake and baste at the same time, with spatulas, can openers, forks and knives working the meal in the making, especially if I'm just whipping something together after a long day hunting or working here at the desk. Factor in two bird dogs begging at my knees, and a high-school age daughter doing homework at the kitchen table, and you'll know why I have to multi-task. This recipe is a good one for that sort of thing.
Set to medium heat, I melt a slab of butter, brown the bite-sized turkey breast pieces, sauté chopped onions, and cut up small whole potatoes from the can right into the non-stick frying pan. I keep the spatula going until it all has cooked up nicely, then sprinkle a tablespoon of brown sugar over the deal, add the salt, some crushed red and black pepper (you can do this later when it's steaming in the serving bowl, too). To thicken it, I push some of the pan's contents to the side, add a slab of butter and a few tablespoons of flour, whisking it fast to make a quick-fire roux, then work the spatula so all the contents combine together in the pan.
During the frying action, I open the chicken broth (Swanson is a kitchen staple around here), adding the whole carton into a separate soup pot. After bringing it to a boil, I transfer the pan's cooked contents there, and add frozen raviolis directly from the freezer. Delicate little things that they are - they're often of the five-cheese variety (Three Bridges, but many others work too) - I let the raviolis cook until they rise to the top and float, stirring gently as need be.
The recent results? Despite the fact I've made this soup over the past 20-plus years of our time together, my wife Elizabeth, just home from work, said flat out: Wow. This is the best turkey soup you've ever made. I told her it must've been the brown sugar. Or the raviolis. Or maybe let's just give credit to the turkey.
Clearly the game cook gets lucky now and then.