Grilled Venison Loin With Morel Mushroom Bourbon Cream Sauce
Spring around here means two things, turkeys and mushrooms. Well, normal springs, anyway. The past year or two have been all but devoid of mushrooms, as our usual spots seem to have gone bust. When buddy Mark Maestle found out about our dire predicament, he came through with a ziplock back of prime mushroom bounty. I am not sure what the correct payback for such a favor is, but it has to rank way up there in the value category.
One of my favorite things to do with morels is to make a cream sauce with a hint of bourbon to pour over a grilled steak. The sharpness of the rare venison loin just seems to match perfectly with the rich creamy smoothness of the mushroom sauce.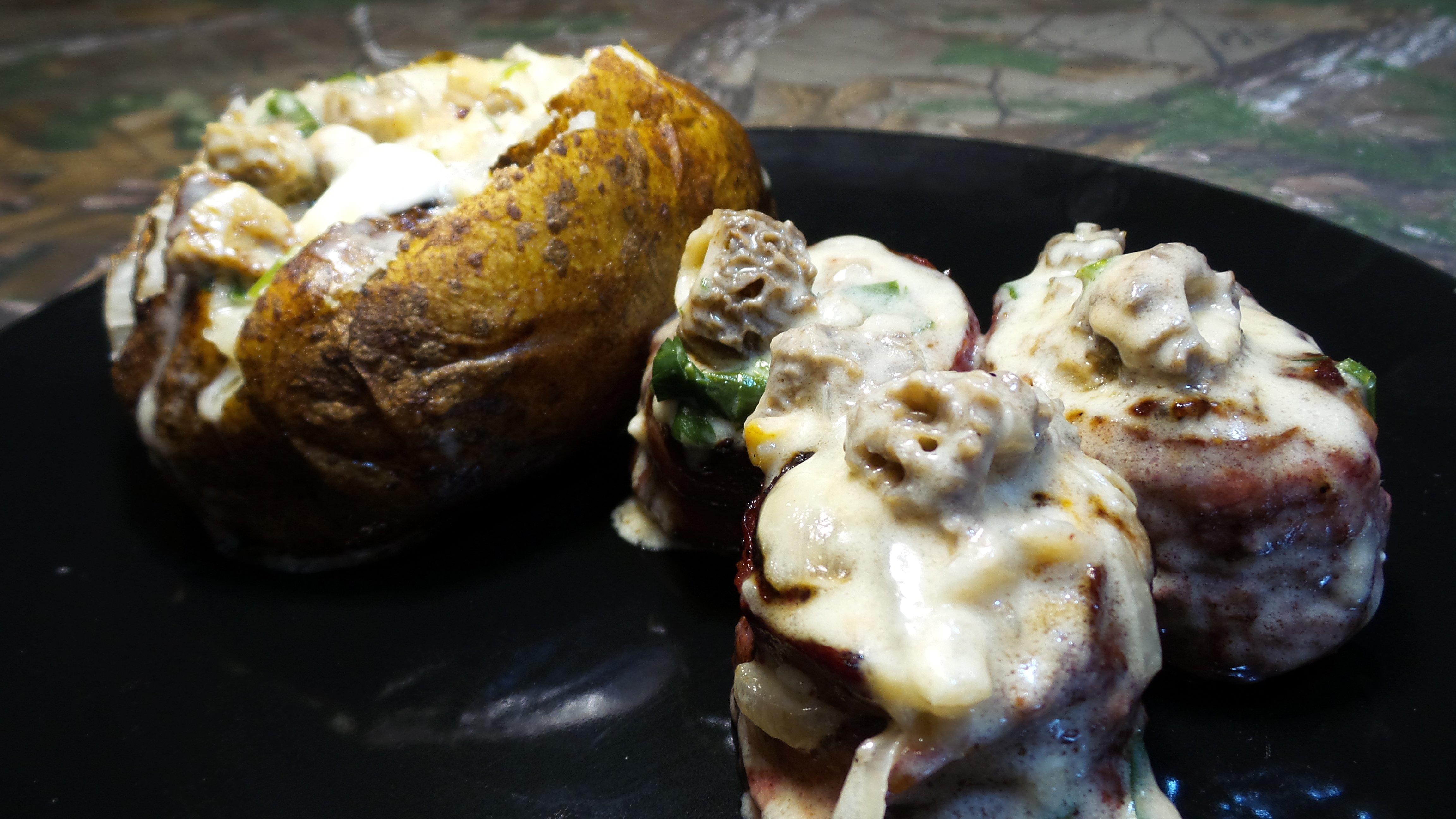 Morels should be given a thorough rinse once you get home in order to rid them of any critters that might be living inside. Some folks even like to soak them for an hour or two in cold water to make sure they are clean. If you are lucky enough to find more mushrooms than you can eat in a meal, store the extras for a few days refrigerated in a sealed ziplock bag that also contains a damp paper towel. More than you can eat in a few days? Try slicing a few and dehydrating. A simple 20 minute soak in fresh water and you can cook with morels all year long.
Smaller mushrooms can be cooked whole, but I like to slice larger specimens down the center so that they cook quickly and evenly. For this recipe, I go ahead and chop them so that the finished sauce is a bit smoother. This recipe also calls for a bit of freshly grated Parmesan cheese, but feel free to leave it out if you wish, it works either way.
Ingredients
Bourbon Cream Sauce
8 ounces morel mushrooms, chopped
2 cups chicken stock
4 ounces shredded Parmigiano-Reggiano parmesan cheese
1/3 cup unsalted butter
1/3 cup finely chopped shallot
2 tablespoons bourbon
3 tablespoons all-purpose flour
1/2 teaspoon kosher salt
1/4 teaspoon ground white pepper
1 cup whipping cream or heavy cream
1/4 cup chopped fresh Italian (flat-leaf) parsley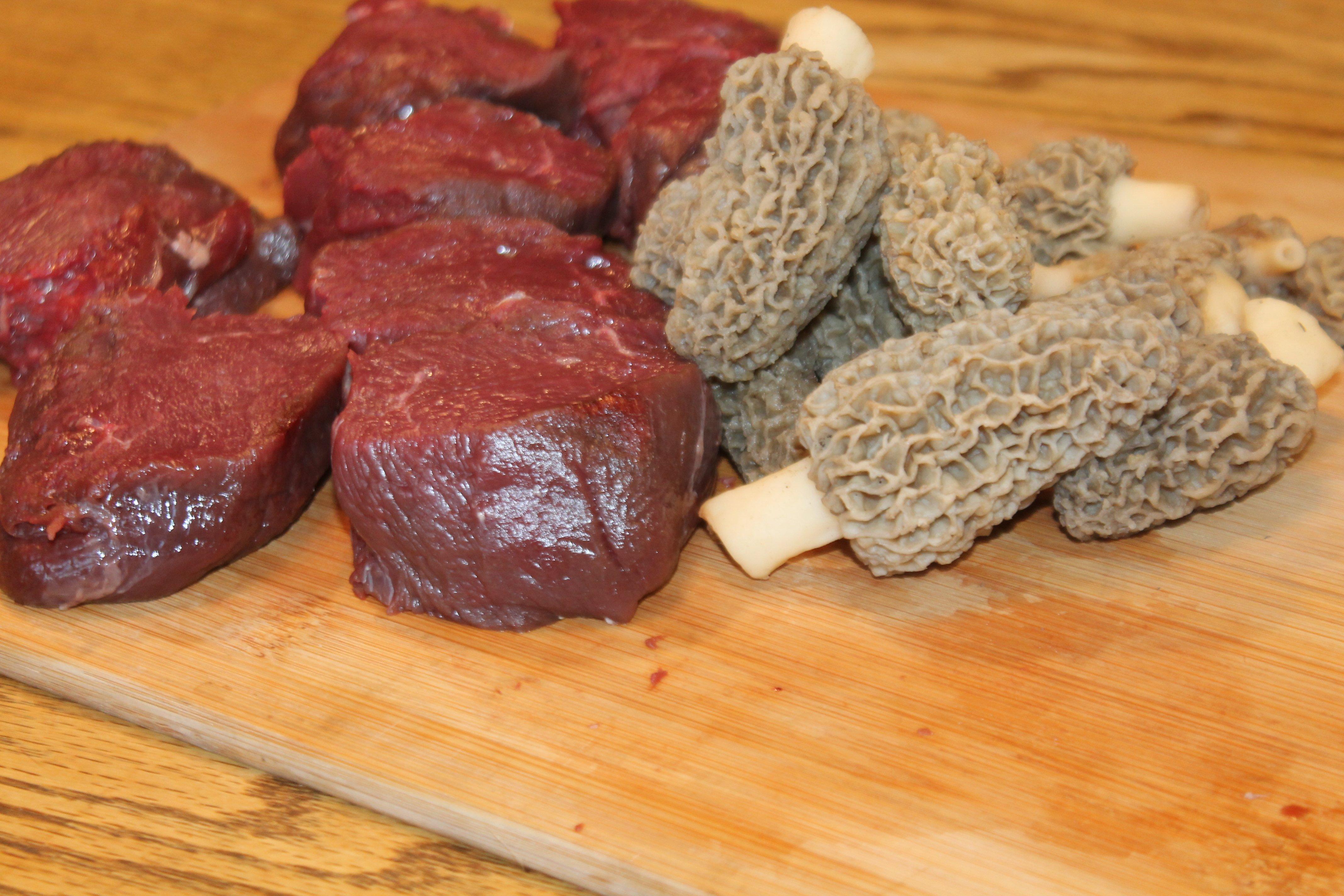 Steak
2 pounds venison backstrap, sliced into 1.5 inch thick medalions
1 pound bacon
2 tablespoons kosher salt
2 tablespoons Cavender's Greek Seasoning, salt-free version
Cooking Instructions
In a medium saucepan, melt 1/3 cup butter over medium heat. Add shallots. Cook and stir for 3 to 5 minutes or until shallots are tender. Sprinkle flour over shallots; whisk to combine. Slowly add chicken stock, stirring until smooth. Reduce to low heat. Simmer, uncovered, for 7 minutes, stirring occasionally. Add salt and white pepper. Slowly whisk in the whipping cream. Cook, whisking constantly, over medium heat for 7 more minutes or until the mixture thickens. Add morels, bourbon and 1/4 cup parsley. Stir until heated through.
While the sauce is cooking, wrap each venison medallion with a slice of bacon and pin it with a toothpick. Season liberally on both sides with salt and Cavender's seasoning. Grill over high heat for 4 to 5 minutes per side and let rest, loosely covered with foil, for 5 to 10 minutes.