Grilled Wild Pork with Bourbon Cherry Sauce
With temperatures forecasted to drop down into the upper 20's here next week, fall is definitely in the air. For me, that means classic seasonal dishes like this grilled wild pork loin topped with a sauce made from Evan Williams Bourbon and tart dried cherries.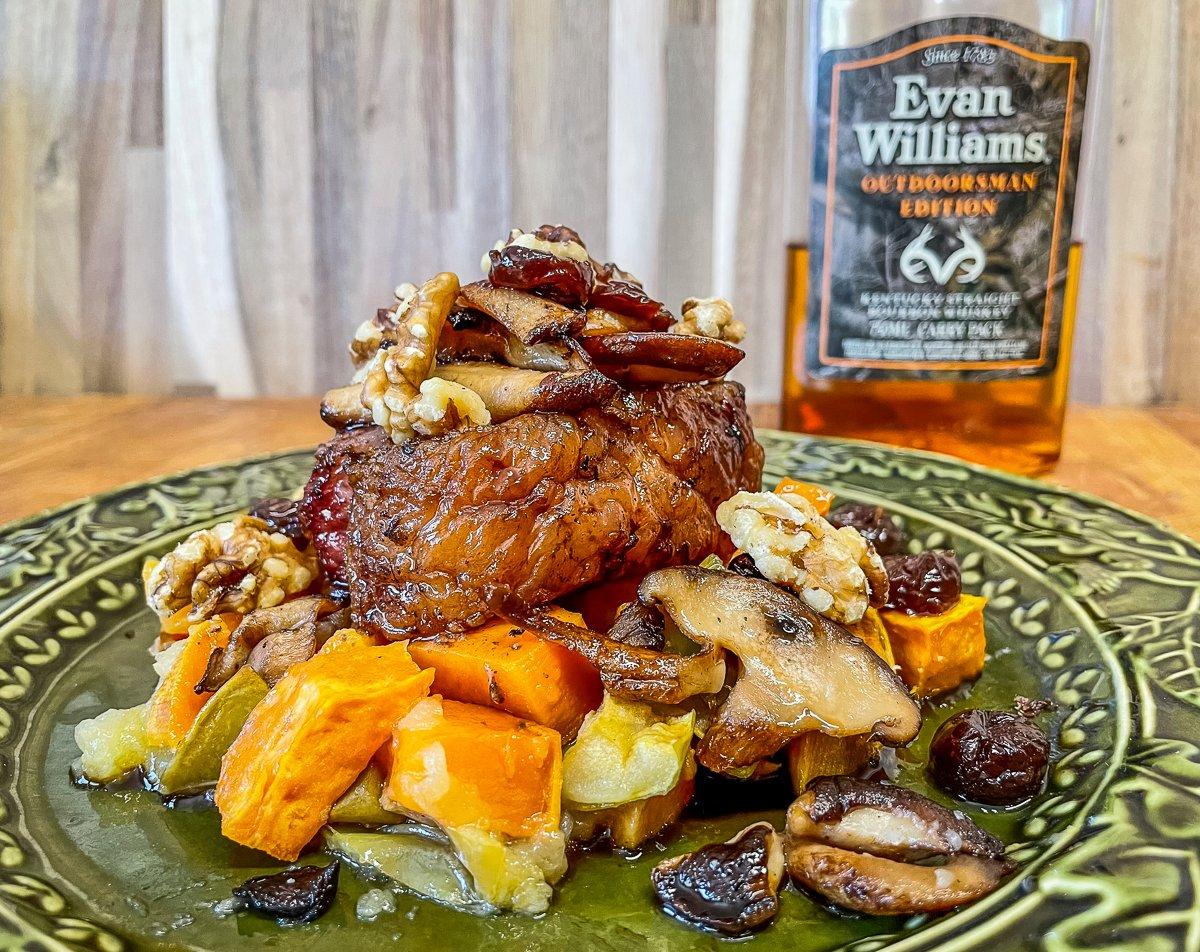 To give the meal even more of a fall feel, we serve the pork over a bed of roasted sweet potatoes and tart Granny Smith apples. It's a meal everyone always loves.

Ingredients
2-4 pounds pork loin chops, sliced about 1 thick
2 large sweet potatoes, cut into bite-sized pieces
4 Granny Smith apples, cut into bite-sized pieces
8 ounces sliced shiitake mushrooms sautéed in 2 tablespoons butter
1 tablespoon salt
2 teaspoons black pepper
2 teaspoons ground sage
Walnuts (optional)
Sauce
5 ounces dried cherries
1 ½ cup chicken stock
½ cup apple cider vinegar
¼ cup balsamic vinegar
½ cup Evan Williams Outdoorsman Bourbon
¼ cup brown sugar
2 tablespoons honey
2 tablespoons butter
Cooking Instructions
Cut the potatoes and apples and spread over a baking sheet. Season with salt. Roast at 350 for 60-75 minutes or until the potatoes are done.
Add all of the sauce ingredients to a pan. Bring to a boil. Then reduce to a simmer. Stir occasionally while the rest of the meal cooks. Add two tablespoons of butter to a large skillet over medium heat. Sauté the mushrooms until they have released their moisture and cooked through.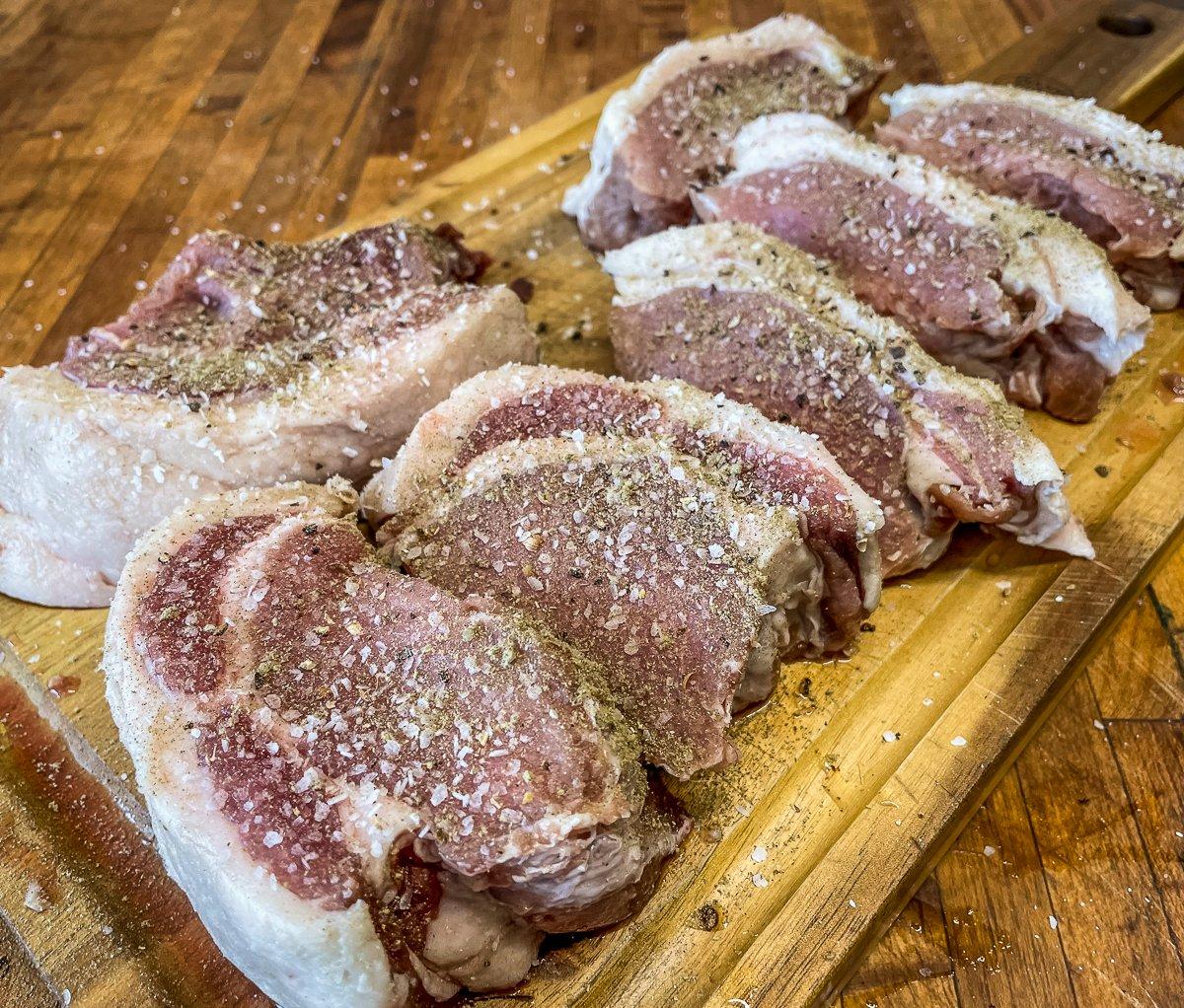 Season the chops with salt, black pepper, and sage. Cook on the Traeger Grill set at 350 degrees for 25-30 minutes or until the wild pork reaches 150 degrees — hot enough to kill any trichinosis parasites (a very rare problem) that might remain viable after freezing the meat.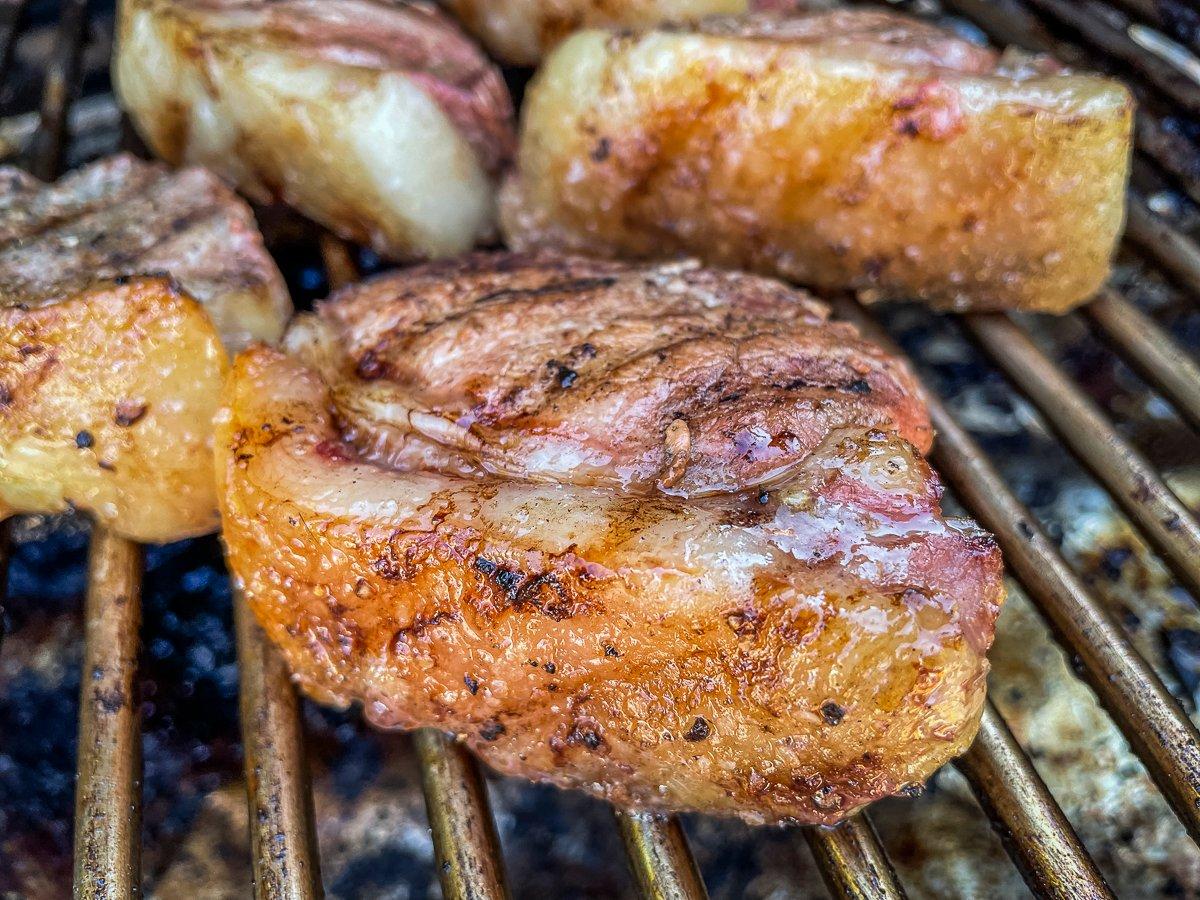 To finish, spoon the sweet potato/apple mixture onto a plate. Top with a grilled pork chop. Add some sautéed mushrooms. Spoon over some sauce, and top with crunchy walnuts, if desired. At 150 degrees, the pork will still be tender and juicy.