Just about every region has a local stew. Booyah in the upper Midwest, Brunswick Stew in the Southeast, and gumbo down in Louisiana are just a few of many. Here in Kentucky, our stew is called Burgoo. We even have festivals devoted to it.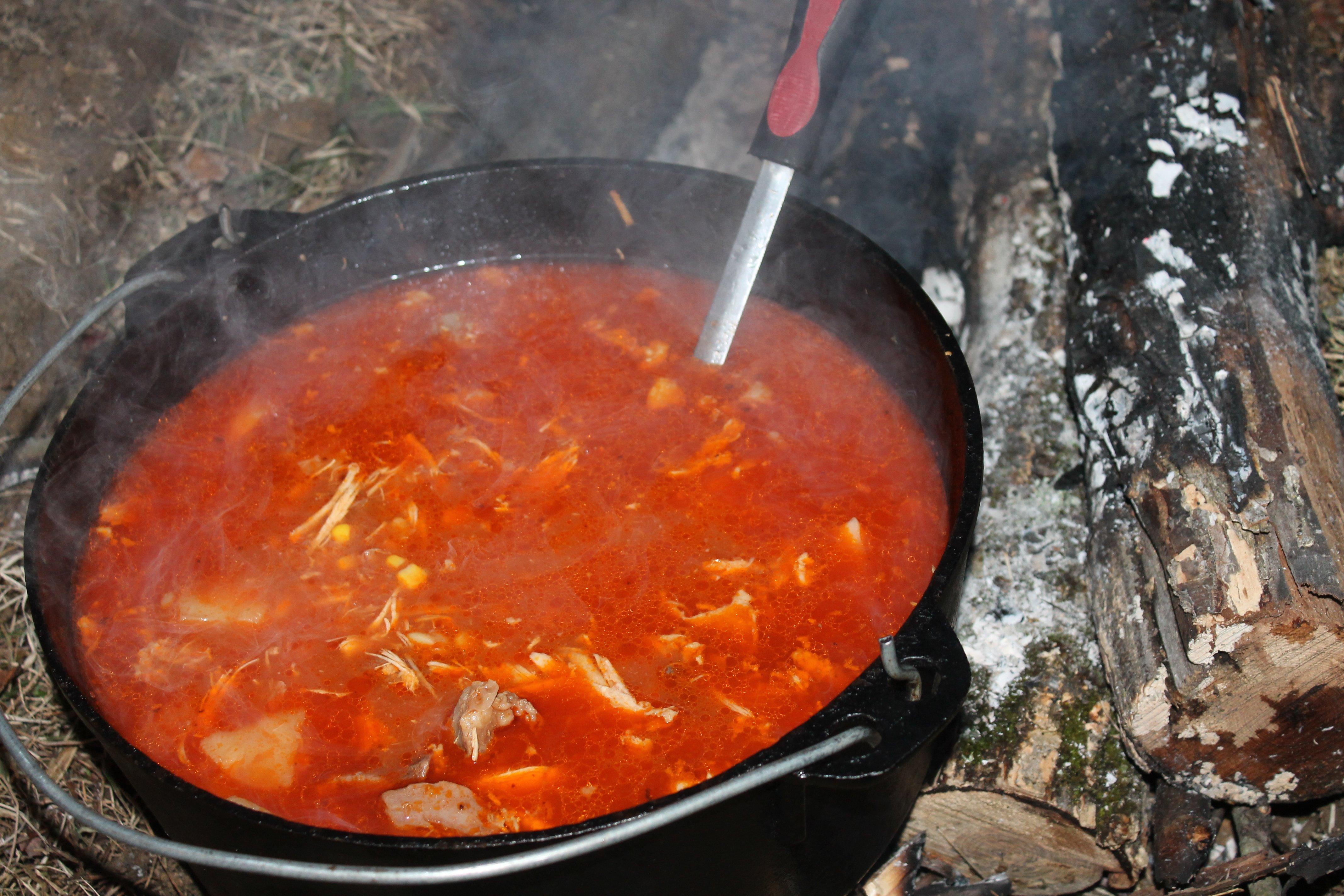 So what is Burgoo? Burgoo is a stew of meat and vegetables, usualy with a tomato-based broth, traditionally cooked in an iron pot over a fire. From there, the recipes get sort of vague. What that means in the real world is that you can use pretty much whatever you have in the freezer and it will turn out great. Burgoo is a perfect way to clean up those end-of-season bits and pieces that might not be enough for an entire meal by themselves. This one uses squirrel, venison, a chicken and some pulled pork, but I have made it with duck, rabbit, goose, bear, and more than one pack of mystery meat that somehow lost its identity during its stint in the freezer.
My favorite way to cook gumbo is in a cast iron dutch oven either suspended over a campfire or nestled into the edge of one so that I can move the coals around it to control the heat. Don't have a campfire handy for four or five hours? No problem, the stovetop works great too.
This recipe makes a huge pot of burgoo, but the leftovers will keep for up to a week in the refrigerator and it freezes well for a quick meal down the road.
Ingredients
1 pound venison, cut into 1-inch chunks. Any cut will work, but this is a great way to use up some of the less tender pieces.
1 whole chicken, skinned and quartered
1 or two squirrels, skinned and quartered
½ pound pulled smoked pork
3 large potatoes cut into 1-inch pieces
2 cans of whole kernel corn
1 clove of garlic, chopped
2 medium yellow onions, rough diced
3 carrots, peeled and sliced
1 can of butterbeans or lima beans
1 green bell pepper, diced
2 cups of okra, cut into rings (frozen works well)
1 quart of tomato juice
¼ cup Worcestershire sauce
1 tablespoon of Cajun seasoning
¼ cup vegetable oil
4 quarts of water (more if burgoo is too thick)
Salt and pepper to taste
Cooking Instructions
Begin by heating the oil in the bottom of a heavy pot or dutch oven. Brown the venison and squirrel in batches to avoid overcrowding the pan. You aren't trying to cook the meat through here, just get a nice sear on the outside. Once all of the meat (except the pulled pork) has been browned, dump in the onions and stir them for a few minutes to soften. You might need to add a bit more oil at this point if your pot is getting dry.
Once the onions are soft, add one quart of water and scrape up any stuck-on bits from the bottom of the pan. These bits equal flavor, don't skip this step. Add the browned meat back to the pot and use enough water to cover it all. Let the meat simmer for an hour or two until the meat pulls freely from the bones. Remove the chicken and squirrel from the pot and pick off the meat. Add the deboned meat back into the pot.
Next add the pulled pork, garlic, and all of the vegetables. Add the tomato juice and the Worcestershire sauce. Pour in enough water to form a thin stew, then season with the Cajun seasoning and salt and pepper to taste. Let the burgoo simmer for two to three more hours to thicken. A slice of cornbread is my favorite accompaniment.