Spicy Fried Crappie with Tasso Macaroni and Cheese
While fried fish and macaroni and cheese aren't a common pairing, this combo of Tabasco-marinated crappie and tasso ham-seasoned mac and cheese makes for a great contrast of textures and flavors: crispy spice and creamy, cheesy goodness.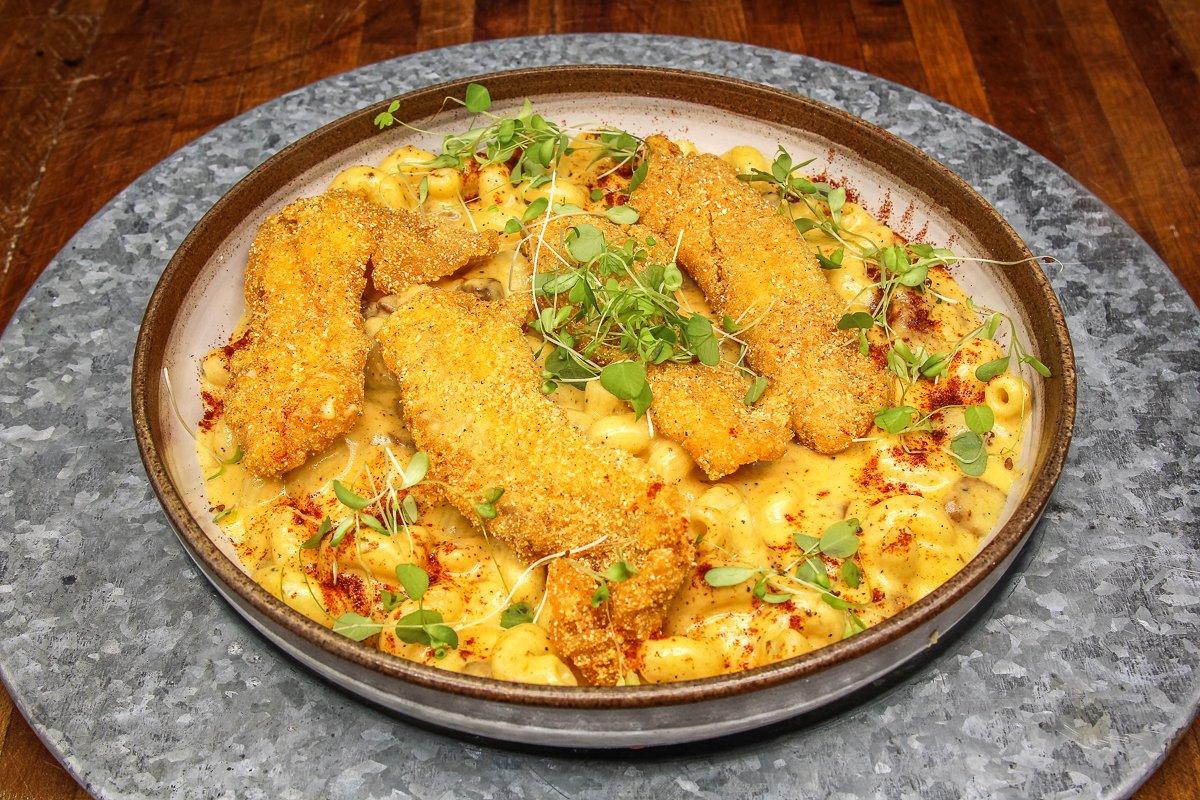 I first had a version of this recipe at one of our favorite restaurants. Tamara's Café, in Apalachicola, Florida, serves Tabasco fried grouper cheeks over mac and cheese. The cheek meat is my favorite part of a big grouper, and Tamara's is one of the only restaurants I've found that serves them.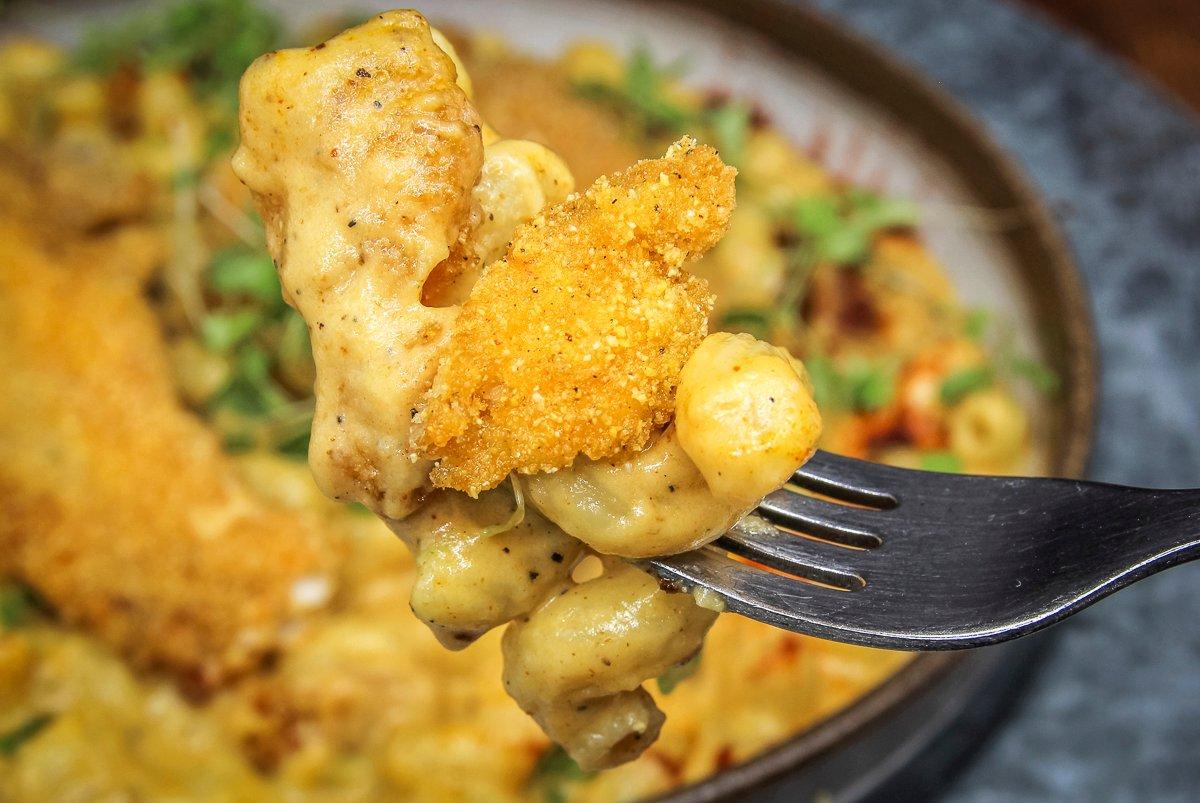 Since grouper cheeks are hard to come by here in Kentucky, I usually substitute crappie or bluegill fillets. We make our mac and cheese with diced tasso ham for a bit of extra flavor and interest. If you aren't familiar with tasso ham, it's a cured and smoked spicy pork shoulder dish popular in Cajun Louisiana. You can find it at several large groceries and most butcher shops, but if you can't find tasso where you live, you can substitute diced bacon.

Ingredients
Fried Fish
1 to 1 1/2 pounds crappie or bluegill fillets
4 ounces Tabasco sauce
3 cups cornmeal seasoned with salt, pepper, and a pinch of cayenne pepper
Vegetable or peanut oil for frying
Garnish
Diced chives or micro greens
Paprika
Macaroni and Cheese
6 ounces tasso ham, diced
4 tablespoons unsalted butter
4 tablespoons all-purpose flour
Kosher salt
3 cups whole milk
1 cup heavy cream
1/2 pound mild cheddar cheese, shredded
1/2 pound sharp cheddar cheese, shredded
1/2 pound smoked Gouda cheese, shredded
1/2 pound Gruyere, shredded
1 teaspoon black pepper
1 pinch cayenne pepper
1 pound elbow macaroni
Cooking Instructions
Start by marinating the fish fillets in the Tabasco sauce for 30 minutes, refrigerated.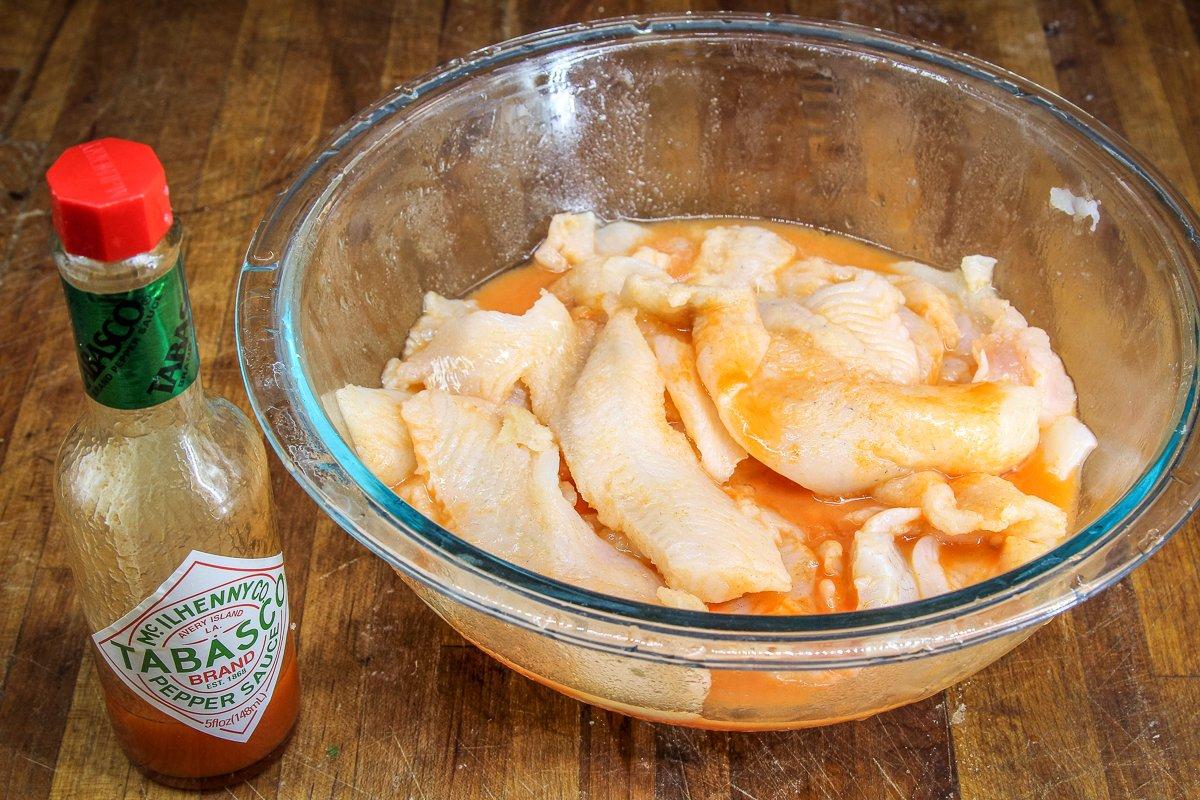 Dice the tasso ham.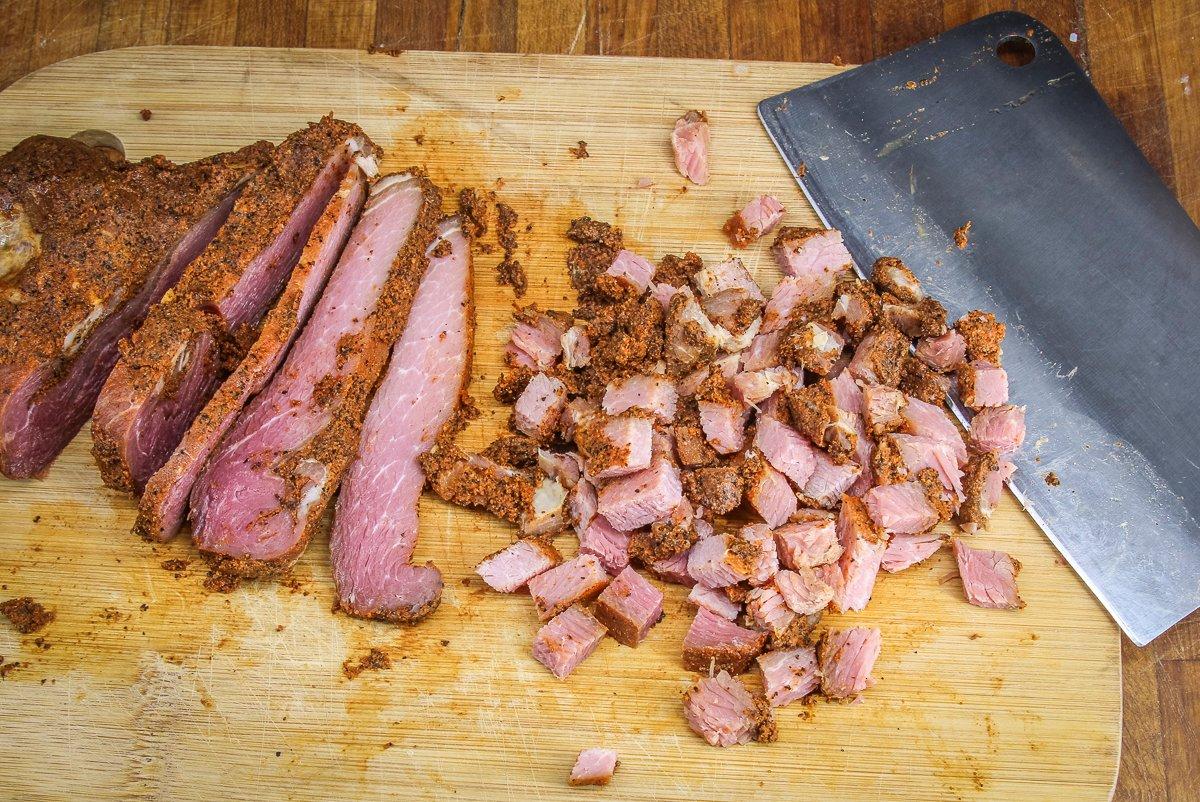 While the fish marinates, in a large saucepan over medium heat, add the diced tasso. Cook until some fat has rendered and the tasso bits are crisp. Remove the tasso from the pan and reserve, leaving the rendered fat.
Add 4 tablespoons of the butter to the fat in the pan. When foamy, sprinkle in the flour and a pinch of salt. Whisk to combine, then continue whisking until flour is cooked, about 2 to 3 minutes. Whisk in the milk, pouring it in a slow, steady stream. Then whisk in the cream. Add the black pepper and cayenne pepper. Bring the mixture to a simmer. Stir in all of the shredded cheese, a handful at a time. Continue to stir for 2 minutes or until all the cheese is melted, then turn the heat off.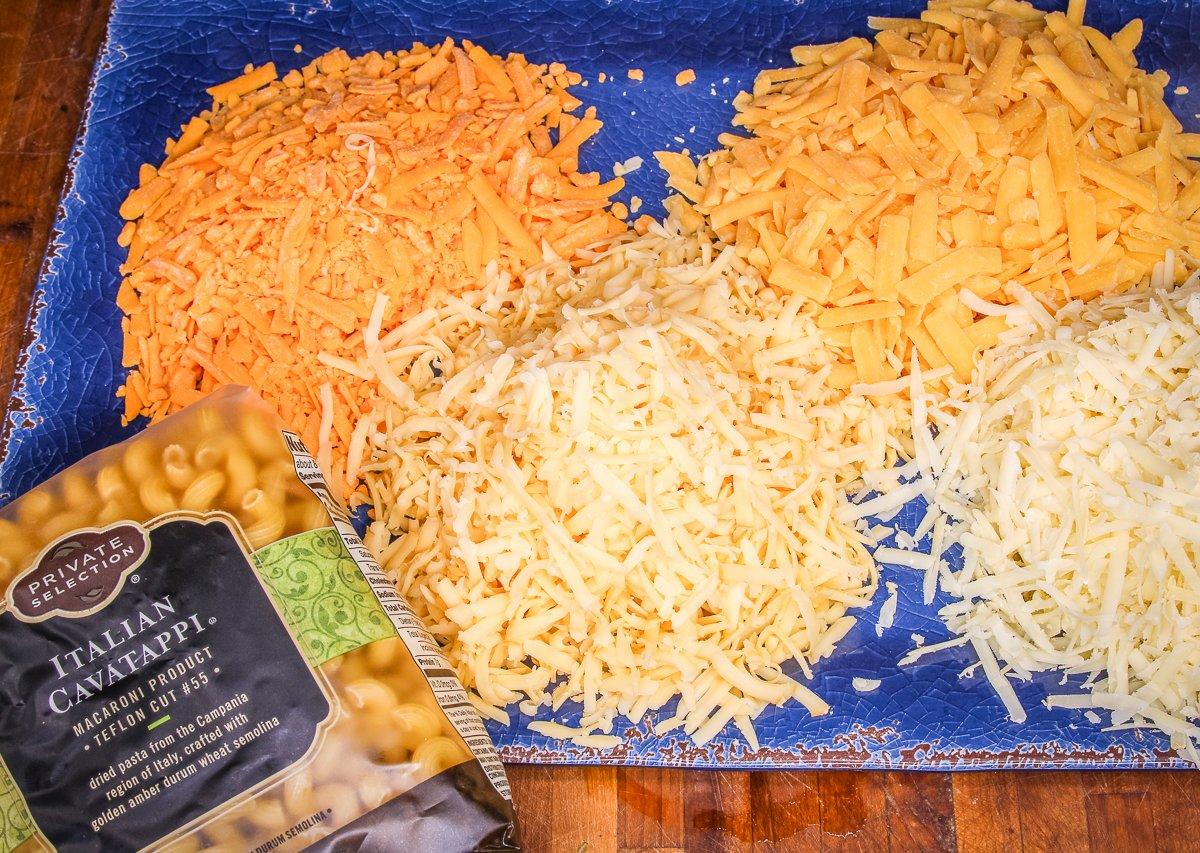 While the sauce cooks, prepare the elbow macaroni in salted water according to package directions.
Drain the cooked pasta and return it to the pot, then pour over the cheese sauce. Add the cooked tasso. Stir well to combine.
Heat 2 inches of peanut or vegetable oil in a heavy pot until it reaches 350 degrees Fahrenheit. Pat the marinated fish dry with paper towels, then toss in the seasoned cornmeal to coat.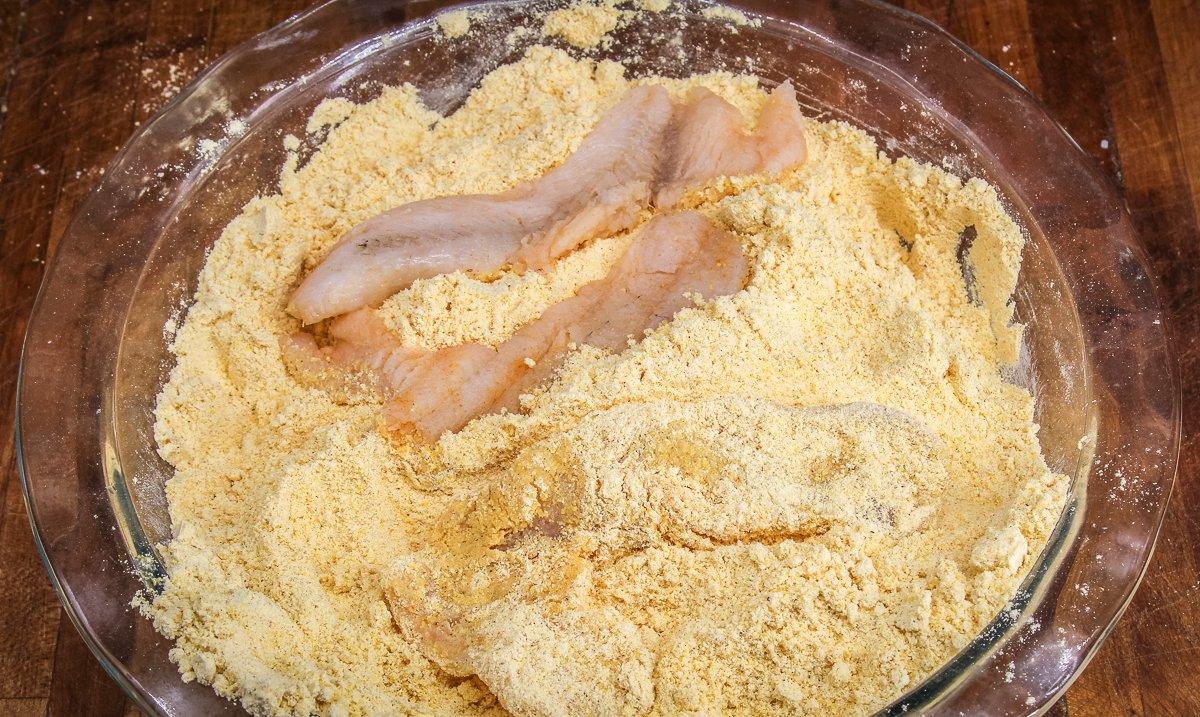 Drop the fish, a few pieces at a time, into the hot oil. Fry until the fish floats and is crispy and golden, about 5 to 6 minutes per batch.
Move the fish to a paper-lined tray as it finishes frying.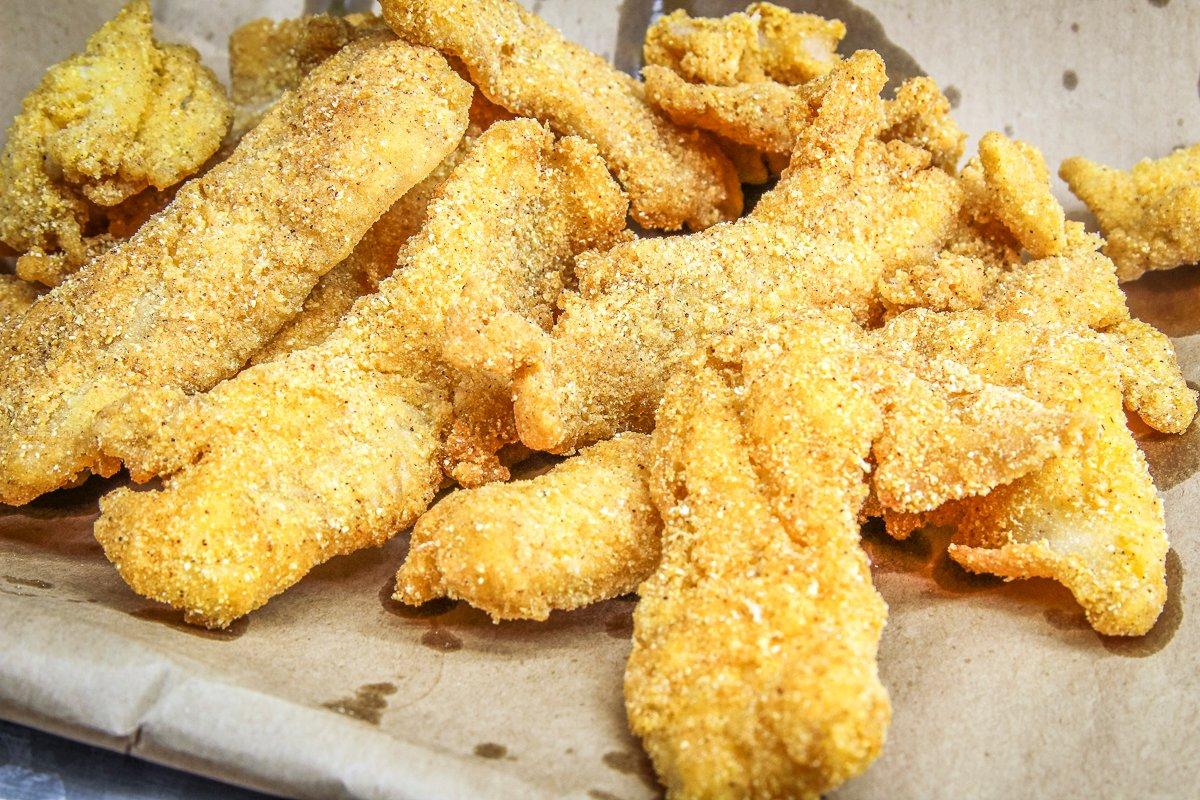 To serve, fill a bowl with mac and cheese. Layer on a few pieces of fried crappie. Garnish around the edge with diced chives or microgreens and paprika.