Venison Steak Breakfast Bagel
My daughter's favorite breakfast is the steak and egg bagel from the House of the Golden Arches. There, I said it, my kids like McDonald's. My wife suggested that our daughter might enjoy a homemade version of the fast food breakfast sandwich on her birthday. I was more than happy to oblige and decided to use some steak from one of the deer that she had killed this past season.
We used top round steaks and, to make them sandwich tender, I employed one of my favorite kitchen gadgets. Any time a recipe calls for tender, evenly sized strips of steaks; sandwiches, fajitas, stir fries and the like, I break out my Weston Brand jerky slicer. By running the steaks through the slicer against the grain, I can get matching strips of very tender steak from just about any venison cut.
We used good cheddar cheese and added butter sautéed onions and mushrooms. Even Michaela agreed that the end result was better than fast food.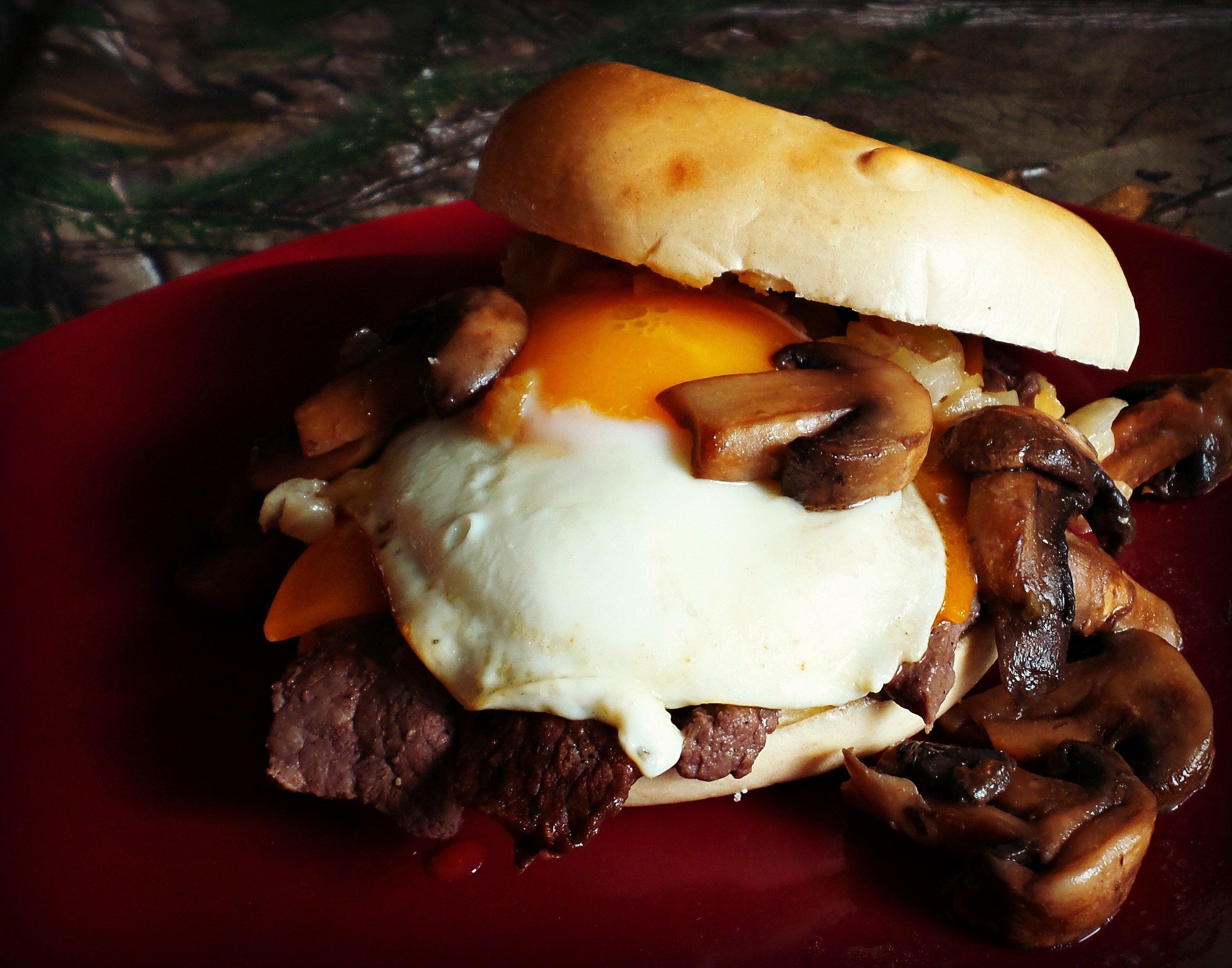 Ingredients
Good bagels, we picked up a half dozen from a local deli
One large yellow onion, diced
12 ounces of your favorite mushrooms, sliced
1.5 pounds of venison steak, sliced into even strips
6 eggs, farm fresh if available
6 slices of sharp or smoked cheddar cheese
Butter
Salt and pepper to taste
Cooking Instructions
Begin by sautéing the onions and mushrooms, I use a separate pan for each, in a tablespoon or two of butter. On a flattop griddle or in a lightly oiled cast iron pan, brown the venison over medium high heat, stirring frequently so that all sides are done but the strips are still rare if you pull one apart. Since this is a breakfast dish, I limited the seasonings to sea salt and a grind or two of fresh pepper. Pull the meat from the heat and loosely cover with foil.
While the meat sears, split and lightly toast the bagels. Next, fry the eggs. I prefer mine to be over easy so that the creamy yolk runs into the sandwich as you eat.
Assemble your breakfast creation by layering on several strips of venison steaks, top those with an over easy egg, lay on a slice of cheddar, and top with sautéed mushrooms and onions.
Anything else go well on a steak and egg bagel? Try sliced jalapenos or canned chipotles in adobo sauce. For a bit sweeter pepper topping, try a roasted bell pepper.