Wild Pig Ribs with Cabbage and Onion Recipe
We've talked before about wild pig ribs. They can be lean, sometimes a bit tough, but almost always have a ton of flavor. Long, slow-cooking methods with lots of moisture shine when it comes to turning them into a tasty meal. We have smoked them before, and the long wrap time tenderizes the ribs. This recipe works on the same principle. The ribs start out on the Traeger grill, getting lots smoke flavor, then go into a lidded Dutch oven with lots of cabbage and onions and a bit of bacon grease.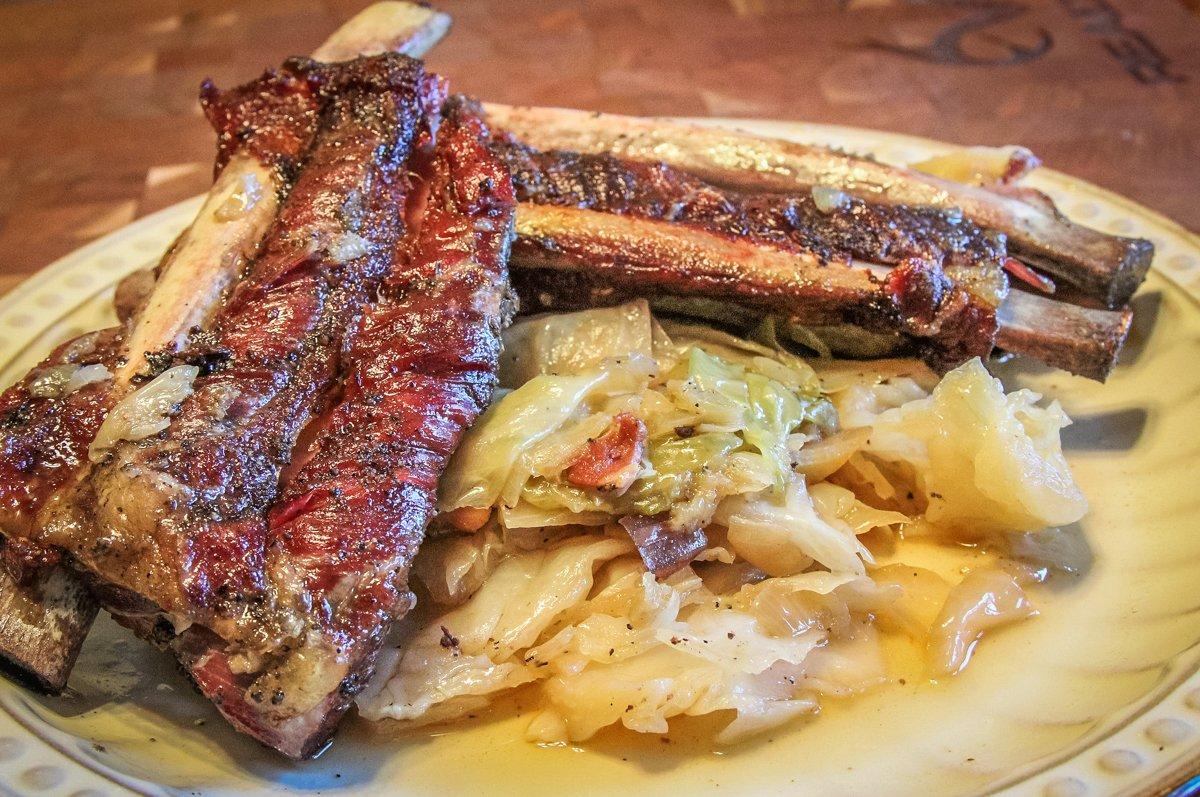 Ingredients
5 pounds pork ribs, cut into 2 or 3 rib sections
1 large head of cabbage, cored and cut into eighths
2 large sweet onions, sliced. We used one Vidalia and one red
4 slices of bacon, diced
½ beer (about 6 ounces) or chicken broth
Salt and pepper
Cooking Instructions
Start by seasoning the ribs well on both sides with salt and pepper. Place the ribs on your Traeger Grill at 225 degrees for two hours.
One half hour before ribs are finished smoking, start rendering the bacon in a large Dutch oven over medium-high heat. Slice the onions and add to the pot. Season well with salt. Sauté the onions in the bacon grease for 5 to 8 minutes or until the onions begin to soften. Add the beer to the pan, stir well to loosen any cooked-on bits from the bottom of the pan. Cover the Dutch oven with a tight-fitting lid and reduce the heat to a simmer for 15 minutes.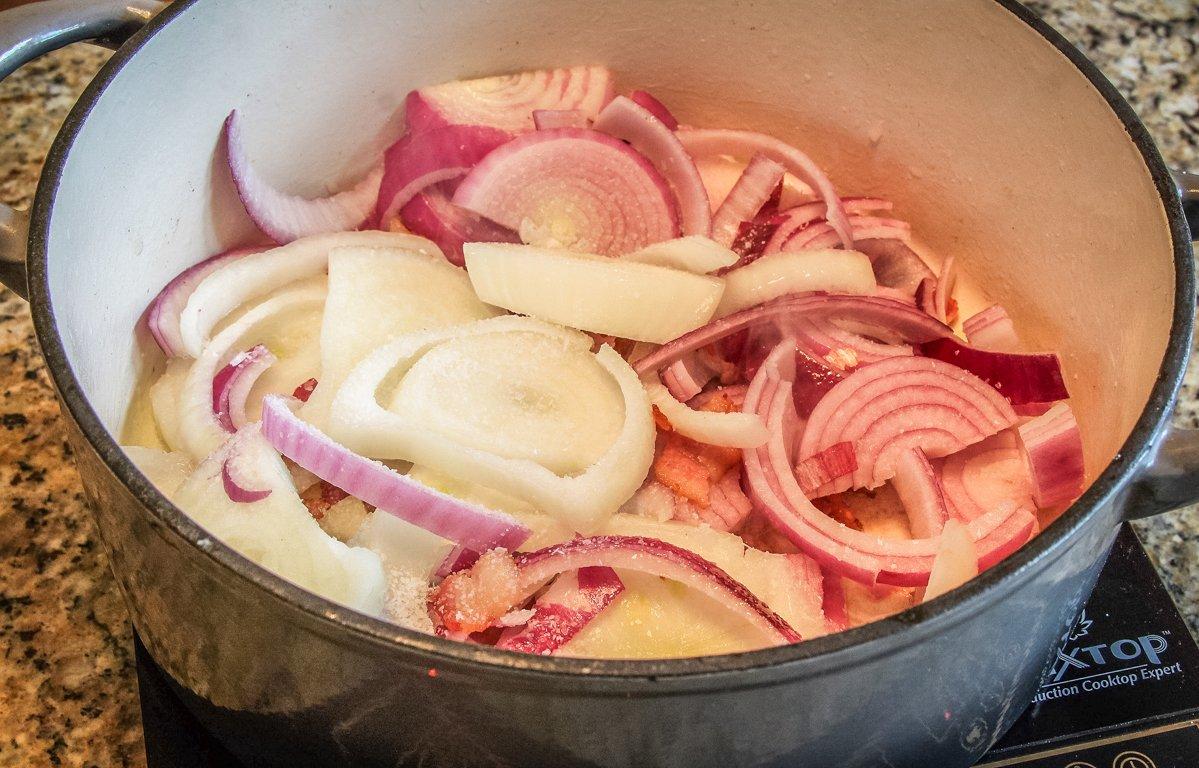 Bring the ribs in from the grill and place over the cabbage in the Dutch oven. Return the lid to the pot. If the lid doesn't fit tightly because the ribs are sticking out, don't worry, the cabbage will cook down quickly.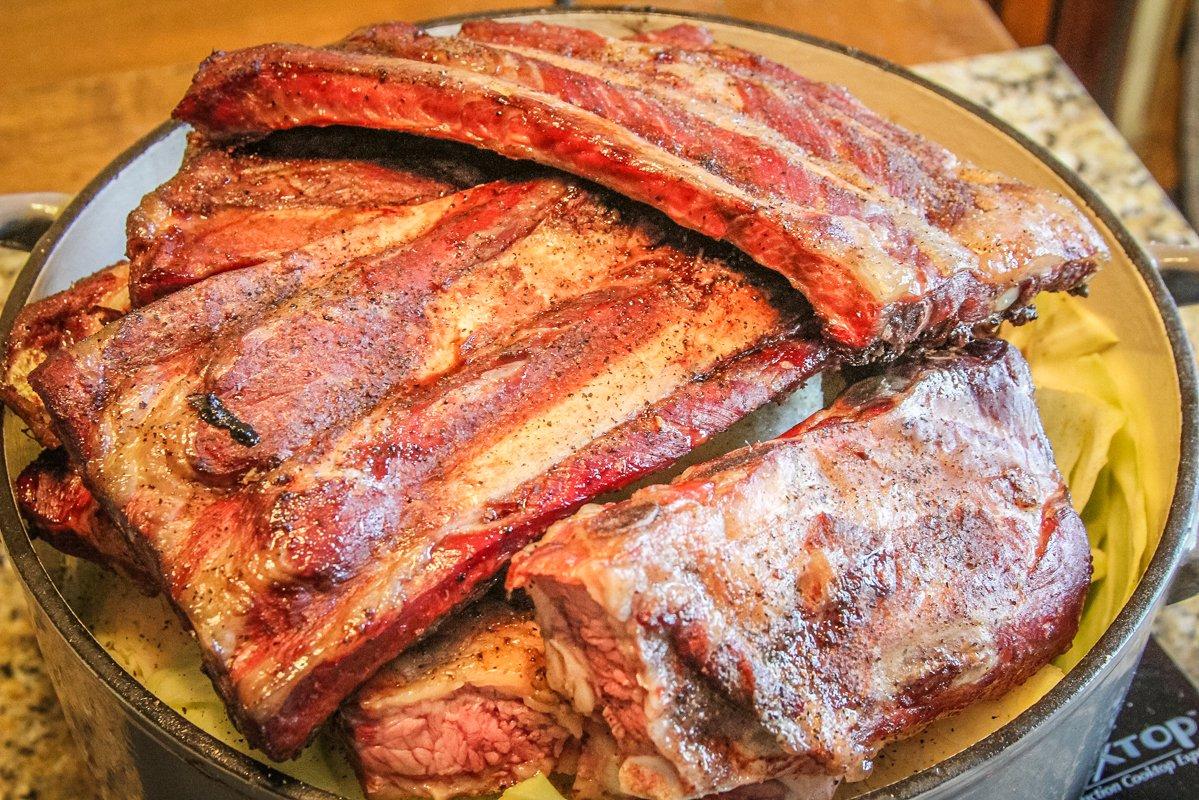 Move the Dutch oven to a 350-degree oven. Check after 30 minutes to make sure lid has settled securely onto the pot. Continue cooking for another 90 minutes or until the cabbage is cooked through and soft and the ribs are tender.