Wild Turkey Sandwich on a Cornbread Stuffing Waffle Recipe
Ask folks what their must-have foods are at Thanksgiving, and many will answer with turkey, stuffing (or dressing, depending on your geographical bent), and cranberry sauce. It just so happens that those three things combine for the ultimate Thanksgiving sandwich.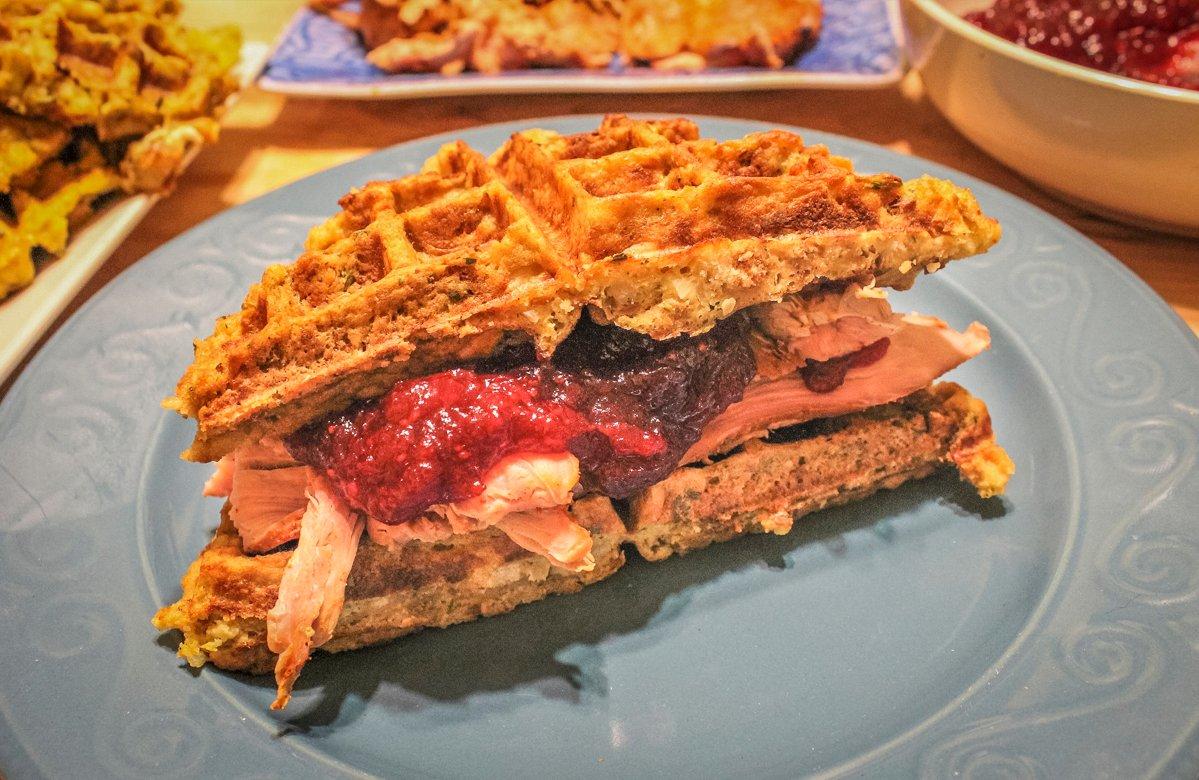 For the bread, we made cornbread-stuffing waffles. You can mix up your favorite recipe, or do what we did and pick up a couple of boxes of a name-brand stuffing mix designed to be cooked on a "stove top." Just follow the basic instructions on the box and adjust a bit to get it wet enough to cook in your waffle iron.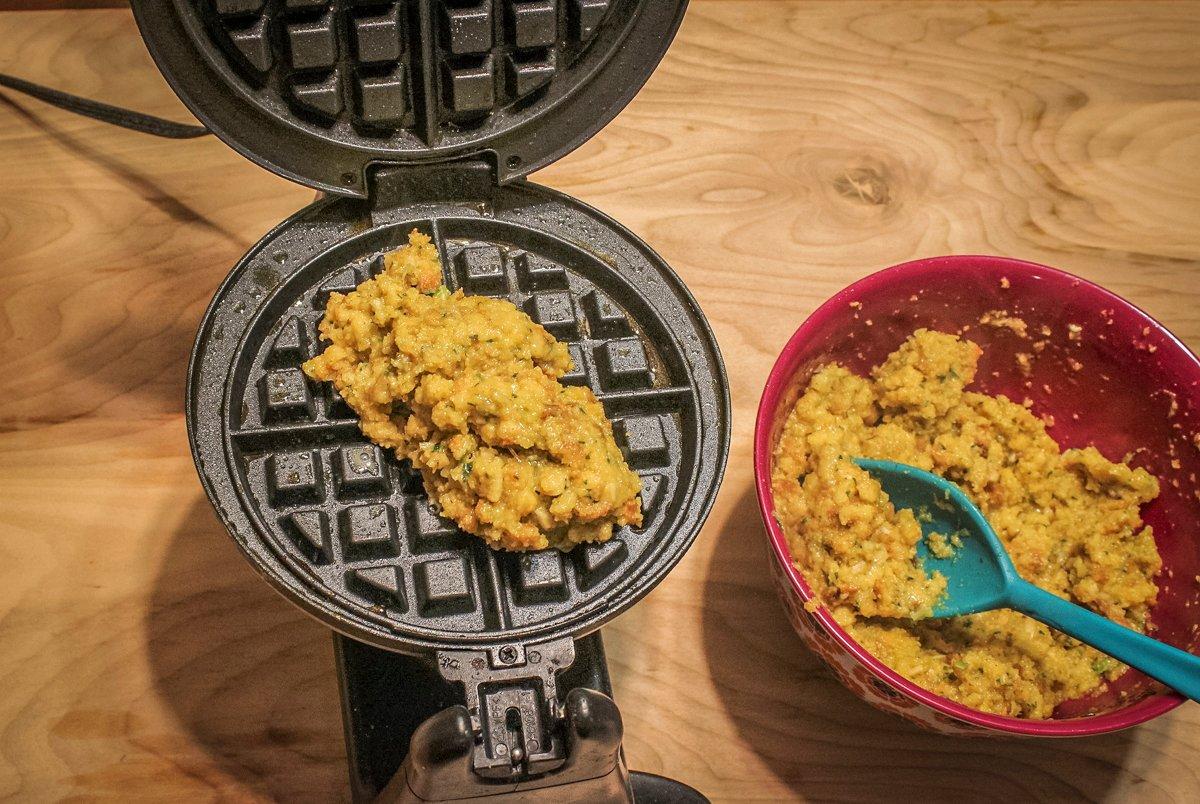 Ingredients
1 side of a gobbler turkey breast, about 2-3 pounds
2 tablespoons of your favorite BBQ rub
Cranberry Sauce
12 ounces fresh cranberries
1/2 cup brown sugar
1/2 cup white sugar
3/4 cup orange juice
1/4 cup Triple Sec orange liqueur
Cornbread Stuffing Waffles
2 boxes of your favorite cornbread stuffing mix, prepared to box directions (ours was designed to be cooked on a Stove Top)
3/4 cup chicken broth
3 beaten eggs
Cooking Instructions
Start by coating the turkey breast with your favorite BBQ rub. Place it on the Traeger Grill at 275 for two hours or until an instant-read thermometer reads 150 degrees internal temperature. Wrap the turkey in foil and allow it to rest for at least 30 minutes.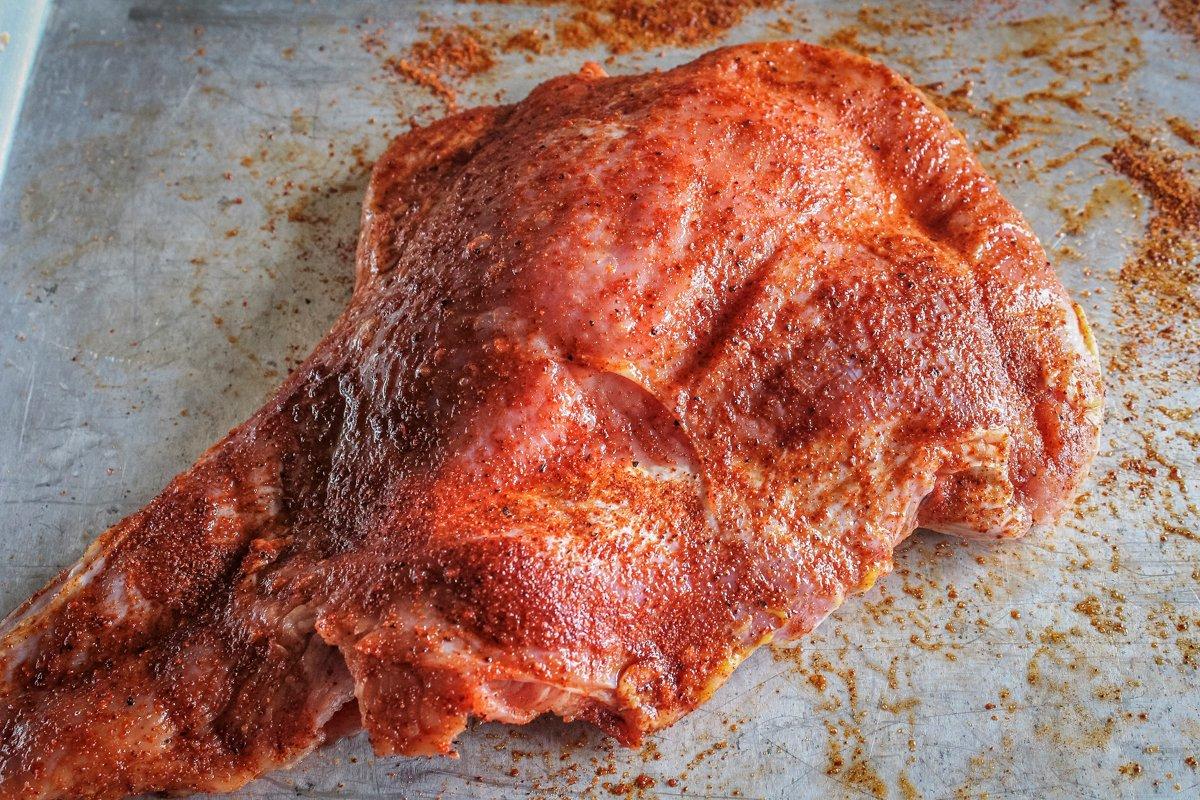 To make the cranberry sauce, add the fresh cranberries and all remaining ingredients to a heavy pot. Bring the mixture to a simmer and cook, stirring often, for 30 minutes or until the mixture thickens. Allow the cranberry sauce to cool, it will continue to thicken as it does.
Mix the cornbread stuffing mix according to box directions, then add an additional 3/4 cup of chicken broth and three beaten eggs to the mixture. Stir well. The texture should be fairly wet. Spoon enough of the mixture to cover your waffle iron completely when the lid is closed (that exact amount will depend on your particular waffle maker, for ours, it was about 1 cup). Close the lid and cook until the waffle maker says it is done, or until the mixture has cooked completely through. On our waffle maker, that was about 5 minutes.
Slice the turkey thinly, across the grain. The Magic Chef Realtree meat slicer makes this chore a breeze. Pile the sliced turkey breast on a waffle, spoon over the cranberry sauce, and top with another waffle. Enjoy the flavors of Thanksgiving in a sandwich.