Grilled Elk Tenderloin With Gorgonzola Cream Sauce
I'll be the first to admit that blue cheese — full-flavored, salty, earthy, and just a little bit funky — isn't for everyone. But if you love it like I do, this creamy Gorgonzola cheese sauce is a great topping for any type of grilled venison. For this recipe, we grilled a seasoned elk tenderloin to rare, sliced it, then ladled on the creamy cheese sauce.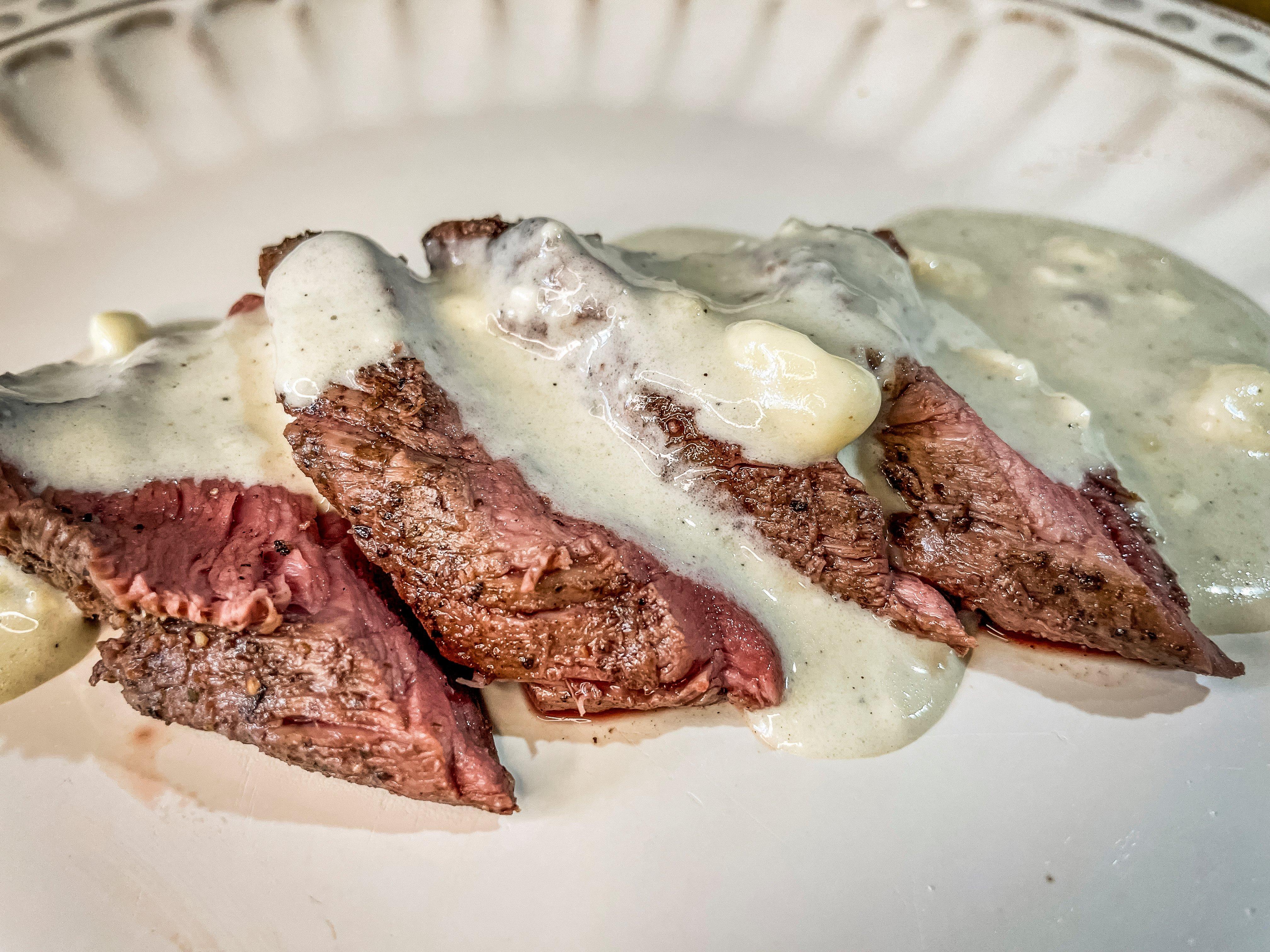 Blue cheese lovers take note: This creamy Gorgonzola cheese sauce makes a great topping for any grilled wild game.
If you aren't familiar with Gorgonzola, it's an Italian cow's milk blue cheese. While it isn't quite as pronounced in flavor as other blues, it does pack a punch. Gorgonzola starts out just like any cheese, then a mold (a good one) called Penicillium glaucum gets added to the curds before pressing. During the aging process, metal rods are probed into the cheese to create air channels that enable the mold to grow. This creates the distinctive veining that makes Gorgonzola so eye-catching. Most Gorgonzola is aged for three to four months, or even longer depending on the desired texture and flavor.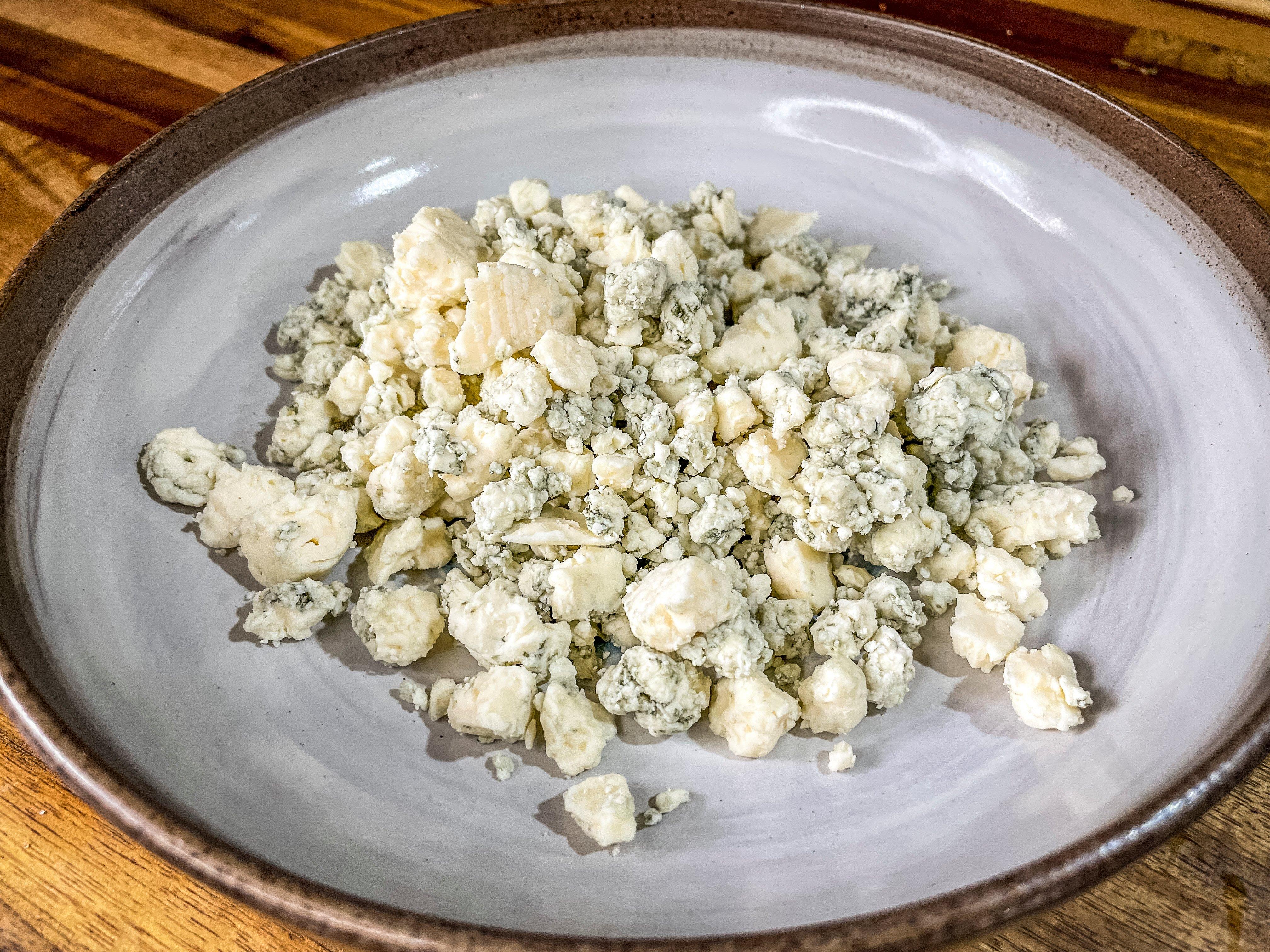 Gorgonzola is a creamy cow's milk blue cheese.
The sauce starts with a diced shallot sweating in butter. Once the shallot is cooked through and softened, but not browned, reduce the heat to low. Add the Gorgonzola, the Parmesan, and the cream. Stir to melt the cheeses and bring the sauce together. Once the sauce is creamy, season with salt, pepper, and cayenne.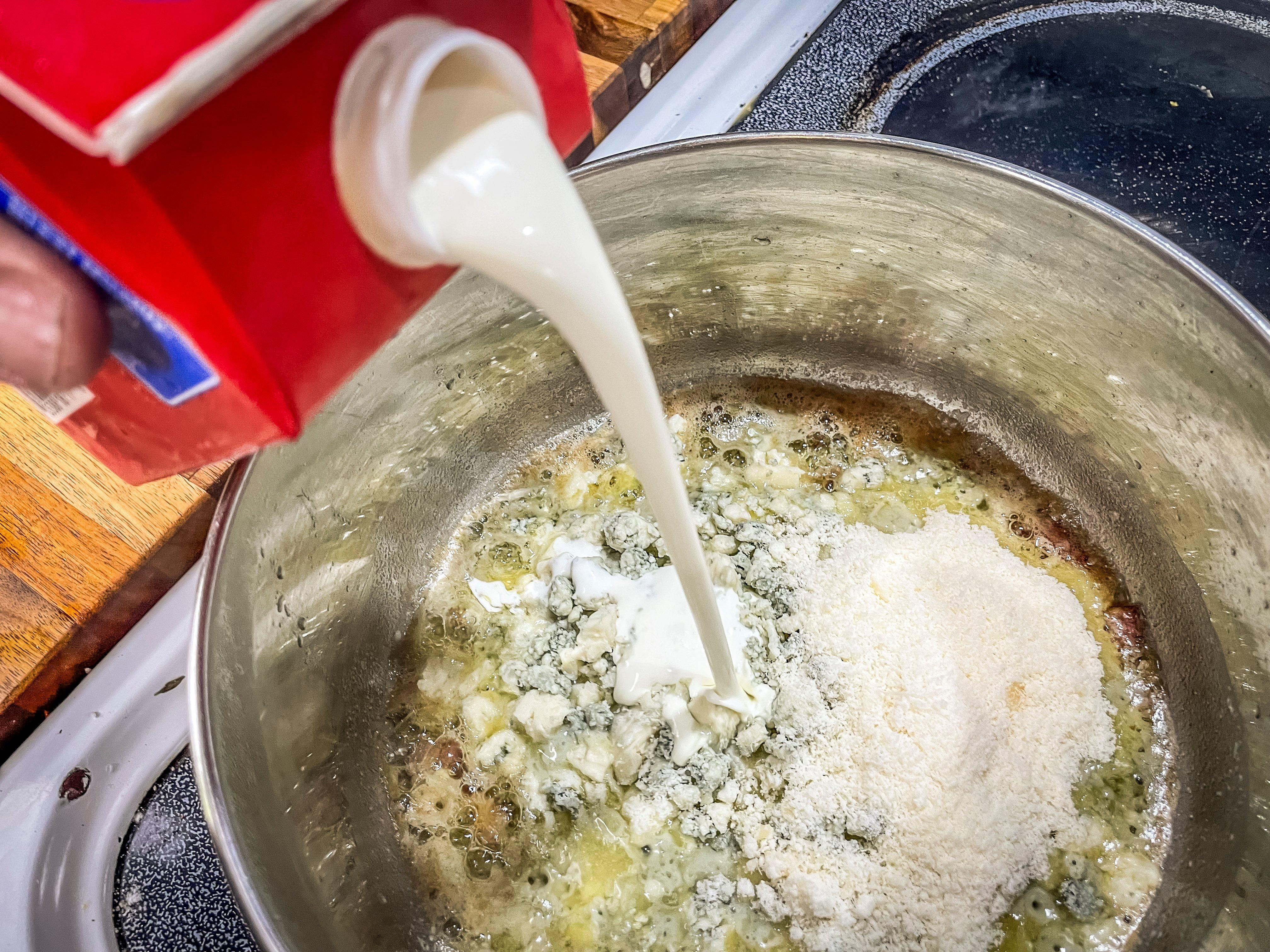 Add the cream to the sauce and stir well to blend.
While the sauce cooks, mix the seasoning ingredients into a rub and use it to season the elk tenderloin.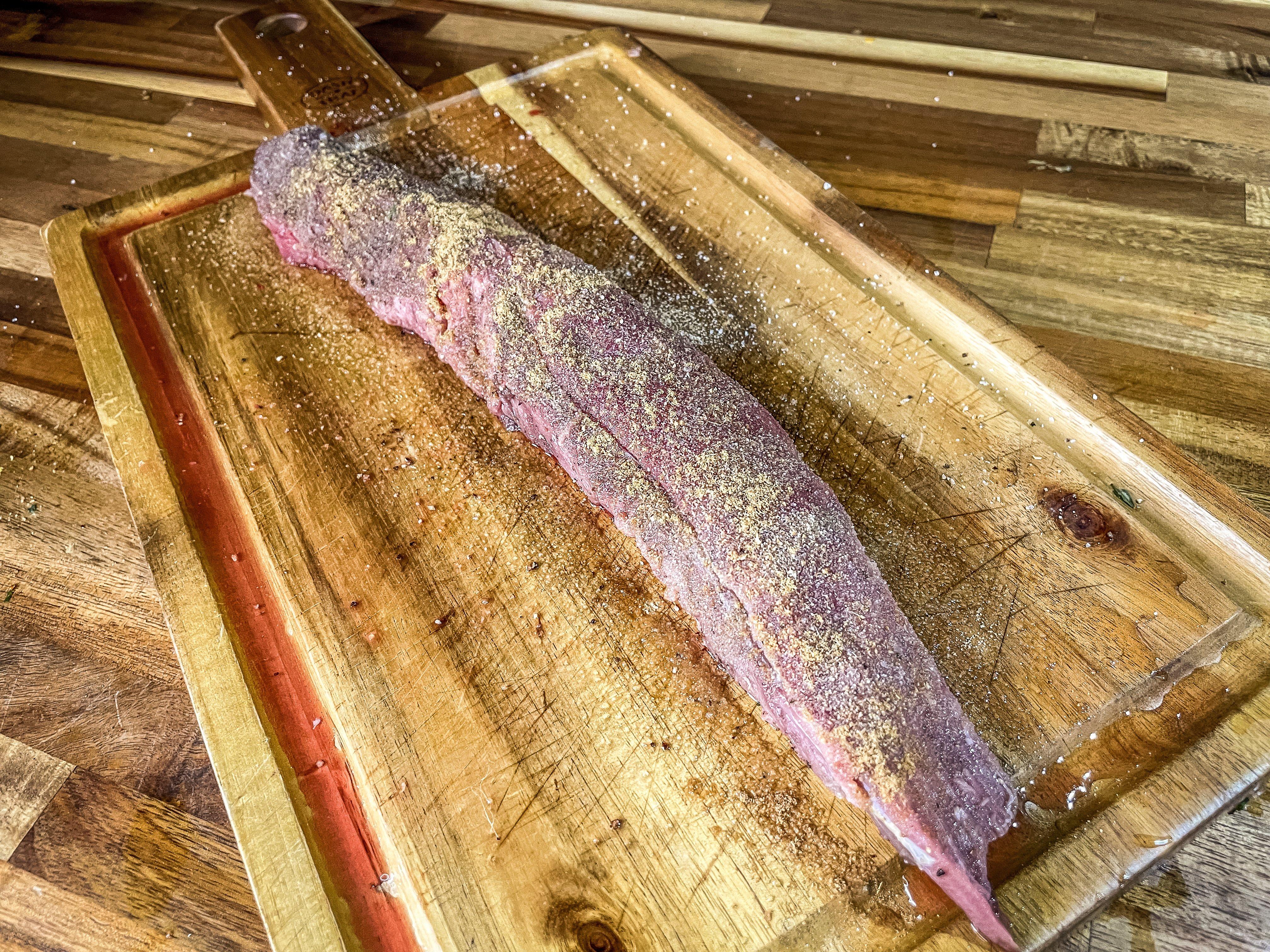 Elk tenderloin doesn't need a lot of help in the flavor department, so this simple rub is more than adequate.
Grill over high heat until the internal temperature reaches 125 degrees, about 5-6 minutes per side depending on thickness.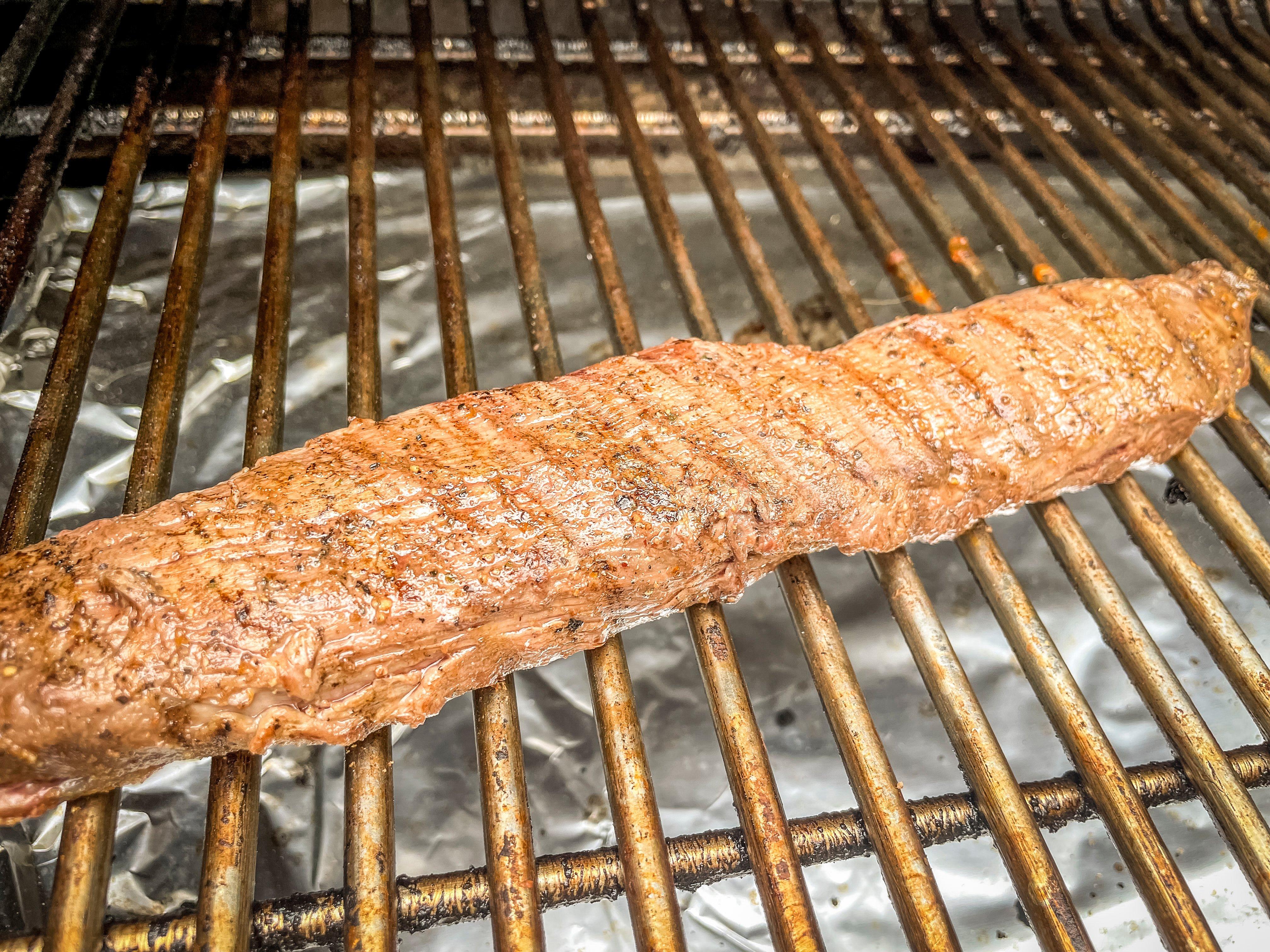 Grill the tenderloin to a nice rare to medium-rare.
Once the steak is at the desired temperature, remove from the grill and rest on a warm plate, loosely tented with foil, for 10 minutes. Slice the tenderloin into medallions and spoon over the cheese sauce just before serving.
Rest the tenderloin for a few minutes before slicing.
Ingredients
1 elk tenderloin
1 teaspoon garlic powder
1 teaspoon salt
1 teaspoon black pepper
SAUCE
2 tablespoons butter
1 shallot, minced
½ pound crumbled Gorgonzola cheese
¼ cup grated Parmesan cheese
1 cup heavy cream
½ teaspoon salt
1 teaspoon black pepper
1 pinch ground cayenne pepper